Fowler, O. S. (Orson Squire) 1809-1887
Most widely held works about O. S Fowler
more
fewer
Most widely held works by O. S Fowler
Love and parentage : applied to the improvement of offspring, including important directions and suggestions to lovers and the married concerning the strongest ties and the most momentous relations of life
by
O. S Fowler
( )
48 editions published between
1844
and 2013 in
English
and held by 473 WorldCat member libraries worldwide
"Early impressions are indellible, are all powerful. And the earlier, the more so. Yet how few carry this principle back to Parentage, its first, and most eventful application--to the influences, on offspring, of the various conditions of parents at the time the former receive being and constitution from the latter. To develop those laws which govern this department of nature, and analyze its facts--to show what parental conditions, physical and mental, will stamp the most favorable impress on the primitive organization, health, talents, virtue, &c, of yet uncreated immortals, and what must necessarily entail physical diseases, mental maladies, and vicious predispositions, constitute our subject matter. It consequently involves, not their animal life and death merely, but also their mental life and spiritual being; and is therefore among the most momentous subjects which can possibly engross human attention; as well as one which parents must understand in order to confer on offspring the highest physical, intellectual, and moral endowments and capabilities in the power of parentage to bestow. These exalted considerations dictated this work; and if it enables a few parents only to endow their children, by nature, with a strong and healthy physical, a high mental, and a powerful intellectual constitution, Infinitude alone can measure the good that will result therefrom, not merely to these children themselves, but also to their descendants for many generations to come. This book also has a supplement, entitled "Evils and Remedy of excessive and perverted Amativeness, including advice and warning to the married and the young," matter intimately related to this volume, and originally designed to accompany it"--Preface. (PsycINFO Database Record (c) 2012 APA, all rights reserved)
Physiology, animal and mental: applied to the preservation and restoration of health of body, and power of mind
by
O. S Fowler
( )
54 editions published between
1847
and 2016 in
English
and held by 388 WorldCat member libraries worldwide
"To study single departments of man's complicated nature--as his anatomy, or physiology, or phrenology--separately, furnishes a partial and often erroneous view of it as a whole. To obtain anything like a complete knowledge of him requires that his constitution be studied in its COLLECTIVE capacity. He must be known not by sections, but as a UNIT; for in no other way can the reciprocal bearings and complex inter-relations of the multifarious laws of his being be understood. As our subject is naturally subdivided into three departments, it has been divided into three volumes--the first, devoted to the preservation and restoration of of health, the inter-relations of body and mind, and the improvement of the mentality by improving the physiology; the second, to the regulation of the feelings and perfection of the moral character; and the third, to intellectual cultivation. A system of numbering the paragraphs or heads of the subjects treated, and a reference to them in the text by raised figures, called superiors, renders a reference from each to all perfectly easy and expeditious, so that, after a point has been once presented, it can be referred to specifically, without circumlocution, or repetition, or disfiguring the page. Yet each volume, being complete in itself, can be read separately"--Preface. (PsycINFO Database Record (c) 2005 APA, all rights reserved)
The practical phrenologist and recorder and delineator of the character and talents of [blank], as marked by [blank] : a compendium of phreno-organic science
by
O. S Fowler
( )
22 editions published between
1869
and 2017 in
English
and held by 349 WorldCat member libraries worldwide
"To teach learners those organic conditions which indicate character, is the first object of this manual. And to render it accessible to all, it condenses facts and conditions, rather than elaborates arguments, -because to expound Phrenology is its highest proof, -states laws and results, and leaves them upon their naked merits; embodies recent discoveries, and crowds into the fewest words and pages just what learners most need to know, and hence requires to be studied rather than merely read. "Short, yet clear, " is its motto. Its analysis-of-the faculties and numerous engravings embody the results of observation and experience"--Préface. (PsycINFO Database Record (c) 2010 APA, all rights reserved)
Memory and intellectual improvement, applied to self-education and juvenile instruction
by
O. S Fowler
( )
38 editions published between
1846
and 2010 in
English
and held by 301 WorldCat member libraries worldwide
"This volume is the third and last of the series on the application of Phrenology to "Education and Self Improvement." Volume III shows how to educate the intellect. It analyzes each of the intellectual faculties, and points out the means of augmenting their efficiency. It of course shows how to cultivate the memory; conduct the intellectual education of the young; and strengthen and expand the intellect. It especially embodies copious directions for educating our own selves. Personal effort is indispensable to intellectual attainments and greatness. All must be self-made or not made at all. Original capabilities are indeed conferred by nature, yet however great, produce very little unless assiduously cultivated. Nature confers on us all several fold more talent than we develop by culturebestows a vast amount of mentality which lies dormant for want of a true system of educationone founded in the nature of mind. That system Phrenology develops, by showing the precise function of every faculty, and thereby just what, brought before it, will stimulate it to action, and thus augment its power and efficiency"--Preface. (PsycINFO Database Record (c) 2009 APA, all rights reserved)
The illustrated self-instructor in phrenology and physiology, with one hundred engravings, and a chart of the character ... by O.S. and L.N. Fowler
by
O. S Fowler
( Book )
50 editions published between
1840
and 2013 in
English
and held by 285 WorldCat member libraries worldwide
"To teach learners those organic conditions which indicate character, is the first object of this manual; and in order to render it accessible at all, it condenses facts and conditions, rather than elaborates arguments--because to expound Phrenology is its highest proof--states laws and results, and leaves them upon their naked merits; embodies recent discoveries; and crowds into the fewest possible words and pages just what learners need to know; and, hence, requires to be studied rather than merely read. "Short, yet clear," is its motto. Its numerous illustrative engravings give the results of very extensive professional observations and experience. To record character is its second object. In doing this, it describes those organic conditions which affect and indicate character in seven degrees of power--large, very large, full, average, moderate, small, and very small, and refers those who have their physiological and phrenological conditions correctly marked in the accompanying tables, to those paragraphs which both describe themselves, and also contain specific directions how to perfect their characters and improve children. Its plan for recording character is seen at a glance in the following"--Preface. (PsycINFO Database Record (c) 2012 APA, all rights reserved)
Human science, or, Phrenology : its principles, proofs, faculties, organs, temperaments, combinations, conditions, teachings, philosophies, etc., etc. : as applied to health, its values, laws, functions, organs, means, preservation, restoration, etc. : mental philosophy, human and self improvement, civilization, home, country, commerce, rights, duties, ethics, etc. : God, His existence, attributes, laws, worship, natural theology, etc. : immortality, its evidences, conditions, relations to time, rewards, punishments, sin, faith, prayer, etc. : intellect, memory, juvenile and self education, literature, mental discipline, the senses, sciences, arts, avocations, a perfect life, etc., etc., etc.
by
O. S Fowler
( )
27 editions published between
1855
and 2012 in
English
and held by 217 WorldCat member libraries worldwide
"This volume expounds this science of the mind, analyzes each of its Faculties, gives their right and wrong, and thereby virtuous and vicious modes of action, and applies its teachings to all the great and little problems and interests of humanity. Phrenology, by analyzing these mental fountains of all things human, reveals all those streams which do and should flow there from; besides also disclosing the model man, and thereby showing all persons, all communities, just wherein, and how far, they conform to and depart from this perfect type; that is, wherein each lives a life perfect or imperfect. A science which achieves all this, must soon become the great study of the whole race, and so remain "till time shall be no longer." Part I. The Organism discusses man's organic relations generally, including the fundamental principles of life; the structure of the mind; the principles, proofs, facts,and history of Phrenology; the Temperaments, and applies all to Self-Improvement. Part II. Health, its Value, Laws, Organs, Functions, Means, Preservation, and Restoration, shows all how to get and keep themselves and families well, without doctors or medicines; and analyzes and illustrates all the physical functions. Part III. The Animal Propensities and Selfish Sentiments, analyzes those self-caring instincts which supply personal wants, look out well for self, and create man's affectional, governmental, aspiring, and other sentiments,which it describes in five degrees of power -- Large, Full, Average, Moderate, and Small, along with the different effects on character and conduct of their combinations with the other Faculties in their different degrees of power. This feature, which appertains to this entire work, yet is found nowhere else, is especially interesting and instructive, as causing and disclosing the endless shadings and diversities of human character and conduct. Part IV. Man's Moral Nature, analyzes those Moral Faculties which both render him a religious being, place him in relation with all the theological, ethical, and spiritual truths of the whole universe, and unfold all their relations and dependencies, including all those ranges of religious doctrines and practices they involve; thereby developing an entirely new system of Natural Theology, solving all moral problems with scientific authority, and furnishing an exhaustless storehouse of religious truth. Religion is just as much an exact natural science as mathematics, because both are equally governed by those natural laws which render all they regulate "exact;" and Part IV demonstrates religious science. Does not such an exposition of such a subject, from the stand point of the moral constitution of man, merit attention from all Christians, infidels, and savans? Part V. Intellect, Memory, and Reason, analyzes and shows how to cultivate all the intellectual Faculties, which it describes in five degrees of power, and shows how to prosecute intellectual and juvenile education, and develop scholarship and memory, eloquence and reason -- man's highest gifts! Part VI. A Right Life, individual and communitarian, applies these principles and teachings to progress and reform, private and public, by showing wherein this, that, and the other custom and institution harmonize and conflict with human Nature, and from what to what they require to be changed, added to, and amended"--Preface. (PsycINFO Database Record (c) 2012 APA, all rights reserved)
more
fewer
Audience Level
0

1
Kids
General
Special
Audience level: 0.52 (from 0.17 for Alma Compt ... to 0.90 for Specimen p ...)
Related Identities
Associated Subjects
American Anti-Slavery Society
Anthony, Susan B.--(Susan Brownell),
Architectural design
Architecture
Architecture, Domestic
Architecture, Modern
Buildings, Octagonal
Character
Conduct of life
Curtis, George William,
Emerson, George B.--(George Barrell),
Families
Fowler, L. N.--(Lorenzo Niles),
Fowler, O. S.--(Orson Squire),
Garrison, William Lloyd,
Genetic disorders
Genetics
Heredity
Heredity, Human
Home
Human genetics
Human physiology
Hygiene
Marriage
Mate selection
May family
Memory
Mind and body
Mnemonics
Moral conditions
New York (State)--Syracuse
Octagonal houses
Parent and child
Phrenology
Physiology
Religion
Self-culture
Sex
Sex (Psychology)
Sex instruction
Sexual ethics
Social reformers
Sociobiology
Temperament
Temperance
Unitarianism
United States
White, Andrew Dickson,
Whitman, Walt,
Women--Sexual behavior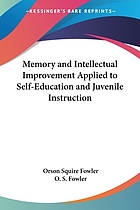 Covers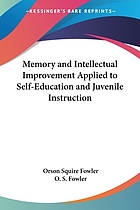 Alternative Names
Fowler, O. S.

Fowler, O.S. 1809-1887

Fowler, Orson S.

Fowler, Orson Squire

Fowler, Orson Squire 1809-1887

Fuaura

O. S. Fowler

O. S. (Orson Squire) Fowler

Orson Fowler US-amerikanischer Phrenologe

Orson Squire Fowler

Orson Squire Fowler Amerikaans architect (1809-1887)

Orson Squire Fowler architecte américain

Orson Squire Fowler architetto statunitense

Orson Squire Fowler arquitecte estatunidenc

Orson Squire Fowler arquitecto estadounidense

Orson Squire Fowler arquiteto norte-americano

Orson Squire Fowler arquiteutu estauxunidense (1809–1887)

اورسون سكوير فولير

フアウラー

発烏羅

Languages