Nugent, Walter T. K.
Most widely held works about Walter T. K Nugent
Most widely held works by Walter T. K Nugent
Progressivism : a very short introduction
by
Walter T. K Nugent
( )
10 editions published in
2010
in
English
and held by 2,157 WorldCat member libraries worldwide
"This Very Short Introduction offers an engaging overview of progressivism in America - its origins, guiding principles, major leaders and major accomplishments. A many-sided reform movement that lasted from the late 1890s until the early 1920s, progressivism emerged as a response to the excesses of the Gilded Age, an era that plunged working Americans into poverty while a new class of ostentatious millionaires built huge mansions and flaunted their wealth. As capitalism ran unchecked and more and more economic power was concentrated in fewer and fewer hands, a sense of social crisis was pervasive. Progressive national leaders like William Jennings Bryan, Theodore Roosevelt, Robert M. La Follette, and Woodrow Wilson, as well as muckraking journalists like Lincoln Steffens and Ida Tarbell, and social workers like Jane Addams and Lillian Wald answered the growing call for change. They fought for worker's compensation, child labor laws, minimum wage and maximum hours legislation; they enacted anti-trust laws, improved living conditions in urban slums, instituted the graduated income tax, won women the right to vote, and laid the groundwork for Roosevelt's New Deal." "Nugent shows that the progressives - with the glaring exception of race relations - shared a common conviction that society should be fair to all its members and that governments had a responsibility to see that fairness prevailed. Offering a succinct history of the broad reform movement that upset a stagnant conservative orthodoxy, this Very Short Introduction reveals many parallels, even lessons, highly appropriate to our own time."--Jacket
Into the West : the story of its people
by
Walter T. K Nugent
( Book )
26 editions published between
1999
and 2013 in
English
and held by 1,225 WorldCat member libraries worldwide
"Finally, Nugent examines the West of today: why the coastal and Sunbelt West and the interior West are experiencing such a radical cultural divergence. And he tells us what he projects, on the basis of recent trends, is likely to happen to the people of the West in the next half century."--Jacket
Crossings : the great transatlantic migrations, 1870-1914
by
Walter T. K Nugent
( Book )
19 editions published between
1992
and 2000 in
English
and held by 1,162 WorldCat member libraries worldwide
During the period 1870-1914, the Atlantic was a broad highway for migration. Unchecked by government restrictions, wars, or economic depressions, and aided by the new technologies of steamships and railroads, millions of people uprooted their lives and set off for new lands. Americans understand this story as a great saga of immigrants and assimilation of people drawn to the United States as to the promised land of opportunity. But what lay behind this great migration? And how unique was the American experience? To answer these questions, Walter Nugent looks at this massive movement of people from both sides of the Atlantic. Tracing the migrations of more than a dozen national groups from Europe to the four major New World receiving countries - Argentina, Brazil, Canada, and the United States - Nugent discovers a complex story of crossings and recrossings, of tens of millions of human experiences and decisions. Nugent follows the migrants who left rural Europe for American mines and factories, but he also compares the experiences of Europeans on the very different frontiers of settlement at the far reaches of the four receiving countries. And he discusses the migration of women, not only wives and mothers within migrating families but also individuals seeking a new life on their own. Nugent asks important questions about American uniqueness in the context of transatlantic migration history and about the validity of widely held theories of development. He finds that the history of the great migrations is more complex and subtle than these theories. His superb synthesis broadens the scope and clarifies the details of a fascinating story of enormous social and demographic change
Habits of empire : a history of American expansion
by
Walter T. K Nugent
( Book )
15 editions published between
2008
and 2009 in
English
and held by 1,034 WorldCat member libraries worldwide
A history of American expansionism chronicles the country's accumulation of territory and global intervention from the Revolutionary War to the present day, examining the tension between the U.S. acting as both a republic and an empire
The money question during Reconstruction
by
Walter T. K Nugent
( Book )
7 editions published between
1967
and 1968 in
English
and held by 829 WorldCat member libraries worldwide
"A bibliographical review": pages 107-121
The American West : the reader
by
Walter T. K Nugent
( Book )
8 editions published in
1999
in
English
and held by 643 WorldCat member libraries worldwide
more
fewer
Audience Level
0

1
Kids
General
Special
Audience level: 0.27 (from 0.03 for Progressiv ... to 0.99 for Lord Nugen ...)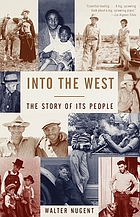 Covers
Alternative Names
Hugent, Walter T.

King Nugent, Walter Terry 1935-

Nugent Walter

Nugent Walter 1935-....

Nugent, Walter T.

Nugent, Walter T.K.

Nugent, Walter T.K. 1935-

Nugent, Walter Terry King 1935-

Languages