Nagel, Thomas 1937-
Most widely held works about Thomas Nagel
more
fewer
Most widely held works by Thomas Nagel
The last word
by
Thomas Nagel
( )
57 editions published between
1996
and 2017 in 8 languages and held by 2,743 WorldCat member libraries worldwide
If there is such a thing as reason, it has to be universal. Reason must reflect objective principles whose validity is independent of our point of view--principles that anyone with enough intelligence ought to be able to recognize as correct. But this generality of reason is what relativists and subjectivists deny in ever-increasing numbers. And such subjectivism is not just an inconsequential intellectual flourish or badge of theoretical chic. It is exploited to deflect argument and to belittle the pretensions of the arguments of others. The continuing spread of this relativistic way of think
A brief inquiry into the meaning of sin and faith : with "on my religion"
by
John Rawls
( )
20 editions published between
2009
and 2012 in
English
and
Chinese
and held by 2,080 WorldCat member libraries worldwide
"John Rawls never published anything about his own religious beliefs, but after his death two texts were discovered which shed extraordinary light on the subject. A Brief Inquiry into the Meaning of Sin and Faith is Rawls's undergraduate senior thesis, submitted in December 1942, just before he entered the army. At that time Rawls was deeply religious; the thesis is a significant work of theological ethics, of interest both in itself and because of its relation to his mature writings. "On My Religion," a short statement drafted in 1997, describes the history of his religious beliefs and attitudes toward religion, including his abandonment of orthodoxy during World War II." "The present volume includes these two texts, together with an Introduction by Joshua Cohen and Thomas Nagel, which discusses their relation to Rawls s published work, and an essay by Robert Merrihew Adams, which places the thesis in its theological context." "The texts display the profound engagement with religion that forms the background of Rawls's later views on the importance of separating religion and politics. Moreover, the moral and social convictions that the thesis expresses in religious form are related in illuminating ways to the central ideas of Rawls's later writings. His notions of sin, faith, and community are simultaneously moral and theological, and prefigure the moral outlook found in Theory of Justice."--Jacket
Mind and cosmos : why the materialist neo-Darwinian conception of nature is almost certainly false
by
Thomas Nagel
( )
37 editions published between
2010
and 2018 in 6 languages and held by 2,002 WorldCat member libraries worldwide
The modern materialist approach to life has conspicuously failed to explain such central mind-related features of our world as consciousness, intentionality, meaning, and value. This failure to account for something so integral to nature as mind, argues philosopher Thomas Nagel, is a major problem, threatening to unravel the entire naturalistic world picture, extending to biology, evolutionary theory, and cosmology. Since minds are features of biological systems that have developed through evolution, the standard materialist version of evolutionary biology is fundamentally incomplete. And the cosmological history that led to the origin of life and the coming into existence of the conditions for evolution cannot be a merely materialist history, either. An adequate conception of nature would have to explain the appearance in the universe of materially irreducible conscious minds, as such. Nagel's skepticism is not based on religious belief or on a belief in any definite alternative. In Mind and Cosmos, he does suggest that if the materialist account is wrong, then principles of a different kind may also be at work in the history of nature, principles of the growth of order that are in their logical form teleological rather than mechanistic. In spite of the great achievements of the physical sciences, reductive materialism is a world view ripe for displacement. Nagel shows that to recognize its limits is the first step in looking for alternatives, or at least in being open to their possibility.--Publisher description
What does it all mean? : a very short introduction to philosophy
by
Thomas Nagel
( Book )
26 editions published between
1987
and 2009 in
English
and held by 1,857 WorldCat member libraries worldwide
Most people think about philosophical problems without realizing it. Introducing the uninitiated to the world of philosophical inquiry, this book examines nine philosophical problems fundamental to everyday living. It contains short introduction to the methods of philosophy for those with a taste for abstract ideas and theoretical arguments
Other minds : critical essays, 1969-1994
by
Thomas Nagel
( )
24 editions published between
1995
and 2000 in
English
and
Undetermined
and held by 1,855 WorldCat member libraries worldwide
Other Minds gathers Nagel's most important critical essays and reviews on the philosophy of mind, ethics, and political philosophy. The pieces here discuss philosophers from Aristotle to Wittgenstein, as well as contemporary legal and political theorists like Robert Nozick and Ronald Dworkin. Also included are essays tracing Nagel's ongoing participation in debates surrounding the mind-body problem - lucid, opinionated responses to Daniel Dennett, John Searle, and others. Running through Other Minds is Nagel's overriding conviction that the most compelling intellectual issues of our day - from the scientific foundations of Freudian theory to the vicissitudes of judicial interpretation - are essentially philosophical problems. Vital, accessible, and controversial, these writings represent the best of one of our leading thinkers
Mortal questions
by
Thomas Nagel
( Book )
106 editions published between
1979
and 2015 in 9 languages and held by 1,794 WorldCat member libraries worldwide
Thomas Nagel's Mortal Questions explores some fundamental issues concerning the meaning, nature and value of human life. Questions about our attitudes to death, sexual behaviour, social inequality, war and political power are shown to lead to more obviously philosophical problems about personal identity, consciousness, freedom and value. This original and illuminating book aims at a form of understanding that is both theoretical and personal in its lively engagement with what are literally issues of life and death
The view from nowhere
by
Thomas Nagel
( Book )
54 editions published between
1986
and 2018 in 9 languages and held by 1,547 WorldCat member libraries worldwide
"Human beings have the unique ability to view the world in a detached way: We can think about the world in terms that transcend our own experience or interest, and consider the world from a vantage point that is, in Nagel's words, "nowhere in particular". At the same time, each of us is a particular person in a particular place, each with his own "personal" view of the world, a view that we can recognize as just one aspect of the whole. How do we reconcile these two standpoints--intellectually, morally, and practically? To what extent are they irreconcilable and to what extent can they be integrated? Thomas Nagel's ambitious and lively book tackles this fundamental issue, arguing that our divided nature is the root of a whole range of philosophical problems, touching, as it does, every aspect of human life. He deals with its manifestations in such fields of philosophy as: the mind-body problem, personal identity, knowledge and skepticism, thought and reality, free will, ethics, the relation between moral and other values, the meaning of life, and death. Excessive objectification has been a malady of recent analytic philosophy, claims Nagel, it has led to implausible forms of reductionism in the philosophy of mind and elsewhere. The solution is not to inhibit the objectifying impulse, but to insist that it learn to live alongside the internal perspectives that cannot be either discarded or objectified. Reconciliation between the two standpoints, in the end, is not always possible."--Www.amazon.com (Nov. 9, 2010)
Marx, justice, and history
by
Marshall Cohen
( )
17 editions published between
1980
and 2014 in
English
and held by 1,522 WorldCat member libraries worldwide
The political and ideological turmoil of the late 1960's stimulated among Anglo-American philosophers a new interest in applying moral philosophy to the problems of contemporary society, and a search for critical perspectives on Marx and Marxist thought. These essays, originally published in Philosophy & Public Affairs, contribute to both these areas in the form of new Marxist scholarship and in illuminating the way in which Marxist criticism and social theory bear on contemporary analytic moral philosophy and current moral problems. Originally published in 1980. The Princeton Legacy Library uses the latest print-on-demand technology to again make available previously out-of-print books from the distinguished backlist of Princeton University Press. These paperback editions preserve the original texts of these important books while presenting them in durable paperback editions. The goal of the Princeton Legacy Library is to vastly increase access to the rich scholarly heritage found in the thousands of books published by Princeton University Press since its founding in 1905
The possibility of altruism
by
Thomas Nagel
( Book )
58 editions published between
1970
and 2016 in 4 languages and held by 1,467 WorldCat member libraries worldwide
Just as there are rational requirements on thought, there are rational requirements on action. This book defends a conception of ethics, and a related conception of human nature, according to which altruism is included among the basic rational requirements on desire and action
The myth of ownership : taxes and justice
by
Liam B Murphy
( Book )
36 editions published between
2002
and 2007 in
English
and held by 1,383 WorldCat member libraries worldwide
Taking as a guiding principle the conventional nature of private property, Murphy and Nagel show how taxes can only be evaluated as part of the overall system of property rights that they help to create. Justice or injustice in taxation, they argue, can only mean justice or injustice in the system of property rights and entitlements that result from a particular regime. Taking up ethical issues about individual liberty, interpersonal obligation, and both collective and personal responsibility, Murphy and Nagel force us to reconsider how our tax policy shapes our system of property rights. [publisher web site]
more
fewer
Audience Level
0

1
Kids
General
Special
Audience level: 0.29 (from 0.07 for A brief in ... to 0.91 for Thomas Nag ...)
Related Identities
Associated Subjects
Abortion
Altruism
Beginning
Cosmogony
Cosmology
Creation
Darwin, Charles,
Descartes, René,
Discrimination--Law and legislation
Distributive justice
Equality
Equality before the law
Ethics
Ethics, Modern
Faith
History--Philosophy
International relations
Justice
Life
Marx, Karl,
Medical ethics
Mind and body
Nagel, Thomas
Nagel, Thomas,
Objectivity
Philosophical theology
Philosophy
Philosophy and religion
Philosophy of mind
Political science--Philosophy
Privacy
Psychology--Philosophy
Quine, W. V.--(Willard Van Orman)
Rawls, John,
Realism
Reason
Relativity
Religion
Religions
Reverse discrimination--Law and legislation
Science--Philosophy
Sin
Skepticism
Social justice
Subjectivity
Taxation--Social aspects
Tax incidence
United States
War (International law)
War--Moral and ethical aspects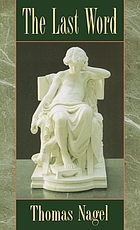 Covers
Alternative Names
Nagel T.

Nagel, Thomas

Nagelis Thomas

Naige 1937-

Thomas Nagel Ameerika Ühendriikide filosoof

Thomas Nagel Amerikaans filosoof

Thomas Nagel filòsof estatunidenc

Thomas Nagel filósofo estadounidense

Thomas Nagel filosofo statunitense

Thomas Nagel philosophe américain

Thomas Nagel US-amerikanischer Philosoph

Нагель, Томас

Нагель, Томас 1937-

Томас Нагель

ניגל, תומס 1937-

תומאס נגל פילוסוף אמריקאי

تامس نیگل نویسنده و فیلسوف آمریکایی

توماس ناغل

توماس ناغل فيلسوف أمريكي

나겔, 토머스 1937-

네이글, 토머스 1937-

トマス・ネーゲル

ネーゲル, トマス

ネーゲル, トマス‏ 1937-

湯瑪斯·內格爾

耐格 1937-

Languages