Jencks, Christopher
Most widely held works about Christopher Jencks
Most widely held works by Christopher Jencks
Inequality : a reassessment of the effect of family and schooling in America
by
Christopher Jencks
( Book )
69 editions published between
1972
and 1983 in 5 languages and held by 2,231 WorldCat member libraries worldwide
Details the findings of a three-year study undertaken at the Center for Educational Policy Research on inequality in schooling in America and its relation to economic success
The Urban underclass
by
Christopher Jencks
( Book )
16 editions published between
1990
and 1991 in
English
and held by 2,033 WorldCat member libraries worldwide
Many believe that the urban underclass in America is a large, rapidly increasing proportion of the population; that crime, teenage pregnancy, and high school dropout rates are escalating; and that welfare rolls are exploding. Yet none of these perceptions is accurate. Here, noted authorities, including William J. Wilson, attempt to separate the truth about poverty, social dislocation, and changes in American family life from the myths that have become part of contemporary folklore
The academic revolution
by
Christopher Jencks
( Book )
51 editions published between
1968
and 2017 in
English
and held by 2,029 WorldCat member libraries worldwide
"The Academic Revolution describes the rise to power of professional scholars and scientists, first in America's leading universities and now in the larger society as well. Without attempting a full-scale history of American higher education, it outlines a theory about its development and present status. It is illustrated with firsthand observations of a wide variety of colleges and universities the country over-colleges for the rich and colleges for the upwardly mobile; colleges for vocationally oriented men and colleges for intellectually and socially oriented women; colleges for Catholics and colleges for Protestants; colleges for blacks and colleges for rebellious whites. The authors also look at some of the revolution's consequences. They see it as intensifying conflict between young and old, and provoking young people raised in permissive, middle-class homes to attacks on the legitimacy of adult authority. In the process, the revolution subtly transformed the kinds of work to which talented young people aspire, contributing to the decline of entrepreneurship and the rise of professionalism. They conclude that mass higher education, for all its advantages, has had no measurable effect on the rate of social mobility or the degree of equality in American society. Jencks and Riesman are not nostalgic; their description of the nineteenth-century liberal arts colleges is corrosively critical. They maintain that American students know more than ever before, that their teachers are more competent and stimulating than in earlier times, and that the American system of higher education has brought the American people to an unprecedented level of academic competence. But while they regard the academic revolution as having been an historically necessary and progressive step, they argue that, like all revolutions, it can devour its children. For Jencks and Riesman, academic professionalism is an advance over amateur gentility, but they warn of its dangers and limitations: the elitism and arrogance implicit in meritocracy, the myopia that derives from a strictly academic view of human experience and understanding, the complacency that comes from making technical competence an end rather than a means."--Provided by publisher
The homeless
by
Christopher Jencks
( Book )
25 editions published between
1993
and 2009 in
English
and
Japanese
and held by 1,887 WorldCat member libraries worldwide
Late in the 1970s, Americans began to notice more people sleeping in public places and wandering the streets. By the late 1980s, the homeless were everywhere--a grim reminder of America's social and economic troubles. Renowned social analyst Jencks discusses the causes and extent of this problem and what can be done about it. Line illustrations and tables
The black-white test score gap
by
Christopher Jencks
( Book )
16 editions published in
1998
in
English
and held by 1,535 WorldCat member libraries worldwide
"The test score gap between blacks and whites - on vocabulary, reading, and math tests, as well as on tests that claim to measure scholastic aptitude and intelligence - is large enough to have far-reaching social and economic consequences. In their introduction to this book, Christopher Jencks and Meredith Phillips argue that eliminating the disparity would dramatically reduce economic and educational inequality between blacks and whites. Indeed, they think that closing the gap would do more to promote racial equality than any other strategy now under serious discussion. The book offers a comprehensive look at the factors that contribute to the test score gap and discusses options for substantially reducing it."--Jacket
Rethinking social policy : race, poverty, and the underclass
by
Christopher Jencks
( Book )
27 editions published between
1992
and 1999 in
English
and held by 1,423 WorldCat member libraries worldwide
In a fervent appeal for clearer thinking on social issues, Christopher Jencks reexamines the way Americans think about race, poverty, crime, heredity, welfare, and the underclass. Arguing that neither liberal nor conservative ideas about these issues withstand close scrutiny, he calls for less emphasis on political principles and more attention to specific programs. Jencks describes how welfare policy was dominated in the early 1980s by conservatives who promoted ideas that justified cutting back sharply on the social programs of Lyndon Johnson's Great Society. They believed that a period of sustained economic growth, with low taxes and free markets, would do more to help poor people than coddling them with government assistance. Despite the economic expansion of the later Reagan years, however, the problems of persistent poverty grew even more serious. With clarity and a gift for apt analogy, Jencks analyzes major books on such subjects as affirmative action (Thomas Sowell), the "safety net" (Charles Murray), the effects of heredity on learning and propensity to commit crime (James Q. Wilson and Richard Herrnstein), ghetto culture and the underclass (William J. Wilson). His intention throughout is "to unbundle the empirical and moral assumptions that traditional ideologies tie together, making the reader's picture of the world more complicated"--In other words, to force us (readers and policymakers) to look at the way various remedial plans actually succeed or fail. For example, he believes that until we transform AFDC so that it reinforces rather than subverts American ideals about work and marriage, efforts to build a humane welfare state will never succeed. Other prescriptions, initially surprising and sometimes shocking, show demonstrable good sense once they are examined. As the author says, "If this book encourages readers to think about social policy more concretely, it will have served its primary purpose."
Who gets ahead? : the determinants of economic success in America
by
Christopher Jencks
( Book )
13 editions published between
1977
and 1979 in
English
and held by 1,016 WorldCat member libraries worldwide
Drawing on more than 11 surveys conducted over more than a decade, this book investigates the relationship between personal characteristics and economic success among American males aged 25 to 64. Responding to the controversy that followed the publication of "Inequality: a Reassessment of the Effect of Family and Schooling in America," this book concentrates on the determinants of individual success within the existing economic system, not with the determinants of the level of inequality. Focus is on four kinds of personal characteristics: family background, cognitive skills, personality traits, and years of schooling. Chapters discuss: the methods of research used to gather information; the effects of family background, academic ability, noncognitive traits, education, and race on earnings; who gets ahead; individual earnings and family income; the realm of variance among the surveys; the effects of research style; and results of the comparison of this report to the inequality report that preceded it. It is concluded that schooling has the greatest influence on a person's eventual status or earnings. Tables and figures offer statistical data gathered in the research such as subsamples from the 11 surveys, comparison on income and background, and family effects on test scores. Notes on each chapter are offered in conclusion along with an extensive bibliography and index. (Lc)
Chancengleichheit
by
Hellmut Becker
( Book )
3 editions published in
1973
in
German
and held by 104 WorldCat member libraries worldwide
Can we all get along?
( Visual )
2 editions published between
1992
and 1993 in
No Linguistic content
and
English
and held by 37 WorldCat member libraries worldwide
Prompted by the events in Los Angeles following the Rodney King verdict, McNeil/Lehrer News Hour correspondent Charlayne Hunter-Gault conducted a series of interviews with community leaders, journalists, politicians, educators and other experts on race relations in America. They give their views on how and why racial tensions exist and continue to grow, and what steps we need to take to maintain a positive racial climate
La revolución académica
by
Christopher Jencks
( Book )
4 editions published between
1968
and 1970 in
Spanish
and held by 21 WorldCat member libraries worldwide
more
fewer
Audience Level
0

1
Kids
General
Special
Audience level: 0.29 (from 0.09 for The Urban ... to 0.91 for Do rising ...)
Related Identities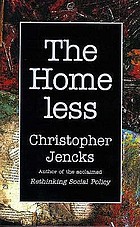 Covers
Alternative Names
Christopher Jencks científicu social estauxunidense

Christopher Jencks sociòleg estatunidenc

Christopher Jencks sociólogo estadounidense

Christopher Jencks sociologue américain

Jencks, Christopher Sandy

Jencks, Christopher Sandy 1936-

クリストフアー・ジエンクス

ジェンクス, C

ジェンクス, クリストファー

Languages