Higgs, Eric 1958-
Most widely held works about Eric Higgs
Most widely held works by Eric Higgs
Nature by design : people, natural process, and ecological restoration
by
Eric Higgs
( )
8 editions published in
2003
in
English
and held by 1,856 WorldCat member libraries worldwide
Higgs explains how and why the restoration movement came about, where it fits into the array of approaches to human relationships with the land, and how it might be used to secure a sustainable future. Some environmental philosophers and activists worry that restoration will dilute preservation and conservation efforts and lead to an even deeper technological attitude toward nature. They ask whether even well-conceived restoration projects are in fact just expressions of human will. Higgs prefaces his responses to such concerns by distinguishing among several types of ecological restoration. He also describes a growing gulf between professionals and amateurs. Higgs finds much merit in criticism about technological restoration projects, which can cause more damage than they undo. These projects often ignore the fact that changing one thing in a complex system can change the whole system. For restoration projects to be successful, Higgs argues, people at the community level must be engaged. These focal restorations bring communities together, helping volunteers develop a dedication to place and encouraging democracy."--
Technology and the good life?
by
Eric Higgs
( )
15 editions published between
2000
and 2010 in
English
and held by 1,661 WorldCat member libraries worldwide
'Technology and the Good Life?' uses a careful collective analysis of Albert Borgmann's controversial and influential ideas as a jumping-off point from which to address questions about the role and significance of technology in our lives. Contributors both sympathetic and critical examine Borgmann's work, especially his 'device paradigm'; apply his theories to new areas such as film, agriculture, design, and ecological restoration; and consider the place of his thought within philosophy and technology studies more generally
Novel ecosystems : intervening in the new ecological world order
by
R. J Hobbs
( )
14 editions published in
2013
in
English
and held by 916 WorldCat member libraries worldwide
4e de couv.: Land conversion, climate change and species invasions are contributing to the widespread emergence of novel ecosystems, which demand a shift in how we think about traditional approaches to conservation, restoration and environmental management. They are novel because they exist without historical precedents and are self-sustaining. Traditional approaches emphasizing native species and historical continuity are challenged by novel ecosystems that deliver critical ecosystems services or are simply immune to practical restorative efforts. Some fear that, by raising the issue of novel ecosystems, we are simply paving the way for a more laissez-faire attitude to conservation and restoration. Regardless of the range of views and perceptions about novel ecosystems, their existence is becoming ever more obvious and prevalent in today's rapidly changing world. In this first comprehensive volume to look at the ecological, social, cultural, ethical and policy dimensions of novel ecosystems, the authors argue these altered systems are overdue for careful analysis and that we need to figure out how to intervene in them responsibly. This book brings together researchers from a range of disciplines together with practitioners and policy makers to explore the questions surrounding novel ecosystems. It includes chapters on key concepts and methodologies for deciding when and how to intervene in systems, as well as a rich collection of case studies and perspective pieces. It will be a valuable resource for researchers, managers and policy makers interested in the question of how humanity manages and restores ecosystems in a rapidly changing world
Mapper of mountains : M.P. Bridgland in the Canadian Rockies 1902-1930
by
I. S MacLaren
( Book )
7 editions published in
2005
in
English
and held by 214 WorldCat member libraries worldwide
"Dominion Land Surveyor Morrison Parsons Bridgland spent nearly every summer mapping the mountains of Alberta and British Columbia, climbing many of Canada's Rocky Mountains for the first time. This unheralded alpinist perfected photo-topographical techniques to compile a series of mountaintop photographs to create accurate topographical maps. Early tourists used his maps to explore the natural wonders of the eastern Rockies, and his book, Description of & Guide to Jasper Park (1917), told them what to go and see." "How he made his photographs from the tops of mountains and even developed them while camped out in the wilderness are detailed in this biography, as are some of the trials and tribulations involved in that summer's survey. Mapper of Mountains also relates his involvement in the establishment and early years of the Alpine Club of Canada."--Jacket
Daring to envision ecologically sound and socially just futures : an interdisciplinary exploration of contemporary film
by
Karen Hurley
( )
1 edition published in
2009
in
English
and held by 4 WorldCat member libraries worldwide
This dissertation explores the connection between sustainability and dominant images of the future in contemporary film. The research uses an ecofeminist visual interdisciplinary methodology to investigate the importance of vision/images of the future in guiding the creation of ecologically sound and socially just futures, and how films, as a source of dominant imagery, may be interfering with our ability to envision positive futures as well as provide opportunities for positive visions. The research is in two parts:1) a visual studies analysis of contemporary films based on critical futures studies (Causal Layered Analysis) ecofeminism, and 2) and interviews with filmmakers. The visual analysis explores and problematises patterns of images of the future in film, especially those of natural landscapes, animals, plants, human settlements, food, and water as well as racial and gender roles within human society. The interview data documents the filmmakers' experiences within film industry and their commentary on the filmmaking process and practices. The research participants' words also inform the exploration of opportunities for the transformation of the filmmaking industry. Filmmaking is theorised as a technology, based on Ursula Franklin's interdisciplinary work on technology as systems of practice, and Albert Borgmann's philosophy of technology. This dissertation argues that we need visions of sustainable, diverse, and socially just futures to inspire and guide our actions in the present, and that films can contribute to positive imagery. The research explores barriers to envisioning sustainable futures, such as dystopic Hollywood film images and scientific/environmental professional and scholarly practices that discourage visioning work. As well as exploring why it is important that societies have visions of ecologically and socially just futures, and how the filmmaking industry can be part of the sustainability revolution
Underlying patterns that shape ecological restoration in the post-colonial landscape of the Ainu Moshir (land) of Hokkaido, Japan
by Shinsaku Shiga
( )
1 edition published in
2011
in
English
and held by 4 WorldCat member libraries worldwide
My main objective is to reveal and illustrate the patterns and processes underlying the practice of ecological restoration in post-colonial landscapes. To focus my analysis, I asked what these patterns are, and how they inhibit or enable the Iwor (Ainu Traditional Living Space) Restoration Project (IRP). The IRP is a state-funded project aimed at improving the well-being of Ainu in Hokkaido, Japan. I used interviews, participant observation and text analyses to elucidate the dynamics at work in and around the project. My findings suggest that colonial and technological practices inhibit good ecological restoration practices in IRP by disengaging people, or more subtly preventing them from engaging with it. Colonially, structural and discursive marginalization maintains economic deprivation through denying progressive conversations about community empowerment. This process also reinforces subjective power relationships of Wajin, the ethnic majority, dominance. Technologically, I observed signs of Borgmann's (1984)?device paradigm? that are both institutionally (e.g. government agencies) and materially (e.g. infrastructure and tools) driving the IRP toward technological restoration and away from focal restoration. This was particularly apparent in such instances where means and ends were inverted, or the government agencies were inaccessible to the Ainu participants. These patterns in turn make IRP less appealing for Ainu and other local peoples. However, I also found that the room for creativity and attention to human-nature relationships in ecological restoration allow creation of the new space where Ainu can assert their values more strongly. This is the Kotan Iwor where the space embodies both Iwor and iwor, two representations of Wajin and Ainu views of the?Traditional Living Space? respectively. My findings on Kotan Iwor (the traditional settlement restoration site) suggest that there is a significant potential in the ecological restoration practices because of the practice's inherent capacity to bring people and the landscape together in a creative context. With careful attention to colonial, technological, and other dynamics, good ecological restoration practices have the potential to restore and improve the well-being of indigenous and non-indigenous community members alike
Characterizing the Mixed-Severity Fire Regime of the Kootenay Valley, Kootenay National Park
by Richard Kubian
( )
1 edition published in
2013
in
English
and held by 4 WorldCat member libraries worldwide
Understanding historic fire regimes to develop benchmarks for emulating historic natural disturbance processes in the interest of conserving biodiversity has been actively pursued for approximately 30 years. Mixed-severity fire regimes are increasingly becoming a recognized component of historic fire regimes. Mixed-severity fire regimes are inherently difficult to classify and characterize given the complexity of the process and the multiple scales at which this complexity is expressed. I utilized a systematic study design to gather fire scar and stand dynamic information in order to describe and classify the historic fire regime. I established the presence of mixed disturbance regime dominated by a mixed-severity fire regime. The historic fire regime was mixed-severity over time dominated by individual high severity fire events occurring at a frequency of 60-130 years with some areas that experienced lower severity fire events occurring at a frequency of 20 - 40 years. Twenty-one per cent of the current landscape was dominated by high-severity fire, 42% by mixed-severity and 37% had an unknown fire history. I developed a fire regime classification scheme that provides a useful tool for considering fire severity in mixed-severity system with forest species that generate strong establishment cohorts. I was able to combine time-since-fire methods with a systematic study design and this combination provided an excellent tool to explore mixed-severity fire characteristics in a complicated mixed-disturbance forest. I found limited relationships between topographic controls and fire severity. I found a number of significant relationships that fit the broadly held perceptions of how fire severity would affect species relative densities and stand structure attributes. The existing stand origin map and the Vegetation Resource Inventory stand age were largely accurate for high-severity 20th century fires but had decreasing accuracy in older forests and for mixed and unknown fire severity. The accuracy of the Vegetation Resource Inventory leading species accuracy was quantified at only 60%. My results have implications for fire and forest management in south-eastern British Columbia and in other forest systems that had historic mixed-severity fire regimes with tree species that have strong establishment cohorts
more
fewer
Audience Level
0

1
Kids
General
Special
Audience level: 0.16 (from 0.05 for Technology ... to 0.95 for Novel ecos ...)
Related Identities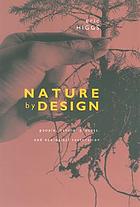 Covers
Alternative Names
Eric Higgs Canadian environmental scholar

Eric Higgs ecólogo canadiense

Eric Higgs ecólogu canadianu

Eric Higgs kanadischer Ökologe

Higgs, E. S. 1958-

Higgs, E. S. (Eric Stowe), 1958-

Higgs, Eric

Higgs Eric 1958-....

Higgs, Eric Stowe

Higgs, Eric Stowe 1958-

Languages