Cohen-Tannoudji, Claude 1933-
Overview
| | |
| --- | --- |
| Works: | 171 works in 754 publications in 6 languages and 16,129 library holdings |
| Genres: | History Textbooks |
| Roles: | Author, Editor, Author of introduction, Interviewee, Thesis advisor, Commentator, Creator, Other, Scientific advisor, Collector, Opponent |
| Classifications: | QC174.12, 530.12 |
Most widely held works about Claude Cohen-Tannoudji
Most widely held works by Claude Cohen-Tannoudji
Atoms in electromagnetic fields
by
Claude Cohen-Tannoudji
( )
27 editions published between
1994
and 2005 in
English
and
French
and held by 2,201 WorldCat member libraries worldwide
Papers written during the last 40 years by Claude Cohen-Tannoudji and his collaborators on various physical effects which can be observed on atoms interacting with electromagnetic fields
Quantum mechanics
by
Claude Cohen-Tannoudji
( Book )
129 editions published between
1976
and 2019 in 3 languages and held by 1,768 WorldCat member libraries worldwide
Beginning students of quantum mechanics frequently experience difficulties separating essential underlying principles from the specific examples to which these principles have been historically applied. Nobel-Prize-winner Claude Cohen-Tannoudji and his colleagues have written this book to eliminate precisely these difficulties. Fourteen chapters provide a clarity of organization, careful attention to pedagogical details, and a wealth of topics and examples which make this work a textbook as well as a timeless reference, allowing to tailor courses to meet students' specific needs. Each chapter starts with a clear exposition of the problem which is then treated, and logically develops the physical and mathematical concept. These chapters emphasize the underlying principles of the material, undiluted by extensive references to applications and practical examples which are put into complementary sections. The book begins with a qualitative introduction to quantum mechanical ideas using simple optical analogies and continues with a systematic and thorough presentation of the mathematical tools and postulates of quantum mechanics as well as a discussion of their physical content. Applications follow, starting with the simplest ones like e.g. the harmonic oscillator, and becoming gradually more complicated (the hydrogen atom, approximation methods, etc.). The complementary sections each expand this basic knowledge, supplying a wide range of applications and related topics as well as detailed expositions of a large number of special problems and more advanced topics, integrated as an essential portion of the text
Advances in atomic physics : an overview
by
Claude Cohen-Tannoudji
( )
23 editions published between
2010
and 2012 in
English
and
Undetermined
and held by 1,653 WorldCat member libraries worldwide
"This book presents a comprehensive overview of the spectacular advances seen in atomic physics during the last 50 years. The authors explain how such progress was possible by highlighting connections between developments that occurred at different times. They discuss the new perspectives and the new research fields that look promising. The emphasis is placed, not on detailed calculations, but rather on physical ideas. Combining both theoretical and experimental considerations, the book will be of interest to a wide range of students, teachers and researchers in quantum and atomic physics."--Pub. desc
Annual review of cold atoms and molecules
by
Kirk W Madison
( )
7 editions published in
2013
in
English
and held by 1,279 WorldCat member libraries worldwide
The aim of this book is to present review articles describing the latest theoretical and experimental developments in the field of cold atoms and molecules. Our hope is that this series will promote research by both highlighting recent breakthroughs and b
Processus d'interaction entre photons et atomes
by
Claude Cohen-Tannoudji
( )
20 editions published between
1988
and 2001 in
French
and
Italian
and held by 1,223 WorldCat member libraries worldwide
This is an original presentation of quantum physics that has been brought up to date. It is based on an algebraic approach and on the use of properties of symmetry making thus possible the introduction of the foundation of quantum mechanics without alluding to classical physics. It is intended for graduate students, engineering school students and professional physicists
Photons and atoms : introduction to quantum electrodynamics
by
Claude Cohen-Tannoudji
( Book )
45 editions published between
1989
and 2008 in
English
and
Undetermined
and held by 1,223 WorldCat member libraries worldwide
Classical Electrodynamics: The Fundamental Equations and the Dynamical Variables - Lagrangian and Hamiltonian Approach to Electrodynamics; The Standard Lagrangian and the Coulomb Gauge - Quantum Electrodynamics in the Coulomb Gauge - Other Equivalent Formulations of Electrodynamics - Introduction to the Covariant Formulation of Quantum Electrodynamics
Photons et atomes : introduction à l'électrodynamique quantique
by
Claude Cohen-Tannoudji
( )
25 editions published between
1986
and 2001 in 3 languages and held by 1,205 WorldCat member libraries worldwide
""Table des mati�res""; ""Avant-propos""; ""Introduction""; ""I: �LECTRODYNAMIQUE CLASSIQUE �QUATIONS DE BASE ET VARIABLES DYNAMIQUES FONDAMENTALES""; ""Introduction""; ""A. Equations de base dans I'espace ordinaire""; ""1. Equations de Maxwell-Lorentz""; ""2. Quelques constantes du mouvement importantes""; ""3. Potentiels - Invariance de jauge""; ""B. Electrodynamiqne dans I'espace réciproque""; ""1. Transformation de Fourier spatiale - Notations""; ""2. Equations des champs dans I'espace réciproque""; ""3. Champs vectoriels longitudinaux et transverses""
Atom-photon interactions : basic processes and applications
by
Claude Cohen-Tannoudji
( Book )
38 editions published between
1992
and 2010 in 3 languages and held by 783 WorldCat member libraries worldwide
Transition amplitudes in electrodynamics - Complement a(I)--perturbative calculation of transition amplitudes--some useful relations - Complement b(I)--description of the effect of a perturbation by an effective Hamiltonian - Complement c(I)--discrete level coupled to a broad continuum: a simple model - A survey of some interaction processes between photons and atoms - Complement a(II)--photodetection signals and correlation functions - Complement b(II)--radiative corrections in the pauli-fierz representation - Nonperturbative calculation of transition amplitudes - complement a(III)--analytic properties of the resolvent - Complement b(III)--nonperturbative expressions for the scattering amplitudes of a photon by an atom - Complement c(III)--discrete state coupled to a finite-width continuum: from the weisskopf-wigner exponential decay to the rabi oscillation - Radiation considered as a reservoir: master equation for the particles - Complement a(IV)--fluctuations and linear response app
Comprenons-nous vraiment la mécanique quantique?
by
Franck Laloë
( )
6 editions published between
2011
and 2017 in
French
and
Undetermined
and held by 687 WorldCat member libraries worldwide
La 4e de couverture indique : "La mécanique quantique est à la base de notre compréhension actuelle des lois de la Nature, qu'elles s'appliquent à l'Univers entier, aux objets à notre échelle ou microscopiques. Toujours vérifiée par l'expérience, elle a permis de nombreuses découvertes et la mise au point de dispositifs variés tels que les lasers, les transistors, les capteurs pour la photographie ou la vidéo, etc. Alors, pourquoi se poser la question "comprenons-nous vraiment la mécanique quantique ?". C'est qu'une bonne utilisation de la théorie ne signifie pas toujours une véritable compréhension. Le physicien qui prend du recul s'aperçoit que le puissant outil intellectuel créé par les scientifiques semble parfois leur échapper, prenant une vie propre et mettant en lumière maints aspects inattendus que ses inventeurs n'avaient pas soupçonnés. L'objet de ce livre est donc de discuter les fondements de la mécanique quantique. On y trouvera un exposé historique sur la naissance des concepts quantiques, leur développement, l'impact des idées de Bell et de son théorème et leur application récente à de nombreux domaines. Un panorama général des différentes interprétations est présenté en dernière partie. L'ouvrage est accessible à toute personne ayant une formation scientifique générale. Si des équations mathématiques apparaissent parfois, les idées importantes sont contenues dans les commentaires et les figures, l'accent étant mis sur les idées et les concepts généraux. Pour ceux qui ne sont pas très familiers de la mécanique quantique, un dernier chapitre contient un résumé des outils généraux de cette théorie et de leur utilisation. Le spécialiste pourra se reporter à une bibliographie très fournie. Depuis la première parution de l'ouvrage en 2011, la présente édition a été révisée et complétée pour tenir compte de nombreux résultats récents."
Annual review of cold atoms and molecules
( )
4 editions published in
2015
in
English
and held by 616 WorldCat member libraries worldwide
"The aim of this book is to contain review articles describing the latest theoretical and experimental developments in the field of cold atoms and molecules. Our hope is that this series will promote research by both highlighting recent breakthroughs and by outlining some of the most promising research directions in the field."--
more
fewer
Audience Level
0

1
Kids
General
Special
Audience level: 0.23 (from 0.00 for Annual rev ... to 1.00 for The Nobel ...)
Related Identities
Associated Subjects
Atoms
Berg, Paul,
Bethe, Hans A.--(Hans Albrecht),
Charpak, Georges
Chu, Steven
Cohen-Tannoudji, Claude,
Collisions (Nuclear physics)
Cormack, Allan Macleod,
Cronin, James W.,
Davis, Raymond,
Electromagnetic fields
Electromagnetic interactions
Fitch, Val L.,
Gell-Mann, Murray
Giacconi, Riccardo
Glashow, Sheldon L
Gore, Al,
Hooft, G. 't
Hounsfield, Godfrey,
Klug, A.--(Aaron),--Sir,
Koshiba, Masatoshi,
Lauterbur, Paul C.,
Lederman, Leon M
Lee, T. D.,
Low temperature research
Low temperatures
Mather, John C
Nambu, Yoichiro,
Nobel, Alfred Bernhard,
Nobel Prizes
Nobel Prize winners
Nuclear physics
Perl, Martin L.,
Perlmutter, Saul
Phillips, William D.--(William Daniel),
Photonuclear reactions
Quantum electrodynamics
Quantum electronics
Quantum optics
Quantum theory
Reines, Frederick,
Richter, Burton,
Rubbia, Carlo,
Smalley, Richard E
Smoot, George
Statistical physics
Steinberger, J
Townes, Charles H
Tsui, D. C.--(Daniel Chee),
Zewail, Ahmed H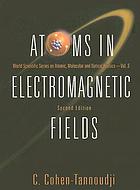 Covers
Alternative Names
Claude Cohen-Tannoudji físic francès

Claude Cohen-Tannoudji físico francés

Claude Cohen-Tannoudji fisico francese

Claude Cohen-Tannoudji fìsicu francisi

Claude Cohen-Tannoudji fizician francez

Claude Cohen-Tannoudji francoski fizik in nobelovec

Claude Cohen-Tannoudji francuski fizyk

Claude Cohen-Tannoudji francúzsky fyzik

Claude Cohen-Tannoudji Frans natuurkundige

Claude Cohen-Tannoudji fransk nobelpristagare i fysik

Claude Cohen-Tannoudji französischer Physiker

Claude Cohen-Tannoudji French physicist

Claude Cohen-Tannoudji physicien français

Claude Cohen-Tannoudji Prantsusmaa füüsik

Claude Nessim Cohen-Tannoudji

Claudius Cohen-Tannoudji

Cohen-Tannoudji, C.

Cohen-Tannoudji, C. 1933-

Cohen-Tannoudji, C. (Claude), 1933-

Cohen-Tannoudji, Claude

Cohen Tannoudji, Claude 1933-

Tannoudji, C. C.- 1933-

Tannoudji, Claude C.- 1933-

Tannoudji Claude Cohen-

Tannoudji Claude Cohen- 1933-....

Клод Коен-Таннуджи

Клод Коен-Таннуҗи

Клод Коен-Тануджи

Клод Коен-Тануђи

Клод Коен Тануџи

Клод Коэн-Тануджы

Коэн К

Коэн К. 1933-

Коэн-Таннуджи, Клод

Таннуджи К

Таннуджи К. 1933-

Կլոդ Քոեն Տանուջի ֆրանսիացի ֆիզիկոս

קלוד כהן טנוג'י

קלוד כהן טנוג'י פיזיקאי צרפתי

جلاودە جۆهەن-تاننۆودژ

كلود كوهين تانوجي

كلود كوهين تانوجي فيزيائي فرنسي

کلاؤڈ کوہن-ٹناڈجی

کلاڈ کوہن ٹانوجی

کلود کوهن تانوژی

کلود کوهن تانوژی فیزیک‌دان فرانسوی

क्लाउड कोहेन-टन्नौजी

क्लॉड कोहेन-तनूद्जी भौतिकशास्त्रातील नोबेल पारितोषिकविजेता शास्त्रज्ञ.

클로드 코엔타누지

クロード・コーエン=タヌージ

克洛德·科昂-唐努德日

Languages