European Space Agency
Overview
| | |
| --- | --- |
| Works: | 8,327 works in 12,391 publications in 3 languages and 41,902 library holdings |
| Genres: | Periodicals Conference papers and proceedings History Treaties |
| Roles: | Editor, Other, Organizer of meeting, Publisher, Producer, Sponsor, Collector, Contributor, Responsible party, Illustrator, isb, pmn, Publishing director, Distributor, Restager , Photographer, Surveyor, Annotator, 981, Scientific advisor, Director, Cartographer |
| Classifications: | TL787, 629.40624 |
Most widely held works about European Space Agency
more
fewer
Most widely held works by European Space Agency
Europe's quest for the universe : ESO and the VLT, ESA and other projects
by
Lodewijk Woltjer
( )
1 edition published in
2006
in
English
and held by 1,186 WorldCat member libraries worldwide
The large European instruments developed for observing the Universe, from the Sun and planets to its most remote reaches, form the principal subject of this book, addresses a wide audience: astronomers and space scientists, students, politicians, amateur astronomers and the educated public
Advanced propulsion systems and technologies, today to 2020
by
Claudio Bruno
( )
9 editions published in
2008
in
English
and held by 606 WorldCat member libraries worldwide
Commissioned by the European Space Agency, this book details specific propulsion technologies as envisioned by 2020. Each technology has been considered in terms of concept, associated key technologies, development status and proposed roadmaps. The reader is led through all the steps that propulsion will likely take between now and the 2020s in a clear, concise, and detailed way, including market and feasibility perspectives when applicable. The 17 chapters follow a developmental logic. The material starts with the future of SRM, grounded on R & D done at present, goes through the development of LOX/HC liquid rocket engines, a technology based on U.S. and Russian work of the 60s and 70s. It then looks into future technologies, and systems just beginning to make their impact felt now, such as superconductivity applied to electric propulsion, MW-class ion engines (perhaps utilizing a nuclear power source), solar sails, laser propulsion, nuclear propulsion (such as the promising VASIMR), and ISRU
more
fewer
Audience Level
0

1
Kids
General
Special
Audience level: 0.36 (from 0.00 for GAIA : a E ... to 0.81 for ESA annual ...)
Related Identities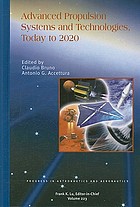 Covers
Alternative Names
European Organisation for the Development and Construction of Space Vehicle Launchers
European Space Research Organisation
A.S.E

A.S.E. (Agence Spaciale Europeenne)

A.S.E. (Agence spatiale européenne)

A.S.E. (i.e. Agence Spaciale Europeenne)

Acansê asmêniê Ewropa

Agence spatiale européenne.

Agencia Espacial Europea

Agencia Espacial Europea organización internacional dedicada a la exploración espacial

Agência Espacial Europeia

Agéncia Espaciala Europèa

Agensi Angkasa Eropah

Agentia Spatial Europee

Agenția Spațială Europeană

Agentzia Ispatziale Europea

Agenzia Spaziale Europea agenzia internazionale incaricata di coordinare i progetti spaziali europei

Agjencia Hapësinore Evropiane

ASE

ASE (Agence spatiale européenne)

ASE (Agence spatiale europénne)

ASE (i.e. Agence Spatiale Europeenne)

Asiantaeth Ofod Ewropeaidd

Avropa Kosmik Agentliyi

Avrupa Uzay Ajansı

Awrupa ğälämi agentlığı

Axencia Espacial Europea

Buidheann Fànas na Roinn Eòrpa

Cơ quan vũ trụ Châu Âu

Den Europæiske Rumorganisation

Den europeiske romfartsorganisasjon

Den europeiske romfartsorganisasjonen

E.S.A.

E.S.A. (European Space Agency)

Eiropas Kosmosa aģentūra

Eiropas Kosmosa aģentūra Eiropas starpvaldību organizācija, kuras galvenais mērķis ir kosmosa izpēte

ESA

ESA (European Space Agency)

ESA (Organisme)

Euroopa Kosmoseagentuur.

Euroopan avaruusjärjestö 20:n eurooppalaisen jäsenvaltion muodostama avaruustutkimusjärjestö

Eŭropa Kosma Agentejo

Europa Thài-khong Chóng-sú

Europääsche Weltruumorganisatschoon

Europaeische Weltraumorganisation

Európai Űrügynökség

Europäische Raumfahrtagentur

Europäische Weltraumorganisation

Europäische Weltraumorganisation Zusammenschluss europäischer Staaten zur Weltraumforschung

Europäiske Ruumtefoartorganisation

Europako Espazio Agentzia

European space agency

European Space Agency intergovernmental organisation dedicated to the exploration of space

Europeiska rymdbyrån

Europeiska rymdorganisationen mellanstatlig rymdforskningsorganisation i Paris

Europejska Agencja Kosmiczna.

Europejska Agencja Kosmiczna międzynarodowa agencja kosmiczna

Europese Ruimtevaartorganisasie

Europese Ruimtevaartorganisatie Ruimtevaartorganisatie

Europos kosmoso agentūra

Europska svemirska agencija

Európska vesmírna agentúra

Evropská kosmická agentura

Evropská kosmická agentura mezivládní organizace pro využití vesmíru

Evropska svemirska agencija

Evropska vesoljska agencija

Geimferðastofnun Evrópu

Gníomhaireacht Spáis na hEorpa

Organismo Espacial Europeo

Organización Europea de Investigaciones Espaciales

Paris (France)

Yevropa kosmik agentligi

Ευρωπαϊκός Οργανισμός Διαστήματος

Еврокосмос

Европейска космическа агенция

Европейское космическое агентство

Европска вселенска агенција

Европска свемирска агенција

Европын сансрын агентлаг

Еўрапейскае касмічнае агенцтва

Эўрапейская касьмічная агенцыя

Європейське космічне агентство

Եվրոպական տիեզերական գործակալություն

סוכנות החלל האירופית

اسا

دەزگای بۆشاییی ئەورووپی

سازمان فضایی اروپا

وكالة الفضاء الأوروبية منظمة دولية أوروبية مكرسة لاستكشاف الفضاء

یورپی خلائی ایجنسی

इसा

यूरोपीय अंतरिक्ष अभिकरण

ইউরোপীয় মহাকাশ সংস্থা

ਯੂਰਪੀ ਪੁਲਾੜ ਏਜੰਸੀ

ஐரோப்பிய விண்வெளி நிறுவனம்

യൂറോപ്യൻ സ്പേസ് ഏജൻസി

යුරෝපියානු අභ්‍යාවකාශ කාර්යාංශය

องค์การอวกาศยุโรป

ဥရောပ အာကာသ အေဂျင်စီ

ევროპული კოსმოსური სააგენტო

유럽 우주국

欧州宇宙機関

歐洲太空總署

欧洲空间局

欧洲空间局 致力於探索太空的政府間組織

Languages