Poinar, George O.
Most widely held works by George O Poinar
What bugged the dinosaurs? : insects, disease, and death in the Cretaceous
by
George O Poinar
( )
14 editions published between
2007
and 2010 in
English
and held by 1,690 WorldCat member libraries worldwide
This book reveals that T. rex was not the only killer in the Cretaceous: insects--from biting sand flies to disease-causing parasites--dominated life on the planet and played a significant role in the life and death of the dinosaurs. Analyzing exotic insects fossilized in Cretaceous amber at three major deposits in Lebanon, Burma, and Canada, the authors reconstruct the complex ecology of a hostile prehistoric world inhabited by voracious swarms of insects. They draw upon tantalizing new evidence from their discoveries of disease-producing vertebrate pathogens in Cretaceous blood-sucking flies, as well as intestinal worms and protozoa found in fossilized dinosaur excrement, to provide a unique view of how insects infected with malaria, leishmania, and other pathogens, together with intestinal parasites, could have devastated dinosaur populations.--From publisher description
The evolutionary history of nematodes : as revealed in stone, amber and mummies
by
George O Poinar
( )
11 editions published in
2011
in
English
and held by 931 WorldCat member libraries worldwide
This book establishes a solid base in palaeonematology with descriptions of 66 new fossil species and accounts of all previous fossil and subfossil nematodes from sedimentary deposits, coprolites, amber and mummies
The quest for life in amber
by
George O Poinar
( Book )
10 editions published between
1994
and 1996 in
English
and held by 889 WorldCat member libraries worldwide
The amber forest : a reconstruction of a vanished world
by
George O Poinar
( Book )
9 editions published between
1999
and 2001 in
English
and held by 813 WorldCat member libraries worldwide
The Poinars are world leaders in the study of amber fossils and have spent years examining the uniquely rich supply that has survived from the ancient forests of the Dominican Republic. They draw on their research here to reconstruct in words, drawings, and spectacular color photographs the ecosystem that existed on the island of Hispaniola between fifteen and forty-five million years ago. The Poinars present richly detailed drawings of how the forests once appeared. They discuss how and when life colonized Hispaniola and what caused some forms to become extinct. Along the way, they describe how amber is formed, how and where it has been preserved, and how it is mined, sold, and occasionally forged for profit today
Life in amber
by
George O Poinar
( Book )
5 editions published in
1992
in
English
and held by 502 WorldCat member libraries worldwide
Amber is a semi-precious gem that is formed over eons by natural forces out of the resin of trees. Human fascination with amber dates back to prehistoric times, when it was probably considered to have magical powers and was used for adornment and trade. Amber amulets and beads dating from 35,000 to 1,800 B.C. have been found, and where they have been found (for example in graves hundreds of miles from their chemically determined origins) has often helped to establish ancient trade routes. The preservative qualities of plant resins were well known by the ancients. The Egyptians used resins to embalm their dead, and the Greeks used them to preserve their wine. Amber often preserved fossils, frequently in a pristine state, of all kinds of animal and plant organisms that made contact with the sticky substance and became trapped in it. These fossils include such fragile organisms as nematodes and mushrooms that ordinarily are not preserved under normal processes of fossilization, as well as larger organisms like scorpions and lizards, and the fossils are preserved in their full three-dimensional form, complete with minute details of scales, mouth parts, antennae, and hairs. It has even been suggested that viable DNA may persist in some amber-trapped organisms. This book is a compendium of all that we know about life found in amber. It surveys all life forms, from microbes to vertebrates and plants, that have been reported from amber deposits throughout the world, beginning with the earliest pieces dating from some 300 million years ago. It also describes the formation of amber and the location, geological history, and early exploration of the major world amber deposits, including those still being worked today. The book also provides practical information on how to determine fake amber containing present-day forms of life. It can serve as a beginning for tracing the geological history of a particular group of animals or plants or even reconstructing ancient paleoenvironments, and because amber fossils are preserved so completely, in a transparent medium, they can be intimately compared with related living species. Finally, the book discusses what amber fossils can tell us about evolution and speciation, cellular preservation, and paleosymbiosis. The book is illustrated with 37 color photographs, 154 black-and-white photographs and drawings, and 8 maps
Lebanese amber : the oldest insect ecosystem in fossilized resin
by
George O Poinar
( )
4 editions published in
2001
in
English
and held by 500 WorldCat member libraries worldwide
"One of the earth's oldest natural treasures, Lebanese amber unlocks the secrets of a little-known world populated by dinosaurs, pterosaurs, and cycads. Dating back some 135 million years to the early Cretaceous, the amber contains the earliest known representatives of many insect groups. It was formed in a wet, tropical kauri pine forest long before Earth's continents reached their present positions." "This illustrated book, the first major review of Lebanese amber, covers all aspects of this rare and highly valued resin, including its origin and its role as a commodity in ancient cultures. The authors discuss each plant and animal fossil thus far recovered from the amber, including nematodes, snails, mites, spiders and insects, and the earliest complete feather." "Paleontologists, biologists, and evolutionists will appreciate the book's new information, along with its summary of early research and its analysis of how these amber fossils can increase our understanding of insect diversification, biogeography, extinction, and survival. With its descriptions of the origins, characteristics, and ancient uses of Lebanese amber and other Near Eastern resins, the book will appeal to readers of natural history and amber and gem collectors as well."--Jacket
Diagnostic manual for the identification of insect pathogens
by
George O Poinar
( Book )
16 editions published between
1977
and 1982 in
English
and held by 366 WorldCat member libraries worldwide
This manual was prepared for the diagnosis of insect diseases caused by infectious agents. The agents (or pathogens) included here are fungi, protozoans, bacteria, viruses, and rickettsias
Laboratory guide to insect pathogens and parasites
by
George O Poinar
( Book )
17 editions published between
1978
and 2012 in
English
and held by 310 WorldCat member libraries worldwide
After the publication of the Diagnostic Manual for the Identification of Insect Pathogens, the authors received many queries asking why they had not included the larger metazoan parasites as well as the microbial forms. An examination of the literature indicated that pictorial guides to the identification of nematodes and the immature stages of insect parasites were unavailable. Consequently we decided to rewrite the sections cover­ ing insect pathogens and combine these with new sections on ento­ mogenous nematodes and the immature stages of insect parasites. The result is the present laboratory guide, which is unique in covering all types of biotic agents which are found inside insects and cause them injury or disease. Included as parasites are insects and nematodes. Among the pathogens included are viruses, rickettsias, bacteria, fungi, and protozoans. Emphasis is placed on identification with an attempt to use the most easily recognizable characters. Use of a certain number of technical terms is unavoidable, and explanations of these can be found in most biological dictionaries or the glossary of invertebrate pathology prepared by Steinhaus and Martignoni (1970)
Nematodes for biological control of insects
by
George O Poinar
( Book )
14 editions published between
1978
and 2018 in
English
and held by 279 WorldCat member libraries worldwide
This book discusses nematodes for biological of insects. The book includes the following chapters; classification of nematode, key to entomogenous nematodes, nematode groups, microorganisms associated with entomogenous nematodes, immunity to entomogenous nematodes, natural enemies of entomogenous nematodes, environmental impact of entomogenous nematodes, and future prospects
more
fewer
Audience Level
0

1
Kids
General
Special
Audience level: 0.30 (from 0.04 for The evolut ... to 0.92 for Diseases o ...)
Related Identities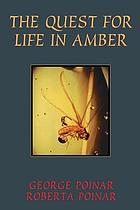 Covers
Alternative Names
George O. Poinar US-amerikanischer Entomologe

George Poinar Amerikaans botanicus

George Poinar amerykański biolog

George Poinar entomologiste américain

George Poinar entomólogo estadounidense

George Poinar, Jr.

Poinar, G. O.

Poinar, George.

Poinar, George 1936-

Poinar, George 1936- Jr

Poinar, George, Jr., 1936-

Poinar, George O.

Poinar, George O. Jr

Poinar, George Orlo 1936-

Poinar Jr., George

Poinar Jr., George O.

Джордж Пойнар американский палеоэнтомолог

جورج أ. بوينر، 1936-

ジョージ・ポイナー博士

Languages