Epstein, Richard Allen 1943-
Most widely held works about Richard Allen Epstein
Most widely held works by Richard Allen Epstein
Forbidden grounds : the case against employment discrimination laws
by
Richard Allen Epstein
( Book )
15 editions published between
1992
and 1995 in
English
and held by 1,086 WorldCat member libraries worldwide
This controversial book presents a powerful argument for the repeal of anti-discrimination laws within the workplace. These laws--frequently justified as a means to protect individuals from race, sex, age, and disability discrimination--have been widely accepted by liberals and conservatives alike since the passing of the 1964 Civil Rights Act and are today deeply ingrained in our legal culture. Richard Epstein demonstrates that these laws set one group against another, impose limits on freedom of choice, undermine standards of merit and achievement, unleash bureaucratic excesses, mandate inefficient employment practices, and cause far more invidious discrimination than they prevent. Epstein urges a return to the common law principles of individual autonomy that permit all persons to improve their position through trade, contract, and bargain, free of government constraint. He advances both theoretical and empirical arguments to show that competitive markets outperform the current system of centralized control over labor markets. Forbidden Grounds has a broad philosophical, economic, and historical sweep. Epstein offers novel explanations for the rational use of discrimination, and he tests his theory against a historical backdrop that runs from the early Supreme Court decisions, such as Plessy v. Ferguson which legitimated Jim Crow, through the current controversies over race-norming and the 1991 Civil Rights Act. His discussion of sex discrimination contains a detailed examination of the laws on occupational qualifications, pensions, pregnancy, and sexual harassment. He also explains how the case for affirmative action is strengthened by the repeal of employment discrimination laws. He concludes the book by looking at the recent controversies regarding age and disability discrimination. Forbidden Grounds will capture the attention of lawyers, social scientists, policymakers, and employers, as well as all persons interested in the administration of this major system of governmental regulation
Principles for a free society : reconciling individual liberty with the common good
by
Richard Allen Epstein
( Book )
18 editions published between
1998
and 2003 in
English
and
Chinese
and held by 955 WorldCat member libraries worldwide
In Principles for a Free Society, distinguished legal scholar Richard Epstein staunchly defends the principles of limited government, showing how it can and will work to the advantage of almost all of our society. But the balance between a powerful economic engine and individual liberty requires careful dilution of pure laissez-faire policies. A seminal theoretician, Epstein carefully analyzes the interaction of law and social norms and highlights the handful of restraints that provide a moral foundation to a resilient, adaptive capitalist system. His central mission is "to explain how a concern with the common good does not eviscerate the traditional protections otherwise provided to individual liberty and private property."
Simple rules for a complex world
by
Richard Allen Epstein
( Book )
27 editions published between
1995
and 2006 in 4 languages and held by 905 WorldCat member libraries worldwide
Too many laws, too many lawyers--that's the necessary consequence of a complex society, or so conventional wisdom has it. Countless pundits insist that any call for legal simplification smacks of nostalgia, sentimentality, or naiveté. But the conventional view, the noted legal scholar Richard Epstein tells us, has it exactly backward. The richer texture of modern society allows for more individual freedom and choice. And it allows us to organize a comprehensive legal order capable of meeting the technological and social challenges of today on the basis of just six core principles. In this book, Epstein demonstrates how. The first four rules, which regulate human interactions in ordinary social life, concern the autonomy of the individual, property, contract, and tort. Taken together these rules establish and protect consistent entitlements over all resources, both human and natural. These rules are backstopped by two more rules that permit forced exchanges on payment of just compensation when private or public necessity so dictates. Epstein then uses these six building blocks to clarify many intractable problems in the modern legal landscape. His discussion of employment contracts explains the hidden virtues of contracts at will and exposes the crippling weaknesses of laws regarding collective bargaining, unjust dismissal, employer discrimination, and comparable worth. And his analysis shows how laws governing liability for products and professional services, corporate transactions, and environmental protection have generated unnecessary social strife and economic dislocation by violating these basic principles. Simple Rules for a Complex World offers a sophisticated agenda for comprehensive social reform that undoes much of the mischief of the modern regulatory state. At a time when most Americans have come to distrust and fear government at all levels, Epstein shows how a consistent application of economic and political theory allows us to steer a middle path between too much and too little
Takings : private property and the power of eminent domain
by
Richard Allen Epstein
( Book )
26 editions published between
1985
and 2005 in
English
and
Japanese
and held by 884 WorldCat member libraries worldwide
If legal scholar Richard Epstein is right, then the New Deal is wrong, if not unconstitutional. Epstein develops a coherent normative theory that permits us to distinguish between permissible takings for public use and impermissible ones. He then examines a wide range of government regulations and taxes under a single comprehensive theory
Cases and materials on torts
by
Richard Allen Epstein
( Book )
50 editions published between
1977
and 2016 in
English
and held by 867 WorldCat member libraries worldwide
Intentionally inflicted harm : the prima facie case and defenses -- Strict liability and negligence : historic and analytic foundations -- The negligence issue -- Plaintiff's conduct -- Multiple defendants : joint, several, and vicarious liability -- Causation -- Affirmative duties -- Traditional strict liability -- Products liability -- Damages -- The institution of insurance -- The no-fault systems -- Defamation -- Privacy -- Misrepresentation -- Economic harms -- Tort immunities
The Bill of Rights in the modern state
( Book )
8 editions published in
1992
in
English
and held by 718 WorldCat member libraries worldwide
Papers presented at a symposium held Oct. 25-26, 1991, at the University of Chicago Law School
The vote : Bush, Gore, and the Supreme Court
( Book )
11 editions published in
2001
in
English
and held by 666 WorldCat member libraries worldwide
Though George W. Bush took office in January, the nation is still recovering from the prolonged and complex process by which he was elected. The Florida electoral controversy and the subsequent decisions by both the Florida courts and the US Supreme Court left citizens and scholars alike divided over the role of the judiciary in the electoral arena. Now, after several months of reflection, leading constitutional scholars - Cass R. Sunstein, Richard A. Epstein, Pamela S. Karlan, Richard A. Posner and John Yoo, among others - weigh in on the Supreme Court's actions, which still seem sensible, legally legitimate and pragmatically defensible to some and an egregious abuse of power to others. Representing the full spectrum of views and arguments, "The Vote" offers the most timely and considered guide to the ultimate consequences and significance of the Supreme Court's decision
Mortal peril : our inalienable right to health care?
by
Richard Allen Epstein
( Book )
12 editions published between
1997
and 1999 in
English
and held by 649 WorldCat member libraries worldwide
The author's authoritative analysis leads to strong conclusions. HMOs and managed care, he argues, are the best way we know to distribute health care, despite some damage to the quality of the physician-patient relationship and the risk of inadequate care. In a similar vein, he maintains that voluntary private markets in human organs would be much more effective in making organs available for transplant operations than the current system of state control. In examining these complex issues, Epstein returns again and again to one simple theme: by what right does the state prevent individuals from doing what they want with their own bodies, their own lives, and their own fortunes?
Bargaining with the state
by
Richard Allen Epstein
( Book )
26 editions published between
1993
and 2001 in
English
and
Undetermined
and held by 587 WorldCat member libraries worldwide
Published in 1985, Richard Epstein's influential and widely read book Takings staked out the controversial position that the takings clause of the Constitution invalidated most forms of economic regulation and most major social welfare programs of the New Deal. In this sequel, Bargaining with the State, he examines the threats to liberty that arise not through direct legislative command but through the power of government selectively to distribute benefits and favors to its citizens through grants, contracts, licenses, tax exemptions, and access to public property. His aim is to show that government use of monopoly power in bargaining can be just as dangerous as its direct exercise of the power of taxation and regulation. For Epstein, the preservation of individual liberty against government contractual power advances not only the short-term interest of the individual citizen but also the long-term overall social welfare. In Takings, Epstein argued that the takings clause was crafted to ensure to the extent possible that no individuals were net losers from government programs of taxation or regulation. Today in Bargaining with the State, he turns to the fair distribution of the gains from desirable government programs and the implicit peril to individual liberty and social welfare when government attaches strings to persons receiving its benefits. In so doing he offers a rigorous solution to the so-called paradox of unconstitutional conditions: why people bargaining with the state need not always take the bitter with the sweet, but may sometimes keep the government benefit while cutting the government string. Signs of this basic dilemma are evident everywhere. The government need not build roads. But if it does it cannot admit citizens only on condition that they support the incumbent administration, or cease criticism of it, even if they are willing to do so. Likewise if the government cannot govern the internal operations of religious institutions, then, Epstein maintains, it cannot constitutionally seek to influence their behavior by the selective award of tax benefits. Thus he takes the Supreme Court to task for its widely praised decision in the well-publicized Bob Jones University case, where the Court upheld the government decision to deny Bob Jones University its tax-exempt status solely because it had refused, for religious reasons, to allow interracial dating and marriage among its students. So long as the first amendment protected the free exercise of religion, argues Epstein, the government could not properly condition the tax exemption on Bob Jones's abandonment of its policies, when other religious institutions could enjoy exemptions while retaining complete internal control over their own affairs. Epstein extends his analysis to a wide range of explosive issues that involve the funding of education, welfare, and the arts. He explains how similar problems arise in connection with such apparently mundane matters as the use of public highways, and the power of the government to control land use and to license persons to practice the various learned professions. And he shows what happens when the federal government, as a modern Leviathan, uses conditional grants to undermine the powers of the several states, or when one state seeks to use its own power to gain disproportionate influence over other states. What lends this book special intellectual power is Epstein's thorough effort to link the principles of constitutional law to those that govern ordinary individuals in private disputes. Unlike most constitutional law scholars, Epstein has taught and written extensively in the private law of property, torts, and contract. His analysis of coercion as it is used in private law provides the base for his carefully assembled constitutional structure. Epstein also draws on his wide knowledge of legal history, philosophy, game theory, and the relationship of law and economics to make Bargaining with the State an interdisciplinary study that should be required reading not only for lawyers but for scholars and citizens of all outlooks and backgrounds who are interested in understanding the perennial questions of the use and limits of government power
Overdose : how excessive government regulation stifles pharmaceutical innovation
by
Richard Allen Epstein
( Book )
9 editions published between
2006
and 2009 in
English
and held by 490 WorldCat member libraries worldwide
This book is the first to offer a comprehensive examination of the pharmaceutical industry by following the tortuous course of a new drug as it progresses from early development to final delivery. Richard A. Epstein looks closely at the regulatory framework that surrounds all aspects of making pharmaceutical products today, and he assesses which current legal and regulatory practices make sense and which have gone awry. While critics of pharmaceutical companies call for ever more stringent controls on virtually every aspect of drug development and approval, Epstein cautions that the effect of such an approach will be to stifle pharmaceutical innovation and slow the delivery of beneficial treatments to the patients who need them. The author considers an array of challenges that confront the industry--conflicts of interest among government, academe, and the drug companies; intellectual property rights that govern patents; FDA regulation; pricing disputes; marketing practices; and liability issues, including those brought to light in the recent VIOXX case. Epstein argues that to ensure the continuing creativity, efficiency, and success of the pharmaceutical industry, the best system will feature strong property rights and clearly enforceable contracts, with minimal regulatory and judicial interference
more
fewer
Audience Level
0

1
Kids
General
Special
Audience level: 0.33 (from 0.05 for The classi ... to 0.71 for Legal scho ...)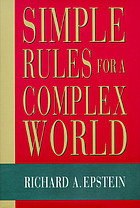 Alternative Names
Allen Epstein, Richard 1943-

Epstein, Richard

Epstein, Richard 1943-

Epstein, Richard A.

Epstein, Richard A. 1943-

Epstein, Richard A. pravnik

Epstein, Richard A. (Richard Allen)

Epstein, Richard A. (Richard Allen), 1943-

Epstein, Richard Allen

Richard Allen Epstein Amerikaans advocaat

Ричард Алън Ъпстейн американски юрист

ریچارد آلن اپستاین

엡스타인, 리처드 1943-

엡스타인, 리처드 A. 1943-

엡스타인, 리처드 앨런 1943-

エプステイン, リチャード A.

リチャード・エプステイン

理查德·愛普斯坦

Languages
Covers