Wilson, A. N. 1950-
Most widely held works about A. N Wilson
more
fewer
Most widely held works by A. N Wilson
C.S. Lewis : a biography
by
A. N Wilson
( Book )
44 editions published between
1990
and 2008 in 4 languages and held by 2,890 WorldCat member libraries worldwide
Provides a documented portrait of the well-known author
Jesus
by
A. N Wilson
( Book )
27 editions published between
1992
and 2004 in 3 languages and held by 2,273 WorldCat member libraries worldwide
"In a book that is as daring and unconventional as it is scholarly, A.N. Wilson, the celebrated biographer of Tolstoy and C.S. Lewis, searches for the elusive historical reality in the life of Jesus of Nazareth." "What are the facts about the life of Jesus, as opposed to the myths, or unprovable tenets of faith surrounding the miracles, death, and resurrection? How and when did Christianity become a separate religion from the Judaism into which Jesus was born? To what extent was his power over contemporaries political rather than religious? Wilson's answers to these questions will fascinate readers of every shade of faith or skepticism." "His starting point is an explanation of how one may sift through the gospel accounts of the life of Jesus to find the sort of eyewitness details that have the ring of everyday reality. He uses archaeological evidence from the Dead Sea Scrolls and the most recent findings of New Testament scholarship to shed new light on the tumultuous religious and political situation in Israel that so influenced the life and teachings of Jesus. And, finally, he weaves all these strands into a gripping narrative leading to the crucifixion, a narrative that for all its learning contains strong elements of the literary detective story and the psychological novel." "Wilson's inquiry is not meant to validate any particular creed or version of Jesus Christ. Instead, he enables us to discover the man who became the central figure in western civilization, whose teachings survive in spite of the logical impossibilities of the religion, and whose words, reverberating still, contain a wisdom that has never ceased to trouble the world."--Jacket
Tolstoy
by
A. N Wilson
( Book )
26 editions published between
1988
and 2013 in
English
and
French
and held by 2,149 WorldCat member libraries worldwide
Examines the personal and artistic life of Tolstoy, and separates biographical facts from literary myths
The Victorians
by
A. N Wilson
( Book )
28 editions published between
2002
and 2008 in
English
and held by 2,050 WorldCat member libraries worldwide
"With his flair for dramatic stories and telling detail, A. N. Wilson singles out those writers, statesmen, scientists, philosophers, and soldiers whose lives illuminated the fervor of an age on the cusp of modernity. Here we meet the lofty and famous - Prince Albert, Darwin, Marx, Gladstone, Christina Rossetti, Gordon of Khartoum, Cardinal Newman, George Eliot, Kipling, and Disraeli. But we also meet the poor and the obscure - doctors ministering to cholera victims in the big cities; young women working as models for famous painters; the man who got the British hooked on cigarettes; the colonizers and colonized in Ireland, India, and Africa."--BOOK JACKET
Paul : the mind of the Apostle
by
A. N Wilson
( Book )
12 editions published between
1997
and 1998 in
English
and
Dutch
and held by 1,977 WorldCat member libraries worldwide
Paul? What fueled this act of inspired creativity? What would he think of what his church has become? The answers lie in Wilson's extraordinary biography, which lays bare the psychological journey of Christianity's true inventor
The life of John Milton
by
A. N Wilson
( Book )
29 editions published between
1983
and 2002 in
English
and held by 1,607 WorldCat member libraries worldwide
After the Victorians : the decline of Britain in the world
by
A. N Wilson
( Book )
18 editions published between
2005
and 2006 in
English
and held by 1,565 WorldCat member libraries worldwide
"In After the Victorians, A.N Wilson presents a panoramic view of an era stretching from the death of Queen Victoria in 1901 to the dawn of the Cold War in the early 1950s. He offers accounts of the savagery of World War I and the world-altering upheaval of the Russian Revolution. He explains Britain's role in shaping the destiny of the Middle East. And he casts a bright new light on the World War II years. Britain played a central role in defeating Germany, but at a severe cost: the nation would emerge from the war bankrupt and fatally weakened, cut off from world politics, while America would assume the mantle of dominant global power, facing off against the Soviet Union in the Cold War. Wilson's perspective is not confined to the trenches of the battlefield and the halls of Parliament: he also examines the parallel story of the beginnings of Modernism, considering the novelists, philosophers, poets, and painters of the time to see what they reveal about the activities of politicians, scientists, and generals." "Blending military, political, social, and cultural history of the most dramatic kind, A.N. Wilson offers a portrait of the decline of one of history's great powers. The result is an account of the birth pangs of the modern world, as well as a timely analysis of imperialism and its discontents."--Jacket
God's funeral
by
A. N Wilson
( Book )
10 editions published between
1999
and 2000 in
English
and held by 1,539 WorldCat member libraries worldwide
By the end of the nineteenth century, almost all the great writers, artists, and intellectuals had abandoned Christianity; many had abandoned belief in God altogether. This was in part the result of scientific discovery, particularly the work of Charles Darwin in The Origin of Species and the controversy that followed. But the doubt about religion had many sources. A.N. Wilson demonstrates in this synthesis of biography and intellectual history that the real destruction of religions belief had been achieved well before Darwin's momentous publication. Yet despite the fact that the church had essentially become an edifice empty of faith, it survived into our century because so few of the fascinating, tortured people Wilson portrays could face the brutal consequences of their own logic. Whether or not God was dead, they still needed to believe, hence the great spiritual angst of their culture which is now echoed in ours.--Publisher description
The rise and fall of the House of Windsor
by
A. N Wilson
( Book )
21 editions published between
1993
and 1995 in 4 languages and held by 1,207 WorldCat member libraries worldwide
Readers with an interest in history (and perhaps a taste for the gothic) will be fascinated by Wilson's tracing of the present misery of the Windsors to the quarrels and eccentricities of elder generations, and perhaps to an even more ancient family curse, pronounced by a disappointed heir to the fortune. The author shows us how the constitutional crisis of Charles and Diana's impending divorce - de facto or official - is rooted in the bitter family struggle over the personal life of Edward VIII, who chose to marry a divorced American woman, and was forced to abdicate in 1936. From the glittering history of the Windsors to the tabloid exploits of the Duchess of York, and from Prince Charles's steamy telephone tapes to the ecclesiastical and political fallout of a royal divorce, A.N. Wilson fashions a dramatic narrative out of the strands of this all-too-human catastrophe. Can the Windsor dynasty survive? Or is there a new English revolution in the making?
The Elizabethans
by
A. N Wilson
( Book )
10 editions published between
2011
and 2013 in
English
and held by 1,137 WorldCat member libraries worldwide
This account of the Elizabethan age evaluates the contributions of such figures as Francis Drake and William Shakespeare while exploring definitive events, from the declaration of religious liberty to the establishment of British imperialism. A time of exceptional creativity, wealth creation, and political expansion, the Elizabethan age was also more remarkable than any other for the Technicolor personalities of its leading participants. Apart from the complex character of the Virgin Queen herself, this work follows the stories of Francis Drake, a privateer who not only defeated the Spanish Armada but also circumnavigated the globe with a drunken, mutinous crew and without reliable navigational instruments; political intriguers like William Cecil and Francis Walsingham; and Renaissance literary geniuses from Sir Philip Sidney to Christopher Marlowe and William Shakespeare. Most crucially, this was the age when modern Britain was born and established independence from mainland Europe, both in its resistance to Spanish and French incursions and in its declaration of religious liberty from the Pope, and laid the foundations for the explosion of British imperial power and eventual American domination
more
fewer
Audience Level
0

1
Kids
General
Special
Audience level: 0.24 (from 0.00 for Wilson, A. ... to 0.97 for The state ...)
Associated Subjects
Anglicans
Apostles
Art appreciation
Authors
Authors, English
Authors, Russian
Bible.--New Testament
Biographers
Boys
Christian biography
Civilization
Clergy
Corruption
Critics
Demonology
Dictators
England
England--London
Families
Friendship
Germany
Great Britain
Heads of state
Historicity of Jesus Christ
History
Hitler, Adolf,
Influence (Literary, artistic, etc.)
Intellectual life
Kings and rulers
Manners and customs
Marginality, Social
Men
Monarchy
Music
Nazis
Newspapers
Novelists, English
Novelists, Russian
Philosophers
Poets, English
Poets, English--Early modern
Political science
Press and politics
Queens
Ramsay, Julian (Fictitious character)
Religion and science
Social history
Victoria,--Queen of Great Britain,
Wagner, Winifred
Women novelists, English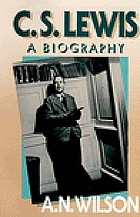 Alternative Names
Loyal subject of Her Majesty

Loyal subject of Her Majesty 1950-....

Uilson, Ėndri︠u︡ Norman 1950-

Uilson, Ėndrju Norman 1950-

Wilson, A.N.

Wilson A. N. 1950-....

Wilson, A. N. (Andrew Norman), 1950-

Wilson, A.N. romancier et journaliste

Wilson, Andrew N.

Wilson, Andrew N. 1950-

Wilson, Andrew Norman

Wilson, Andrew Norman 1950-

ウィルソン

ウィルソン, A. N

ウィルソン, アンドリュー・ノーマン

Languages
Covers