Geary, Patrick J. 1948-
Most widely held works about Patrick J Geary
Most widely held works by Patrick J Geary
Women at the beginning : origin myths from the Amazons to the Virgin Mary
by
Patrick J Geary
( )
26 editions published between
2006
and 2018 in 3 languages and held by 2,110 WorldCat member libraries worldwide
From the Publisher: In these four artfully crafted essays, Patrick Geary explores the way ancient and medieval authors wrote about women. Geary describes the often marginal role women played in origin legends from antiquity until the twelfth century. Not confining himself to one religious tradition or region, he probes the tensions between women in biblical, classical, and medieval myths (such as Eve, Mary, Amazons, princesses, and countesses), and actual women in ancient and medieval societies. Using these legends as a lens through which to study patriarchal societies, Geary chooses moments and texts that illustrate how ancient authors (all of whom were male) confronted the place of women in their society. Unlike other books on the subject, Women at the Beginning attempts to understand not only the place of women in these legends, but also the ideologies of the men who wrote about them. The book concludes that the authors of these stories were themselves struggling with ambivalence about women in their own worlds and that this struggle manifested itself in their writings
Furta sacra : thefts of relics in the central Middle Ages
by
Patrick J Geary
( )
41 editions published between
1978
and 2011 in
English
and held by 2,007 WorldCat member libraries worldwide
To obtain sacred relics, medieval monks plundered tombs, avaricious merchants raided churches, and relic-mongers scoured the Roman catacombs. In a revised edition of Furta Sacra, Patrick Geary considers the social and cultural context for these acts, asking how the relics were perceived and why the thefts met with the approval of medieval Christians
Before France and Germany : the creation and transformation of the Merovingian world
by
Patrick J Geary
( Book )
36 editions published between
1988
and 2016 in 3 languages and held by 1,475 WorldCat member libraries worldwide
In this innovative new study, Patrick Geary rejects traditional notions of European history to present the Merovingian period (ca. 400-750) as an integral part of Late Antiquity. Drawing on current scholarship in archaeology, cultural history, historical ethnography, and other fields, the author formulates an original interpretation not only of Merovingian history but of the Romano-barbarian world from which it arose. Mapping the complex interactions of a volatile era, he carefully traces the Romanization of barbarians and the barbarization of Romans that ultimately made these populations indistinguishable. (BARNES & NOBLE)
Readings in medieval history
by
Patrick Geary
( Book )
62 editions published between
1989
and 2016 in
English
and
Undetermined
and held by 1,266 WorldCat member libraries worldwide
"The third edition includes an updated Preface, more extensive material from Gregory of Tours, and a new section, "The Iberian Peninsula," containing material that deals with Jews, Muslims and Heretics. The format of Readings in Medieval History has also been altered to make it more user-friendly."
The myth of nations : the Medieval origins of Europe
by
Patrick J Geary
( Book )
47 editions published between
2001
and 2018 in 4 languages and held by 1,240 WorldCat member libraries worldwide
Modern-day Europeans by the millions proudly trace back their national identities to the Celts, Franks, Gauls, Goths, Huns, or Serbs--or some combination of the various peoples who inhabited, traversed, or pillaged their continent more than a thousand years ago. According to Patrick Geary, this is historical nonsense. The idea that national character is fixed for all time in a simpler, distant past is groundless, he argues in this unflinching reconsideration of European nationhood. Few of the peoples that many Europeans honor as sharing their sense of ''nation'' had comparably homogeneous identities even the Huns, he points out, were firmly united only under Attila's ten-year reign. Geary dismantles the nationalist myths about how the nations of Europe were born. He contrasts the myths with the actual history of Europe's transformation between the fourth and ninth centuries--the period of grand migrations that nationalists hold dear. The nationalist sentiments today increasingly taken for granted in Europe emerged, he argues, only in the nineteenth century. Ironically, this phenomenon was kept alive not just by responsive populations--but by complicit scholars. Ultimately, Geary concludes, the actual formation of European peoples must be seen as an extended process that began in antiquity and continues in the present. The resulting image is a challenge to those who anchor contemporary antagonisms in ancient myths--to those who claim that immigration and tolerance toward minorities despoil ''nationhood.'' As Geary shows, such ideologues--whether Le Pens who champion ''the French people born with the baptism of Clovis in 496'' or Milosevics who cite early Serbian history to claim rebellious regions--know their myths but not their history
Language & power in the early Middle ages
by
Patrick J Geary
( )
11 editions published in
2013
in
English
and held by 1,115 WorldCat member libraries worldwide
Language and ideology in the scholarship of the late Middle Ages
Living with the dead in the Middle Ages
by
Patrick J Geary
( Book )
25 editions published between
1994
and 2005 in
English
and
Japanese
and held by 1,041 WorldCat member libraries worldwide
Annotation Whereas modern societies tend to banish the dead from the world of the living, medieval men and women acccorded them a vital role in the community. The saints counted most prominently as potential intercessors before God, but the ordinary dead as well were called upon to aid the living, and even to participate in the negotiation of political disputes. In this book, the distinguished medievalist Patrick J. Geary shows how exploring the complex relations between the living and dead can broaden our understanding of the political, economic, and cultural history of medieval Europe. Geary has brought together for this volume twelve of his most influential essays. They address such topics as the development of saints' cults and of the concept of sacred space; the integration of saints' cults into the lives of ordinary people; patterns of relic circulation; and the role of the dead in negotiating the claims and counterclaims of various interest groups. Also included are two case studies of communities that enlisted new patron saints to solve their problems. Throughout, Geary demonstrates that, by reading actions, artifacts, and rituals on an equal footing with texts, we can better grasp the otherness of past societies. Book jacket
Phantoms of remembrance : memory and oblivion at the end of the first millennium
by
Patrick J Geary
( Book )
24 editions published between
1994
and 1996 in
English
and held by 883 WorldCat member libraries worldwide
In Phantoms of Remembrance, Patrick Geary makes important new inroads into the widely discussed topic of historical memory, vividly evoking the everyday lives of eleventh-century people and both their written and nonwritten ways of preserving the past. Women praying for their dead, monks creating and re-creating their archives, scribes choosing which royal families of the past to applaud and which to forget: it is from such sources that most of our knowledge of the medieval period comes. Throughout richly detailed descriptions of various acts of remembrance--including the naming of children and the recording of visions--the author unearths a wide range of approaches to preserving the past as it was or formulating the past that an individual or group prefers to imagine. -- Publisher Description
Manufacturing a past for the present : forgery and authenticity in medievalist texts and objects in nineteenth-century Europe
by
János M Bak
( )
14 editions published between
2014
and 2015 in
English
and held by 834 WorldCat member libraries worldwide
In search of specific national traditions nineteenth-century artists and scholars did not shy of manipulating texts and objects or even outright manufacturing them. The essays edited by János M. Bak, Patrick J. Geary and Gábor Klaniczay explore the various artifacts from outright forgeries to fruits of poetic phantasy, while also discussing the volatile notion of authenticity and the multiple claims for it in the age. --Provided by publisher
more
fewer
Audience Level
0

1
Kids
General
Special
Audience level: 0.33 (from 0.08 for Women at t ... to 0.95 for Sixty year ...)
Related Identities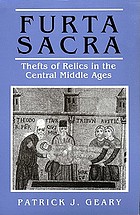 Covers
Alternative Names
Geary, P.

Geary, Patrick.

Geary, Patrick 1948-

Geary, Patrick Joseph 1948-

Giari, Patorikku J. 1948-

Patrick Geary

Patrick J. Geary Amerikaans mediëvist

Patrick J. Geary US-amerikanischer Historiker

پاتریک جی قری

기어리, 패트릭 1948-

기어리, 패트릭 J. 1948-

ギアリ, パトリック

パトリック・ジョセフ・ギアリ

Languages