Richards, Jeffrey H.
Most widely held works by Jeffrey H Richards
Mercy Otis Warren : selected letters
by
Mercy Otis Warren
( )
9 editions published in
2009
in
English
and
Undetermined
and held by 1,692 WorldCat member libraries worldwide
"This volume gathers more than one hundred letters - most of them previously unpublished - written by Mercy Otis Warren (1728-1814). Warren, whose works include a three-volume history of the American Revolution as well as plays and poems, was a major literary figure of her era and one of the most important American women writers of the eighteenth century. Her correspondents included Martha and George Washington, Abigail and John Adams, and Catharine Macaulay." "Until now, Warren's letters have been published sporadically, in small numbers, and mainly to help complete the collected correspondence of some of the famous men to whom she wrote. This volume addresses that imbalance by focusing on Warren's letters to her family members and other women. As they flesh out our view of Warren and correct some misconceptions about her, the letters offer a wealth of insights into eighteenth-century American culture, including social customs, women's concerns, political and economic conditions, medical issues, and attitudes on child rearing." "Letters Warren sent to other women who had lost family members (Warren herself lost three children) reveal her sympathies; letters to a favorite son, Winslow, show her sharing her ambitions with a child who resisted her advice. What readers of other Warren letters may have only sensed about her is now revealed more fully: she was a woman of considerable intellect, religious faith, compassion, literary intelligence, and acute sensitivity to the historical moment of even everyday events in the new American republic."--Jacket
Drama, theatre, and identity in the American New Republic
by
Jeffrey H Richards
( )
14 editions published between
2005
and 2008 in
English
and held by 914 WorldCat member libraries worldwide
Jeffrey Richards examines a variety of phenomena connected to the stage, including closet Revolutionary political plays, British drama on American boards, American-authored stage plays, and poetry and fiction by early Republican writers. American theater is viewed by Richards as a transatlantic hybrid in which British theatrical traditions provide material and templates by which Americans express themselves and their relationship to others. Through intensive analysis of plays, this book confronts matters of political, ethnic, and cultural identity by moving from play text to theatrical context and from historical event to audience demography.--Publisher description
Mercy Otis Warren
by
Jeffrey H Richards
( Book )
8 editions published between
1995
and 1999 in
English
and
Undetermined
and held by 753 WorldCat member libraries worldwide
Mercy Otis Warren was a descendant of Mayflower Pilgrims, a witness to the American Revolution, a participant in the debates that gave shape to the new nation. She was a patriot and a passionate believer in democracy. She was the mother of five sons, an equal partner in a marriage of 54 years, a loyal and demanding friend. But given the perspective of time, writes Jeffrey Richards in this exhaustive study of her life and complete work, she was above all a writer, one of the most important of her generation. Both political activist and historian, Warren sought through her writing to influence the course of events in her own time and to record them for posterity. Among the first playwrights - and perhaps the first woman playwright - in America, Warren used her plays as a public forum for unabashed promotion of the Revolutionary cause. In such dramas as The Adulateur, The Defeat, and The Group, she skewered Loyalists to the British crown and elevated the self-sacrificing patriot. Not only in her essays and her formidable History of the Rise, Progress and Termination of the American Revolution but even in personal letters did Warren express herself as a historian. Her consistently serious and responsible tone suggests the image of Warren as "Republican Mother," caretaker of the new republic, writing not just to husband or friend or son but to future generations of Americans. Basing his analysis on extensive archival research, Richards corrects many errors of fact in previous Warren scholarship, particularly in her biography and in the attribution of several plays to her authorship. These new findings make this volume valuable to the experienced scholar, while the broad coverage of Warren's work and the provision of literary and historical context make it accessible to students
The Oxford handbook of American drama
( Book )
15 editions published between
2013
and 2014 in
English
and held by 435 WorldCat member libraries worldwide
"The volume opens with an exploration of the trials and tribulations of strolling players in the colonial era, before shifting to a discussion of the ways plays were deployed for political ends during the Revolution, most notably by the patriot Mercy Otis Warren. The narrative extends to the post-Revolutionary period when plays were used as vehicles to promote republican virtue. Contributors also explore the vibrant drama to emerge during the nineteenth century, when blackface performers and stars such as Edwin Forrest, Charlotte Cushman, and Edwin Booth dominated the stage. The period also witnessed the arrival of the first piece of musical theater, The Black Crook, which is productively situated in a musical tradition that extends to Rodgers and Hammerstein. The Handbook offers a complex treatment of melodrama - the most popular genre of the century. The volume traces the rise of the country's first black acting company in the 1820s, as well as the growing number of ethnic characters presented on the stage. Several of the contributors also highlight the role of women playwrights such as Anna Cora Mowatt in the development of American drama. At the turn of the twentieth century, the Provincetown Players helped to usher in the era of modern drama, which allowed playwrights such as Eugene O'Neill, Susan Glaspell, and Edna St. Vincent Millay to experiment with the form and attempt topics regarded as taboo at the time. As melodrama gave way to realism, exemplified in the work of O'Neill and Rachel Crothers, other dramatic techniques such as naturalism and expressionism were introduced to the stage. Other topics covered in the Handbook include: the political plays of Arthur Miller; the major freedoms brought to the American stage since the 1960s; the new generation of playwrights, such as Tony Kushner and Harvey Fierstein, who created plays dealing explicitly with topics like AIDS and homosexuality; and the rich genealogy of the African American family play in works by Lorraine Hansberry, August Wilson, and Suzan-Lori Parks. The volume concludes with the bold performance art of the Living Theatre and the new multiculturalism that arrived on the contemporary stage, with various ethnic communities --Mexicans, Puerto Ricans, Asians, and Native Americans-becoming the focus of the action. The Oxford Handbook of American Drama presents a comprehensive introduction to the form in all its guises"--Provided by publisher
Early American drama
( Book )
12 editions published in
1997
in
English
and held by 382 WorldCat member libraries worldwide
This unique volume includes The Gladiator and seven other early dramas that mirror American literary, social, and cultural history: Royall Tyler's The Contrast (1787), a Sheridian satire about fashion-conscious New Yorkers; William Dunlap's Andre (1798); James Nelson Barker's telling of the Pocahontas story, the Indian Princess (1808); William Henry Smith's The Drunkard (1844); Anna Cora Mowatt's Fashion (1845), the most successful nineteenth-century play by a female American playwright; George L. Aiken's 1852 dramatization of Uncle Tom's Cabin; and The Octoroon (1859), Dion Boucicault's tragedy concerning a young woman doomed by her racial heritage
The unknown 1930s : an alternative history of the British cinema, 1929-39
( Book )
13 editions published between
1998
and 2000 in
English
and held by 354 WorldCat member libraries worldwide
A group of leading British film historians reassess the films, stars, genres and directors usually omitted from accounts of 1930s British cinema, including how MGM dealt with the dictates of the Films Act and a view of audiences during this period
Early plays
by
Eugene O'Neill
( Book )
4 editions published in
2001
in
English
and held by 292 WorldCat member libraries worldwide
This volume brings to readers a selection of Eugene O'Neill's early work, written between 1914 and 1921 and produced for the stage between 1916 and 1922. Included here are: seven one-act plays, The Moon of the Caribbees, Bound East for Cardiff, In the Zone, The Long Voyage Home, Ile, Where the Cross Is Made, and The Rope; and five full-length plays, Beyond the Horizon, The Straw, Anna Christie, and the classics The Emperor Jones and The Hairy Ape
The ancient world on the Victorian and Edwardian stage
by
Jeffrey H Richards
( Book )
12 editions published between
2009
and 2016 in
English
and held by 282 WorldCat member libraries worldwide
"The first study of the depictions of the Ancient World on the Victorian and Edwardian stage, this book analyzes plays set in and dramatising the histories of Greece, Rome, Egypt, Babylon and the Holy Land. In doing so, it seeks to locate theatre within the wider culture, tracing its links and interaction with other cultural forms"--Provided by publisher
Politics, performance and popular culture : theatre and society in nineteenth-century Britain
by
Peter Yeandle
( )
5 editions published in
2016
in
English
and held by 167 WorldCat member libraries worldwide
This collection brings together studies of popular performance and politics across the nineteenth century, offering a fresh perspective from an archivally grounded research base. It works with the concept that politics is performative and performance is political. The book is organised into three parts in dialogue regarding specific approaches to popular performance and politics. Part I offers a series of conceptual studies using popular culture as an analytical category for social and political history. Part II explores the ways that performance represents and constructs contemporary ideologies of race, nation and empire. Part III investigates the performance techniques of specific politicians - including Robert Peel, Keir Hardie and Henry Hyndman - and analyses the performative elements of collective movements
The golden age of pantomime : slapstick, spectacle and subversion in Victorian England
by
Jeffrey Richards
( Book )
7 editions published between
2014
and 2015 in
English
and held by 56 WorldCat member libraries worldwide
In Victorian England, everyone went to the pantomime, from Queen Victoria and her family to the humblest of her subjects. The English Pantomime is one of the most popular, least examined of all theatrical forms. It's been the festive mainstay of the English stage since the eighteenth century, and it has survived by its ability to evolve. This continual evolution is traced by Jeffrey Richards in the first history of panto through its 'Golden Age' in Victorian England. He explores the spectacle, the slapstick, and the talent for subversion that nineteenth-century pantomime had - and still has today. He shows the panto, with its remarkable actors, managers, producers and punters across the country from Drury Lane to Blackpool, to be a remarkable cultural barometer of its times. This is a treat as rich as turkey and Christmas pudding
To tell the truth, a history of documentary film
( Visual )
1 edition published in
2017
in
English
and held by 32 WorldCat member libraries worldwide
Working for change: Explores the birth of the social documentary in the U.S. and U.K. during the years of the Great Depression and the New Deal, featuring interviews with several of the people who helped define and shape the form
more
fewer
Audience Level
0

1
Kids
General
Special
Audience level: 0.31 (from 0.04 for Mercy Otis ... to 0.61 for The golden ...)
Related Identities
Associated Subjects
America
American drama
American literature--Colonial period
American literature--Revolutionary period (United States)
American Revolution (1775-1783)
Authors, American
Civilization
Civilization, Ancient, in literature
Civilization, Classical, in literature
Classicism
Colonies in literature
Documentary films--Production and direction
England
English drama
English literature
English literature--Early modern
English-speaking countries
Families
Great Britain
Historians
Historical drama, English
Historiography
Intellectual life
Literature
Literature and history
Metaphor
Motion pictures
National characteristics, American
National characteristics, American, in literature
Pantomime
Pantomime (Christmas entertainment)
Performing arts
Popular culture--Political aspects
Propaganda
Social movements
Theater
Theater and society
Theater in literature
Theater--Political aspects
Theater--Production and direction
Theatre Royal, Drury Lane (London, England)
Theatrical companies
United States
War and motion pictures
Warren, Mercy Otis,
Women
Women and literature
Women authors, American
Women historians
World War (1939-1945)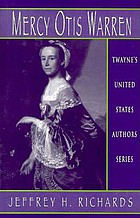 Covers
Alternative Names
Richards, Jeffrey 1948-

Richards, Jeffrey Hamilton.

Languages