Groom, Winston 1944-
Most widely held works about Winston Groom
more
fewer
Most widely held works by Winston Groom
Forrest Gump
by
Winston Groom
( Book )
241 editions published between
1986
and 2015 in 27 languages and held by 3,968 WorldCat member libraries worldwide
Meet Forrest Gump, the lovable, herculean, and surprisingly savvy hero of this remarkable comic odyssey. After accidentally becoming the star of University of Alabama's football team, Forrest goes on to become a Vietnam War hero, a world-class Ping-Pong player, a villainous wrestler, and a business tycoon -- as he wonders with childlike wisdom at the insanity all around him. In between misadventures, he manages to compare battle scars with Lyndon Johnson, discover the truth about Richard Nixon, and survive the ups and downs of remaining true to his only love, Jenny, on an extraordinary journey through three decades of the American cultural landscape. Forrest Gump has one heck of a story to tell -- and you've got to read it to believe it
Gump & Co.
by
Winston Groom
( Book )
49 editions published between
1995
and 2011 in 9 languages and held by 2,253 WorldCat member libraries worldwide
The job-hunting adventures of an unemployed widower with a daughter to support. He is Forrest Gump whose adventures range from selling encyclopedias to discovering New Coke, to the Gulf War during which he captures Saddam Hussein
Shrouds of glory : from Atlanta to Nashville--the last great campaign of the Civil War
by
Winston Groom
( Book )
13 editions published between
1986
and 2007 in
English
and held by 1,336 WorldCat member libraries worldwide
Weaving eyewitness accounts, journal entries, military communiques, and newspaper headlines with his own straightforward narrative style, Groom constructs a meticulous and atmospheric re-creation of the war - especially the charged battlefields where general and foot soldier alike were thrown into the fray. Groom paints vivid portraits of the major players in the conflict, revealing the character, the faults, the emotions, and, most of all, the doubts that molded the course of the war
Vicksburg, 1863
by
Winston Groom
( Book )
10 editions published between
2009
and 2010 in
English
and held by 1,266 WorldCat member libraries worldwide
While Gettysburg is better known, Vicksburg was the more important battle from a strategic point of view according to the author, Winston Groom. Here he details the struggle by the Union to gain control of the Mississippi River valley and to divide the Confederacy in two. We see Grant's determination, the feistiness of William Tecumseh Sherman, and the pride and intransigence of Confederate leaders from Jefferson Davis and General Joseph E. Johnston to General John C. Pemberton, the Rebel who commanded at Vicksburg and took the blame for losing
El Paso : a novel
by
Winston Groom
( Book )
9 editions published between
2016
and 2017 in
English
and held by 1,239 WorldCat member libraries worldwide
When the Colonel's famous Valle del Sol ranch is raided, it was Pancho Villa who not only stole the cattle but also murdered the ranch manager. Even worse, Villa's henchmen abduct the Colonels grandchildren in another daring raid only days later. Frantic, the aging patriarch and his adopted son race to El Paso, hoping to gather a group of cowboys brave enough to hunt down the generalissimo on his own turf. But their deep pockets and political clout mean next to nothing in a crumbling nation rife with communist sympathizers. When a twist of fate unites his party with that of Johnny Ollas, an aspiring matador whose wife has also been kidnapped by the marauding revolutionaries, the two factions gallop off on an extraordinary manhunt through some of the most inhospitable terrain on earth: the vast and snake-ridden Sierra Madre
The aviators : Eddie Rickenbacker, Jimmy Doolittle, Charles Lindbergh, and the epic age of flight
by
Winston Groom
( Book )
6 editions published between
2013
and 2015 in
English
and held by 1,151 WorldCat member libraries worldwide
This book tells the saga of three extraordinary aviators: Charles Lindbergh, Eddie Rickenbacker, and Jimmy Doolittle, and how they redefined heroism through their genius, daring, and uncommon courage. These cleverly interwoven tales of their heart-stopping adventures take us from the feats of World War I through the heroism of World War II and beyond, including daring military raids and survival-at-sea. With the world in peril in World War II, each man set aside great success and comfort to return to the skies for his most daring mission yet. Doolittle, a brilliant aviation innovator, would lead the daring Tokyo Raid to retaliate for Pearl Harbor; Lindbergh, hero of the first solo flight across the Atlantic, would fly combat missions in the South Pacific; and Rickenbacker, World War I flying ace, would bravely hold his crew together while facing near-starvation and circling sharks after his plane went down in a remote part of the Pacific. The author tells their intertwined stories, from broken homes to Medals of Honor (all three would receive it); barnstorming to the greatest raid of World War II; front-page triumph to anguished tragedy; and near-death to ultimate survival, as all took to the sky, time and again, to become exemplars of the spirit of the "greatest generation."--Provided by publisher
Such a pretty, pretty girl : a novel
by
Winston Groom
( Book )
11 editions published between
1999
and 2005 in 4 languages and held by 1,080 WorldCat member libraries worldwide
Reporter Johnny Lightfoot is hired by his old flame, Hollywood TV newscaster Delia Jamison, to find out who is sending her threatening letters. From their content it is obvious the sender was a lover, question is which one. Manipulative Delia had so many and most have it in for her
Kearny's march : the epic journey that created the American southwest, 1846-1847
by
Winston Groom
( Book )
11 editions published between
2011
and 2012 in
English
and held by 1,078 WorldCat member libraries worldwide
"In June 1846, General Stephen Watts Kearny rode out of Fort Leavenworth, Kansas, with two thousand soldiers, bound for California. At the time, the nation was hell-bent on expansion: James K. Polk had lately won the presidency by threatening England over the borders in Oregon, while Congress had just voted, in defiance of the Mexican government, to annex Texas. After Mexico declared war on the United States, Kearny's Army of the West was sent out, carrying orders to occupy Mexican territory. When his expedition ended a year later, the country had doubled in size and now stretched from the Atlantic to the Pacific, fulfilling what many saw as the nation's unique destiny--and at the same time setting the stage for the American Civil War. Winston Groom recounts the amazing adventure and danger that Kearny and his troops encountered on the trail. Their story intertwines with those of the famous mountain man Kit Carson; Brigham Young and his Mormon followers fleeing persecution and Illinois; and the ill-fated Donner party, trapped in the snow of the Sierra Nevada. Together, they encounter wild Indians, Mexican armies, political intrigue, dangerous wildlife, gold rushes, and land-grabs. Some returned in glory, others in shackles, and some not at all. But these were the people who helped America fulfill her promise. Distilling a wealth of letters, journals, and military records, Groom gives us a powerful account that enlivens our understanding of the exciting, if unforgiving, business of country-making."--Jacket
1942 : the year that tried men's souls
by
Winston Groom
( Book )
6 editions published between
2005
and 2007 in
English
and held by 1,067 WorldCat member libraries worldwide
To the generation of Americans who lived through it, the Second World War was the defining event of the 20th century, and the defining events of that war were played out in the year 1942. It was a time when an unexpected attack on American territory pulled an unprepared country into a terrifying new brand of warfare with a ruthless enemy. Soon after Japan's attack on Pearl Harbor, German U-boats were sinking hundreds of US merchant ships, some right off the American coast. In the Pacific, Japan's Army and Navy far outmatched those of the United States and was threatening the American mainland from Alaska to the Panama Canal. The beginning of 1942 was a relentless cataract of defeats. The Japanese annihilated MacArthur's 130,000-man army in the Philippines and set into motion the infamous "Death March" on Bataan. Hong Kong fell, followed by Malaya, with its vast natural resources, and then Singapore itself. By May, it appeared to many that the entire Western Pacific, including Australia would be in Japanese hands. Then, in June, the tide began to turn. In this riveting account, acclaimed novelist and historian Winston Groom relates the story of 1942 as it has never been told before, with an accomplished storyteller's eye for the time's fascinating tales and characters -- from the great leaders of the 20th century to war heroes such as Gen. Jimmy Doolittle, who led a daring revenge raid on Tokyo, to lesser-known but equally fascinating characters such as Claire "High Pockets" Phillips, an attractive actress and dancer who, after her husband was killed while a prisoner of war, used the nightclub she ran in Manila to front a spy-and-supply ring that got desperately needed items into the POW camps and probed Japanese intelligence officers for vital information. 1942 tells the story of America's most critical hour -- a year of perseverance, courage, and ingenuity in the face of great odds, during which America rose against adversity and displayed the qualities that have made her what she is to this day. - Jacket flap
more
fewer
Audience Level
0

1
Kids
General
Special
Audience level: 0.18 (from 0.07 for The curiou ... to 0.81 for E Gan zhen ...)
Related Identities
Associated Subjects
Adventure and adventurers
Aeronautics
Aeronautics, Military
Air pilots
Air pilots, Military
American Civil War
Atlanta Campaign
Belgium--Ieper
California--Los Angeles
Doolittle, James Harold,
Extortion
Fathers and sons
Forrest Gump (Groom, Winston)
Frontier and pioneer life
Generals
Georgia
Groom, Winston,
Heroes
Kearny, Stephen Watts,
Kearny's Expedition (1846)
Kidnapping
Life
Lindbergh, Charles A.--(Charles Augustus),
Louisiana
Louisiana--New Orleans
Love
Military campaigns
Mississippi--Vicksburg
Nashville, Battle of (Tennessee :
New York (State)--New York
Outlaws
People with mental disabilities
Pirates
Rickenbacker, Eddie,
Siege of Vicksburg (Mississippi : 1863)
Southwest, New
Television news anchors
Tennessee
Tennessee--Nashville
Texas--El Paso
United States
Vietnam War (1961-1975)
Villa, Pancho,
Women journalists
World War (1914-1918)
World War (1939-1945)
Young men
Ypres, 1st Battle of (Ieper, Belgium :
Ypres, 2nd Battle of (Ieper, Belgium :
Ypres, 3rd Battle of (Ieper, Belgium :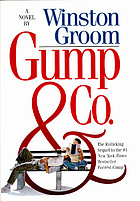 Alternative Names
Groom, Winston 1944-...

Grūms, Vinstons 1944-

Winston Groom Amerikaans schrijver

Winston Groom amerikansk författare

Winston Groom amerikansk skribent

Winston Groom écrivain américain

Winston Groom scrittore statunitense

Winston Groom US-amerikanischer Autor

Вінстон Грум

Грум, Уинстон

Уинстън Грум

윈스턴 그룸

ウィンストン・グルーム

グルーム, ウィンストン

溫斯頓·葛倫

Languages
English
(380)
French
(29)
Polish
(25)
German
(25)
Italian
(22)
Spanish
(22)
Chinese
(19)
Czech
(13)
Japanese
(6)
Danish
(5)
Finnish
(4)
Dutch
(4)
Hungarian
(3)
Indonesian
(3)
Korean
(3)
Turkish
(3)
Croatian
(2)
Persian
(2)
Portuguese
(2)
Multiple languages
(2)
Russian
(2)
Catalan
(2)
Swedish
(1)
Greek, Modern
(1)
Miscellaneous languages
(1)
Vietnamese
(1)
Esperanto
(1)
Serbian
(1)
Slovak
(1)
Thai
(1)
more
fewer
Covers