Page, Benjamin I.
Most widely held works by Benjamin I Page
The rational public : fifty years of trends in Americans' policy preferences
by
Benjamin I Page
( )
26 editions published between
1991
and 2010 in
English
and held by 2,378 WorldCat member libraries worldwide
This monumental study is a comprehensive critical survey of the policy preferences of the American public, and will be the definitive work on American public opinion for some time to come. Drawing on an enormous body of public opinion data, Benjamin I. Page and Robert Y. Shapiro provide the richest available portrait of the political views of Americans, from the 1930's to 1990. They not only cover all types of domestic and foreign policy issues, but also consider how opinions vary by age, gender, race, region, and the like. The authors unequivocally demonstrate that, notwithstanding fluctuations in the opinions of individuals, collective public opinion is remarkably coherent: it reflects a stable system of values shared by the majority of Americans and it responds sensitively to new events, arguments, and information reported in the mass media. While documenting some alarming case of manipulation, Page and Shapiro solidly establish the soundness and value of collective political opinion. The Rational Public provides a wealth of information about what we as a nation have wanted from government, how we have changed our minds over the years, and why. For anyone interested in the short- and long-term trends in Americans' policy preferences, or eager to learn what Americans have thought about issues ranging from racial equality to the MX missile, welfare to abortion, this book offers by far the most sophisticated and detailed treatment available
Class war? : what Americans really think about economic inequality
by
Benjamin I Page
( )
15 editions published in
2009
in
English
and held by 2,297 WorldCat member libraries worldwide
In Class War?they present compelling evidence that most Americans favor free enterprise and practical government programs to distribute wealth more equitably. At every income level and in both major political parties, majorities embrace conservative egalitarianism--a philosophy that prizes individualism and self-reliance as well as public intervention to help Americans pursue these ideals on a level playing field. Drawing on hundreds of opinion studies spanning more than seventy years, including a new comprehensive survey, Page and Jacobs reveal that this worldview translates to broad support for policies aimed at narrowing the gap between rich and poor and creating genuine opportunity for all. They find, for example, that across economic, geographical, and ideological lines, most Americans support higher minimum wages, improved public education, wider access to universal health insurance coverage, and the use of tax dollars to fund these programs. In this surprising and heartening assessment, Page and Jacobs provide our new administration with a popular mandate to combat the economic inequity that plagues our nation
Navigating public opinion : polls, policy, and the future of American democracy
by
Benjamin I Page
( )
15 editions published in
2002
in
English
and held by 1,794 WorldCat member libraries worldwide
This text emerged from a conference on the theme "Polls, Policy, and the Future of American Democracy," sponsored by the Institute for Policy Research at Northwestern U., and held at Northwestern's Evanston campus in May 2000. Eighteen essays written by 22 American scholars explore the link between public opinion and public policy, and whether that relationship has changed over time; how political elites use public opinion; the challenges of measuring public opinion in contemporary polling and survey research; the role of public opinion in democratic politics; the limits of current knowledge; and topics for future research. Annotation copyrighted by Book News, Inc., Portland, OR
Living with the dragon : how the American public views the rise of China
by
Benjamin I Page
( )
12 editions published in
2010
in
English
and held by 1,517 WorldCat member libraries worldwide
It is widely believed that most Americans not only distrust but also despise China. Considering the country's violent political history, unprecedented economic rise, and growing military capabilities, China has become America's strongest market competitor and arguably the most challenging global threat to the United States. Nevertheless, a full consideration of American opinion proves the opposite to be true. Carefully analyzing all available polls and surveys, Benjamin I. Page and Tao Xie find most Americans favor peaceful engagement with China. The public view has been surprisingly coherent and consistent, changing only in response to major events and new information. While a majority of Americans are not happy that China's economy is projected to become as large as that of the United States, they are prepared to live with it. "Unfair" Chinese trade practices and their impact on American jobs and wages are a concern, along with the quality and safety of Chinese-made goods. However, Americans favor free trade with China, provided it is tempered with environmental and workplace protections. They also believe that the United States should "balance" Chinese power through alliances with neighboring countries, such as Japan. Yet they oppose military action to defend Taiwan. Page and Xie examine these opinions in relation to facts about China and in light of current U.S. debates on diplomacy and policy
What government can do : dealing with poverty and inequality
by
Benjamin I Page
( Book )
7 editions published between
2000
and 2002 in
English
and held by 1,103 WorldCat member libraries worldwide
"What Government Can Do argues that federal, state, and local governments can and should do a great deal. Benjamin I. Page and James R. Simmons detail what programs have worked and how they can be improved, while introducing the general reader to the fundamentals of social insurance programs such as Social Security and Medicaid, tax structures, minimum wage laws, educational programs, and the concept of "basic needs." Through their discussions of high-profile campaign plans, proposals, successes, and failures, they have written a readable, optimistic, and clear-headed book on government and poverty. And they find that, contrary to popular belief, government policies already do, in fact, help alleviate poverty and economic inequality. Often these policies work far more effectively and efficiently than people realize, and in ways that enhance freedom rather than infringe on it. At the same time, Page and Simmons show how even more could be - and should be - accomplished."--Jacket
Who gets what from government
by
Benjamin I Page
( Book )
18 editions published between
1983
and 2021 in
English
and held by 835 WorldCat member libraries worldwide
"Eight-year-old Sam has a powerful brain but needs some help focusing. The doctor gives Sam lots of strategies to try, like staying organized, eating better food, and asking for help when he needs it. Sam's favorite strategy? Make time for imagination"--
Choices and echoes in Presidential elections : rational man and electoral democracy
by
Benjamin I Page
( Book )
16 editions published between
1978
and 1983 in
English
and held by 817 WorldCat member libraries worldwide
This volume examines how voters and politicians influence each other, and how these interactions affect the outcome of elections and the making of policy. This work looks at how political parties and candidates form platforms and make their political stands and to what degree do politicians take policy stands that are close to the midpoint of public opinion. The author investigates the nature and magnitude of the differences between the policy stands of opposing candidates and he accesses how specific or vague candidates are in advocating policy alternatives, identifies the forums they use for policy statements, and suggests ways they camouflage vagueness. This book also examines the rhetoric and reality of problems, past performance, and general goals for the future and also considers what sorts of candidates, with what personal characteristics, are offered to the voters, and what techniques are used in personal image making
The struggle for democracy
by
Edward S Greenberg
( Book )
65 editions published between
1990
and 2019 in
English
and held by 704 WorldCat member libraries worldwide
"'The Struggle for Democracy' offers students the tools they need to critically analyze our political system and make judgments about how well our government works. Taking a fresh approach to common American government topics, authors Edward Greenberg and Benjamin Page provide an analytical framework for understanding how politics and government work, and encourage students to consider the questions 'How democratic are we?' and 'Can government do anything well?' In order to boost student engagement with key concepts, the 2014 Elections and Updates Edition incorporates coverage of contemporary issues that dominate todayâ#x80;#x99;s headlines, as well as the most up-to-date data." --from publisher's website
more
fewer
Audience Level
0

1
Kids
General
Special
Audience level: 0.18 (from 0.04 for Democracy ... to 0.72 for Chicago Co ...)
Related Identities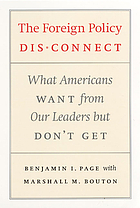 Covers
Alternative Names
Benjamin Page political scientist

Benjamin Page politicoloog

Page, B. I.

בנג'מין פייג'

Languages