Mooney, Harold A.
Most widely held works about Harold A Mooney
Most widely held works by Harold A Mooney
Carbon dioxide and environmental stress
by
Yiqi Luo
( )
17 editions published between
1999
and 2010 in
English
and held by 1,540 WorldCat member libraries worldwide
This book focuses on the interactive effects of environmental stresses with plant and ecosystem functions, especially with respect to changes in the abundance of carbon dioxide. The interaction of stresses with elevated carbon dioxide are presented from the cellular through whole plant ecosystem level. The book carefully considers not only the responses of the above-ground portion of the plant, but also emphasizes the critical role of below-ground (rhizosphere) components (e.g., roots, microbes, soil) in determining the nature and magnitude of these interactions. * Will rising CO2 alter the importance of environmental stress in natural and agricultural ecosystems? * Will environmental stress on plants reduce their capacity to remove CO2 from the atmosphere? * Are some stresses more important than others as we concern ourselves with global change? * Can we develop predictive models useful for scientists and policy-makers? * Where should future research efforts be focused?
Terrestrial global productivity
by
Jacques Roy
( )
13 editions published between
2000
and 2007 in
English
and held by 1,535 WorldCat member libraries worldwide
Assessment of terrestrial Net Primary Productivity ("the total amount of energy acquired by green plants during photosynthesis, minus the energy lost through respiration"--APDS&T, pp. 1457) [publisher web site]
Invasive species in a changing world
by
Harold A Mooney
( Book )
10 editions published between
1998
and 2000 in
English
and held by 989 WorldCat member libraries worldwide
"Invasive Species in a Changing World brings together leading scientists from around the world to examine the invasive species phenomenon and to consider the mutual interactions between global change and invasives that are likely to occur over the next century. Contributors focus on the proposition that global change will exacerbate the invasive species problem, and they set forth the idea that invasives are themselves a global change element that need to be considered in global change scenarios." "Invasive Species in a Changing World provides readers with the background and knowledge they need to begin developing strategies to combat the invasive species problem, and it is essential reading for anyone concerned with the impact of invasive species on ecosystem health and functioning."--Jacket
Principles of terrestrial ecosystem ecology
by
F. Stuart Chapin
( Book )
19 editions published between
2002
and 2012 in
English
and
Spanish
and held by 894 WorldCat member libraries worldwide
"Featuring review questions at the end of each chapter, suggestions for recommended reading, and a glossary of ecological terms, Principles of Terrestrial Ecosystem Ecology will be an important text suitable for use in all courses on ecosystem ecology. Resource managers, land use managers, and researchers will also welcome its thorough presentation of ecosystem essentials."--Jacket
Ecosystems of California
by
Harold A Mooney
( )
6 editions published in
2016
in
English
and held by 871 WorldCat member libraries worldwide
"This long-anticipated reference and sourcebook for California's remarkable ecological abundance provides an integrated assessment of each major ecosystem type--its distribution, structure, function, and management. A comprehensive synthesis of our knowledge about this biologically diverse state, this book covers the state's oceans to mountaintops using multiple lenses: past and present, flora and fauna, aquatic and terrestrial, natural and managed. Each chapter evaluates natural processes for a specific ecosystem, describes drivers of change, and discusses how that ecosystem may be altered in the future. This book also explores the drivers of California's ecological patterns and the history of the state's various ecosystems, outlining how the challenges of climate change and invasive species and opportunities for regulation and stewardship could potentially affect the state's ecosystems. The text explicitly incorporates both human impacts and conservation and restoration efforts and shows how ecosystems support human well-being. Edited by two esteemed ecosystem ecologists and with overviews by leading experts on each ecosystem, this definitive work will be indispensable for natural resource management and conservation professionals as well as for undergraduate or graduate students of California's environment and curious naturalists"--Provided by publisher
Bioinvasions and globalization : ecology, economics, management, and policy
by
Charles Perrings
( )
12 editions published in
2010
in
English
and held by 738 WorldCat member libraries worldwide
"Bioinvasions and Globalization synthesizes our current knowledge of the ecology and economics of biological invasions, providing an in-depth evaluation of the science and its implications for managing the causes and consequences of one of the most pressing environmental issues facing humanity today. This graduate level text is aimed at students, professional researchers, and practitioners in the fields of ecology, invasion biology, conservation biology, and the economics of the environment. It will also be of particular relevance and use to the policy and management community."--Jacket
Physiological ecology of North American plant communities
by
Brian F Chabot
( Book )
11 editions published between
1984
and 1985 in
English
and held by 685 WorldCat member libraries worldwide
Physiological ecology is an exciting, rapidly developing field. This volume ably indicates the immense gaps in our knowledge in part through a compilation of current knowledge about how plants adapt to the environmental conditions of the various North American biomes. Single chapters consider Arctic, alpine, taiga, chaparral, grassland, deciduous forest, tropical and subtropical forest, marine beaches and dunes, and coastal marshes. Two chapters are devoted to Western forests and three to deserts. The short preface is a poor substitute for a thoughtful introduction and a summary is sorely missed. W.D. Billing's chapter on the history of plant ecophysiology is outstanding. The only remotely comparable single-volume work in English is Heinrich Walter's Vegetation of the Earth and Ecological Systems of the Geobiosphere (2nd ed., 1979; 1st ed., CH, Apr '74); the present volume fills in many details excluded in Walter's global treatment. A solid background in ecology and plant physiology is needed to comprehend at least half of each chapter; however, Chabot and Mooney provide an excellent reference work of use to advanced undergraduates, graduates, and faculty. Recommended for libraries in colleges with plant ecology, plant geography, or plant physiology courses.-G.D. Dreyer, Connecticut College--Choice Reviews
Biodiversity and ecosystem function
by
E.-D Schulze
( Book )
24 editions published between
1993
and 1994 in
English
and held by 642 WorldCat member libraries worldwide
With the accelerating loss of biodiversity there is increasing concern about how this loss may be affecting ecosystem processes, or services, that are of benefit to human well being. The limited studies that address the principal question directly, species numbers versus system function, are evaluated. Moreover, the degree of redundancy within systems, the ubiquity of keystone species, the tightness of species interactions from mutualisms to food webs, the resilience of systems to perturbation, the interactions of landscape units are explored, as is also how policy decisions are driven in this research area. This book brings together the disciplines of population biology and ecoysystem science, both directed toward evaluating the consequences of human-driven disruptions of natural systems
Response of plants to multiple stresses
by
William E Winner
( Book )
17 editions published in
1991
in
English
and held by 608 WorldCat member libraries worldwide
Leaves as regulators of stress response; ecological scaling of carbon gain to stress and resource availability; effects of multiple environmental stresses on nutrient availability and use;water and nutrient interactions with plant water stress; carbon allocation and response to stress; partitioning response of plants to stress; growth rate, habitatproductivity, and plant strategy as predictors of stress response; stress effects on plant reproduction; multiple stress-induced foliar senescence and implications for whole-plant longevity;modelling integratedresponse of plants to multiple stresses; growth responses induced by pathogens and other stresses;plant stress and insect herbivory: toward and integrated perspective;annual plants potential responses to multiple stresses; dryland herbaceous perennials; interactive role of stresses on structure and function in aquatic plants;shrub life-forms; responses ofevergreen trees to multiple stresses;effects of environmental stresses on deciduous trees
more
fewer
Audience Level
0

1
Kids
General
Special
Audience level: 0.35 (from 0.07 for Carbon dio ... to 0.80 for Jasper Rid ...)
Related Identities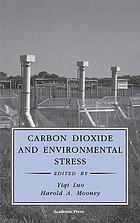 Covers
Alternative Names
Harold Mooney

Mooney, H.

Mooney, H. 1932-

Mooney, H.A.

Mooney, H. A. 1932-

Mooney, H. A. (Harold A.)

Mooney, H. A. (Harold A.), 1932-

Mooney, H. (Harold)

Mooney, H. (Harold), 1932-

Mooney, Harold 1932-

Mooney, Harold A.

Mooney, Harold A. 1932-...

ムーニー, H. A

Languages