Wise, Mark B. 1953-
Most widely held works about Mark B Wise
Most widely held works by Mark B Wise
Heavy quark physics
by
Aneesh Vasant Manohar
( Book )
15 editions published between
2000
and 2011 in
English
and held by 278 WorldCat member libraries worldwide
"Understanding the physics of heavy quarks gives physicists the opportunity to test the predictions of Quantum Chromodynamics and the Standard Model." "The book begins with a review of the standard model, followed by the basics of heavy quark spin-flavor symmetry and how it can be applied to the classification of states, decays and fragmentation. Heavy quark effective theory is then developed, including the radiative and 1/m[subscript Q] corrections, and applied to the study of hadron masses, form factors, and inclusive decay rates. The authors also discuss the application of chiral perturbation theory to heavy hadrons."
Strong effects in weak nonleptonic decays
by
Mark B Wise
( )
2 editions published in
1980
in
English
and held by 5 WorldCat member libraries worldwide
In this report the weak nonleptonic decays of kaons and hyperons are examined with the hope of gaining insight into a recently proposed mechanism for the .delta. I = 1/2 rule. The effective Hamiltonian for .delta. S = 1 weak nonleptonic decays and that for K°-anti K° mixing are calculated in the six-quark model using the leading logarithmic approximation. These are used to examine the CP violation parameters of the kaon system. It is found that if Penguin-type diagrams make important contributions to K .-->. .pi pi. decay amplitudes then upcoming experiments may be able to distinguish the six-quark model for CP violation from the superweak model. The weak radiative decays of hyperons are discussed with an emphasis on what they can teach us about hyperon nonleptonic decays and the .delta. I = 1/2 rule
Brane models and the hierarchy problem
by
Walter D Goldberger
( )
2 editions published in
2001
in
English
and held by 3 WorldCat member libraries worldwide
"It has been recently proposed that higher-dimensional field theory models in the presence of extended defects ("branes") may play a role in addressing the gauge hierarchy problem. In this thesis we consider several aspects of such field theories. First we perform the Kaluza-Klein reduction of a bulk scalar field propagating in the scenario of Randall and Sundrum, which consists of a region of five-dimensional anti-deSitter space bounded by two three-branes. We then propose a simple mechanism, based on the dynamics of a bulk scalar field, for stabilizing the modulus field (the "radion") corresponding to the size of the compact dimension in the Randall-Sundrum scenario. Some implications of this stabilization mechanism for low-energy phenomenology are described. Next, we investigate the one-loop quantum corrections to the radion effective potential. We show that for large brane separation, the quantum effects are power suppressed and therefore have a negligible effect on the bulk dynamics once a classical stabilization mechanism is in place. Finally, we study the ultraviolet divergence structure of field theory in the presence of branes and find that brane-localized divergences arise both at the classical and quantum level. We show how to interpret the classical divergences by the usual regularization and renormalization procedure of quantum field theory."
Baryon number violation beyond the standard model
by Bartosz Fornal
( )
2 editions published in
2014
in
English
and held by 2 WorldCat member libraries worldwide
This thesis describes simple extensions of the standard model with new sources of baryon number violation but no proton decay. The motivation for constructing such theories comes from the shortcomings of the standard model to explain the generation of baryon asymmetry in the universe, and from the absence of experimental evidence for proton decay. However, lack of any direct evidence for baryon number violation in general puts strong bounds on the naturalness of some of those models and favors theories with suppressed baryon number violation below the TeV scale. The initial part of the thesis concentrates on investigating models containing new scalars responsible for baryon number breaking. A model with new color sextet scalars is analyzed in more detail. Apart from generating cosmological baryon number, it gives nontrivial predictions for the neutron-antineutron oscillations, the electric dipole moment of the neutron, and neutral meson mixing. The second model discussed in the thesis contains a new scalar leptoquark. Although this model predicts mainly lepton flavor violation and a nonzero electric dipole moment of the electron, it includes, in its original form, baryon number violating nonrenormalizable dimension-five operators triggering proton decay. Imposing an appropriate discrete symmetry forbids such operators. Finally, a supersymmetric model with gauged baryon and lepton numbers is proposed. It provides a natural explanation for proton stability and predicts lepton number violating processes below the supersymmetry breaking scale, which can be tested at the Large Hadron Collider. The dark matter candidate in this model carries baryon number and can be searched for in direct detection experiments as well. The thesis is completed by constructing and briefly discussing a minimal extension of the standard model with gauged baryon, lepton, and flavor symmetries
Flavor SU(3) predictions for charmed baryon and B-meson decays
by Martin J Savage
( )
2 editions published in
1990
in
English
and held by 2 WorldCat member libraries worldwide
The predictions of the SU(3) flavor symmetry of the strong interactions for the weak decay of charmed baryons and B-mesons are detailed. It is hoped that comparison between these predictions and experiment will shed some light on the underlying dynamics involved in these weak decays. Although only a few decay modes of the charmed baryons and B-mesons have been studied experimentally it is hoped that the next generation of B-factories and even Z-decays at LEP will provide enough events to test these predictions
more
fewer
Audience Level
0

1
Kids
General
Special
Audience level: 0.55 (from 0.45 for From physi ... to 0.98 for Dai shang ...)
Related Identities
Associated Subjects
Baryon number
Baryons--Decay
B mesons--Decay
Broken symmetry (Physics)
California Institute of Technology
Cosmology
Dark matter (Astronomy)
D-branes
DeWitt, Bryce S.--(Bryce Seligman),
Feynman, Richard P.--(Richard Phillips),
Field theory (Physics)
Fixed-income securities--Mathematical models
Gauge fields (Physics)
Hadrons
Harvard University
Heavy particles (Nuclear physics)
Hooft, G. 't
Hyperons--Decay
Inflationary universe
Kaons--Decay
Lorentz transformations
Magnetic anomalies
Maldacena, Juan Martín,
Mathematical physics
Muons
National Academy of Sciences (U.S.)
Nuclear moments
Particles (Nuclear physics)--Charm
Protons--Decay
Quantum field theory
Quantum flavor dynamics
Quantum gravity
Quarks
Renormalization (Physics)
Schwarz, John H
Standard model (Nuclear physics)
Stanford Linear Accelerator Center
Supersymmetry
System analysis
Tombrello, Thomas A
University of California, Berkeley
University of Texas at Austin
Weak interactions (Nuclear physics)
Witten, E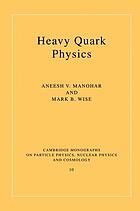 Alternative Names
Mark B. Wise Canadees natuurkundige

Mark B. Wise Canadian-American theoretical physicist

Mark B. Wise canadisk fysiker

Mark B. Wise kanadensisk fysiker

Mark B. Wise kanadisk fysikar

Mark B. Wise kanadisk fysiker

Mark Wise kanadisch-US-amerikanischer Physiker

Wise, Mark 1953-

Wise Mark B. 1953-....

Wise, Mark Brian 1953-

مارک بی ویس فیزیک‌دان کانادایی

Languages
Covers