Gross, Jan Tomasz
Most widely held works about Jan Tomasz Gross
more
fewer
Most widely held works by Jan Tomasz Gross
Neighbors : the destruction of the Jewish community in Jedwabne, Poland
by
Jan Tomasz Gross
( Book )
49 editions published between
2000
and 2015 in 3 languages and held by 2,523 WorldCat member libraries worldwide
One summer day in 1941, half of the Polish town of Jedwabne murdered the other half, 1,600 men, women, and children, all but seven of the town's Jews. Neighbors tells their story. This is a shocking, brutal story that has never before been told. It is the most important study of Polish-Jewish relations to be published in decades and should become a classic of Holocaust literature. Jan Gross pieces together eyewitness accounts and other evidence into an engulfing reconstruction of the horrific July day remembered well by locals but forgotten by history. His investigation
The politics of retribution in Europe : World War II and its aftermath
by
István Deák
( Book )
21 editions published between
2000
and 2009 in
English
and
Italian
and held by 1,376 WorldCat member libraries worldwide
The presentation of Europe's immediate historical past has quite dramatically changed. Conventional depictions of occupation and collaboration in World War II, of wartime resistance and post-war renewal, provided the familiar backdrop against which the chronicle of post-war Europe has mostly been told. Within these often ritualistic presentations, it was possible to conceal the fact that not only were the majority of people in Hitler's Europe not resistance fighters but millions actively co-operated with and many millions more rather easily accommodated to Nazi rule. Moreover, after the war, those who judged former collaborators were sometimes themselves former collaborators. Many people became innocent victims of retribution, while others--among them notorious war criminals--escaped punishment. Nonetheless, the process of retribution was not useless but rather a historically unique effort to purify the continent of the many sins Europeans had committed. This book sheds light on the collective amnesia that overtook European governments and peoples regarding their own responsibility for war crimes and crimes against humanity--an amnesia that has only recently begun to dissipate as a result of often painful searching across the continent. In inspiring essays, a group of internationally renowned scholars unravels the moral and political choices facing European governments in the war's aftermath: how to punish the guilty, how to decide who was guilty of what, how to convert often unspeakable and conflicted war experiences and memories into serviceable, even uplifting accounts of national history. In short, these scholars explore how the drama of the immediate past was (and was not) successfully "overcome." Through their comparative and transnational emphasis, they also illuminate the division between eastern and western Europe, locating its origins both in the war and in post-war domestic and international affairs. Here, as in their discussion of collaborators' trials, the authors lay bare the roots of the many unresolved and painful memories clouding present-day Europe. Contributors are Brad Abrams, Martin Conway, Sarah Farmer, Luc Huyse, Lászlo Karsai, Mark Mazower, and Peter Romijn, as well as the editors. Taken separately, their essays are significant contributions to the contemporary history of several European countries. Taken together, they represent an original and pathbreaking account of a formative moment in the shaping of Europe at the dawn of a new millennium.--Publisher description
Fear : anti-semitism in Poland after Auschwitz : an essay in historical interpretation
by
Jan Tomasz Gross
( Book )
26 editions published between
2005
and 2007 in
English
and
Dutch
and held by 1,268 WorldCat member libraries worldwide
Poland suffered an exceedingly brutal Nazi occupation during the Second World War. Close to five million Polish citizens lost their lives as a result. More than half the casualties were Polish Jews. Thus, the second largest Jewish community in the world-only American Jewry numbered more than the three and a half million Polish Jews at the time-was wiped out. Over 90 percent of its members were killed in the Holocaust. And yet, despite this unprecedented calamity that affected both Jews and non-Jews, Jewish Holocaust survivors returning to their hometowns in Poland after the war experienced widespread hostility, including murder, at the hands of their neighbors. The bloodiest peacetime pogrom in twentieth-century Europe took place in the Polish town of Kielce one year after the war ended, on July 4, 1946. Jan Gross's Fear attempts to answer a perplexing question: How was anti-Semitism possible in Poland after the war? At the center of his investigation is a detailed reconstruction of the Kielce pogrom and the reactions it evoked in various milieus of Polish society. How did the Polish Catholic Church, Communist party workers, and intellectuals respond to the spectacle of Jews being murdered by their fellow citizens in a country that had just been liberated from a five-year Nazi occupation? Gross argues that the anti-Semitism displayed in Poland in the war's aftermath cannot be understood simply as a continuation of prewar attitudes. Rather, it developed in the context of the Holocaust and the Communist takeover: Anti-Semitism eventually became a common currency between the Communist regime and a society in which many had joined in the Nazi campaign of plunder and murder-and for whom the Jewish survivors were a standing reproach. Jews did not bring communism to Poland as some believe; in fact, they were finally driven out of Poland under the Communist regime as a matter of political expediency. In the words of the Nobel Prize-winning poet Czeslaw Milosz, Poland's Communist rulers fulfilled the dream of Polish nationalists by bringing into existence an ethnically pure state
Poland's self-limiting revolution
by
Jadwiga Staniszkis
( Book )
20 editions published between
1984
and 2019 in
English
and held by 1,248 WorldCat member libraries worldwide
This book is not only an explanation of the political dynamic that led to the Polish "revolution" and the birth of Solidarity in 1980 and 1981 but an extremely important analysis of postwar East Central Europe. Although intimately involved with various aspects of Solidarity's activities, Jadwiga Staniszkis maintains a detached and critical attitutde toward the movement. Dr. Saniszkis was one of seven advisers allowed in the Gdansk shipyard during the strikes of August 1980, negotiating on behalf of the workers.
Revolution from abroad : the Soviet conquest of Poland's western Ukraine and western Belorussia
by
Jan Tomasz Gross
( Book )
32 editions published between
1986
and 2002 in
English
and
German
and held by 1,248 WorldCat member libraries worldwide
"Jan Gross describes the terrors of the Soviet occupation of the lands that made up eastern Poland between the two world wars: the Western Ukraine and Western Belorussia. His analysis of the revolution that came to Poland from abroad is based on hundreds of first-hand accounts of the hardship, suffering, and social chaos that accompanied the sovietization of this poorest section of a poverty-stricken country. Woven into the author's exploration of events from the Soviet's German-supported aggression against Poland in September of 1939 to Germany's attack on the Soviet Union in June 1941, these testimonies not only illuminate his conclusions about the nature of totalitarianism but also make a powerful statement of their own. Those who endured the imposition of Soviet rule and mass deportations to forced resettlement, labor camps, and prisons of the Soviet Union are here allowed to speak for themselves, and they do so with grim effectiveness."--Jacket
Polish society under German occupation : the Generalgouvernement, 1939-1944
by
Jan Tomasz Gross
( Book )
23 editions published between
1979
and 2019 in
English
and
Undetermined
and held by 1,145 WorldCat member libraries worldwide
These substitutes constitute the society's self-defense, to which the occupier must in some way adjust if its goals of manipulation and exploitation are to be achieved.Professor Gross points out numerous ways in which the Poles under the General gouvernement circumvented the goals and authority of the German occupiers. Most significant was the emergence of the Polish underground, which took on the leadership, social welfare, political, and financial functions of an independent state. This phenomenon, he concludes, shows that resistance should not be conceived merely as a military movement but rather as a complex social phenomenon.Jan Tomasz Gross is Assistant Professor of Sociology at Yale University.Originally published in 1979.The Princeton Legacy Library uses the latest print-on-demand technology to again make available previously out-of-print books from the distinguished backlist of Princeton University Press.
Uncivil society : 1989 and the implosion of the communist establishment
by
Stephen Kotkin
( Book )
16 editions published between
2009
and 2010 in
English
and held by 844 WorldCat member libraries worldwide
The Berlin Wall fell in 1989. In one of history's most miraculous occurrences, communism imploded--not with a bang, but with a whimper. Now two scholars of Eastern European and Soviet affairs revisit what happened, in this fresh, incisive look at communism's collapse
Golden harvest : events at the periphery of the Holocaust
by
Jan Tomasz Gross
( Book )
16 editions published between
2012
and 2016 in
English
and held by 751 WorldCat member libraries worldwide
Describes the commonplace plunder of Jewish wealth, local as well as Nazi, that took place during the Holocaust
The Holocaust in occupied Poland : new findings and new interpretations
by
Jan Tomasz Gross
( )
13 editions published between
2011
and 2012 in
English
and
German
and held by 620 WorldCat member libraries worldwide
I>Jan T. Gross: Introduction. - Natalia Aleksiun: Christian Corpses for Christians! Dissecting the Anti-Semitism behind the Cadaver Affair of the Second Polish Republic. - Krzysztof Persak: Jedwabne before the Court. Poland's Justice and the Jedwabne Massacre. - Investigations and Court Proceedings, 1947-1974. - Barbara Engelking: Murdering and Denouncing Jews in the Polish Countryside, 1942-1945. - Alina Skibinska: Perpetrators' Self-Portrait. The Accused Village Administrators, Commune Heads, Fire Chiefs, Forest Rangers, and Gamekeepers. - Jan Grabowski: 'I have only fulfilled my duties as a soldier of the Home Army'. Miechów AK and the killings of Jews in Redziny-Borek. A Case Study. - Omer Bartov: Wartime Lies and Other Testimonies. Jewish-Christian Relations in Buczacz, 1939-1944. - Andrzej Zbikowski: 'Night Guard': Holocaust Mechanisms in the Polish Rural Areas, 1942-1945. Preliminary Introduction into Research. - Agnieszka Haska: Discourse of Treason in Occupied Poland. - Joanna Tokarska-Bakir: Cries of the Mob in the Pogroms in Rzeszów (June 1945), Cracow (August 1945), and Kielce (July 1946) as a Source for the State of Mind of the Participants. - Benjamin Frommer: Postscript. The Holocaust in Occupied Poland, Then and Now
War through children's eyes : the Soviet occupation of Poland and the deportations, 1939-1941
by
Jan Tomasz Gross
( Book )
12 editions published between
1981
and 2019 in
English
and held by 526 WorldCat member libraries worldwide
During the World War II Soviet authorities deported over one million Poles, many of them children, to various provinces of the Soviet Union. In 1941 the Polish government in exile in London received permission to organize military units among the Polish deportees and later to transfer Polish civilians to camps in the British-controlled Middle East. There the children were able to attend Polish-run schools. The 120 essays translated here were selected from compositions written by the students of these schools
more
fewer
Audience Level
0

1
Kids
General
Special
Audience level: 0.37 (from 0.02 for The Holoca ... to 0.94 for Collected ...)
Related Identities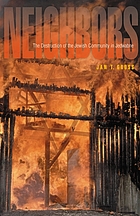 Covers
Alternative Names
Gros, Yan Ṭomash

Gros, Yan Ṭomash 1947-

Gross, I︠A︡n Tomash

Gross, J. 1947-

Gross, J. T. 1947-

Gross, Jan 1947-

Gross Jan T.

Gross, Jan T. 1947-

Gross, Jan T. (Jan Tomasz)

Gross, Jan Tomaš 1947-

Gross, Jan Tomasz

Gross, Jan Tomasz, 1947-

Jan T. Gross American historian and sociologist

Jan T. Gross americký historik a sociolog polského původu

Jan T. Gross polnisch-amerikanischer Soziologe und Historiker

Jan T. Gross Pools historicus van de moderne tijd

Jan Tomasz Gross

Jan Tomasz Gross historyk i socjolog polsko-amerykański

Jan Tomasz Gross historyk polsko-amerykański

Гросс, Ян Томаш

Ян Томаш Грос

Ян Томаш Ґросс

גרוס, יאן טומאש 1947-

גרוס, יאן טומש

גרוס, יאן תומש

גרוס, ין טומש

יאן טומאש גרוס

グロス, ヤン・T.

ヤン・グロス

扬·格罗斯

Languages