Steel, Carlos G.
Overview
| | |
| --- | --- |
| Works: | 219 works in 711 publications in 8 languages and 8,041 library holdings |
| Genres: | Conference papers and proceedings History |
| Roles: | Editor, Translator, Author, Honoree, Author of introduction, Other, Dedicatee, Publishing director, Opponent, Thesis advisor |
| Classifications: | B701.D4172, 111.84 |
Most widely held works by Carlos G Steel
On the existence of evils
by
Proclus
( Book )
21 editions published between
2002
and 2014 in
English
and held by 311 WorldCat member libraries worldwide
"Proclus' On the Existence of Evils is not a commentary, but helps to compensate for the dearth of Neoplatonist ethical commentaries. The central question addressed in the work is: How can there be evil in a providential world? Neoplatonists agree that it cannot be caused by higher and worthier beings. Plotinus had said that evil is matter, which, unlike Aristotle, he collapsed into mere privation or lack, thus reducing its reality. He also protected higher causes from responsibility by saying that evil may result from a combination of goods. Proclus objects: evil is real, and not the mere privation of form. Rather, it is a parasite feeding off good. Parasites have no proper cause, and higher beings are thus vindicated as being the causes only of the good off which evil feeds."--Jacket
On Theophrastus on sense-perception
by
Priscianus
( Book )
22 editions published between
1997
and 2014 in
English
and held by 298 WorldCat member libraries worldwide
"Simplicius and Priscian were two of the seven Neoplatonists who left Athens when the Christian Emperor Justinian closed the paganschool there in A.D. 529. The commentaries ascribed to them on works on sense-perception, one by Aristotle and one by his successor Theophrastus, are translated here in this single volume. Both commentaries give a highly Neoplatonic reading to their Aristotelian subjects and tell us much about late Neoplatonist psychology. This volume is also designed to enable readers to assess a recent major controversy: it has been argued by Carlos Steel and Fernand Bossier that the commentary ascribed to Simplicius is in fact by Priscian, and their article, hitherto only available in Dutch, is here published in revised form and in English for the first time. This book therefore contains all the evidence necessary for readers to judge this intriguing question for themselves."--Bloomsbury Publishing
On providence
by
Proclus
( Book )
17 editions published between
2007
and 2014 in
English
and held by 257 WorldCat member libraries worldwide
""The universe is, as it were, one machine, wherein the celestial spheres are analogous to the interlocking wheels and the particular beings are like the things moved by the wheels, and all events are determined by an inescapable necessity. To speak of free choice or self determination is only an illusion we human beings cherish." Thus writes Theodore the engineer to his old friend Proclus. Proclus' reply is one of the most remarkable discussions on fate, providence, and free choice in Late Antiquity. It continues a long debate that had started with the first polemics of the Platonists against the Stoic doctrine of determinism. How can there be a place for free choice and moral responsibility in a world governed by an unalterable fate? Notwithstanding its great interest, Proclus' treatise has not received the attention it deserves, probably because its text is not very accessible to the modern reader. It has survived only in a Latin medieval translation and in some extensive Byzantine Greek extracts. This first English translation, based on a retro-conversion that works out what the original Greek must have been, brings the arguments he formulates again to the fore."--BOOK JACKET
Aristotle's Metaphysics Alpha : Symposium Aristotelicum
by Symposium Aristotelicum
( Book )
18 editions published between
2012
and 2015 in
English
and held by 234 WorldCat member libraries worldwide
The 18th 'Symposium Aristotelicum', dedicated to the first book of Aristotle's 'Metaphysics', was held in Leuven July 7-13, 2008; it was hosted by the international center Aristoteles Latinus and the De Wulf-Mansion Centre for Ancient, Medieval and Renaissance Philosophy at the Institute of Philosophy. Seminar sessions were held in the premises of the Irish College and at the Royal Academy in Brussels. This is a key text for the reconstruction of the early history of Greek philosophy, and sets the agenda for Aristotle's project of wisdom. Included is a new edition of the Greek text, and an introduction which examines its divergent traditions
Paganism in the Middle Ages : threat and fascination
by
Carlos G Steel
( Book )
14 editions published between
2012
and 2017 in 3 languages and held by 161 WorldCat member libraries worldwide
"In this volume, the persistence, resurgence, threat, fascination, and repression of various forms of pagan culture are studied in an interdisciplinary perspective from late antiquity to the upcoming Renaissance. The contributions deal with the survival of pagan beliefs and practices as well as with the Christianization of pagan rural populations and with the different strategies of oppression of pagan beliefs. They deal with the problems raised by the encounter with pagan cultures outside the Muslim world and examine how philosophers attempted to "save" the great philosophers and poets from ancient culture notwithstanding their paganism. The contributors also study the fascination of classic "pagan" culture among friars in the fourteenth and fifteenth centuries and the imitation of pagan models of virtue and mythology in Renaissance poetry."--Book description, Amazon.com
Ptolemy's Tetrabiblos in the translation of William of Moerbeke = Claudii Ptolemaei liber iudicialium
by
Ptolemy
( Book )
10 editions published in
2015
in
English
and
Latin
and held by 64 WorldCat member libraries worldwide
First modern edition of the William of Moerbeke's Latin translation of Ptolemy's 'Tetrabiblos' or 'Quadripartitum opus'. Ptolemy's treatise (composed after 141 AD) offers a systematic overview of astrological science and had, together with his 'Almagest', an enormous influence up until the 17th century. In the Latin Middle Ages the work was mostly known through translations from the Arabic. William of Moerbeke's translation was made directly from the Greek and it is a major scholarly achievement manifesting not only Moerbeke's genius as a translator, but also as a scientist. The edition is accompanied by extensive Greek-Latin indices, which give evidence of Moerbeke's astonishing enrichment of the Latin vocabulary, which he needed both to translate the technical scientific vocabulary and to cope with the many new terms Ptolemy created. The introduction examines Moerbeke's translation method and situates the Latin translation within the tradition of the Greek text
Procli in Platonis Parmenidem commentaria
by
Proclus
( Book )
20 editions published between
2007
and 2011 in 4 languages and held by 55 WorldCat member libraries worldwide
"The Commentary on Plato's Parmenides by Proclus (AD 412-85) is the most important document from ancient philosophy on the interpretation of this enigmatic dialogue, and has had a crucial influence on all subsequent readings. In Proclus' interpretation, the Parmenides provides the argumentative and conceptual framework for a scientific theology wherein all mythological discourse about the gods can be integrated. Its exposition was therefore the culmination of the curriculum of the Platonic school. This theological reading of the Parmenides persisted, through the medium of Ficino, until the nineteenth century. This volume, containing Books I-III, is the first of three volumes to replace the edition of V. Cousin (Paris, 1864). This new critical edition is based on an exhaustive study of both the Greek tradition and the medieval Latin translation."--Jacket
Ten questions on providence
by
Proclus
( Book )
4 editions published between
2010
and 2012 in
English
and held by 33 WorldCat member libraries worldwide
more
fewer
Audience Level
0

1
Kids
General
Special
Audience level: 0.52 (from 0.05 for Ten questi ... to 0.95 for Maximi Con ...)
Related Identities
Associated Subjects
Aristotle
Astrology
Astronomy, Greek
Bible
De anima (Aristotle)
De sensibus (Theophrastus)
Erigena, Johannes Scotus,
Fate and fatalism
Free will and determinism
God (Greek religion)
Good and evil
Hermeneutics
In Parmenidem (Proclus)
Logic, Symbolic and mathematical
Mathematics, Greek
Metaphysics
Metaphysics (Aristotle)
Middle Ages
Neoplatonism
Paganism
Parmenides (Plato)
Perception
Perception (Philosophy)
Philosophy, Ancient
Philosophy, Medieval
Plato
Platonic theology (Proclus)
Proclus,
Providence and government of God
Psychology
Ptolemy,
Reasoning
Self (Philosophy)
Senses and sensation
Socrates
Soul
Substance (Philosophy)
Tetrabiblos (Ptolemy)
Theology
Theology, Doctrinal--Middle Ages
Theophrastus
Timaeus (Plato)
William,--of Moerbeke,
Zeno,--of Elea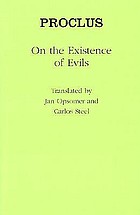 Alternative Names
Carlos Steel Zijn onderzoek betreft voornamelijk de traditie van het Platonisme vanaf de Late Oudheid (Plotinus, Proclus), patristiek (Augustinus en Maximus Confessor), Middeleeuwen (Eriugena, Albertus Magnus, Thomas van Aquino, Henricus van Gent, Henri

Steel, C.

Steel, Carlos.

Steel Carlos 1944-....

Steel, Carlos G. 1944-

Languages
Covers