Treverton, Gregory F.
Most widely held works by Gregory F Treverton
Rethinking America's security : beyond Cold War to new world order
by
Graham T Allison
( Book )
12 editions published in
1992
in
English
and held by 839 WorldCat member libraries worldwide
During the Cold War, American national security seemed clearly defined: to protect against the overarching threat of the Soviet Union and Communist expansion. But with the demise of Communism, America must reconsider its role in the world as dramatically as it did after victory in World War II. As the only real superpower, how should we use our military strength? What are the lessons of the Persian Gulf War? How and when do we cut back on our defense and national security establishment? In the New World Order a country's social cohesion and economic strength at home are increasingly important determinants of its success. To what extent does America need to reconsider its national security in domestic terms--i.e., improving economic competitiveness and learning to live within its means? In this new collection, sponsored by the American Assembly and the Council on Foreign Relations, a group of leading experts assesses the changing conception of national security in the 1990s and its implications for American policy at home and abroad
America, Germany, and the future of Europe
by
Gregory F Treverton
( Book )
25 editions published between
1992
and 2016 in
English
and
Greek, Modern
and held by 591 WorldCat member libraries worldwide
This book argues that Germany is, and will remain, Europe's center, both literally and figuratively. It is where the Cold War period began and ended, where the postwar order, originally ratified by Germany's division between East and West, collapsed with the dismantling of the Berlin Wall in 1989. Treverton reviews the significant episodes in Europe's history after World War II: the division of Germany through halting, half-inadvertent steps; the reconstruction of Europe through the Marshall Plan; the creation of NATO and the decision to station American troops in large numbers in Europe; and the epochmaking French bet, the Schuman Plan, and the beginning of European integration. Throughout, he emphasizes America's preoccupation with Europe and the decisive effect of U.S. foreign policy on European security and economic arrangements during the postwar years. Although Europe's future is uncertain, Treverton maintains it should be happier than the frozen stability of the Cold War. There will be a place for America in this future Europe, but it will be a far less prominent place. Provocative analogies for the new Europe are suggested by older Europes - either the one that followed the Concert of Europe of 1815, the first German unification in 1871, or the peace of Versailles in 1919. What is striking now, though, apart from the continuing fact of nuclear weapons, is that Germany, a defeated object of partition then, is unified and fulfilled now. Moreover, the kind of interdependence reflected in the European Community suggests a future in which military issues will recede in importance. The Community, with a pan-European organization like the Conference on Security and Cooperation (CSCE), can serve as a framework for security, while NATO may remain, during a long interim, as insurance against new threats from the East and as reassurance for Germany and its neighbors. Anyone interested in the emerging economic and political situation will find this a wide-ranging and perceptive analysis of the relationship of Germany to its European and transatlantic allies
The Shape of the new Europe
by
Gregory F Treverton
( Book )
14 editions published between
1991
and 1992 in
English
and held by 575 WorldCat member libraries worldwide
"As Western Europe prepared for 1992, dramatic and unanticipated events, including the collapse of communism and the reunification of Germany, and some significant unresolved policy issues threatened the considerable progress that had been made toward integration."--BOOK JACKET. "To assess Europe's prospects, the Council on Foreign Relations and the Royal Institute of International Affairs convened a study group of prominent European and American scholars. Under the editorial guidance of Gregory F. Treverton, they present their findings in The Shape of the New Europe, the first book to provide a comprehensive look at the new European agenda."--BOOK JACKET. "The authors systematically review the challenges facing the new Europe, ranging from how Eastern Europe can best make the simultaneous transitions to democracy and free markets, to the prospects for a pan-European security system, the impact of a Germany reunified and a Soviet Union disintegrating, the future of neutrality, and Europe's response to the Japanese trade challenge. The authors also consider what the new U.S.-European relationship will be."--BOOK JACKET. "A book that will be welcomed for its scope and rigorous analysis, The Shape of the New Europe offers important insights into Europe's future."--BOOK JACKET
Intelligence for an age of terror
by
Gregory F Treverton
( Book )
17 editions published between
2009
and 2011 in
English
and held by 454 WorldCat member libraries worldwide
"During the Cold War, U.S. intelligence was concerned with states; non-state actors such as terrorists were secondary. Now, the priorities are reversed, thus requiring the cooperation of intelligence, military, and law enforcement to communicate and address the challenge of dealing with individuals and terrorist organizations rather than states. But as intelligence gathering changes with new technology and powers, controversial questions arise over the transparency we should and can expect from our governments and militaries as they seek to anticipate the actions of terrorists and terror cells both at home and abroad." "Intelligence for an Age of Terror outlines the extent of the challenges across both foreign and domestic data collection and analysis, presenting the issues of value that arise as new targets require collection of more information at home."--Jacket
Crisis management and the super-powers in the Middle East
by
Gregory F Treverton
( Book )
21 editions published between
1980
and 1983 in
English
and held by 428 WorldCat member libraries worldwide
"The selections in this volume provide a broad historical background to and assessment of the major issues in the Middle Eastern conflict and the connections between them"--Introduction
Latin America in a New World
by
Abraham F Lowenthal
( Book )
10 editions published in
1994
in
English
and held by 393 WorldCat member libraries worldwide
The Nuclear confrontation in Europe
( Book )
8 editions published in
1985
in
English
and held by 366 WorldCat member libraries worldwide
Europas nukleare militære status i Europa undersøges- hvorledes har udviklingen hidtil formet sig, og hvad kan der ventes i fremtiden
more
fewer
Audience Level
0

1
Kids
General
Special
Audience level: 0.41 (from 0.05 for Making pol ... to 0.53 for Crisis man ...)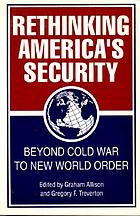 Alternative Names
Treverson, Gregory F.

Treverson, Gregory F. 1947-

Treverton, Gregory.

Treverton, Gregory 1947-

Trevorton, Gregory F.

Trevorton, Gregory F. 1947-

Languages
Covers