Worldwatch Institute
Most widely held works about Worldwatch Institute
more
fewer
Most widely held works by Worldwatch Institute
World watch
( )
in 3 languages and held by 2,576 WorldCat member libraries worldwide
Vital signs 2003 : the trends that are shaping our future
by
Worldwatch Institute
( )
31 editions published between
1992
and 2015 in
English
and
Spanish
and held by 2,279 WorldCat member libraries worldwide
Graphs, tables, and concise analyses help document the trends that are shaping the world's future
State of the world
by
Worldwatch Institute
( )
in
English
and held by 2,098 WorldCat member libraries worldwide
State of the world 2013 : is sustainability still possible?
by
Ulrike Röttger
( )
16 editions published in
2013
in
English
and held by 1,783 WorldCat member libraries worldwide
"In 'State of the World 2013: Is Sustainability Still Possible?', experts define clear sustainability metrics and examine various policies and perspectives, including geoengineering, corporate transformation, and changes in agricultural policy, that could put us on the path to prosperity without diminishing the well-being of future generations. If these approaches fall short, the final chapters explore ways to prepare for drastic environmental change and resource depletion, such as strengthening democracy and societal resilience, protecting cultural heritage, and dealing with increased conflict and migration flows."--Provided by publisher
State of the world 2015 : confronting hidden threats to sustainability
by
Worldwatch Institute
( )
12 editions published in
2015
in
English
and held by 1,482 WorldCat member libraries worldwide
We think we understand environmental damage: pollution, water scarcity, a warming world. But these problems are just the tip of the iceberg. Food insecurity, financial assets drained of value by environmental damage, and a rapid rise in diseases of animal origin are among the underreported consequences of an unsustainable global system. In State of the World 2015, the flagship publication of The Worldwatch Institute, experts explore hidden threats to sustainability and how to address them. Eight key issues are addressed in depth, along with the central question of how we can develop resilience to these and other shocks. With the latest edition of State of The World, the authorities at Worldwatch bring to light challenges we can no longer afford to ignore
State of the world 2014 : governing for sustainability
by
Worldwatch Institute
( )
26 editions published in
2014
in
English
and
Spanish
and held by 1,470 WorldCat member libraries worldwide
"Citizens expect their governments to lead on sustainability. But from largely disappointing international conferences like Rio II to the U.S.'s failure to pass meaningful climate legislation, governments' progress has been lackluster. That's not to say leadership is absent; it just often comes from the bottom up rather than the top down. Action--on climate, species loss, inequity, and other sustainability crises--is being driven by local, people's, women's, and grassroots movements around the world, often in opposition to the agendas pursued by governments and big corporations. These diverse efforts are the subject of the latest volume in the Worldwatch Institute's highly regarded State of the World series. The 2014 edition, marking the Institute's 40th anniversary, examines both barriers to responsible political and economic governance as well as gridlock-shattering new ideas. The authors analyze a variety of trends and proposals, including regional and local climate initiatives, the rise of benefit corporations and worker-owned firms, the need for energy democracy, the Internet's impact on sustainability, and the importance of eco-literacy. A consistent thread throughout the book is that informed and engaged citizens are key to better governance. The book is a clear-eyed yet ultimately optimistic assessment of citizens' ability to govern for sustainability. By highlighting both obstacles and opportunities, State of the World 2014 shows how to effect change within and beyond the halls of government. This volume will be especially useful for policymakers, environmental nonprofits, students of environmental studies, sustainability, or economics--and citizens looking to jumpstart significant change around the world." -- Publisher's description
State of the world, 2010 : transforming cultures : from consumerism to sustainability : a Worldwatch Institute report on progress toward a sustainable society
( )
14 editions published in
2010
in
English
and held by 1,359 WorldCat member libraries worldwide
This year's volume of State of the World considers how "cultures of consumption" can be transformed into "cultures of sustainability." Many ideas take inspiration from diverse traditions: religions can be called upon to embrace their own deepest values and renounce materialism, practices honoring elders as transmitters of ancient wisdom can be spread beyond regions where they still thrive (Africa, India, etc.); thousand-year-old Asian farming methods can be revived. Ideas for restructuring education include replacing the "Three Rs" with the "Seven Rs" ("reduce, reuse, recycle, respect, reflect, repair, and responsibility") and emphasizing "environmental education" in higher learning. The largest-scale changes include shifting societal goals from "maximizing growth of the market economy to maximizing sustainable human well being," ensuring that the burden of reduced production falls on the wealthiest, not the poorest
State of the World : Can a City Be Sustainable?
by
Worldwatch Institute
( )
13 editions published in
2016
in
English
and held by 1,288 WorldCat member libraries worldwide
"Cities are the world's future. Today, more than half of the global population lives in urban areas, and that number is expected to double by 2050. There is no question that cities are growing; the only debate is over how they will grow. Will we invest in the physical and social infrastructure necessary for livable, equitable, and sustainable cities? In the latest edition of State of the World, the flagship publication of the Worldwatch Institute, experts from around the globe examine the core principles of sustainable urbanism and profile cities that are putting these principles into practice. From Portland, Oregon to Ahmedabad, India, local people are acting to improve their cities, even when national efforts are stalled. Issues examined range from the nitty-gritty of handling waste and developing public transportation to civic participation and navigating dysfunctional government. Throughout, readers discover the most pressing challenges facing communities and the most promising solutions currently being developed. The result is a snapshot of cities today and a vision for global urban sustainability tomorrow."--Back cover
Vital signs 2012 : the trends that are shaping our future
by
Worldwatch Institute
( )
6 editions published in
2012
in
English
and held by 1,276 WorldCat member libraries worldwide
"From organic farming to high-speed rail to wind power, Vital Signs 2012 documents, analyzes, and illustrates with clear tables and graphs 24 key trends that are shaping our future. This nineteenth volume of the Worldwatch Institute series demonstrates that despite a number of positive developments, more work is needed to get the planet on a more-sustainable track. Vital Signs 2012 tracks developments in the environment, agriculture, energy, society, and the economy to inform and inspire the changes needed to build a sustainable world."--Book cover p.[4]
more
fewer
Audience Level
0

1
Kids
General
Special
Audience level: 0.17 (from 0.03 for Vital sign ... to 0.86 for Grant prod ...)
Related Identities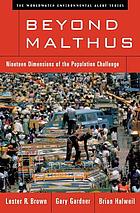 Covers
Alternative Names
Bükilälemdik kezekşilik ïnstïtwtı

Institut de prospective mondiale

Institut Worldwatch organisation environnementale américaine

Inštitut Worldwatch (Washington)

Warudo Uocchi Kenkyujo

Wārudo Uotchi Kenkyūjo.

WI

World watch institute

World Watch Institute (Washington, D. C.)

Worldwatch

Worldwatch Institut Amerikanische Umweltorganisation

Worldwatch Institute

Worldwatch Institute Amerikaanse denktank op het gebied van duurzame ontwikkeling

Worldwatch Institute (Washington)

Worldwatch-instituutti

Бүкіләлемдік кезекшілік институты

Институт Worldwatch

Інститут всесвітнього спостереження

מכון וורלדווטש

بۇكىلالەمدىك كەزەكشىلىك ىينستىيتۋتى

ورلد واتش

월드워치연구소

ワールド ウォッチ ケンキュウジョ

ワールドウォッチ研究所

世界觀察所

世界观察研究会

Languages