Worldwatch Institute
Most widely held works about Worldwatch Institute
more
fewer
Most widely held works by Worldwatch Institute
World watch
( )
in 3 languages and held by 2,327 WorldCat member libraries worldwide
State of the world
by
Worldwatch Institute
( )
in
English
and held by 2,176 WorldCat member libraries worldwide
State of the world 2013 : is sustainability still possible?
by
Worldwatch Institute
( )
17 editions published in
2013
in
English
and
Italian
and held by 1,597 WorldCat member libraries worldwide
"In 'State of the World 2013: Is Sustainability Still Possible?', experts define clear sustainability metrics and examine various policies and perspectives, including geoengineering, corporate transformation, and changes in agricultural policy, that could put us on the path to prosperity without diminishing the well-being of future generations. If these approaches fall short, the final chapters explore ways to prepare for drastic environmental change and resource depletion, such as strengthening democracy and societal resilience, protecting cultural heritage, and dealing with increased conflict and migration flows."--Provided by publisher
Vital signs 2003 : the trends that are shaping our future
by
Worldwatch Institute
( )
26 editions published between
1992
and 2015 in
English
and held by 1,429 WorldCat member libraries worldwide
Graphs, tables, and concise analyses help document the trends that are shaping the world's future
State of the world 2014 : governing for sustainability
by
Worldwatch Institute
( )
20 editions published in
2014
in
English
and
Spanish
and held by 1,291 WorldCat member libraries worldwide
"Citizens expect their governments to lead on sustainability. But from largely disappointing international conferences like Rio II to the U.S.'s failure to pass meaningful climate legislation, governments' progress has been lackluster. That's not to say leadership is absent; it just often comes from the bottom up rather than the top down. Action--on climate, species loss, inequity, and other sustainability crises--is being driven by local, people's, women's, and grassroots movements around the world, often in opposition to the agendas pursued by governments and big corporations. These diverse efforts are the subject of the latest volume in the Worldwatch Institute's highly regarded State of the World series. The 2014 edition, marking the Institute's 40th anniversary, examines both barriers to responsible political and economic governance as well as gridlock-shattering new ideas. The authors analyze a variety of trends and proposals, including regional and local climate initiatives, the rise of benefit corporations and worker-owned firms, the need for energy democracy, the Internet's impact on sustainability, and the importance of eco-literacy. A consistent thread throughout the book is that informed and engaged citizens are key to better governance. The book is a clear-eyed yet ultimately optimistic assessment of citizens' ability to govern for sustainability. By highlighting both obstacles and opportunities, State of the World 2014 shows how to effect change within and beyond the halls of government. This volume will be especially useful for policymakers, environmental nonprofits, students of environmental studies, sustainability, or economics--and citizens looking to jumpstart significant change around the world." -- Publisher's description
State of the world 2015 : confronting hidden threats to sustainability
by
G Gardner
( )
5 editions published in
2015
in
English
and held by 1,241 WorldCat member libraries worldwide
We think we understand environmental damage: pollution, water scarcity, a warming world. But these problems are just the tip of the iceberg. Food insecurity, financial assets drained of value by environmental damage, and a rapid rise in diseases of animal origin are among the underreported consequences of an unsustainable global system. In State of the World 2015, the flagship publication of The Worldwatch Institute, experts explore hidden threats to sustainability and how to address them. Eight key issues are addressed in depth, along with the central question of how we can develop resilience to these and other shocks. With the latest edition of State of The World, the authorities at Worldwatch bring to light challenges we can no longer afford to ignore
Beyond Malthus : sixteen dimensions of the population problem
by
Lester R Brown
( Book )
14 editions published between
1998
and 2000 in
English
and held by 1,197 WorldCat member libraries worldwide
"This study looks at 16 dimensions or effects of population growth in order to gain a better perspective on how future population trends are likely to affect the human prospect. The evidence gathered here indicates that the rapid population growth prevailing in a majority of the world's countries is not going to continue much longer. Either countries will get their act together, shifting quickly to smaller families, or death rates will rise from one or more [stresses such as AIDS, ethnic conflicts, or water shortages]." The sixteen topics are grain production, fresh water, biodiversity, climate change, oceanic fish catch, jobs, cropland, forests, housing, energy, urbanization, natural recreation areas, education, waste, meat production, and income. (Excerpt)
Vital signs : the trends that are shaping our future
by
Worldwatch Institute
( )
in
English
and
Italian
and held by 1,192 WorldCat member libraries worldwide
Overview of potential topics discussed: health challenges (Ecosystem health, public health, and economic health) -- Food and agriculture trends -- Energy trends -- Atmospheric trends -- Economic trends -- Transportation trends -- Health and social trends -- Military trends -- Environmental features -- Economy and finance features -- Resource economics features -- Transportation features -- Health features -- Social features
Building a sustainable society
by
Lester R Brown
( Book )
2 editions published in
1981
in
English
and held by 1,158 WorldCat member libraries worldwide
This publication discusses worldwide problems and issues of concern. There are two major parts. Part I deals with "Converging Demands." For those who regularly read the Worldwatch Papers, much of the material in this section will be familiar. The material is included here particularly for the sake of those readers abroad who do not have ready access to the Institute's publications. Discussed are erosion, biological systems under pressure, oil, food, and emerging economic and social stresses. Part ii, "The Path to Sustainability," comprises approximately two-thirds of the publication. A number of issues are examined including population growth, conservation of natural resources, renewable energy (E.G. wood, wind, and falling water), and changing values. The shape of a sustainable society--a sustainable transportation system, the resurgence of agriculture, new industries and jobs, urbanization, greater local self reliance, and simpler life styles--is examined. The means of transition to this sustainable society and the institutional challenges are discussed. The publication concludes with a subject index. (Author/RM)
State of the world, 2010 : transforming cultures : from consumerism to sustainability : a Worldwatch Institute report on progress toward a sustainable society
( )
12 editions published in
2010
in
English
and held by 1,150 WorldCat member libraries worldwide
This year's volume of State of the World considers how "cultures of consumption" can be transformed into "cultures of sustainability." Many ideas take inspiration from diverse traditions: religions can be called upon to embrace their own deepest values and renounce materialism, practices honoring elders as transmitters of ancient wisdom can be spread beyond regions where they still thrive (Africa, India, etc.); thousand-year-old Asian farming methods can be revived. Ideas for restructuring education include replacing the "Three Rs" with the "Seven Rs" ("reduce, reuse, recycle, respect, reflect, repair, and responsibility") and emphasizing "environmental education" in higher learning. The largest-scale changes include shifting societal goals from "maximizing growth of the market economy to maximizing sustainable human well being," ensuring that the burden of reduced production falls on the wealthiest, not the poorest
more
fewer
Audience Level
0

1
Kids
General
Special
Audience level: 0.21 (from 0.03 for Vital sign ... to 0.85 for Grant prod ...)
Related Identities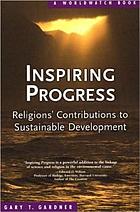 Covers
Alternative Names
Bükilälemdik kezekşilik ïnstïtwtı

Institut de prospective mondiale

Institut Worldwatch organisation environnementale américaine

Warudo Uocchi Kenkyujo

Wārudo Uotchi Kenkyūjo.

WI

World watch institute

World Watch Institute (Washington, D. C.)

Worldwatch

Worldwatch Institut Amerikanische Umweltorganisation

Worldwatch Institute

Worldwatch Institute Amerikaanse denktank op het gebied van duurzame ontwikkeling

Worldwatch-instituutti

Бүкіләлемдік кезекшілік институты

Институт Worldwatch

Інститут всесвітнього спостереження

מכון וורלדווטש

بۇكىلالەمدىك كەزەكشىلىك ىينستىيتۋتى

ورلد واتش

ワールド ウォッチ ケンキュウジョ

ワールドウォッチ研究所

世界觀察所

世界观察研究会

Languages