Worldwatch Institute
Most widely held works about Worldwatch Institute
more
fewer
Most widely held works by Worldwatch Institute
State of the world 2007 : our urban future : a Worldwatch Institute report on progress toward a sustainable society
by
Worldwatch Institute
( Book )
111 editions published between
1987
and 2015 in 4 languages and held by 2,714 WorldCat member libraries worldwide
This [book] examines changes in the ways cities are managed, built, and lived in, focusing on how those changes could create healthier, more peaceful urban areas in the future. The authors investigate water and sanitation, urban faming, local energy production, "green" transportation options, disaster preparedness, local economic stability, and much more. --From back cover
State of the world
by
Worldwatch Institute
( )
in
English
and
Japanese
and held by 2,579 WorldCat member libraries worldwide
Jahreszeitschrift über die Zustände, wirtschaftlich und sozial, der Welt. Socio-ökonomische Studien
Beyond Malthus : sixteen dimensions of the population problem
by
Lester R Brown
( Book )
13 editions published between
1998
and 2000 in
English
and held by 1,200 WorldCat member libraries worldwide
"This study looks at 16 dimensions or effects of population growth in order to gain a better perspective on how future population trends are likely to affect the human prospect. The evidence gathered here indicates that the rapid population growth prevailing in a majority of the world's countries is not going to continue much longer. Either countries will get their act together, shifting quickly to smaller families, or death rates will rise from one or more [stresses such as AIDS, ethnic conflicts, or water shortages]." The sixteen topics are grain production, fresh water, biodiversity, climate change, oceanic fish catch, jobs, cropland, forests, housing, energy, urbanization, natural recreation areas, education, waste, meat production, and income. (Excerpt)
World watch
( )
in
English
and held by 1,072 WorldCat member libraries worldwide
Running on empty : the future of the automobile in an oil-short world
by
Lester R Brown
( Book )
3 editions published in
1979
in
English
and held by 1,068 WorldCat member libraries worldwide
This book is an initial assessment of the fast changing oil outlook and its implications for the future of the automobile. Until recently, there was little reason to doubt that the automobile's role would continue to expand for the forseeable future. But that assumption no longer seems so certain. The automobile and the sprawling global auto industry are entering perhaps the most difficult period in their history. Their difficulties stem chiefly from the twin problems of growing precariousness in the world's oil supplies and rapidly rising oil prices
Inspiring progress : religions' contributions to sustainable development
by
Gary T Gardner
( Book )
2 editions published in
2006
in
English
and held by 798 WorldCat member libraries worldwide
"Progress" is in trouble. Hunger exists amid plenty. Technology too often serves violence. Forests and species are threatened, and the planet's climate is changing. These Achilles' heels of the otherwise spectacular 20th century threaten to unravel the many gains of that era. The values responsible for these fundamental flaws will need to be corrected if human progress is to continue in the 21st century. Fortunately, many religious people and institutions are stepping up to the challenge with inspiring initiatives to care for the environment and to rethink the way wealth is used in our world. Their contributions, while relatively modest compared to their potential, add value to the movement to build a sustainable world. Increased religious involvement in the effort could help usher in a brighter future of human progress. In the pages of this book, you can find out how." --[P. 4] of COVER
The picture of health : environmental sources of disease
by
Erik P Eckholm
( Book )
2 editions published in
1977
in
English
and held by 789 WorldCat member libraries worldwide
This book deals comprehensively with many of the environmental factors that endanger the attainment and maintenance of health, a condition defined as being a state of complete physical, mental, and social well-being. The author, taking a qlobal view of community life and culture, environmental factors and economic realities, examines the influences of all of these elements on the health and well-beinq of various populations. The price of undernutrition and poor sanitation and the social policies that permit what amounts to a global scandal are discussed. He also examines the health toll of the affluent diet and life style and the chanqes that must occur if the specter of premature death is to be banished from the industrial world. Examinations of the environmental sources of cancer and the scope of occupationally induced diseases are far-reaching. This book should interest and assist government officials, medical and health practitioners, scientists involved in health issues, and laymen. (Jd)
State of the world 2013 : is sustainability still possible?
by
Worldwatch Institute
( Book )
11 editions published in
2013
in
English
and held by 580 WorldCat member libraries worldwide
"In 'State of the World 2013: Is Sustainability Still Possible?', experts define clear sustainability metrics and examine various policies and perspectives, including geoengineering, corporate transformation, and changes in agricultural policy, that could put us on the path to prosperity without diminishing the well-being of future generations. If these approaches fall short, the final chapters explore ways to prepare for drastic environmental change and resource depletion, such as strengthening democracy and societal resilience, protecting cultural heritage, and dealing with increased conflict and migration flows."--Provided by publisher
more
fewer
Audience Level
0

1
Kids
General
Special
Audience level: 0.28 (from 0.03 for Vital sign ... to 0.86 for Grant prod ...)
Related Identities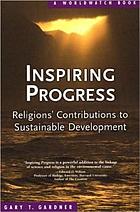 Alternative Names
Bükilälemdik kezekşilik ïnstïtwtı

Institut de prospective mondiale

Warudo Uocchi Kenkyujo

Wārudo Uotchi Kenkyūjo.

WI

World watch institute

World Watch Institute (Washington, D. C.)

Worldwatch

Worldwatch Institute

Worldwatch-instituutti

Бүкіләлемдік кезекшілік институты

Институт Worldwatch

Інститут всесвітнього спостереження

מכון וורלדווטש

بۇكىلالەمدىك كەزەكشىلىك ىينستىيتۋتى

ワールド ウォッチ ケンキュウジョ

ワールドウォッチ研究所

世界觀察所

世界观察研究会

Languages
Covers