Council of Europe
Overview
| | |
| --- | --- |
| Works: | 14,423 works in 26,903 publications in 7 languages and 193,088 library holdings |
| Genres: | Periodicals Conference papers and proceedings Exhibition catalogs Handbooks and manuals Treaties Sources History Biography Juvenile works Digests |
| Roles: | Editor, Publisher, Other, isb, Originator, Organizer of meeting, Sponsor, Publishing director, Contributor, Collector, Curator, Translator, 475, Patron, Compiler, Conceptor, dir, Facsimilist |
| Classifications: | JN24, 341.184 |
Most widely held works about Council of Europe
more
fewer
Most widely held works by Council of Europe
The European Social Charter : origin, operation and results
by
Carole Benelhocine
( Book )
86 editions published between
1956
and 2016 in 3 languages and held by 685 WorldCat member libraries worldwide
A comprehensive reference for those seeking to gain knowledge of the Charter and an understanding of its mechanisms, this edition includes ratifications of the Charter Instruments, changes in the procedures related to the supervision of the Charter and decisions from the examination of reports
Framework Convention for the Protection of National Minorities : collected texts
by
Council of Europe
( Book )
35 editions published between
1999
and 2013 in
English
and held by 649 WorldCat member libraries worldwide
This collection provides a compilation of the basic texts concerning the Framework Convention for the Protection of National Minorities. In addition to the Framework Convention and its explanatory memorandum, the collection contains texts pertaining to the monitoring mechanism in general and the Advisory Committee. Furthermore, it provides the state of signatures and ratifications as well as declarations and reservations. It also contains a list of state reports received and opinions of the Advisory Committee adopted under both the first and second cycles of monitoring.--Publisher's description
The fight against terrorism : Council of Europe standards
by
Council of Europe
( Book )
35 editions published between
2003
and 2007 in
English
and
French
and held by 435 WorldCat member libraries worldwide
The Council of Europe has drafted a number of international legal instruments and standards which reflects the importance it attaches to combating terrorism and illustrate the underlying message of the organization, which is that it is possible to fight efficiently against terrorism while upholding the basic values that are the common heritage of the European continent. This updated fourth edition of the book contains these texts.--Publisher's description
Judicial organisation in Europe
by
Council of Europe
( Book )
15 editions published between
1975
and 2000 in
English
and held by 371 WorldCat member libraries worldwide
Slovenia, Sweden, Switzerland, "The former Yugoslav Republic of Macedonia"
Manual on the wearing of religious symbols in public areas
by
Malcolm D Evans
( Book )
10 editions published between
2008
and 2009 in
English
and held by 193 WorldCat member libraries worldwide
This manual explores how the European Convention on Human Rights relates to the freedom of thought, conscience and religion. It identifies the key concepts which can be found in the jurisprudence of the European Court of Human Rights and examines the role and responsibilities of both state and citizen. The central issue addressed is the wearing of religious symbols in public areas. For this purpose, the author first looks at a number of topics, including the 'visibility' of religions and beliefs in the public sphere, and the notion of 'wearing religious symbols'. The questions policy makers need to ask when addressing issues concerning the wearing of religious symbols are then listed. Finally, the manual seeks to apply these principles and approaches to a number of key areas such as state employment, schools and universities, the private sector and the criminal justice system.--Publisher's description
more
fewer
Audience Level
0

1
Kids
General
Special
Audience level: 0.62 (from 0.00 for Protecting ... to 0.87 for Le Conseil ...)
Related Identities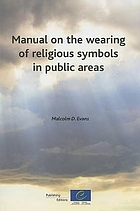 Alternative Names
Au-chiu Phêng-gī-hoē

Avropa Şurası

Avrupa Konseyi.

C. E. (Council of Europe)

CE.

CE (Council of Europe)

CEE. Conselho da Europa

CoE

Comhairle na hEorpa

Comunidade Económica Europeia. Conselho da Europa

Conseil de l'Europe

Conseil de l'Europe.

Conseil des Communautés Européennes

Consejo de Europa.

Consejo de Europa organización internacional de ámbito regional

Conselh d'Euròpa

Conselho da Comunidade Europeia

Conselho da Europa.

Consell d'Europa

Consello de Europa

Consèly de l'Eropa

Conseyu d'Europa organización internacional

Consiglio d'Europa

Consiglio dell'Europa

Consiglio dell'Europa

Consiglio d'Europa.

Consiglio d'Europa organizzazione internazionale

Consiglio d'Europe

Consilie del Europa

Consilio de Europa

Consiliul Europei

Consilium Europae.

Consilium Europae consociatio internationalis Europae

Cooncil o Europe internaitional organisation

Coonseil ny h-Oarpey

Council of Europe.

Council of Europe international organization

Council of Europe Press.

Council of Europe Publishing.

Council of Europe Service de l'Édition et de la Documentation

Cunselho de la Ouropa

Cunsigghiu d'Europa organizzazzioni intirnazziunali, di nun cunfùnniri cu l'Unioni Eurupea, dâ quali nun fa' parti

Cyngor Ewrop

Eiropas Padome

EN.

Euroopa Nõukogu

Euroopan neuvosto.

Euroopan neuvosto poliittinen yhteistyö- ja ihmisoikeusjärjestö

Európa Tanács

Europäischer Rat.

Europako Kontseilua

Europaraad

Europarȧdet

Europarådet internasjonal organisasjon i Europa

Europarat.

Europarat europäische internationale Organisation

Europarot

European Council

Europos Taryba

Europska rada

Europska rada mjezynarodna organizacija

Evroparáðið

Evropayi Khorhurd

Evropayi Xorhowrd

Evropeĭskiĭ sovet

Evropis sabčo

Evropski savet

Evrópuráðið

Golaha Yurub

Këshilli i Evropës

Konseho ng Europa

Konsejo de Evropa

Konsey Ewòp

Konsilio de Eŭropo

Kuzul Europa

Majelis Eropa

Majlis Eropah

Ōshū Hyōgikai

Õuruupa Nõvvokogo

Pasamuan ing Éropah

Raad van Europa.

Rada Europy

Rada Europy. Council of Europe Publishing.

Rada Europy Międzynarodowa organizacja rządowa

Rada Evropy

Rada I︠E︡vropy

Raod van Europa

Rie fan Jeropa

Savet Evrope

Savjet Evrope

Sovet Evropy.

Strasbourg (Bas-Rhin)

Svet Evrope

Symboulion tēs Eurōpēs

Symbulion tēs Eurōpēs

Symbulion tēs Eyrōpēs

Symvoulio ti̲s Ev̲ro̲païki̲s

Ủy hội châu Âu

Vijeće Europe

Vijeće Evrope

Wydawnictwo Rady Europy.

Yevropa Kengashi

Συμβούλιο της Ευρώπης

Аурупа шурасы

Гурӯҳ:Шӯрои Аврупо

Европа кеңеши

Европа советы

Европаны Кенгеши

Европейский совет

Европын Согоньжы

Рада Эўропы

Рада Європи

Савет Европе

Савет Еўропы

Совет Европы

Совет на Европа

Съвет на Европа

Шӯрои Аврупо

Եվրոպայի Խորհուրդ

מועצת אירופה

اروپا شورا

شورای اروپا

مجلس أوروبا

ئەنجومەنی ئەورووپا

یورپی کونسل

युरोपको परिषद

युरोपाची परिषद

यूरोपीय परिषद

কাউন্সিল অব ইউরোপ

สภายุโรป

ევროპის საბჭო

유럽 평의회

ヨーロッパ評議会

欧州評議会

欧州評議会 国際組織

歐洲委員會

欧洲委员会 国际组织

Languages
Covers