Treverton, Gregory F.
Most widely held works by Gregory F Treverton
New challenges, new tools for defense decisionmaking
( )
15 editions published between
2001
and 2013 in
English
and held by 2,198 WorldCat member libraries worldwide
It is still easy to underestimate how much the collapse of the Soviet Union and the end of the Cold War and then the terrorist attacks of September 11, 2001 transformed the task of American foreign and defense policymaking. In place of predictability (if a sometimes terrifying predictability), the world is now very unpredictable. In place of a single overriding threat and benchmark by which all else could be measured, a number of possible threats have arisen, not all of them states. In place of force-on-force engagements, U.S. defense planners have to assume "asymmetric" threats ways not to defeat U.S. power but to render it irrelevant. This book frames the challenges for defense policy that the transformed world engenders, and it sketches new tools for dealing with those challenges from new techniques in modeling and gaming, to planning based on capabilities rather than threats, to personnel planning and making use of "best practices" from the private sector
Reshaping national intelligence for an age of information
by
Gregory F Treverton
( )
28 editions published between
2001
and 2005 in
English
and held by 2,051 WorldCat member libraries worldwide
"In this bold and penetrating study, Gregory Treverton ... offers his insider's view on how intelligence gathering and analysis must change. He suggests why intelligence needs to be both contrarian, leaning against the conventional wisdom, and attentive to the longer term, leaning against the shrinking time horizons of Washington policy makers"--Preliminary page
Assessing the tradecraft of intelligence analysis
by
Gregory F Treverton
( )
13 editions published in
2008
in
English
and held by 1,977 WorldCat member libraries worldwide
This report assesses intelligence analysis across the main U.S. intelligence agencies and makes a number of recommendations, some of which parallel initiatives that have begun in the wake of the December 2004 legislation, for instance, create a Deputy Director of National Intelligence as a focal point for analysis, establish a National Intelligence University, build a Long Term Analysis Unit at the National Intelligence Council, and form an Open Source Center for making more creative use of open-source materials
Making policy in the shadow of the future
by
Gregory F Treverton
( )
10 editions published in
2010
in
English
and held by 1,896 WorldCat member libraries worldwide
The National Intelligence Council's (NIC's) 2008 report Global Trends 2025: A Transformed World projects what the world will look like in 2025 based on recent trends. However, as an intelligence organization, the NIC limits its report to describing the impacts of future trends on the United States -- it cannot explore the important question: How should U.S. policy adapt now to account for these trends and the future that will result from them? This paper takes on that task. It focuses on important issues for which a long-term perspective leads to different immediate choices for U.S. policy than would result from only a short-term perspective. These include energy and climate change; defense policy, including the diffusion of nuclear weapons and the movement to abolish them; the reshaping of international law and institutions; the structure of the federal government; and the U.S. relationship with Mexico. For some other issues, long- and short-term thinking produce similar conclusions; yet for still others, the two perspectives seem difficult to reconcile
Reorganizing U.S. domestic intelligence : assessing the options
by
Gregory F Treverton
( )
13 editions published in
2008
in
English
and held by 1,828 WorldCat member libraries worldwide
One of the questions in the fight against terrorism is whether the United States needs a dedicated domestic intelligence agency separate from law enforcement, on the model of many comparable democracies. To examine this issue, Congress directed that the Department of Homeland Security perform an independent study on the feasibility of creating a counterterrorism intelligence agency and the department turned to the RAND Corporation for this analysis but asked it specifically not to make a recommendation. This volume lays out the relevant considerations for creating such an agency. It draws on a variety of research methods, including historical and legal analysis; a review of organizational theory; examination of current domestic intelligence efforts, their history, and the public's view of them; examination of the domestic intelligence agencies in six other democracies; and interviews with an expert panel made up of current and former intelligence and law enforcement professionals. The monograph highlights five principal problems that might be seen to afflict current domestic intelligence enterprise; for each, there are several possible solutions, and the creation of a new agency addresses only some of the five problems. The volume discusses how a technique called break-even analysis can be used to evaluate proposals for a new agency in the context of the perceived magnitude of the terrorism threat. It concludes with a discussion of how to address the unanswered questions and lack of information that currently cloud the debate over whether to create a dedicated domestic intelligence agency
Moving toward the future of policing
( )
10 editions published in
2011
in
English
and held by 1,741 WorldCat member libraries worldwide
Some police forces believe that 20 years from now they will operate much as they do today, but advances in technology and operating concepts are driving significant changes in day-to-day police operations. This book explores potential visions of the future of policing, based on the drivers of jurisdiction, technology, and threat, and includes concrete steps for implementation. This analysis is based on a review of policing methods and theories from the 19th century to the present day. Recommendations include educating personnel and leaders to build internal support for change, transitioning to shared technical platforms, and leveraging winning technologies. Because criminals will also use new technology that becomes available, the key to the future of policing will not be the technology itself; it will be the ways in which police forces adapt the technology to their needs
Film piracy, organized crime, and terrorism
by
Gregory F Treverton
( )
12 editions published between
2008
and 2009 in
English
and held by 1,662 WorldCat member libraries worldwide
This report presents the findings of research into the involvement of organized crime and terrorist groups in counterfeiting products ranging from watches to automobile parts, from pharmaceuticals to computer software. It presents detailed case studies from around the globe in one area of counterfeiting, film piracy, to illustrate the broader problem of criminal -- and perhaps terrorist -- groups finding a new and not-much-discussed way of funding their activities. Piracy is high in payoff and low in risk, often taking place under the radar of law enforcement. The case studies provide compelling evidence of a broad, geographically dispersed, and continuing connection between film piracy and organized crime, as well as evidence that terrorist groups have used the proceeds of film piracy to finance their activities. Counterfeiting is a threat not only to the global information economy, but also to public safety and national security. Cooperation among law enforcement and governments around the world is needed in the battle against intellectual-property theft, and meaningful progress will require increased political will, strong legislation, consistent enforcement, deterrent sentencing, and innovative solutions. The report lays out an agenda of measures. Increased global intelligence-gathering and sharing is needed to further illuminate the scope and nature of the connections between piracy and organized crime, and policymakers and law enforcement worldwide should reexamine the common but erroneous assumption that counterfeiting is a victimless crime
Commercial power centers in emerging markets
by
Gregory F Treverton
( )
5 editions published in
1998
in
English
and held by 1,580 WorldCat member libraries worldwide
As the ongoing Asian crises underscore, policymaking and policies are becoming less the exclusive purview of governments and more the outcome of a complex process in which diverse groups participate actively, with varying degrees of influence. A commercial power center (CPC) is any group, combination, or coalition that seeks to influence the design and implementation of government economic policies to suit its interests. This analytic framework is used to assess the changing politics of economic policymaking--to identify new groups with stakes and older ones that may be losing influence, and to evaluate their interaction in the making of government policy. The influence of selected CPCs in emerging markets matters for both what analysts look at and how they view those new targets. Asia's financial crisis, which struck as this project was in its final stages, drove home that lesson. The authors illustrate their methodology by examining four countries--Mexico, Turkey, China, and Indonesia--that are in transition and that vary widely from one another
America, Germany, and the future of Europe
by
Gregory F Treverton
( Book )
26 editions published between
1992
and 2016 in
English
and
Greek, Modern
and held by 932 WorldCat member libraries worldwide
This book argues that Germany is, and will remain, Europe's center, both literally and figuratively. It is where the Cold War period began and ended, where the postwar order, originally ratified by Germany's division between East and West, collapsed with the dismantling of the Berlin Wall in 1989. Treverton reviews the significant episodes in Europe's history after World War II: the division of Germany through halting, half-inadvertent steps; the reconstruction of Europe through the Marshall Plan; the creation of NATO and the decision to station American troops in large numbers in Europe; and the epochmaking French bet, the Schuman Plan, and the beginning of European integration. Throughout, he emphasizes America's preoccupation with Europe and the decisive effect of U.S. foreign policy on European security and economic arrangements during the postwar years. Although Europe's future is uncertain, Treverton maintains it should be happier than the frozen stability of the Cold War. There will be a place for America in this future Europe, but it will be a far less prominent place. Provocative analogies for the new Europe are suggested by older Europes - either the one that followed the Concert of Europe of 1815, the first German unification in 1871, or the peace of Versailles in 1919. What is striking now, though, apart from the continuing fact of nuclear weapons, is that Germany, a defeated object of partition then, is unified and fulfilled now. Moreover, the kind of interdependence reflected in the European Community suggests a future in which military issues will recede in importance. The Community, with a pan-European organization like the Conference on Security and Cooperation (CSCE), can serve as a framework for security, while NATO may remain, during a long interim, as insurance against new threats from the East and as reassurance for Germany and its neighbors. Anyone interested in the emerging economic and political situation will find this a wide-ranging and perceptive analysis of the relationship of Germany to its European and transatlantic allies
Intelligence for an age of terror
by
Gregory F Treverton
( Book )
17 editions published between
2009
and 2011 in
English
and held by 880 WorldCat member libraries worldwide
"During the Cold War, U.S. intelligence was concerned with states; non-state actors such as terrorists were secondary. Now, the priorities are reversed, thus requiring the cooperation of intelligence, military, and law enforcement to communicate and address the challenge of dealing with individuals and terrorist organizations rather than states. But as intelligence gathering changes with new technology and powers, controversial questions arise over the transparency we should and can expect from our governments and militaries as they seek to anticipate the actions of terrorists and terror cells both at home and abroad." "Intelligence for an Age of Terror outlines the extent of the challenges across both foreign and domestic data collection and analysis, presenting the issues of value that arise as new targets require collection of more information at home."--Jacket
more
fewer
Audience Level
0

1
Kids
General
Special
Audience level: 0.17 (from 0.02 for Commercial ... to 0.52 for The Nuclea ...)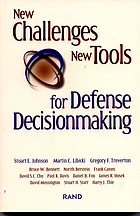 Covers
Alternative Names
Treverson, Gregory F.

Treverson, Gregory F. 1947-

Treverton Gregory

Treverton, Gregory 1947-

Trevorton, Gregory F.

Trevorton, Gregory F. 1947-

Languages