贾平凹
Most widely held works about 贾平凹
more
fewer
Most widely held works by 贾平凹
Turbulence : a novel
by
Pingwa Jia
( Book )
86 editions published between
1987
and 2018 in 3 languages and held by 963 WorldCat member libraries worldwide
Follows the lives of two peasants, Golden Dog and Water Girl, through the post-Mao years and sets their star-crossed love for each other against the political upheavals of China itself
Ruined city : a novel
by
Pingwa Jia
( Book )
65 editions published between
1993
and 2019 in 5 languages and held by 686 WorldCat member libraries worldwide
"Jia Pingwa introduces readers to his novel's antihero Zhuang Zhidie, a famous contemporary writer and an infamous lothario, who struggles with his own exacting artistic and literary standards, his "celebrity", and his inevitable disappointment in his various sexual liaisons. A cautionary tale of what it means to live in rapidly-changing China and the trappings of nostalgia, an unrequited romanticism for China's pre-modern, rural past"--
Qin qiang
by
Pingwa Jia
( Book )
53 editions published between
1994
and 2019 in
Chinese
and held by 317 WorldCat member libraries worldwide
Xiao shuo huo de di qi jie mao jiang.Tong guo yi ge jiao qing feng jie de di fang jin er shi nian lai de yan bian he jie shang yun yun zhong sheng de sheng lao bing si,Bei huan li he,Sheng dong di biao xian le zhong guo she hui de li shi zhuan xing ji nong cun dai lai de zhen dang he bian hua.Xiao shuo yi feng zi yin sheng de shi jiao lai jiang shu qing feng jie liang da zu xing bai jia he xia jia de shi dai chen fu,Bai jia zao yi shuai bai,Xia jia de bian qian yan bian cheng le qing feng jie,Shan xi nai zhi zhong guo nong cun de xiang zheng
Huai nian lang
by
Pingwa Jia
( Book )
31 editions published between
2000
and 2021 in
Chinese
and held by 278 WorldCat member libraries worldwide
Shā láng shì lièrén de běnxìng hé mìngyùn, tèbié shì zài shāng zhōu zhèn, shí jǐ nián qián guǎngkuò de láng qún yǐ chéngwéi yīgè yánzhòng de wèntí. Dànshì, bǎohù láng shì gāozimíng de gōngzuò hé shǐmìng. Wèile wánchéng rènwù hé shēngcún, lièrén, jìzhě hé láng kāishǐle yīchǎng píngděng de zhàndòu. Fūqiǎn de mùdì shì zhǎodào láng, yīgè xuèxīng hé qímiào de wèntí, dàn shízhì shàng, zuòzhě zhíyí rén de cúnzài yìyì hé xīntài shǔyú. Zuòzhě yǐ duì zìrán de tóngqíng, jiǎngshùle rén yǔ zìrán de chōngtú, shìtú zài dōngfāng wénhuà hè shīyì zhōng biǎodá duì zìrán zhìxù de zhuīqiú
Bai ye
by
Pingwa Jia
( Book )
38 editions published between
1995
and 2020 in
Chinese
and held by 277 WorldCat member libraries worldwide
"This is an urban novel in which it is about the sad and happy life of an actor. On the stage, Yelang can gallop at will, and eat everything from ghosts; in social, Yelang can also rise up and down, from high-ranking officials to low-ranking people in the market. However, behind the seemingly beautiful scenery, Yelang struggles hard in his love and destiny... For the world of this novel, "rebirth" is like the master of destiny. Yelang holds the key to "rebirth", but gets lost in the entanglement of desire and reason, opening the door to wrong fate again and again."--
Dai deng
by
Pingwa Jia
( Book )
10 editions published between
2013
and 2020 in
Chinese
and
English
and held by 225 WorldCat member libraries worldwide
Cherry Town is a remote community located deep in the Qinling Mountains in the southern Shanxi province. There, a beautiful, college-educated woman is appointed to serve as director of the new office of social management. Daideng, whose adopted name literally means "the lantern bearer" as a poetic reference to the firefly, works closely with one of her young officers, an unmarried woman named Zhuzi. Together, they must address a myriad of grievances brought by the townspeople-ranging from the pervasive lice infestation to the building of a new factory, which will provide the impoverished town with a significant economic stimulus at the risk of polluting the region's delicate ecosystem and damaging the town's scenery. Often distracted by her empathy for the villagers, Daideng's soft heart often proves to be her downfall
Happy dreams
by
Pingwa Jia
( Book )
2 editions published in
2017
in
English
and held by 201 WorldCat member libraries worldwide
Poverty and injustice test one man's relentless optimism. From one of China's foremost authors, Jia Pingwa's Happy Dreams is a powerful depiction of life in industrializing contemporary China, in all its humor and pathos, as seen through the eyes of Happy Liu, a charming and clever rural laborer who leaves his home for the gritty, harsh streets of Xi'an in search of a better life. After a disastrous end to a relationship, Hawa "Happy" Liu embarks on a quest to find the recipient of his donated kidney and a life that lives up to his self-given moniker. Traveling from his rural home in Freshwind to the city of Xi'an, Happy brings only an eternally positive attitude, his devoted best friend WuFu, and a pair of high-heeled women's shoes he hopes to fill with the love of his life. In Xi'an, Happy and Wufu find jobs as trash pickers sorting through the city's filth, but Happy refuses to be deterred by inauspicious beginnings. In his eyes, dusty birds become phoenixes, the streets become rivers, and life is what you make of it. When he meets the beautiful Yichun, he imagines she is the one to fill the shoes and his Cinderella-esque dream. But when the harsh city conditions and the crush of societal inequalities take the life of his friend and shake Happy to his soul, he'll need more than just his unrelenting optimism to hold on to the belief that something better is possible. -- back cover
Tu men
by
Pingwa Jia
( Book )
28 editions published between
1996
and 2018 in 3 languages and held by 198 WorldCat member libraries worldwide
"Tu men " wei rao xiang cun yu cheng shi de zheng dou zhan kai, jiang shu liao yi ge cun zhuang cheng shi hua de guo cheng . ta shi jia ping ao chang pian xiao shuo zhong zui bao de yi ben, ye shi zui you te se de yi ben . xiao shuo tuo li liao zuo zhe yi guan de pai chi dou shi, xiang wang xiang cun de qing jie, li zhi di dui cheng shi dang zhong fu xiu de sheng cun fang shi he xiang cun de bao shou xin tai jin xing liao shuang zhong pi pan . zhu ren gong cheng yi shi yi ge you po li, ta shi ken gan de xiang cun gan bu, dan ta de si xiang shi ji wei bao shou de, ta ju pa cheng shi jiang zi ji sheng huo de cun zi tun mei, ju pa guo shang yi zhong li kai tu di de mei you gen de ri zi . ta bing mei you zhen zheng si kao ru he chu li cheng shi he xiang cun zhi jian de guan xi, er shi yong zi ji de fang shi wei bao cun zui hou yi kuai ji jiang bei cheng shi xi na de tu di er nu li zhuo . yi fang mian xiang bao liu jiu you de sheng huo fang shi, ling yi fang mian bu duan di bei zhou wei de cheng shi suo tong hua, sheng huo zai jia feng zhong de ren men wu yi shi tong ku de, fan kang de li liang yi shi ruo xiao de . bu lun shi cheng yi zui hou wei chou qian er qu dao bing ma yong de huang tang xing wei, huan shi zui hou bei qiang bi de jie ju dou shi wu fa bi mian de . gai ge de bu fa shi mei you ren he li liang ke yi zu dang de!
Gao lao zhuang
by
Pingwa Jia
( Book )
30 editions published between
1998
and 2021 in
Chinese
and held by 185 WorldCat member libraries worldwide
Ben shu jiang shu le:da xue jiao shou gao zi lu wei le ji wang fu zuo san zhou nian ji ri, Dai zhe zi ji de zai hun qi zi hui dao le lao jia gao lao zhuang, Xi ri de nong jia zi di ru jin yi jin hai xiang. Gao lao zhuang shi yi ge xue tong chun zheng de han zu cun zi, Gao shi jia zu zu shang da duo ying wu bu fan, Ran er dao le zhei ji dai, Da bu fen cun ren dou qing pin shou jiu, Jiu lian ge tou dou yi dai bu ru yi dai. Hui xiang hou, Gao zi lu yi jie chu nei xie lai zi sheng ming gen yuan chu de chen gui yu jiu su, Jiu kai shi bian de yu gao lao zhuang de cun ren yi yang qie nuo, Bao shou, Tan lan, Zi si. Gao lao zhuang fang fo shi yi mian neng zhao chu ren ben xing de jing zi, Li ma rang yi guan chu chu de gao zi lu yuan xing bi lu
Ji hua
by
Pingwa Jia
( Book )
13 editions published between
2016
and 2019 in 3 languages and held by 179 WorldCat member libraries worldwide
"Despite her humble rural beginnings, Butterfly regards herself as a sophisticated young woman. So, when offered a lucrative job in the city, she jumps at the chance.But instead of being given work, she is trafficked and sold to Bright Black, a desperate man from a poor mountain village.Trapped in Bright's cave home with her new "husband", she plans her escape... not so easily done in this isolated and remote village where she is watched day and night. Will her tenacity and free spirit survive, or will she be broken?"--
more
fewer
Audience Level
0

1
General
Special
Audience level: 0.00 (from 0.00 for Turbulence ... to 0.00 for Turbulence ...)
Related Identities
Associated Subjects
Authors
Authors, Chinese
Chen, Yingsong,
China
China--Danfeng Xian
China--Qinling Mountains
China--Shaanxi Sheng
China--Xi'an Shi
Chinese essays
Chinese fiction
Chinese language
Chinese literature
Chinese prose literature
City and town life
Country life
Epic literature, Chinese
Fei du (Jia, Pingwa)
Fiction
Good and evil
Graphic novels
Hope
Human-animal relationships
Human trafficking
Jia, Pingwa
Justice
Kidnapping
Life
Manners and customs
Man-woman relationships
Marriage
Motion pictures
Optimism
Peasants in literature
Photography
Poverty
Rape
Romance fiction
Romance fiction, Chinese
Rural conditions
Self-actualization (Psychology)
Short stories, Chinese
Social conditions
Social isolation
Threats of violence
Villages
Violence
Wolves
Women--Social conditions
Yan, Lianke,
Young women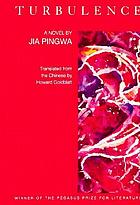 Covers
Alternative Names
Chia, P'ing-ao

Chia P′ing-ao 1952-....

Chia, P'ing-wa

Chia P′ing-wa 1952-....

Chia, Pinʾao

Chia, Pin'ao 1952-

Chia, Pʻing-ao

Chia, Pʹing-ao 1952-

Chia, P'ing-ao 1953-

Chia, Pʻing-wa

Chia, Pʹing-wa 1952-

Chia, P'ing-wa 1953-

Giả, Bình Ao

Giả, Bình Ao 1952-

Gu, Pingao

Ja, Pingwa

Ja, Pin'ua

jia, ping ao

Jia Ping′ao 1952-....

Jia, Ping-ao 1953-

jia, ping wa

Jia, Pingao.

Jia, Pingao 1952-

Jia, Pingao 1953-

Jia, Pingwa.

Jia Pingwa 1952-....

Jia, Pingwa 1953-

Jia Pingwa Chinees schrijver

Jia Pingwa Chinese writer, Mao Dun Literature Prize winner

Jia Pingwa chinesischer Schriftsteller

Jia Pingwa écrivain chinois

Jia Pingwa escriptor xinès

Jia Pingwa escritor chino

Jia Pingwa escritor chinu

Jia Pingwa eskritor chines

Jia Pingwa scrittore cinese

Ka, Heiō

Ka, Heiō 1952-

Ka, Heio 1953-

Ka, Heiou

P`ing-wa Chia

Ping Ao Jia.

Ping-ao, Jia 1953-

Ping wa Jia.

Pingao Jia.

Pingwa 1953-

Pingwa, Jia

Pingwa Jia 1952-....

Pingwa, Jia 1953-

Ťia, Pching-wa 1952-

Tia, Pin'ao

Пинва Ц. 1952-

Цзя Пинва

جیا پینقوا

ज्या पिंग्वा

가평왜 1953-

가평요 1953-

자핑아오 1953-

자핑와

쟈핑와 1953-

カ, ヘイオウ

カ, ヘイオウ 1953-

ジャ, ピンウア

チア, ピンアオ

贾, 平凹.

贾 平凹 1952-....

贾, 平凹 1953-

贾平凹

贾平凹 1952-

贾平凹 1953-

贾平凹 中国作家

贾平娃 1952-

贾平娃 1953-

Languages