Bronner, Stephen Eric 1949-
Overview
| | |
| --- | --- |
| Works: | 72 works in 488 publications in 5 languages and 24,964 library holdings |
| Genres: | History Personal correspondence Encyclopedias Criticism, interpretation, etc Juvenile works Records and correspondence |
| Roles: | Author, Editor, Other, Author of introduction, htt, Honoree, Interviewee |
| Classifications: | HM480, 335.43092 |
Most widely held works about Stephen Eric Bronner
Most widely held works by Stephen Eric Bronner
Reclaiming the enlightenment : toward a politics of radical engagement
by
Stephen Eric Bronner
( )
27 editions published between
2004
and 2007 in 3 languages and held by 2,119 WorldCat member libraries worldwide
In 1947 Horkheimer and Adorno connected the Enlightenment with totalitarianism. Since when the Left has drifted into the language and imagery of the European Counter-Enlightenment, the movement against 1776 and 1789. Bronner sets out to reclaim the heritage of progressive politics
Blood in the sand : imperial fantasies, right-wing ambitions, and the erosion of American democracy
by
Stephen Eric Bronner
( )
10 editions published in
2005
in
English
and held by 2,067 WorldCat member libraries worldwide
"Blood in the Sand offers both an incisive analysis and a confrontational critique of America's recent international pursuits and its dominant political culture. Stephen Eric Bronner challenges the notion that everything changed in the aftermath of 9/11. He shows instead how a criminal act served to legitimize political manipulation and invigorate traditional nationalistic enthusiasms for militarism and imperial expansion. Employing his own experiences in the Middle East, Bronner acknowledges - but refuses to overstate - recent progressive developments in the region. He criticizes the neoconservative penchant for unilateral military aggression and debunks the dubious notion of fostering democracy at gunpoint." "While Bronner analyzes authoritarian repression, human rights violations, shrinking civil liberties, and severe socioeconomic inequalities, Blood in the Sand is neither a narrow political diatribe nor a futile exercise in anti-American negativism. The author honors America by condemning the betrayal of the nation's finest ideals by so many of those who, hypocritically or naively, invoke those ideals the most. Bronner sheds new light on those who insist on publicly waving the flag while privately subverting that for which it stands." "Blood in the Sand sounds a clarion call for revitalizing the American polity and reshaping foreign policy along democratic lines. Committed to a political renewal, Bronner urges the American people to recall what is best about their national heritage and the beacon of hope it might offer other countries and other cultures."--Jacket
Peace out of reach : Middle Eastern travels and the search for reconciliation
by
Stephen Eric Bronner
( )
10 editions published in
2007
in
English
and held by 1,882 WorldCat member libraries worldwide
"In Peace Out of Reach, Stephen Eric Bronner offers an analysis and eyewitness account of the political and ideological conflicts plaguing the Middle East. Sharply critical of the United States' policies in Afghanistan and Iraq and concerned about our nation's declining credibility throughout the world, Bronner examines the unexplored possibilities and recurrent roadblocks in the struggle for peace. Whether visiting academics in Iran, refugees in Palestine, or the president of Syria, Bronner seeks to listen and learn. These experiences have shaped Bronner's understanding of how the political crises in the Middle East have dramatically influenced Western politics and culture. Peace Out of Reach also investigates the extraordinary controversies generated by the publication of blasphemous cartoons of the prophet Muhammad, the religious conservatism of Pope Benedict XVI, the character of contemporary anti-Semitism, and the connection between human rights and personal faith."--Jacket
Critical theory : a very short introduction
by
Stephen Eric Bronner
( )
29 editions published between
2011
and 2018 in 3 languages and held by 1,712 WorldCat member libraries worldwide
Critical theory emerged in the 1920s from the work of the Frankfurt School, the circle of German-Jewish academics who sought to diagnose-and, if at all possible, cure-the ills of society, particularly fascism and capitalism. In this book, Stephen Eric Bronner provides sketches of leading representatives of the critical tradition (such as George Lukacs and Ernst Bloch, Theodor Adorno and Walter Benjamin, Herbert Marcuse and Jurgen Habermas) as well as many of its seminal texts and empirical investigations. The book also sheds light on the cluster of ideas and themes that set critical theory apart from its more traditional philosophical competitors, explaining concepts such as method and agency, alienation and reification, the culture industry and repressive tolerance, non-identity and utopia
The logos reader : rational radicalism and the future of politics
by
Stephen Eric Bronner
( )
12 editions published between
2005
and 2006 in
English
and held by 1,582 WorldCat member libraries worldwide
Founded in 2002, Logos: A Journal of Modern Society and Culture was established in response to the increasing erosion of a left political culture and the new possibilities for international political engagement and cooperation produced by the Internet. Many of the best known intellectual representatives of what might be termed a "rational radicalism" soon served as the core group for this new online journal that has reached about four million readers. The Logos Reader brings together the most influential and controversial work to appear in the journal. In its pages, writers of exceptional stature such as Stanley Aronowitz, Ulrich Beck, Drucilla Cornell, Fred Dallmayr, Jürgen Habermas, Douglas Kellner, and Eric Rouleau articulate liberal and socialist values even as they retain theoretical viewpoints influenced by critical theory. The contributors deal with some of the most pressing political issues of our age, including transnational developments, U.S. foreign policy, the Iraqi War, the plight of the Palestinians, and the domestic concerns currently dominating American politics. With themes that speak to the most pertinent and enduring issues of a post-9/11 culture, the essays in The Logos Reader represent the best of modern liberal thought and will influence contemporary political discourse
Of critical theory and its theorists
by
Stephen Eric Bronner
( )
30 editions published between
1994
and 2013 in
English
and held by 1,524 WorldCat member libraries worldwide
Of Critical Theory and its Theorists is an overview of the entire Critical Theory Tradition. Filled with insights and historical narratives, the book covers the work of major philosphical thinkers such as Benjamin, Horkheimer, Adorno, Marcuse and Habermas and revisits the contributions of lesser-known figures such as Karl Korsch and Ernst Bloch. Bronner measures the writing of these theorists against each other, postmodernist philosophers and the critical tradition reaching back to Hegel. --From publisher's description
The bigot : why prejudice persists
by
Stephen Eric Bronner
( )
13 editions published between
2014
and 2016 in
English
and
Undetermined
and held by 1,194 WorldCat member libraries worldwide
"Stephen Eric Bronner is a prolific author, activist, and one of America's leading political thinkers. His new book presents bigotry as a systematic, all-encompassing mindset that has a special affinity for right-wing movements. In what will surely prove a seminal study, Bronner explores its appeal, the self-image it justifies, the interests it serves, and its complex connection with modernity. He reveals how prejudice shapes the conspiratorial and paranoid worldview of the true believer, the elitist, and the chauvinist. In the process, it becomes apparent how the bigot hides behind mainstream conservative labels in order to support policies designed to disadvantage the targets of his contempt. Examining bigotry in its various dimensions-anthropological, historical, psychological, sociological, and political-Professor Bronner illustrates how the bigot's intense hatred of "the other" is a direct reaction to social progress, liberal values, secularism, and an increasingly complex and diverse world. A sobering look at the bigot in the twenty-first century, this volume is essential for making sense of the dangers facing democracy now and in the future"--
Imagining the possible : radical politics for conservative times
by
Stephen Eric Bronner
( )
14 editions published between
2002
and 2013 in
English
and held by 1,016 WorldCat member libraries worldwide
Jean-Paul Sartre originally made the term engagement a part of the existentialist vocabulary following WWII. It imples the responsibility of intervening in social or political conflicts in the hope of fostering freedom. Imagining the Possible opens different windows upon this particular engagement
Ideas in action : political tradition in the twentieth century
by
Stephen Eric Bronner
( )
9 editions published in
1999
in
English
and held by 955 WorldCat member libraries worldwide
Contemporary political theory has become alienated from politics. It often neither discusses concrete political events nor touches the world of political action. Stephen Eric Bronner wants to change that, and Ideas in Action takes a bold step in that direction. With elegance and power, Bronner surveys 20th century political traditions. In the process, he places theories and thinkers in their social, historical, and political contexts. His sweeping presentation is organized into four imaginatively articulated phases that signal the direction of political thinking in the twentieth century. Offer
Modernism at the barricades : aesthetics, politics, Utopia
by
Stephen Eric Bronner
( )
12 editions published between
2012
and 2014 in
English
and
Undetermined
and held by 947 WorldCat member libraries worldwide
" ... Features chapters on expressionism, futurism, surrealism, and revolutionary art and includes fresh perspectives on the work of Arnold Schoenberg, Wassily Kandinsky, and Emil Nolde, among others. The volume illuminates an international avant-garde intent on resisting bureaucracy, standardization, scientific rationality, and the increasing commodification of mass culture"--Jacket, p. [2]
more
fewer
Audience Level
0

1
Kids
General
Special
Audience level: 0.18 (from 0.02 for The logos ... to 0.66 for Rational r ...)
Related Identities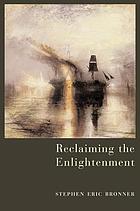 Covers
Alternative Names
Bronner, Stephen.

Bronner, Stephen 1949-

Bronner, Stephen E.

Bronner, Stephen E. 1949-

Bronner, Steven.

Bronner, Steven 1949-

Bronner, Steven Eric 1949-

Stephen Bronner Amerikaans Rutgers-universiteit

Stephen Bronner US-amerikanischer Politikwissenschaftler und Philosoph

Stephen Eric Bronner

ブロナー, スティーヴン・エリック

Languages