Heisig, James W. 1944-
Overview
| | |
| --- | --- |
| Works: | 155 works in 672 publications in 5 languages and 12,789 library holdings |
| Genres: | History Textbooks Conference papers and proceedings Upside-down books Comparative studies |
| Roles: | Author, Editor, Translator, Contributor, Bibliographic antecedent, Collector, Other, Author of introduction, Publishing director |
| Classifications: | B5241, 181.12 |
Most widely held works by James W Heisig
Philosophers of nothingness : an essay on the Kyoto school
by
James W Heisig
( )
27 editions published between
2000
and 2015 in
English
and
Spanish
and held by 1,614 WorldCat member libraries worldwide
"The past twenty years have seen the publication of numerous translations and commentaries on the principal philosophers of the Kyoto School, but so far no general overview and evaluation of their thought has been available, either in Japanese or in Western languages. James Heisig, a longstanding participant in these efforts, has filled that gap with Philosophers of Nothingness. In this extensive study, the ideas of Nishida Kitaro, Tanabe Hajime, and Nishitani Keiji are presented both as a consistent school of thought in its own right and as a challenge to the Western philosophical tradition to open itself to the original contribution of Japan."--Pub. desc
Remembering the kanji : a systematic guide to reading Japanese characters
by
James W Heisig
( )
35 editions published between
1987
and 2012 in
English
and
Japanese
and held by 1,233 WorldCat member libraries worldwide
"Following the first volume of 'Remembering the Kanji', the present work provides students with helpful tools for learning the pronunciation of the kanji. Behind the notorious inconsistencies in the way the Japanese language has come to pronunce the characters it received from China lie several coherent patterns and arranging them in logical order can reduce dramatically the amount of time spent in the brute memorization of sounds unrelated to written forms. (...) The 4th edition has been updated to include the 196 new kanji approved by the government in 2010 as 'general-use' kanji."--Publisher
Zen Buddhism : a history
by
Heinrich Dumoulin
( Book )
28 editions published between
1988
and 2008 in
English
and
Undetermined
and held by 1,218 WorldCat member libraries worldwide
Rude awakenings : Zen, the Kyoto school, & the question of nationalism
by
John C Maraldo
( )
24 editions published between
1994
and 1995 in
English
and held by 1,208 WorldCat member libraries worldwide
"To many scholars in the world of religious studies, Zen is a world apart from the world of politics, and the philosophy of the Kyoto school is a politically neutral blend of intellectual traditions East and West, Buddhist and Christian. This volume challenges those assumptions by focusing on the question of nationalism in the work of Japanese Buddhist thinkers during and after the Pacific War. Fifteen Japanese and Western scholars offer a variety of critical perspectives concerning the political responsibility of intellectuals and the concrete historical consequences of working within a religious or philosophical tradition." "The first group of essays debates the role of Zen Buddhism in wartime Japan." "A second group of essays examines the political thought and activities of Nishida Kitaro, the doyen of the Kyoto school." "A third group of essays questions the complicity of other philosophers of the Kyoto school in the wartime spirit of nationalism and analyzes the ideas of modernity and the modern nation-state then current in Japan." "This carefully documented volume offers a wealth of information and reflection for those interested in prewar and wartime history, Zen, Japanese philosophy, and the problem of nationalism today."--BOOK JACKET
Japanese philosophy : a sourcebook
( )
18 editions published between
2011
and 2016 in
English
and held by 1,061 WorldCat member libraries worldwide
Readers of English can now access in a single volume the richness and diversity of Japanese philosophy as it has developed through history. Leading scholars in the field have translated selections from all eras and schools of thought
Nothingness and desire : an East-West philosophical antiphony
by
James W Heisig
( )
16 editions published between
2013
and 2016 in
English
and held by 762 WorldCat member libraries worldwide
To listen to what things have to say to me, I need to break with the habit of thinking simply that it is I who mirror inside of myself the world outside and process what I have captured to make my way through life. Only when this habit has been broken will I be able to start seeing through the reflections, to scrape the tain off the mirror, as it were, so that it becomes a window to the things of life as they are, with only a pale reflection of myself left on the pane. Everything seen through the looking glass, myself included, becomes an image on which reality has stamped itself. This, I am persuaded, is the closest we can come to a ground for thinking reasonably and acting as true-to-life as we can."
Remembering the kanji
by
James W Heisig
( )
24 editions published between
1994
and 2013 in
English
and
Japanese
and held by 691 WorldCat member libraries worldwide
Students who have learned to read and write the basic 2,000 characters run into the same difficulty that university students in Japan face: The government-approved list of basic educational kanji is not sufficient for advanced reading and writing. Although each academic specialization requires supplementary kanji of its own, there is considerable overlap. With that in mind, this book employs the same methods as volumes 1 and 2 of Remembering the Kanji to introduce additional characters useful for upper-level proficiency, bringing the total of all three volumes to 3,000 kanji. The third edition has been updated to reflect the 196 new kanji aproved by the government in 2010, all of which have been relocated in Volumes 1 and 2. The selection of 800 new kanji is based on frequency lists and cross-checked against a number of standard Japanese kanji dictionaries. Separate parts of the book are devoted to learning the writing and reading of these characters. The writing requires only a handful of new "primitive elements." A few are introduced as compound primitives ("measure words") or as alternative forms for standard kanji. The majority of the kanji are organized according to the elements introduced in Volume 1. As in Volume 2, Chinese readings are arranged into groups for easy reference, enabling the student to take advantage of the readings assigned to "signal primitives" already learned. Seven indexes include hand-drawn samples of the new characters introduced as well as cumulative lists of all the key words and primitive meanings, and all of the Chinese and Japanese pronunciations that appear in all 3 volumes of the series
Remembering the kanji
by
James W Heisig
( Book )
53 editions published between
1986
and 2015 in 4 languages and held by 452 WorldCat member libraries worldwide
Updated to include the 196 new kanji approved by the Japanese government in 2010 as "general-use" kanji, the sixth edition of this popular text aims to provide students with a simple method for correlating the writing and the meaning of Japanese characters in such a way as to make them both easy to remember. It is intended not only for the beginner, but also for the more advanced student looking for some relief from the constant frustration of forgetting how to write the kanji, or for a way to systematize what he or she already knows. The author begins with writing the kanji because--contrary to first impressions-it is in fact simpler than learning how to the pronounce them. By ordering the kanji according to their component parts or "primitive elements," and then assigning each of these parts a distinct meaning with its own distinct image, the student is led to harness the powers of "imaginative memory" to learn the various combinations that make up the kanji. In addition, each kanji is given its own key word to represent the meaning, or one of the principal meanings, of that character. These key words provide the setting for a particular kanji's "story," whose protagonists are the primitive elements. In this way, one is able to complete in a few short months a task that would otherwise take years. Armed with the same skills as Chinese or Korean students, who know the meaning and writing of the kanji but not their Japanese pronunciations, one is then in a much better position to learn the readings (which are treated in a separate volume)
more
fewer
Audience Level
0

1
Kids
General
Special
Audience level: 0.20 (from 0.00 for Rememberin ... to 0.64 for Rememberin ...)
Related Identities
Associated Subjects
Buddhism
Buddhism--Doctrines
Buddhist philosophy
Chinese characters
Chinese language--Simplified characters
Chinese language--Study and teaching
Christianity
Desire (Philosophy)
Interfaith relations
Japan
Japanese language
Japanese language--Alphabet
Japanese language--Grammar
Japanese language--Orthography and spelling
Japanese language--Study and teaching
Japanese language--Writing
Japanese language--Writing--Kana
Japanese language--Writing--Kana--Study and teaching
Jung, C. G.--(Carl Gustav),
Korea
Monastic and religious life
Monastic and religious life (Buddhism)
Nationalism
Nishida, Kitarō,
Nishitani, Keiji,
Nothing (Philosophy)
Philosophy, Comparative
Philosophy, Japanese
Psychology, Religious
Religion
Religion--Philosophy
Tanabe, Hajime,
Upside-down books
Zen Buddhism
Zen Buddhism--Philosophy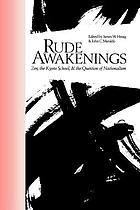 Covers
Alternative Names
Haijikku, J. W. 1944-

Heisig, J. W.

Heisig, J. W. 1944-

Heisig, James

Heisig, James W.

James Heisig Amerikaans filosoof

James Heisig filòsof britànic

James Heisig filósofo británico

James Heisig filosofo statunitense

James Heisig filósofu estauxunidense

James Heisig philosophe britannique

ジェームズ・ハイジック

ハイジック, J.W.

ハイジック, ジェームズ

Languages