Bowman, Martin W.
Most widely held works by Martin W Bowman
The Bedford triangle : U.S. undercover operations from England in World War 2
by
Martin W Bowman
( )
32 editions published between
1988
and 2016 in
English
and held by 1,014 WorldCat member libraries worldwide
"The Bedford Triangle portrays the crucial part played by the British Special Operations Executive, the US Army Air Force and the American Office of Strategic Services in operations behind enemy lines in occupied Europe during the Second World War. Milton Ernest Hall, a country house in Bedfordshire used officially as the UK headquarters of the US Army Air Force Service Command, was located at the heart of a network of top secret Allied Radio and propaganda transmitting stations, political warfare units and undercover British and American formations dealing in espionage and subterfuge. Martin Bowman draws upon revealing first-hand accounts, together with official documentary evidence, to provide tantalizing glimpses of cloak and dagger operations. The author's extensive research has revealed that Allied Secret Service organizations participated in even more unorthodox activities, such as clandestine propaganda and political warfare. He also reveals the truth about what really happened to legendary bandleader Glenn Miller"--Jacket
The D-Day story
by
Martin W Bowman
( )
3 editions published between
2013
and 2015 in
English
and held by 758 WorldCat member libraries worldwide
A pocket-sized, stunningly illustrated guide to one of the most famous military operations of all time D-Day
Spirits in the sky : classic aircraft of World War II
by
Martin W Bowman
( Book )
20 editions published between
1991
and 2002 in
English
and held by 537 WorldCat member libraries worldwide
In this book, many classic aircraft, from Avro's outstanding Lancaster bomber to Vought's deadly F-4U Corsair, have taken to the skies to provide glorious memories of that war-torn era half a century ago
RAF Bomber Command : reflections of war
by
Martin W Bowman
( )
14 editions published between
2011
and 2013 in
English
and held by 418 WorldCat member libraries worldwide
This, the fourth volume of a five part work that provides a comprehensive insight into all aspects of RAF Bomber Command in World War Two, begins in the spring of 1944 with a completely new insight on the catastrophic raid on Nuremburg on the night of 30/31 March and follows with the disastrous attack on Mailly-le-Camp in May. Gradually, the Allied Bomber Offensive began to bear fruit and in June 1944 the invasion of Normandy took place under an umbrella of almost total Allied air superiority. RAF Bomber Command was to play a huge part in what proved to be the final steps to ultimate victory, returning to the mass raids on German cities by night and even mounting raids on the Reich by day. The author's well-tried formula of using background information interspersed with the crews' personal narrative takes you raid by raid through each tour of ops while carrying full bomb loads in sub-zero temperatures, blighted by atrocious weather conditions and dogged by fear of fire, death or serious injury or having to endure months if not years of miserable existence and near starvation behind the wire in notorious PoW camps. The path to peace was paved with the unmitigated slow ebbing of courage with an ever-present possibility of death unannounced from a prowling night fighter, nondescript and unseen, as night after incessant night, shattered and ailing bombers could run out of luck to crash in some foreign field while other crews, almost 'home' - almost empty - ran out of fuel and died horrible tortuous deaths in twisted and tangled wreckage. Not for them the glory that was accorded The 'Few' but as Winston Churchill said: 'Fighters are our salvation, but the bombers alone provide the means of victory'
Thunder in the heavens : classic American aircraft of World War II
by
Martin W Bowman
( Book )
12 editions published between
1994
and 2002 in
English
and held by 380 WorldCat member libraries worldwide
Photographs of 14 classic American combat aircraft of World War II are accompanied by the words and memories of the fighter pilots
Air war market garden
by
Martin W Bowman
( )
4 editions published between
2012
and 2013 in
English
and held by 347 WorldCat member libraries worldwide
This is the first volume of a most impressive tribute and accurate four part work that uniquely presents a complete account of the air operations throughout 'Market-Garden' in September 1944 when British, US and Polish airborne troops made a gallant attempt to seize and hold bridges across the Lower Rhine in Holland as a springboard for crossing into Germany. 'Market', the aerial side of the proceedings, was at the time the largest airborne operation in history. In this unprecedented and insightful account, the exploits of the First Allied Airborne Army are relayed in full detail; supplemented with historical notes regarding the ground operations, this is sure to offer an unparalleled account of the events as they unfolded in the skies above Holland. If successful, the war could be over by Christmas. 'What could go wrong? That it did and on such a massive scale is the underlying theme throughout this series. The action was at times very confused, so a narrative of events contained in sixteen timelines at intervals throughout this series cuts through the fog of battle to explain the situation from its over-optimistic beginning to the tragic conclusion
Bomber bases of World War 2 : 2nd Air Division, 8th Air Force USAAF, 1942-45 : Liberator squadrons in Norfolk and Suffolk
by
Martin W Bowman
( )
6 editions published between
2007
and 2009 in
English
and held by 318 WorldCat member libraries worldwide
"The 3rd Air Division: Elveden Hall was the Headquarters of this division of the 8th US Army Air Force. Broadly speaking it flew B17 Flying Fortresses out of Suffolk, but included some bases in Norfolk. Some units had short periods flying B24 Liberators. The famous 'Bloody Hundredth', based at Thorpe Abbotts was typical of the units within the 3rd Air Division. From June 1943 to January 1944 it concentrated its efforts against airfields, submarine facilities and aircraft industries in France and Germany. January through May 1944, the Group bombed enemy airfields, industries, marshalling yards, V-1 missile sites, including participation in the Allied campaign against enemy aircraft factories during Big Week, February 20-25, 1944. Participated in the first daylight raid against Berlin (March 4, 1944) and completed a series of attacks against Berlin March 6, 8, 1944 for which the 100th Bomb Group was awarded a second Presidential Unit Citation. In the summer of 1944 oil installations became the major target. In October through December 1944, the Century Bombers attacked transportation, oil refineries and ground defenses in the drive against the Siegfried Line. They were involved in the December 24, 1944 mission to attack communication centers and airfields in the Ardennes sector during the Battle of the Bulge. January to April 1945, the Group concentrated on marshalling yards, bridges, factories, docks, oil refineries and ground support. Airfields included are Bury St Edmunds, Debach, Deopham Green Eye, Framlington, Great Ashfield, Horham, Knettishall, Lavenham, Mendlesham, Rattlesden, Snetterton Heath, Sudbury and Thorpe Abbots, which has one of the finest aviation museums in England. This book looks at the history and personalities associated with each base, what remains today and explores the favourite local wartime haunts where aircrew and ground crew would have sought well-deserved entertainment and relaxation. Other museums and places that are relevant are described and general directions on how to get them included"--Publisher's website
more
fewer
Audience Level
0

1
Kids
General
Special
Audience level: 0.19 (from 0.07 for Spirits in ... to 0.50 for A guide to ...)
Associated Subjects
Air bases
Air bases, American
Airborne troops
Airplanes, Military
Air warfare
Armed Forces
B-17 bomber
Boeing 747 (Jet transports)
Bomber pilots
Bombers
Bombing, Aerial
Computer animation
Computer graphics
Duxford Airfield (Great Britain)
Electronic intelligence
England--Norfolk
England--Suffolk
Equipment and supplies
Fighter planes
Fighter planes--Markings
France--Normandy
Germany
Great Britain
Great Britain.--Royal Air Force
Great Britain.--Royal Air Force.--Bomber Command
Great Britain.--Royal Air Force.--Bomber Command.--Group, No. 100
Great Britain.--Special Operations Executive
History
Hobbies
Lancaster (Bomber)
Military aircraft
Military campaigns
Military intelligence
Military operations, Aerial
Military operations, Aerial--American
Military operations, Aerial--British
Mustang (Fighter plane)
Netherlands--Arnhem
Regimental histories
Secret service
Underground movements, War
United States
United States.--Air Force
United States.--Army Air Forces
United States.--Army Air Forces.--Air Division, 2nd
United States.--Army Air Forces.--Air Force, 8th
United States.--Army Air Forces.--Air Force, 8th.--Air Division, 3rd
United States.--Office of Strategic Services
World War (1939-1945)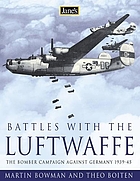 Covers
Alternative Names
Bowman, Martin.

Bowman, Martin 1952-

Bowman, Martin W.

ボーマン, マーティン

Languages