Fletcher, George P.
Most widely held works about George P Fletcher
Most widely held works by George P Fletcher
Our secret constitution : how Lincoln redefined American democracy
by
George P Fletcher
( )
29 editions published between
2001
and 2003 in
English
and
Undetermined
and held by 2,767 WorldCat member libraries worldwide
"In this perspective-altering new book, George P. Fletcher asserts that the Civil War was the most significant event in American legal history, an event that not only abolished slavery and changed the laws of the land but also created a new set of principles that continues to guide our thinking today."--Jacket
American law in a global context : the basics
by
George P Fletcher
( )
23 editions published between
2004
and 2010 in
English
and
Chinese
and held by 2,035 WorldCat member libraries worldwide
Whatever your background, if you seek an understanding of the legal system of the United States, this is the book for you. American Law in a Global Context is an elegant and erudite introduction to the American legal system from a global perspective. It covers the law and lawyering tools taught in the first year of law school, explaining the underlying concepts and techniques of the common law used in U.S. legal practice. The ideas central to the development and practice of American law, as well as constitutional law, contracts, property, criminal law, and courtroom procedure, are all presented in their historical and intellectual contexts, accessible to the novice but with insight that will inform the expert. Actual cases illuminate each major subject, engaging readers in the legal process and the arguments between real people that make American law an ever-evolving system. George P. Fletcher and Steve Sheppard's exciting approach contrasts the American legal system with other legal systems, especially those of continental Europe. This comparison illuminates the core concepts of US law, making them easily understandable to readers from other systems, and offering a unique perspective on American law as part of global network of laws. Designed to help the foreign student grasp the basic ideas of pedagogy, legal institutions, and substantive law in the US, appendices include an introduction to the common law method, instruction on how to read a case, and the interpretation of statutes. Based on the course for lawyers from across the globe studying American law at Columbia University, this cutting edge volume makes the basics of American legal education accessible to students and the public worldwide. A must-own reference source for LLM students, undergraduates, and students of US law in other countries.--Provided by publisher
Basic concepts of criminal law
by
George P Fletcher
( )
28 editions published between
1988
and 2004 in 3 languages and held by 2,032 WorldCat member libraries worldwide
In this text, Fletcher maintains that there is much greater unity among diverse systems of criminal justice than commonly realized, and that any adequate system of criminal law necessarily must address a set of universal, basic issues
Defending humanity : when force is justified and why
by
George P Fletcher
( )
28 editions published between
2008
and 2013 in
English
and held by 1,987 WorldCat member libraries worldwide
"In Defending Humanity, legal scholar George P. Fletcher and Jens David Ohlin, an expert on international criminal law, tackle one of the most important and controversial questions of our time: When is war justified? When a nation is attacked, few would deny that it has the right to respond with force. But what about preemptive and preventive wars, or crossing another state's border to stop genocide? Was Israel justified in initiating the Six Day War, and was NATO's intervention in Kosovo legal? What about the U.S. invasion of Iraq?" "In their new book, Fletcher and Ohlin offer a groundbreaking theory on the legality of war with clear guidelines for evaluating these interventions."--Jacket
Loyalty : an essay on the morality of relationships
by
George P Fletcher
( Book )
32 editions published between
1993
and 2011 in 4 languages and held by 1,788 WorldCat member libraries worldwide
At a time when age-old political structures are crumbling, civil strife abounds, and economic uncertainty dominates the news, loyalty offers us security in our relationships with associates, friends, and family. Yet loyalty is a suspect virtue. It is not impartial. It is not blind. It violates the principles of morality that have dominated Western thought for the last two hundred years. Loyalties are also thought to be irrational and contrary to the spirit of Capitalism. In a free market society, we are encouraged to move to the competition when we are not happy. This way of thinking has invaded our personal relationships and undermined our capacities for friendship and loyalty to those who do not serve our immediate interests. As George P. Fletcher writes, it is time for loyal bonds, born of history and experience, to prevail both over impartial morality and the self-interested thinking of the market trader. In this extended essay, Fletcher offers an account of loyalty that illuminates its role in our relationships with family and friends, our ties to country, and the commitment of the religious to God and their community. Fletcher opposes the traditional view of the moral self as detached from context and history. He argues instead that loyalty, not impartial detachment, should be the central feature of our moral and political lives. He claims that a commitment to country is necessary to improve the lot of the poor and disadvantaged. This commitment may well require greater reliance on patriotic rituals in education and a reconsideration of the Supreme Court's extending the First Amendment to protect flag burning. Given the worldwide currents of parochialism and political decentralization, the task for us, Fletcher argues, is to renew our commitment to a single nation united in its diversity. Bringing to bear his expertise as a law professor, Fletcher reasons that legal systems should defer to existing relationships of loyalty. Surrogate mothers should not be forced to surrender and betray their children, spouses should not be required to testify against each other in court, and the religiously committed should not be forced to act contrary to conscience. Yet the question remains: Aren't loyalty and particularly patriotism dangerously one-sided? Indeed, they are, but no more than are love and friendship. The challenge, Fletcher maintains, is to develop a morality of loyalty properly suited to our emotional and spiritual lives. Justice has its sphere, as do loyalties. In this book, Fletcher provides the first step toward a new way of thinking that recognizes the complexity of our moral and political lives
Rethinking criminal law
by
George P Fletcher
( )
32 editions published between
1978
and 2008 in 3 languages and held by 1,655 WorldCat member libraries worldwide
This is a reprint of a book first published by Little, Brown in 1978. George Fletcher is working on a new edition, which will be published by Oxford in three volumes, the first of which is scheduled to appear in January of 2001. Rethinking Criminal Law is still perhaps the most influential and often cited theoretical work on American criminal law. This reprint will keep this classic work available until the new edition can be published
A crime of self-defense : Bernhard Goetz and the law on trial
by
George P Fletcher
( Book )
22 editions published between
1988
and 1995 in
English
and
Italian
and held by 1,444 WorldCat member libraries worldwide
Legal expert George Fletcher uses the celebrated trial of New York's "Subway Vigilante", Bernhard Goetz, as a springboard to probe the profound relationship between this defensive action, the public's understanding of it, and the court's interpretation of it according to the law
Romantics at war : glory and guilt in the age of terrorism
by
George P Fletcher
( )
17 editions published between
2002
and 2009 in
English
and
Undetermined
and held by 1,429 WorldCat member libraries worldwide
America is at war with terrorism. Terrorists must be brought to justice. We hear these phrases together so often that we rarely pause to reflect on the dramatic differences between the demands of war and the demands of justice, differences so deep that the pursuit of one often comes at the expense of the other. In this book, one of the country's most important legal thinkers brings much-needed clarity to the still unfolding debates about how to pursue war and justice in the age of terrorism. George Fletcher also draws on his rare ability to combine insights from history, philosophy, literature, and law to place these debates in a rich cultural context. He seeks to explain why Americans--for so many years cynical about war--have recently found war so appealing. He finds the answer in a revival of Romanticism, a growing desire in the post-Vietnam era to identify with grand causes and to put nations at the center of ideas about glory and guilt. Fletcher opens with unsettling questions about the nature of terrorism, war, and justice, showing how dangerously slippery the concepts can be. He argues that those sympathetic to war are heirs to the ideals of Byron, Fichte, and other Romantics in their belief that nations--not just individuals--must uphold honor and be held accountable for crimes. Fletcher writes that ideas about collective glory and guilt are far more plausible and widespread than liberal individualists typically recognize. But as he traces the implications of the Romantic mindset for debates about war crimes, treason, military tribunals, and genocide, he also shows that losing oneself in a grand cause can all too easily lead to moral catastrophe. A work of extraordinary intellectual power and relevance, the book will change how we think not only about world events, but about the conflicting individualist and collective impulses that tear at all of us
With justice for some : victims' rights in criminal trials
by
George P Fletcher
( Book )
13 editions published between
1995
and 1996 in
English
and held by 1,085 WorldCat member libraries worldwide
With his insightful, angry critique, George Fletcher confronts the flaws in America's system of criminal prosecution. He explains exactly how such miscarriages of justice have become endemic. The primary function of today's criminal trials, Fletcher argues, is no longer to determine guilt and to condemn evil. It is rather to understand the mind of the criminal, to camouflage the crime as less heinous and less deserving of punishment. Under the influence of psychiatric experts, criminal evil becomes "deviant behavior." Cold-blooded murderers are treated as abused children. Blaming the victim, defense lawyers picture Rodney King as "in control" of his beating and claim that Yankel Rosenbaum "sacrificed himself." Judges have lost control over their courtrooms, giving lawyers free reign to divert jurors from the facts with outlandish theories that portray their clients as the supposed victims
Tort liability for human rights abuses
by
George P Fletcher
( )
15 editions published in
2008
in
English
and
German
and held by 916 WorldCat member libraries worldwide
The book concludes by looking at the cutting-edge cases in this area, particularly those involving liability for funding terrorism, and the remedies available, particularly the potential offered by the compensation chamber in the International Criminal Court."--Jacket
more
fewer
Audience Level
0

1
Kids
General
Special
Audience level: 0.20 (from 0.08 for American l ... to 0.89 for Notwehr al ...)
Related Identities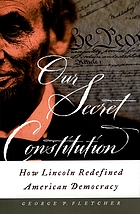 Covers
Alternative Names
Fletčer, Dž 1939-

Fletčer, Džordž 1939-

Fletcher G.

Fletcher, George, 1939-

Fletcher George P.

Fletcher, George Philip

George Philip Fletcher

Флетчер Дж.

Флетчер Джордж

ג'ורג' פלטשר

ジョージ・P・フレッチャー

フレッチャー, J. P.

フレッチャー, ジョージ・P

Languages