Braithwaite, John
Most widely held works about John Braithwaite
Most widely held works by John Braithwaite
Restorative justice & responsive regulation
by
John Braithwaite
( )
24 editions published between
2001
and 2002 in
English
and held by 2,022 WorldCat member libraries worldwide
"Offering compelling arguments for a problem-solving approach to social ills, this wide-ranging book challenges us to develop a legal system that works more efficiently and fairly with a morally decent approach to social problems of all stripes."--Jacket
Responsive regulation : transcending the deregulation debate
by
Ian Ayres
( )
26 editions published between
1992
and 1995 in 3 languages and held by 1,892 WorldCat member libraries worldwide
This book transcends current debate on government regulation by lucidly outlining how regulations can be a fruitful combination of persuasion and sanctions. The regulation of business by the United States government is often ineffective despite being more adversarial in tone than in other nations. The authors draw on both empirical studies of regulation from around the world and modern game theory to illustrate innovative solutions to this problem. Their ideas include an argument for the empowerment of private and public interest groups in the regulatory process and a provocative discussion of
The sparking discipline of criminology : John Braithwaite and the construction of critical social science and social justice
( )
6 editions published between
2011
and 2012 in
English
and held by 1,332 WorldCat member libraries worldwide
Over the past decades, the Australian social scientist John Braithwaite (1951) has played a crucial role in the development of international criminology. He is universally considered one of the most renowned criminologists of our times and he has characteristically put his scientific engagement at the service of humanity and society by aiming at social justice, participative democracy, sustainable development and world peace. His relentless efforts to create links between the study of criminology and other scientific disciplines has led the K.U. Leuven (Catholic University of Leuven, Belgium) t
Information feudalism : who owns the knowledge economy?
by
Peter Drahos
( Book )
36 editions published between
2002
and 2017 in
English
and held by 1,149 WorldCat member libraries worldwide
"In a few short years, the battle over intellectual property rights has emerged from obscurity to become front-page news. The continent-hopping, three-year court battle fought by activists to bring cheap versions of desperately needed AIDS drugs to South Africa is but one example of how this seemingly arcane area of international regulation has become a crucial battleground in the twenty-first century and is animating activists the world over. This powerful book is the definitive history of how the new global intellectual property regime - the rulebook for the knowledge economy - came to be. Drawing on more than five years of research and more than five hundred interviews with key figures - including negotiators for First and Third World countries, leaders of multinational corporations, and public-interest experts, Information Feudalism uncovers the story of how a small coterie of multinational corporations wrote the charter for the global information order. Information Feudalism is an authoritative history of the demise of the world's intellectual commons, and a potent call for democratic property rights."--
Crime, shame, and reintegration
by
John Braithwaite
( Book )
39 editions published between
1988
and 2007 in
English
and held by 992 WorldCat member libraries worldwide
This book suggests that the key to why some societies have higher crime rates than others lies in the way different cultures go about the social process of shaming wrongdoers. Shaming can be counterproductive, making crime problems worse. But when shaming is done within a cultural context of respect for the offender, it can be an extraordinarily powerful, efficient, and just form of social control
Networked governance of freedom and tyranny : peace in Timor-Leste
by
John Braithwaite
( )
14 editions published in
2012
in
English
and
Undetermined
and held by 836 WorldCat member libraries worldwide
This book offers a new approach to the extraordinary story of Timor-Leste. The Indonesian invasion of the former Portuguese colony in 1975 was widely considered to have permanently crushed the Timorese independence movement. Initial international condemnation of the invasion was quickly replaced by widespread acceptance of Indonesian sovereignty. But inside Timor-Leste various resistance networks maintained their struggle, against all odds. Twenty-four years later, the Timorese were allowed to choose their political future and the new country of Timor-Leste came into being in 2002.This book presents freedom in Timor-Leste as an accomplishment of networked governance, arguing that weak networks are capable of controlling strong tyrannies. Yet, as events in Timor-Leste since independence show, the nodes of networks of freedom can themselves become nodes of tyranny. The authors argue that constant renewal of liberation networks is critical for peace with justice – feminist networks for the liberation of women, preventive diplomacy networks for liberation of victims of war, village development networks, civil society networks. Constant renewal of the separation of powers is also necessary. A case is made for a different way of seeing the separation of powers as constitutive of the republican ideal of freedom as non-domination.The book is also a critique of realism as a theory of international affairs and of the limits of reforming tyranny through the centralised agency of a state sovereign. Reversal of Indonesia's 1975 invasion of Timor-Leste was an implausible accomplishment. Among the things that achieved it was principled engagement with Indonesia and its democracy movement by the Timor resistance. Unprincipled engagement by Australia and the United States in particular allowed the 1975 invasion to occur. The book argues that when the international community regulates tyranny responsively, with principled engagement, there is hope for a domestic politics of nonviolent transformation for freedom and justice.John Braithwaite and Hilary Charlesworth work in the Centre for International Justice and Governance, Regulatory Institutions Network, The Australian National University.Adérito Soares is the Anti-Corruption Commissioner for Timor-Leste
Anomie and violence : non-truth and reconciliation in Indonesian peacebuilding
by
John Braithwaite
( )
13 editions published in
2010
in
English
and held by 793 WorldCat member libraries worldwide
Indonesia suffered an explosion of religious violence, ethnic violence, separatist violence, terrorism, and violence by criminal gangs, the security forces and militias in the late 1990s and early 2000s. By 2002 Indonesia had the worst terrorism problem of any nation. All these forms of violence have now fallen dramatically. How was this accomplished? What drove the rise and the fall of violence? Anomie theory is deployed to explain these developments. Sudden institutional change at the time of the Asian financial crisis and the fall of President Suharto meant the rules of the game were up for grabs. Valerie Braithwaite & rsquo;s motivational postures theory is used to explain the gaming of the rules and the disengagement from authority that occurred in that era. Ultimately resistance to Suharto laid a foundation for commitment to a revised, more democratic, institutional order. The peacebuilding that occurred was not based on the high-integrity truth-seeking and reconciliation that was the normative preference of these authors. Rather it was based on non-truth, sometimes lies, and yet substantial reconciliation. This poses a challenge to restorative justice theories of peacebuilding
Global business regulation
by
John Braithwaite
( Book )
16 editions published between
2000
and 2004 in
English
and held by 650 WorldCat member libraries worldwide
"While powerful corporations often race to the bottom in setting regulatory standards, NGOs also often prevail in ratcheting up regulatory standards. In showing how, Global Business Regulation is a guidebook for how individuals and smaller organisations can prevail over more influential corporations in the world system." "Based on interviews with 500 international leaders in business and government, this book examines the role played by global institutions such as the World Trade Organization, World Health Organization, the OECD, IMF, Moodys and the World Bank, as well as various NGOs and significant individuals. Utilising 'micro - macro' theory, Braithwaite and Drahos make a landmark contribution to the theory of globalization by drawing the links between key mechanisms, actors and principles. The authors show how active world citizenship can have practical meaning. They argue that effective and decent global regulation depends on the determination of individuals to engage with powerful agendas and decision-making bodies that would otherwise be dominated by concentrated economic interests."--Jacket
Not just deserts : a republican theory of criminal justice
by
John Braithwaite
( Book )
34 editions published between
1990
and 2010 in
English
and
Italian
and held by 644 WorldCat member libraries worldwide
Arguing for a radical shift in the research agenda of criminology, this monograph offers a comprehensive theory of criminal justice which draws on a philosophical view of the good and the right, and which points the way to practical intervention in the real world of incremental reform
more
fewer
Audience Level
0

1
Kids
General
Special
Audience level: 0.29 (from 0.01 for The sparki ... to 0.99 for Sir John B ...)
Related Identities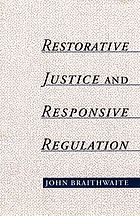 Alternative Names
Bradford Braithwaite, John 1951-

Braithwait, John 1951-

Braithwaite, J.

Braithwaite, J. 1951-

Braithwaite, John

Braithwaite, John B. 1951-

Braithwaite, John B. (John Bradford), 1951-

Braithwaite, John Bradford

Braithwaite, John Bradford 1951-..

John Braithwaite australischer Kriminologe und Soziologe

John Braithwaite criminoloog uit Australië

ブレイスウェイト, ジョン

ブレイスウエイト, J

約翰·布萊特懷特

Languages
Covers