Hayden, Torey L.
Most widely held works about Torey L Hayden
more
fewer
Most widely held works by Torey L Hayden
One child
by
Torey L Hayden
( Book )
134 editions published between
1980
and 2016 in 16 languages and held by 2,763 WorldCat member libraries worldwide
Hayden recounts her battle to uncover the keen intelligence and touch the emotions of a troubled, sexually molested six-year-old girl who abused a younger child and was placed in her class for retarded preadolescents while awaiting space in a state institution
Somebody else's kids
by
Torey L Hayden
( Book )
58 editions published between
1981
and 2016 in 7 languages and held by 1,739 WorldCat member libraries worldwide
Describes four special students with learning problems who do not fit into regular classrooms
Murphy's boy
by
Torey L Hayden
( Book )
77 editions published between
1982
and 2016 in 12 languages and held by 1,681 WorldCat member libraries worldwide
The dramatic and moving true story of a fifteen-year-old boy who refused to speak-- until the miracle of love penetrated his miserable silence. His name was Kevin but his keepers called him Zoo Boy. He didn't talk. He hid under tables and surrounded himself with a cage of chairs. He hadn't been out of the building in the four years since he'd come in. He was afraid of water and wouldn't take a shower. He was afraid to be naked, to change his clothes. He was nearly 16. Desperate to see change in the boy, the staff of Kevin's adolescent treatment center hired Hayden. As Hayden read to him and encouraged him to read, crawling down into his cage of chairs with him, Kevin talked. Then he started to draw and paint and showed himself to have a quick wit and a rolling, seething, murderous hatred for his stepfather
The tiger's child
by
Torey L Hayden
( Book )
59 editions published between
1995
and 2015 in 13 languages and held by 1,649 WorldCat member libraries worldwide
When Hayden was working on One Child, she showed the manuscript to Sheila, then a teenager, and was astonished to find that Sheila remembered almost nothing of her troubled younger years. She had no recollection of her many clashes with her teacher as Hayden tried to break through her emotional pain. And although Hayden had managed to get Sheila to communicate and become an active and lively child, Sheila's home life was still very troubled. Her father had been sent to prison when she was eight and Sheila had run away from a series of foster homes until finally she was placed in a children's home
Twilight children : three voices no one heard until a therapist listened
by
Torey L Hayden
( Book )
52 editions published between
2004
and 2014 in 11 languages and held by 1,583 WorldCat member libraries worldwide
For decades, former special education teacher Torey Hayden has been a light in the darkness for severely troubled children, and she has chronicled her determined efforts, triumphs, and breakthroughs in a series of internationally bestselling books, beginning with her powerful and poignant One Child. But it wasn't until she left the classroom that she faced three of her most extraordinary challenges. While working in the children's psychiatric ward of a large city hospital, Hayden was introduced to seven-year-old Cassandra, a child who had been kidnapped by her father and found three states away, starving, dirty, and picking through garbage cans. What she had suffered during that time was a mystery, since she refused to speak of it, and all attempts to get to the root of her erratic, increasingly violent behavior had hitherto failed. This would certainly be one of Torey Hayden's most difficult cases, for how do you reach a child so horrifically abused that she views every attempt to break through her defenses as life-threatening? Drake was a charming, charismatic four-year-old who managed to participate fully in his preschool class without uttering a single word. He would only speak to his mother, who brought the boy, clutching his beloved stuffed tiger, Friend, to Hayden. Pressured by Drake's tough, unbending grandfather, who demanded immediate results, the therapist feared that overly stringent treatment would only tear his family further apart. And though a specific course of action seemed clear, even she was unprepared for the shocking truth about little Drake's condition. Then there was Gerda, eighty-two, whom a massive stroke had rendered fearful and unwilling to engage in conversation with anyone. Though Hayden had never worked with adults, she agreed to help when all other efforts had failed, and discovered in the process that what Gerda could do was nearly as heartbreaking as her limitations. A woman suffering in the twilight of her years and two children trapped in the ever-darkening shadows, these are the cases that would test one healer's courage, compassion, and skill, and ultimately reaffirm her faith in the indomitable strength of the human spirit
Just another kid
by
Torey L Hayden
( Book )
46 editions published between
1987
and 2015 in 8 languages and held by 1,450 WorldCat member libraries worldwide
No other teacher had been able to handle these six emotionally damaged children. Three were recent arrivals from battle-torn Ireland, horribly traumatized by the nightmare of war. Then there was eleven-year-old Dirkie, who had known no life outside of an institution; Mariana, who was dangerously excitable and sexually precocious, though she was only eight; and Leslie, seven years old, yet completely unresponsive and unable to speak. These were the children entrusted to the care of Torey Hayden, the extraordinary special-education teacher who refused to give up on them. She was determined that every child should experience joy, hope, and a future free of fear, and with compassion, patience, and most of all love, she knew that miracles can happen
The sunflower forest
by
Torey L Hayden
( Book )
48 editions published between
1984
and 2015 in 8 languages and held by 1,213 WorldCat member libraries worldwide
Although set in the 1950s, the story reveals the traumatic experiences of Lesley's mother during World War II when the Nazis took her son
The very worst thing
by
Torey L Hayden
( Book )
12 editions published between
2003
and 2013 in 5 languages and held by 432 WorldCat member libraries worldwide
David has never had a permanent home or a real friend, but when he decides to try to hatch an owl egg with the help of a classmate, his life slowly begins to change for the better
Innocent foxes : a novel
by
Torey L Hayden
( Book )
11 editions published between
2011
and 2014 in 4 languages and held by 272 WorldCat member libraries worldwide
Abundance, Montana, once a lively mining town in the days of the wild west, is now not much more than a ghost town. Local girl, Dixie, a struggling single mother who has just lost her baby, tries to make ends meet while her feckless boyfriend Billy drifts from one job to another, always believing his next moneymaking scheme will be the winner. Above them in the magnificent mountains surrounding Abundance, jaded Hollywood actor Spencer Scott conceals himself from the paparazzi on the ranch that has been his pristine sanctuary until the arrival of his obnoxious, nine-year-old son. Then Billy puts into motion a plan almost too appalling to contemplate, and from which there is no escape. As all four are forced to confront the brutal reality of the Montana mountains, so too are they forced to face their damaged lives in this poignant new novel
more
fewer
Audience Level
0

1
Kids
General
Special
Audience level: 0.29 (from 0.20 for Ghost girl ... to 0.96 for Il gatto m ...)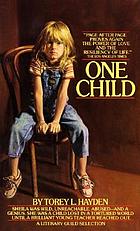 Alternative Names
Hayden, Torey

Hayden Torey 1951-....

Hayden, Torey Lynn 1951-

Hayden, Victoria Lynn 1951-

Torey Hayden Amerikaans schrijfster

Torey Hayden psicologa statunitense

Torey L. Hayden US-amerikanische Autorin und Psychologin

헤이든, 토리 L. 1951-

トリイ・ヘイデン

ヘイデン, トリイ

ヘイデン, トリイ・L

Languages
Covers