Eley, Geoff 1949-
Most widely held works by Geoff Eley
The peculiarities of German history : bourgeois society and politics in nineteenth-century Germany
by
David Blackbourn
( Book )
49 editions published between
1984
and 2011 in 3 languages and held by 890 WorldCat member libraries worldwide
Did Germany develop in an unusual, rather 'unhealthy' way? Was Imperial Germany characterized by the triumph of authoritarian Prussian aristocratic classes ('Junkers')? The authors are deeply critical of this interpretation. They contend that Germany may have developed in a particular way and although devoid of a 'bourgeois revolution', the middle classes came to the fore in the economy, culture and society
Forging democracy : the history of the left in Europe, 1850-2000
by
Geoff Eley
( Book )
28 editions published between
2002
and 2003 in
English
and
Spanish
and held by 726 WorldCat member libraries worldwide
Seeking neither to praise nor condemn, this text gives a history of the European Left's successes and failures; its high watermarks and its low tides; its accomplishments, insufficiencies, and excesses; and its formative, lasting influence on the political landscape of the West
Culture/power/history : a reader in contemporary social theory
( Book )
14 editions published between
1993
and 2004 in
English
and held by 662 WorldCat member libraries worldwide
The intellectual radicalism of the 1960s spawned a new set of questions about the role and nature of "the political" in social life, questions that have since revolutionized nearly every field of thought, from literary criticism through anthropology to the philosophy of science. Michel Foucault in particular made us aware that whatever our functionally defined "roles" in society, we are constantly negotiating questions of authority and the control of the definitions of reality. Such insights have led theorists to challenge concepts that have long formed the very underpinnings of their disciplines. By exploring some of the most debated of these concepts--"culture," "power," and "history"--This reader offers an enriching perspective on social theory in the contemporary moment. Organized around these three concepts, Culture/ Power/History brings together both classic and new essays that address Foucault's "new economy of power relations" in a number of different, contestatory directions. Representing innovative work from various disciplines and sites of study, from taxidermy to Madonna, the book seeks to affirm the creative possibilities available in a time marked by growing uncertainty about established disciplinary forms of knowledge and by the increasing fluidity of the boundaries between them. The book is introduced by a major synthetic essay by the editors, which calls attention to the most significant issues enlivening theoretical discourse today. The editors seek not only to encourage scholars to reflect anew on the course of social theory, but also to orient newcomers to this area of inquiry. The essays are contributed by Linda Alcoff ("Cultural Feminism versus Post-Structuralism"), Sally Alexander ("Women, Class, and Sexual Differences in the 1830s and 1840s"), Tony Bennett ("The Exhibitionary Complex"), Pierre Bourdieu ("Structures, Habitus, Power"), Nicholas B. Dirks ("Ritual and Resistance"), Geoff Eley ("Nations, Publics, and Political Cultures"), Michel Foucault (Two Lectures), Henry Louis Gates, Jr. ("Authority, [White] Power and the [Black] Critic"), Stephen Greenblatt ("The Circulation of Social Energy"), Ranajit Guha ("The Prose of Counter-Insurgency"), Stuart Hall ("Cultural Studies: Two Paradigms"), Susan Harding ("The Born-Again Telescandals"), Donna Haraway ("Teddy Bear Patriarchy"), Dick Hebdige ("After the Masses"), Susan McClary ("Living to Tell: Madonna's Resurrection of the Fleshly"), Sherry B. Ortner ("Theory in Anthropology since the Sixties"), Marshall Sahlins ("Cosmologies of Capitalism"), Elizabeth G. Traube ("Secrets of Success in Postmodern Society"), Raymond Williams (selections from Marxism and Literature), and Judith Williamson ("Family, Education, Photography")
Becoming national : a reader
by
Geoff Eley
( Book )
13 editions published between
1996
and 2006 in
English
and held by 645 WorldCat member libraries worldwide
Emphasizing the recent intellectual advances and influential ideas of Miroslav Hroch, Benedict Anderson, Paul Gilroy, Stuart Hall, Lauren Berlant and a host of others, this book underscores the nineteenth and twentieth century nationalist theories to show not only where scholars of nationalism have been but where they are going. Drawing on the strengths of recent cultural studies, including race and gender identities, the editors show that though politics is the ground upon which nationalism is constructed, culture is the terrain on which it is elaborated and fought over
A crooked line : from cultural history to the history of society
by
Geoff Eley
( Book )
26 editions published between
2005
and 2008 in
English
and
Spanish
and held by 466 WorldCat member libraries worldwide
"Eley brilliantly probes transformations in the historians' craft over the past four decades. I found A Crooked Line engrossing, insightful, and inspiring."--Lizabeth Cohen, author of A Consumers' Republic " A Crooked Line brilliantly captures the most significant shifts in the landscape of historical scholarship that have occurred in the last four decades. Part personal history, part insightful analysis of key methodological and theoretical historiographical tendencies since the late 1960s, always thoughtful and provocative, Eley's book shows us why history matters to him and why it should also matter to us."--Robert Moeller, University of California, Irvine "Part genealogy, part diagnosis, part memoir, Eley's account of the histories of social and cultural history is a tour de force."--Antoinette Burton, Professor of History and Catherine C. and Bruce A. Bastian Professor of Global and Transnational Studies, University of Illinois "Eley's reflections on the changing landscape of academic history in the last forty years will interest and benefit all students of the discipline. Both a native informant and an analyst in this account, Eley combines the two roles superbly to produce one of most engaging and compelling narratives of the recent history of History."--Dipesh Chakrabarty, author of Provincializing Europe Using his own intellectual biography as a narrative device, Geoff Eley tracks the evolution of historical understanding in our time from social history through the so-called "cultural turn," and back again to a broad history of society. A gifted writer, Eley carefully winnows unique experiences from the universal, and uses the interplay of the two to draw the reader toward an organic understanding of how historical thinking (particularly the work of European historians) has evolved under the influence of new ideas. His work situates history within History, and offers students, scholars, and general readers alike a richly detailed, readable guide to the enduring value of historical ideas. Geoff Eley is Professor of History at the University of Michigan
Society, culture, and the state in Germany, 1870-1930
( Book )
15 editions published between
1995
and 1999 in
English
and
German
and held by 460 WorldCat member libraries worldwide
Society, Culture, and the State in Germany, 1870-1930 draws together important new work on the Kaiserreich - the period between Bismarck's unification of Germany and the First World War. During the 1970s and 1980s, a series of inspiring but divisive controversies called into question the ways in which German historical development in the nineteenth and twentieth centuries was mainly understood. These discussions focused on issues of continuity between Bismarck and Hitler and the peculiar strength of authoritarianism in German political culture, raising important questions about the deep origins of Nazism and about Germany's alleged differences from the West
The future of class in history : what's left of the social?
by
Geoff Eley
( Book )
13 editions published between
2007
and 2010 in
English
and
Spanish
and held by 364 WorldCat member libraries worldwide
La unificación de los conceptos resulta esencial a la hora de estudiar la historia. Proporciona a los estudiantes y académicos formas de organizar sus pensamientos, su investigación y sus escritos. No obstante, estos conceptos también son el centro de miles de conflictos en este campo. La historia social se ha visto implicada, desde sus inicios hace ya más de cuarenta años, en esos conflictos como algo más que un mero participante. En la actualidad, los campos de "lo social" y de la "cultura" han sido presentados a menudo como conceptos que se excluyen mutuamente e incluso cmo hostiles el uno con el otro. Una vez más, la innovación conceptual en la historia se ha proyectado cmo un final por el que lo nuevo expulsa lo viejo: en este caso, la historia cultural ha desplazado radicalmente a la historia social. "El futuro de la clase en la historia" analiza el efecto que tuvo el conflicto tras el "cambio hacia la cultura" en el trabajo histórico al examinar el uso de la clase, y demuestra cómo los profesionales de múltiples campos pueden colaborar a la hora de producir una investigación académica de mayor calidad
more
fewer
Audience Level
0

1
Kids
General
Special
Audience level: 0.45 (from 0.11 for Forging de ... to 0.95 for Princeton ...)
Related Identities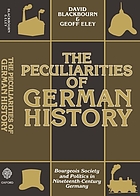 Alternative Names
Eley, G.

Eley, Geoff

Eley, Geoffrey

Eley, Geoffrey H.

Eley Geoffrey H. 1949-....

Eley, Geoffrey Howard 1949-

Geoff Eley britischer Historiker

Geoff Eley Brits professor

Geoff Eley historiador britànic

Geoff Eley historiador británico

Geoff Eley historien britannique

일리, 제프 1949-

제프 일리

イリー, ジェフ

Languages
Covers