Bodilly, Susan J.
Most widely held works by Susan J Bodilly
New American Schools' concept of break-the-mold designs : how designs evolved and why
by
Susan J Bodilly
( Book )
14 editions published in
2001
in
English
and held by 398 WorldCat member libraries worldwide
Business leaders created New American Schools, a private nonprofit corporation, in 1991 to develop "break-the-mold" designs for schools serving grades K-12. This report documents the significant changes in the designs that have taken place over the initiative's life span and the reasons for those changes. NAS drove some of the changes in its decisions to fund or not to fund specific designs. The designs themselves changed in terms of their educational components and theories. Finally, the design teams developed implementation strategies and assistance packages over time that resulted in the expansion of the design concept to the concept of "design-based assistance." Some of the changes made to designs were beneficial in promoting the concept of a design-based school, especially the development of stronger curriculum packages, clearer descriptions of the designs, and significant work toward assistance for schools to adopt designs. However, concessions to district and state policies led design teams to redefine some design elements, allowing significant local variation and possible incoherence and fragmentation within schools using designs. If this reform is to succeed, policymakers must revitalize it by taking the current environment into account and helping to make it more supportive
Challenges and potential of a collaborative approach to education reform
by
Susan J Bodilly
( Book )
20 editions published between
2004
and 2011 in
English
and
Undetermined
and held by 312 WorldCat member libraries worldwide
Dissatisfied with the results of earlier efforts to improve educational outcomes in U.S. schools, the Ford Foundation developed a program called the Collaborating for Education Reform Initiative (CERI) that provided grants to collaboratives of community-based organizations in urban settings as a way to address systemic barriers to high-quality teaching and learning. Eight collaboratives signed on, and, over four years, the RAND Corporation assessed the progress of the program. The authors of this report found that the eight sites made varying degrees of progress and, while none had reached the final outcomes desired, some of the collaboratives offered considerable promise. Although success is far from certain, by adopting such techniques as clear communication of expectations, engaging school staff, and using data to alter strategies as necessary, collaboratives stand a better chance of becoming self-sustaining and positively affecting student learning
Facing the challenges of whole-school reform : New American Schools after a decade
by
Mark Berends
( Book )
8 editions published in
2002
in
English
and
Undetermined
and held by 266 WorldCat member libraries worldwide
About a decade ago, New American Schools (NAS) set out to address the perceived lagging performance of American students and the lackluster results of school reform efforts. As a private nonprofit organization, NAS's mission was-and is-to help schools and districts raise student achievement levels by using whole-school designs and design team assistance during implementation. Since its inception, NAS has engaged in a development phase (1992-1993), a demonstration phase (1993-1995), and a scale-up phase (1995-present). Over the last ten years, RAND has been monitoring the progress of the NAS initiative. This book is a retrospective on NAS and draws together the findings from RAND research. The book underscores the significant contributions made by NAS to comprehensive school reform but also highlights the challenges of trying to reform schools through whole-school designs. Divided into sections on each research phase, the book concludes with an afterword by NAS updating its own strategy for the future. This book will interest those who want to better understand comprehensive school reform and its effects on teaching and learning within high-stakes accountability environments
Making out-of-school-time matter : evidence for an action agenda
by
Susan J Bodilly
( Book )
12 editions published in
2005
in
English
and held by 238 WorldCat member libraries worldwide
Presents the findings of a broad-ranging literature review intended to identify, frame, and assess relevant issues concerning effective out-of-school-time (OST) programs. Drawing on recent studies the authors identify and address the level of demand for OST services, the effectiveness of offerings, what constitutes quality in OST programs, how to encourage participation, and how to build further community capacity. They make recommendations for improving the information used in policy making
Evaluating challenge grants for technology in education : a sourcebook
by
Susan J Bodilly
( Book )
5 editions published in
1997
in
English
and held by 236 WorldCat member libraries worldwide
To promote the use of technology in education, the U.S. Department of Education (ED) awards Challenge Grants (i.e., matching grants) to local communities. One condition is the development and implementation of a project evaluation plan to measure the project's success. At ED's request, RAND prepared this sourcebook to help project managers and evaluators design an evaluation that would (1) delineate and communicate expectations and key milestones; (2) provide regular feedback to project leaders and other participants; (3) document project outcomes and lessons learned; and (4) provide an account to funders and stakeholders. RAND proposes that documentation of projects take the form of a Progress Portfolio. This report describes the form and purposes of such a portfolio, furnishes sample worksheets, and gives a detailed hypothetical example. The methods and issues discussed in this report should be of interest to anyone responsible for the successful completion or evaluation of a large-scale developmental project embedded in a reform-type effort
Lessons from New American Schools Development Corporation's demonstration phase
by
Susan J Bodilly
( Book )
4 editions published in
1996
in
English
and held by 219 WorldCat member libraries worldwide
NASDC, a private non-profit organization, was established in 1991 to fund the development of organizations that would create designs for "break-the-mold" schools and help schools implement those designs. A national competition by NASDC led to the choice of 11 teams, which were given one year, called Phase 1, to build their teams and develop the designs described in their proposals. In Phase 2, the teams had two years to further develop their designs and to demonstrate them. NASDC asked RAND to assess the Phase 2 experience of the nine teams remaining in the demonstration. This report provides the assessment and points to some lessons from Phase 2 that might be usefully applied to Phase 3. The assessment reviews the characteristics of designs and teams; how these characteristics affected progress toward goals in Phase 2; whether teams met NASDC goals; whether the teams experienced institutional, cultural, or systemic barriers to reform; and what has been the overall contribution of NASDC to reform to date
Lessons from New American Schools' scale-up phase : prospects for bringing designs to multiple schools
by
Susan J Bodilly
( Book )
5 editions published between
1997
and 1998 in
English
and
Undetermined
and held by 197 WorldCat member libraries worldwide
New American Schools was established in 1991 to help schools transform themselves into high-performing organizations. This report is a formative assessment of the first two years (1995-1997) of the scale-up phase, during which NAS partnered with 10 jurisdictions to implement design-based programs for improving student performance. A series of lessons emerged from this analysis: (1) The effort at school reform is complex because of the multiple actors involved. (2) Design teams do not accomplish implementation by themselves but only with the cooperation of schools and districts. (3) Teachers found stable school and district leadership and clear signals about the effort's priority to be important. Perhaps the most important lesson is that there still are no silver bullets for ensuring the implementation of reforms, but several districts have made significant progress in the two-year period
Revitalizing arts education through community-wide coordination
by
Susan J Bodilly
( Book )
11 editions published between
2008
and 2009 in
English
and held by 189 WorldCat member libraries worldwide
Initiatives to coordinate schools, cultural institutions, community-based organizations, foundations, and/or government agencies to promote access to arts education in and outside of schools have recently developed. This study looks at the collaboration efforts of six urban communities: how they started and evolved, the kinds of organizations involved, conditions that helped and that hindered coordination, and strategies used
Designing new American schools : baseline observations on nine design teams
by
Rand Corporation
( Book )
6 editions published in
1995
in
English
and
Undetermined
and held by 171 WorldCat member libraries worldwide
This report describes the initial efforts of the New American Schools Development Corporation (NASDC), a private, nonprofit corporation created as part of the America 2000 initiatives to fund the development of new designs for American schools. The report describes the initial NASDC efforts and compares and contrasts the nine designs and their demonstration strategies. It addresses several questions: (1) What are the principal elements of the designs and how do the designs compare and contrast on these elements; (2) what approaches are being used to develop the designs; (3) what factors might affect the teams' ability to demonstrate their designs in the next phase; and (4) what are the implications of these differences for the next and following phases
more
fewer
Audience Level
0

1
Kids
General
Special
Audience level: 0.31 (from 0.01 for Hours of O ... to 0.60 for Integratin ...)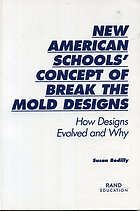 Alternative Names
Apps-Bodilly, Susan

Bodilly, Susan

Bodilly, Susan 1952-

Bodilly, Susan. Apps-

Bodilly, Susan J.

Languages
Covers