Van Dine, S. S.
Most widely held works about S. S Van Dine
Most widely held works by S. S Van Dine
The Gracie Allen murder case : a Philo Vance story
by
S. S Van Dine
( Book )
22 editions published between
1938
and 2016 in 4 languages and held by 232 WorldCat member libraries worldwide
The Gracie Allen Murder Case is the eleventh mystery novel about the immensely popular fictional detective Philo Vance, a sleuth and aesthete, by S. S. Van Dine, the pseudonym of Willard Huntington Wright (1888-1939), an American art critic and detective novelist. Philo Vance is a fictional character featured in a total of 12 crime novels, published in the 1920s and 1930s. During that time, Vance was immensely popular in books, movies and on the radio. He was portrayed as a stylish, even foppish dandy, a New York bon vivant possessing a highly intellectual bent. The novels were chronicled by his friend Van Dine (who appears as a kind of Dr. Watson figure in the books as well as the author). Van Dine's first three mystery novels were unusual for mystery fiction because he planned them as a trilogy, but plotted and wrote them in short form, more or less at the same time. After they were accepted as a group by famed editor Maxwell Perkins, Van Dine expanded them into full-length novels. Although Van Dine was one of the most educated and cosmopolitan detective writers of his time, in his essays, he dismissed the idea of the mystery story as serious literature. He insisted that a detective novel should be mainly an intellectual puzzle that follows strict rules and does not wander too far afield from its central theme. [Elib]
The scarab murder case : a Philo Vance story
by
Willard Huntington Wright
( Book )
4 editions published between
1930
and 2014 in
Spanish
and
English
and held by 189 WorldCat member libraries worldwide
¿Accidente o asesinato? Ante la duda y para no verse envuelto con la policía, Donald Scarlett, ayudante de Mindrum Bliss, recurre a Philo Vance. El fiscal de distrito John Markham y su departamento de policía no tardan en llegar al lugar de los hechos. Queda claro que Kyle financiaba las expediciones arqueológicas de Bliss: la mano del muerto aferra un informe financiero escrito de puño y letra por el dueño del museo. A complicar la situación de Bliss viene un broche de corbata, el escarabajo azul, que se encuentra a pocos pasos del muerto y le pertenece. En la suela de uno de sus zapatos hay manchas de sangre. Y las huellas dactilares en la estatuilla de la diosa Sakhet, con la que se ha destrozado el cráneo de Kyle, son de Bliss. La policía cree tener en sus manos al asesino, pero Philo Vance tiene otras ideas. ¿No son demasiado obvias las pistas como para tomarlas en serio?
The dragon murder case : a Philo Vance story
by
Willard Huntington Wright
( Book )
4 editions published between
1933
and 2006 in 3 languages and held by 129 WorldCat member libraries worldwide
The Dragon Murder Case is the seventh mystery novel about the immensely popular fictional detective Philo Vance, a sleuth and aesthete, by S. S. Van Dine, the pseudonym of Willard Huntington Wright (1888-1939), an American art critic and detective novelist. Philo Vance is a fictional character featured in a total of 12 crime novels, published in the 1920s and 1930s. During that time, Vance was immensely popular in books, movies and on the radio. He was portrayed as a stylish, even foppish dandy, a New York bon vivant possessing a highly intellectual bent. The novels were chronicled by his friend Van Dine (who appears as a kind of Dr. Watson figure in the books as well as the author). Van Dine's first three mystery novels were unusual for mystery fiction because he planned them as a trilogy, but plotted and wrote them in short form, more or less at the same time. After they were accepted as a group by famed editor Maxwell Perkins, Van Dine expanded them into full-length novels. Although Van Dine was one of the most educated and cosmopolitan detective writers of his time, in his essays, he dismissed the idea of the mystery story as serious literature. He insisted that a detective novel should be mainly an intellectual puzzle that follows strict rules and does not wander too far afield from its central theme. [Elib]
The kennel murder case
by
Willard Huntington Wright
( Book )
2 editions published between
1980
and 2013 in
English
and held by 127 WorldCat member libraries worldwide
When the chief suspect in the murder of a wealthy, but unpopular dog breeder is also found dead, Philco Vance decides to solve the perplexing case
The kidnap murder case : a Philo Vance story
by
Willard Huntington Wright
( Book )
2 editions published in
1936
in
English
and held by 117 WorldCat member libraries worldwide
The Kidnap Murder Case is the tenth mystery novel about the immensely popular fictional detective Philo Vance, a sleuth and aesthete, by S. S. Van Dine, the pseudonym of Willard Huntington Wright (1888-1939), an American art critic and detective novelist. Philo Vance is a fictional character featured in a total of 12 crime novels, published in the 1920s and 1930s. During that time, Vance was immensely popular in books, movies and on the radio. He was portrayed as a stylish, even foppish dandy, a New York bon vivant possessing a highly intellectual bent. The novels were chronicled by his friend Van Dine (who appears as a kind of Dr. Watson figure in the books as well as the author). Van Dine's first three mystery novels were unusual for mystery fiction because he planned them as a trilogy, but plotted and wrote them in short form, more or less at the same time. After they were accepted as a group by famed editor Maxwell Perkins, Van Dine expanded them into full-length novels. Although Van Dine was one of the most educated and cosmopolitan detective writers of his time, in his essays, he dismissed the idea of the mystery story as serious literature. He insisted that a detective novel should be mainly an intellectual puzzle that fo [Elib]
The "Canary" murder case
by
S. S Van Dine
( Book )
4 editions published between
1927
and 2013 in
English
and
Chinese
and held by 110 WorldCat member libraries worldwide
The Canary Murder Case is the second mystery novel about the immensely popular fictional detective Philo Vance, a sleuth and aesthete, by S. S. Van Dine, the pseudonym of Willard Huntington Wright (1888-1939), an American art critic and detective novelist. Philo Vance is a fictional character featured in a total of 12 crime novels, published in the 1920s and 1930s. During that time, Vance was immensely popular in books, movies and on the radio. He was portrayed as a stylish, even foppish dandy, a New York bon vivant possessing a highly intellectual bent. The novels were chronicled by his friend Van Dine (who appears as a kind of Dr. Watson figure in the books as well as the author). Van Dine's first three mystery novels were unusual for mystery fiction because he planned them as a trilogy, but plotted and wrote them in short form, more or less at the same time. After they were accepted as a group by famed editor Maxwell Perkins, Van Dine expanded them into full-length novels. Although Van Dine was one of the most educated and cosmopolitan detective writers of his time, in his essays, he dismissed the idea of the mystery story as serious literature. He insisted that a detective novel should be mainly an intellectual puzzle that follows strict rules and does not wander too far afield from its central theme. [Elib]
The Bishop murder case : a Philo Vance story
by
S. S Van Dine
( Book )
4 editions published between
1929
and 2013 in
English
and held by 74 WorldCat member libraries worldwide
America's classic detective, Philo Vance, was an amateur whose analytical mind caused him to become absorbed in a sinister event that became the Bishop murder case. Without his intervention this criminal mystery would probably never have come to light
The President's mystery story
by
Franklin D Roosevelt
( Book )
2 editions published in
1935
in
English
and held by 53 WorldCat member libraries worldwide
The garden murder case : a Philo Vance story
by
Willard Huntington Wright
( Book )
2 editions published between
1935
and 1940 in
French
and
English
and held by 38 WorldCat member libraries worldwide
The Garden Murder Case is the ninth mystery novel about the immensely popular fictional detective Philo Vance, a sleuth and aesthete, by S. S. Van Dine, the pseudonym of Willard Huntington Wright (1888-1939), an American art critic and detective novelist. Philo Vance is a fictional character featured in a total of 12 crime novels, published in the 1920s and 1930s. During that time, Vance was immensely popular in books, movies and on the radio. He was portrayed as a stylish, even foppish dandy, a New York bon vivant possessing a highly intellectual bent. The novels were chronicled by his friend Van Dine (who appears as a kind of Dr. Watson figure in the books as well as the author). Van Dine's first three mystery novels were unusual for mystery fiction because he planned them as a trilogy, but plotted and wrote them in short form, more or less at the same time. After they were accepted as a group by famed editor Maxwell Perkins, Van Dine expanded them into full-length novels. Although Van Dine was one of the most educated and cosmopolitan detective writers of his time, in his essays, he dismissed the idea of the mystery story as serious literature. He insisted that a detective novel should be mainly an intellectual puzzle that follows strict rules and does not wander too far afield from its central theme. [Elib]
more
fewer
Audience Level
0

1
Kids
General
Special
Audience level: 0.44 (from 0.18 for Philo Vanc ... to 0.93 for Sōjō sat ...)
Associated Subjects
Allen, Gracie,
American fiction
Chinese Americans
Detective and mystery stories
Detective and mystery stories, American
Dogs
Dog shows
Drew, Nancy (Fictitious character)
Extortion
Fantasy fiction, American
Film adaptations
Italian fiction
Japanese language
Keene, Carolyn
Mother Goose
Motion pictures
Murder
Murder--Investigation
Mystery
New York (State)
New York (State)--New York
Nursery rhymes
Private investigators
Roosevelt, Franklin D.--(Franklin Delano),
Scottish terrier
Showgirls
United States
Vance, Philo (Fictitious character)
Van Dine, S. S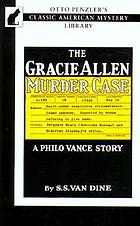 Alternative Names
Wright, Willard Huntington, 1888-1939
S・S・ヴァン・ダイン

S.S ヴァンダイン

范達痕

Languages
Covers