London Mathematical Society
Most widely held works about London Mathematical Society
more
fewer
Most widely held works by London Mathematical Society
Proceedings of the London Mathematical Society
by
London Mathematical Society
( )
in
English
and held by 1,764 WorldCat member libraries worldwide
"Papers presented to J.E. Littlewood on his 80th birthday" issued as 3d ser., v. 14 A, 1965
Novikov conjectures, index theorems, and rigidity : Oberwolfach, 1993
by
Steven C Ferry
( )
17 editions published in
1995
in
English
and held by 1,704 WorldCat member libraries worldwide
The Novikov conjecture is the single most important unsolved problem in the topology of high-dimensional non-simply connected manifolds. These two volumes give a snapshot of the status of work on the Novikov conjecture and related topics from many points of view: geometric topology, homotopy theory, algebra, geometry, and analysis. Volume 1 contains a detailed historical survey and bibliography of the Novikov conjecture and of related subsequent developments, including an annotated reprint (both in the original Russian and in English translation) of Novikov 's original 1970 statement of his conjecture ; an annotated problem list; the texts of several important unpublished classic papers by Milnor, Browder, and Kasparov; and research/survey papers on the Novikov conjecture by Ferry/Weinberger, Gromov, Mishchenko, Quinn, Ranicki, and Rosenberg. Volume 2 contains fundamental long research papers by G. Carlsson on "Bounded K-theory and the assembly map in algebraic K-theory" and by S. Ferry and E. Pedersen on "Epsilon surgery theory"; and shorter research and survey papers on various topics related to the Novikov conjecture, by Bekka, Cherix, Valette, Eichhorn, and others. These volumes will appeal to researchers interested in learning more about this intriguing area
A mathematical introduction to string theory : variational problems, geometric and probabilistic methods
by
Sergio Albeverio
( )
6 editions published between
1997
and 1999 in
English
and
Undetermined
and held by 1,508 WorldCat member libraries worldwide
Classical string theory is concerned with the propagation of classical 1-dimensional curves 'strings', and the theory has connections to the calculus of variations, minimal surfaces and harmonic maps. The quantization of string theory gives rise to problems in different areas, according to the method used. The representation theory of Lie, Kac-Moody and Virasoro algebras have been used for such quantization. In this lecture note the authors give an introduction to certain global analytic and probabilistic aspects of string theory. It is their intention to bring together, and make explicit the necessary mathematical tools. Researchers with an interest in string theory, in either mathematics or theoretical physics, will find this a stimulating volume
Journal of the London Mathematical Society
by
London Mathematical Society
( )
in
English
and
No Linguistic content
and held by 1,426 WorldCat member libraries worldwide
The Journal, Proceedings and Bulletin of the London Mathematical Society have long been among the world's leading mathematical research periodicals. They have been joined by the Transactions of the London Mathematical Society, a fully open access online journal launched in March 2013. All four journals share a common Editorial Advisory Board and the same standard of peer review. The Bulletin also publishes survey articles, book reviews and obituaries. Subject coverage of the LMS periodicals ranges across a broad spectrum of mathematics, covering the whole of pure mathematics together with some more applied areas of analysis, mathematical physics, theoretical computer science, probability, and statistics
Representation theory of Lie groups : proceedings of the SRC/LMS Research Symposium on Representations of Lie Groups, Oxford, 28 June-15 July 1977
by
SRC/LMS Research Symposium on Representations of Lie Groups
( )
10 editions published between
1979
and 1980 in
English
and held by 1,208 WorldCat member libraries worldwide
Lie groups and their representations occupy an important place in mathematics with applications in such diverse fields as differential geometry, number theory, differential equations and physics. In 1977 a symposium was held in Oxford to introduce this rapidly developing and expanding subject to non-specialists. This volume contains the lectures of ten distinguished mathematicians designed to provide the reader with a deeper understanding of the fundamental theory and appreciate the range of results. This volume contains much to interest mathematicians and theoretical physicists from advanced undergraduate level upwards
Homological group theory : proceedings of a symposium, held at Durham in September 1977, on "Homological and combinatorial techniques in group theory"
by
C. T. C Wall
( )
10 editions published in
1979
in
English
and held by 1,161 WorldCat member libraries worldwide
In 1977 several eminent mathematicians were invited to Durham to present papers at a short conference on homological and combinatorial techniques in group theory. The lectures, published here, aimed at presenting in a unified way new developments in the area. Group theory is approached from a geometrical viewpoint and much of the material has not previously been published. The various ways in which topological ideas can be used in group theory are also brought together. The volume concludes with an extensive set of problems, ranging from explicit questions demanding detailed calculation to fundamental questions motivating research in the area. These lectures will be of interest mainly to researchers in pure mathematics but will also prove useful in connection with relevant postgraduate courses
The bulletin of the London Mathematical Society
by
London Mathematical Society
( )
in
English
and
Undetermined
and held by 1,146 WorldCat member libraries worldwide
One of the world's leading research periodicals, the Bulletin of the London Mathematical Society provides subject coverage ranging across a broad spectrum of mathematics, covering the whole of pure mathematics together with some more applied areas of analysis, mathematical physics, theoretical computer science, probability and statistics
Analysis in abstract spaces
by Special year in modern analysis
( )
2 editions published in
1989
in
English
and held by 1,107 WorldCat member libraries worldwide
Groups '93 Galway/St Andrews : Galway 1993
( )
17 editions published in
1995
in
English
and held by 1,084 WorldCat member libraries worldwide
This two-volume book contains selected papers from the international conference 'Groups 1993 Galway/St Andrews' which was held at University College Galway in August 1993. The wealth and diversity of group theory is represented in these two volumes. Five main lecture courses were given at the conference. These were 'Geometry, Steinberg representations and complexity' by J. L. Alperin (Chicago), 'Rickard equivalences and block theory' by M. Broué (ENS, Paris), 'Cohomological finiteness conditions' by P. H. Kropholler (QMW, London), 'Counting finite index subgroups' by A. Lubotzky (Hebrew University, Jerusalem), 'Lie methods in group theory' by E. I. Zel'manov (University of Wisconsin at Madison). Articles based on their lectures, in one case co-authored, form a substantial part of the Proceedings. Another main feature of the conference was a GAP workshop jointly run by J. Neubüser and M. Schönert (RWTH, Aachen). Two articles by Professor Neubüser, one co-authored, appear in the Proceedings. The other articles in the two volumes comprise both refereed survey and research articles contributed by other conference participants. As with the Proceedings of the earlier 'Groups-St Andrews' conferences it is hoped that the articles in these Proceedings will, with their many references, prove valuable both to experienced researchers and also to new postgraduates interested in group theory
more
fewer
Audience Level
0

1
Kids
General
Special
Audience level: 0.22 (from 0.00 for Analysis i ... to 1.00 for London Mat ...)
Related Identities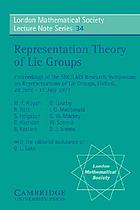 Alternative Names
Institute of Physics Publishing Limited

L.M.S.

L.M.S. (London Mathematical Society)

LMS

LMS (London Mathematical Society)

London Mathematical Society

London Mathematical Society société mathématique

Mathematical Society

Mathematical Society London

Sociedá Matemática de Londres

Sociedad Matemática de Londres

Лондонское математическое общество ведущее математическое общество в Великобритании

Лондонське математичне товариство провідне математичне товариство у Великій Британії

Լոնդոնի մաթեմատիկական ընկերություն

החברה הלונדונית למתמטיקה

جمعية الرياضيات في لندن

런던 수학 협회

ロンドン数学会

伦敦数学学会

Languages
Covers