Feagin, Joe R.
Most widely held works by Joe R Feagin
Racial and ethnic relations
by
Joe R Feagin
( Book )
43 editions published between
1978
and 2014 in
English
and
Undetermined
and held by 1,485 WorldCat member libraries worldwide
"Major racial and ethnic groups are examined with regard to their incorporation, economic circumstances, political development, and experience with exploitation."
Racist America : roots, current realities, and future reparations
by
Joe R Feagin
( Book )
29 editions published between
2000
and 2014 in
English
and held by 1,347 WorldCat member libraries worldwide
"Racist America is exploration of the ubiquity of racism in contemporary life. From the case of the black New Jersey dentist stopped by police more than 100 times for driving to work in an expensive car to that of the clerk who must defend her promotion against charges of undeserved affirmative action, Feagin lays bare the economic, ideological and political structure of American racism. In so doing, he develops an antiracist theory rooted not only in the latest empirical data but also in the historical realities of American racism."--Jacket
The first R : how children learn race and racism
by
Debra Van Ausdale
( Book )
15 editions published between
2001
and 2002 in
English
and held by 1,292 WorldCat member libraries worldwide
"Writers since Piaget have questioned when and how children assimilate racist attitudes - or simply become aware of racial differences. This book offers evidence that the answers may be more surprising than we ever imagined."
White racism : the basics
by
Joe R Feagin
( Book )
31 editions published between
1994
and 2001 in
English
and
Undetermined
and held by 1,276 WorldCat member libraries worldwide
Probes the dynamics of racism in American society, examining a range of racist events and incidents across the United States, including protests over the Confederate battle flag in some southern states, the lynching death of James Byrd, Jr. in Texas, the Rodney King beating, and others
Living with racism : the Black middle-class experience
by
Joe R Feagin
( Book )
11 editions published between
1994
and 1995 in
English
and held by 1,223 WorldCat member libraries worldwide
"One step from suicide" was the first response to Joe Feagin and Mel Sikes' question about how it feels to be middle-class and African-American. Despite the prevalent white view that racism is diminishing, this groundbreaking study exposes the depth and relentlessness of the racism that middle-class Black Americans face everyday. From the supermarket to the office, the authors show, African Americans are routinely subjected to subtle humiliations and overt hostility across white America. Based on the sometimes harrowing testimony of more than 200 Black respondents, Living with Racism shows how discrimination targets middle-class African Americans, impeding their economic and social progress, and wearying their spirit. A man is refused service in a restaurant. A woman is harassed while shopping. A little girl is taunted in a public pool by white children. These are everyday incidents encountered by millions of African Americans. But beyond presenting a litany of abuse, the authors argue that racism is deeply imbedded in American institutions and that the cumulative effect of these episodes is profoundly damaging. They argue that discrimination is experienced by their interviewees not as separate incidents, but as a process demanding their constant vigilance and shaping their personal, professional, and psychological lives. With powerful insight into the daily workings of discrimination, this important study can help all Americans confront the racism of our institutions and our culture
Discrimination American style : institutional racism and sexism
by
Joe R Feagin
( Book )
12 editions published between
1978
and 1986 in
English
and held by 937 WorldCat member libraries worldwide
Why and how are some people--women, blacks, and other minorities--discriminated against? The answers to these questions are important because an understanding of the causes and operation of discrimination is essential to finding effective ways to counteract and eradicate discrimination from our society. While the popular view holds that prejudice and bigotry lie behind racist and sexist discrimination, this book goes beyond that view to expose other roots of the problem that are subtler and more difficult to combat. (Back cover)
White men on race : power, privilege, and the shaping of cultural consciousness
by
Joe R Feagin
( Book )
6 editions published between
2003
and 2004 in
English
and held by 880 WorldCat member libraries worldwide
"Based on the revealing and provocative testimony of about one hundred powerful, upper-income white men, White Men on Race shows how these men see racial "others," how they see white America, how they view racial conflicts, and what they expect for the country's future. Covering a range of topics, from how they first encountered black Americans to views on blacks today, interracial dating, affirmative action, current immigration, crime, and intervening in discriminatory situations, their views enlighten us on the racial perspectives of the country's twenty-first century white male elites." "These men, mostly baby boomers ranging in age from their thirties to their sixties, reside in a variety of U.S. cities and states. Some are at or near the top of powerful economic and government organizations and are members of the national governing class, while most are a tier or two below that top level and are influential in their regions or local communities. Most are executives in corporations, influential officials and administrators, academics, physicians, attorneys, and businesspeople." "The authors closely analyze the racial attitudes and experiences of this powerful group and argue that certain key ideas and views expressed by the majority are not isolated but are part of a larger, often troubling set of perspectives on race in America. These perspectives continue to shape white lives and actions and, ultimately, the course of the nation." "In their interviews the authors find that these men provide complex and nuanced perspectives on race in U.S. society, with traditional racial interpretations often with more progressive, even actively antiracist, assessment of contemporary racial realities. Those men who are consistently and strongly antiracist in their perspectives and actions, the authors argue, provide hope for more effective leadership on racial matters in the present and future of the United States."--Jacket
Liberation sociology
by
Joe R Feagin
( Book )
24 editions published between
1998
and 2016 in
English
and held by 823 WorldCat member libraries worldwide
The United States is on a path of increasing social conflict, accentuated class, and racial inequalities. Based on a belief that change can be brought about by citizen action, this volume argues that such action can be assisted by what the authors call "liberation sociology" - a tool for the increase of democratic participation in the production and implementation of knowledge
more
fewer
Audience Level
0

1
Kids
General
Special
Audience level: 0.29 (from 0.05 for Double bur ... to 0.51 for The white ...)
Related Identities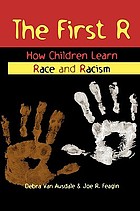 Alternative Names
Feagin, Joe 1938-

Feagin, Joe R.

Feagin, Joe Richard 1938-

Feagin, Joseph

Feagin, Joseph R.

フィーギン, ジョー・R

Languages
Covers