Luhmann, Niklas 1927-1998
Overview
| | |
| --- | --- |
| Works: | 1,077 works in 3,805 publications in 11 languages and 45,033 library holdings |
| Roles: | Author, Editor, Honoree, Creator, Contributor, Illustrator, Author of introduction, Interviewee, Adapter, Other, Dedicatee |
| Classifications: | HM131, 301 |
Most widely held works about Niklas Luhmann
more
fewer
Most widely held works by Niklas Luhmann
Social systems
by
Niklas Luhmann
( Book )
78 editions published between
1984
and 2013 in 3 languages and held by 1,295 WorldCat member libraries worldwide
Germany's most prominent social thinker here sets out a contribution to sociology that aims to rework our understanding of meaning and communication. He links social theory to recent theoretical developments in scientific disciplines
The reality of the mass media
by
Niklas Luhmann
( Book )
60 editions published between
1995
and 2012 in 6 languages and held by 1,063 WorldCat member libraries worldwide
"In The Reality of the Mass Media, Luhmann extends his theory of social systems to an examination of the role of mass media in the constitution of social reality." "Luhmann argues that the system of mass media is a set of recursive, self-referential programs of communication, whose functions are not determined by the external values of truthfulness, objectivity, or knowledge, nor by specific social interests or political directives. Rather, he contends that the system of mass media is regulated by the internal code information/noninformation, which enables the system to select its information (news) from its own environment and to communicate this information in accordance with its own reflexive criteria."--Jacket
The differentiation of society
by
Niklas Luhmann
( Book )
105 editions published between
1000
and 2009 in 5 languages and held by 970 WorldCat member libraries worldwide
Unbeirrt hält auch diese Sammlung soziologischer Studien an dem Titel "Aufklä rung" fest. Wer die soziologische Literatur des letzten Jahrzehnts soziologisch, das heißt mit Sinn für Realität betrachtet, wird wenig finden, was diesen Anspruch rechtfertigen könnte. Er ist stärker umstritten als je zuvor. Die Dreieinigkeit von Aufklärung, Vernunft und Politik hat keinen Ankerpunkt in der Realität gefunden. Sie hatte ganz und gar auf Zukunft gesetzt und kontrafaktisch auf ihre eigene Normativität. So groß bemessene Gesten vermögen jedoch kaum noch zu überzeugen. Wie sollte man heute angesichts bedrängender Zukunftssorgen sich auf das verlassen können, was als Zukunft impliziert war? Lieber flüchtet man unter die Fittiche der Klassi ker, die prinzipiell endlose Möglichkeiten der Interpretation und damit einen Schutz gegen Gedanken- und Arbeitslosigkeit zu bieten scheinen. Neben der Exe gese der Klassiker bietet auch die Exegese selbstproduzierter Daten Möglichkeiten zur Variation soziologischer Aussagen. All das sind berechtigte Wege der Forschung und des Erkenntnisgewinns, aber Exegese ist keine Aufklärung
A sociological theory of law
by
Niklas Luhmann
( Book )
51 editions published between
1972
and 2015 in 3 languages and held by 908 WorldCat member libraries worldwide
English translation of : Rechtssoziologie
Die Wissenschaft der Gesellschaft
by
Niklas Luhmann
( Book )
71 editions published between
1988
and 2010 in 5 languages and held by 872 WorldCat member libraries worldwide
Risk : a sociological theory
by
Niklas Luhmann
( Book )
60 editions published between
1991
and 2008 in 4 languages and held by 842 WorldCat member libraries worldwide
Annotation A great deal of attention has been devoted to risk research. Sociologists in general have limited themselves to varying recognitions of a society at risk and have traced out the paths to disaster. The detailed research has yet to be undertaken. In Risk, now available in paperback, Niklas Luhmann develops a theoretical program for such research. His premise is that the concept of risk projects essential aspects of our description of the future onto the present. Risk is conceived as the possibility of triggering unexpected, unlikely, and detrimental consequences by means of a decision attributable to a decision maker
Theory of society
by
Niklas Luhmann
( Book )
93 editions published between
1993
and 2015 in 6 languages and held by 801 WorldCat member libraries worldwide
"This first volume of Niklas Luhmann's two-part final work was initially published in German in 1997. The culmination of his thirty-year theoretical project to reconceptualize sociology, it offers a comprehensive description of modern society on a scale not attempted since Talcott Parsons. Beginning with an account of the fluidity of meaning and the accordingly high improbability of successful communication, Luhmann analyzes a range of communicative media, including language, writing, the printing press, and electronic media as well as "success media," such as money, power, truth, and love, all of which structure this fluidity and make communication possible. An investigation into the ways in which social systems produce and reproduce themselves, the book asks what gives rise to functionally differentiated social systems, how they evolve, and how social movements, organizations, and patterns of interaction emerge. The advent of the computer and its networks, which trigger potentially far-reaching processes of restructuring, receive particular attention. A concluding chapter on the semantics of modern society's self-description bids farewell to the outdated theoretical approaches of "old Europe," that is, to ontological, holistic, ethical, and critical interpretations of society, and argues that concepts such as "the nation," "the subject," and "postmodernity" are vastly overrated. In their stead, "society"--Long considered a suspicious term by sociologists, one open to all kinds of reification--is defined in purely operational terms. It is the always uncertain answer to the question of what comes next in all areas of communication."--Publisher's website
Love as passion : the codification of intimacy
by
Niklas Luhmann
( Book )
34 editions published between
1982
and 2014 in
English
and
German
and held by 731 WorldCat member libraries worldwide
In this important book Niklas Luhmann - one of the leading social thinkers of the late 20th century - analyses the emergence of 'love' as the basis of personal relationships in modern societies. He argues that, while family systems remained intact in the transition from traditional to modern societies, a semantics for love developed to accommodate extra-marital relationships; this semantics was then transferred back into marriage and eventually transformed marriage itself. Drawing on a diverse range of historical and literary sources, Luhmann retraces the emergence and evolution of the special semantics of passionate love that has come to form the basis of modern forms of intimacy and personal relationships. This classic book by Luhmann has been widely recognized as a work of major importance. It is an outstanding contribution to social theory and it provides an original and illuminating perspective on the nature of modern marriage and sexuality. -- Publisher description
Law as a social system
by
Niklas Luhmann
( Book )
39 editions published between
1993
and 2015 in 3 languages and held by 637 WorldCat member libraries worldwide
Modern systems theory provides a new paradigm for the analysis of society. In this volume, Niklas Luhmann, its leading exponent, explores its implications for our understanding of law. Luhmann argues that current thinking about how law operates within a modern society is seriously deficient. In this volume he lays out the theoretical and methodological tools that, he argues, can advance our understanding of contemporary society and, in particular, of the identity, performance, and function of the legal system within that society. In systems theory, society is its communications: they are its empirical reality; the items that can be observed and studied. Systems theory identifies how communications operate within a physical world and how different sub-systems of communication operate alongside each other. In this volume, Luhmann uses systems theory to address a question central to legal theory: what differentiates law from other parts of society?
Observations on modernity
by
Niklas Luhmann
( Book )
39 editions published between
1992
and 2006 in 5 languages and held by 635 WorldCat member libraries worldwide
Die Proklamation der "Postmoderne" hatte mindestens ein Verdienst. Sie hat bekannt gemacht, daß die moderne Gesellschaft das Vertrauen in die Richtigkeit ihrer eige nen Selbstbeschreibungen verloren hat. Auch sie sind jeweils anders möglich. Auch sie sind kontingent gewor den. Wie in der risikoreichen Welt des New Yorker U-Bahn-Netzes drängen sich jetzt die, die darüber reden wollen, an dafür bestimmten Plätzen unter heller Be leuchtung und bei laufenden Fernsehkameras zusammen. Es scheint ums intellektuelle Überleben zu gehen. Aber offenbar nur darum. Und währenddessen geschieht, was geschieht, und die Gesellschaft evoluiert im Ausgang von dem, was erreicht ist, in eine unbekannte Zukunft. Vielleicht hatte das Stichwort der Postmoderne nur eine andere, variantenreichere Beschreibung der Moder ne versprechen wollen, die ihre eigene Einheit nur noch negativ vorstellen kann als Unmöglichkeit eines meta recit. Aber das ließe dann möglicherweise zu viel zu angesichts zahlreicher aktueller Dringlichkeiten, die auf fallen. Wir mögen gern konzedieren, daß es keine ver bindliche Repräsentation der Gesellschaft in der Gesell schaft gibt. Aber das wäre dann nicht das Ende, sondern der Beginn einer Reflexion der Form von Selbstbeob achtungen und Selbstbeschreibungen eines Systems, die im System selbst vorgeschlagen und durchgesetzt werden 7 müssen in einem Prozeß, der seinerseits wieder beob achtet und beschrieben wird
more
fewer
Audience Level
0

1
Kids
General
Special
Audience level: 0.71 (from 0.01 for Fichte tri ... to 0.90 for Luhmann-Le ...)
Related Identities
Associated Subjects
Aesthetics
Art and society
Autopoiesis
Communication
Communication--Social aspects
Critical theory
Differentiation (Sociology)
Discourse analysis--Social aspects
Ecology--Philosophy
Economics
Environmental policy
Environmental protection--Philosophy
Esser, Hartmut
Foucault, Michel,
Gadamer, Hans-Georg,
Germany
Habermas, Jürgen
Interpersonal communication
Intimacy (Psychology)
Koselleck, Reinhart
Laclau, Ernesto,
Law (Philosophical concept)
Law--Political aspects
Legitimacy of governments
Love
Luhmann, Niklas,
Mass media--Audiences
Mass media--Social aspects
Nature--Effect of human beings on
Philosophy, Comparative
Political and social views
Political sociology
Postmodernism--Social aspects
Religion and sociology
Risk--Sociological aspects
Semantics
Social change
Social interaction
Social sciences--Philosophy
Social structure
Social systems
Social systems--Philosophy
Sociological jurisprudence
Sociology
Sociology--Methodology
Sociology--Philosophy
System theory
Trust
Weber, Max,
Welfare state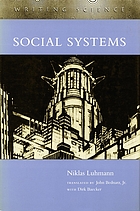 Alternative Names
Lu man 1927-1998

Luhman, Niklas 1927-1998

Luhmann, N.

Luhmann, N. 1927-1998

Luhmann, N. (Niklas), 1927-1998

Luhmann, Niklas

Luman 1927-1998

Luman, N. 1927-1998

Luman, Nikelasi 1927-1998

Lūman, Niklas 1927-1998

Lūmān, Nīkulaus 1927-1998

Lumann, Niklas 1927-1998

N. Lu man 1927-1998

N.-Luman 1927-1998

Ni ke la si Lu man 1927-1998

Nicolaus Luhmann

Nikelasi-Luman 1927-1998

Niklas Luhmann

Niklas Luhmann Duits filosoof

Niklas Luhmann German sociologist, administration expert, and social systems theorist

Niklas Luhmann sociólogo alemán

Niklas Luhmann sociologo e filosofo tedesco

Niklas Luhmann sociologue allemand

Rūman, N. 1927-1998

Rūman, Nikorasu 1927-1998

Rūman, Nikuraso 1927-1998

Rūman, Nikurasu 1927-1998

Луман, Никлас 1927-1998

Луман, Никлас немецкий социолог

Ніклас Луман

نيكلاس لوهمان

نیکلاس لومان دانشمند و فیلسوف آلمانی

니클라스 루만

루만, 니클라스 1927-1998

ニクラス・ルーマン

ル-マン, ニクラス 1927-1998

ルーマン, N.

ルーマン, ニクラス

ルーマン, ニクラス 1927-1998

尼克拉斯·卢曼

Languages
Covers