Themistius
Overview
| | |
| --- | --- |
| Works: | 745 works in 1,747 publications in 12 languages and 11,403 library holdings |
| Genres: | History Sources Commentaries Criticism, interpretation, etc Paraphrases |
| Roles: | Author, Commentator, Creator, Other, Editor, Compiler, Annotator, cnm, Contributor |
Most widely held works about Themistius
more
fewer
Most widely held works by Themistius
On Aristotle Physics 1-3
by
Themistius
( )
11 editions published between
2010
and 2014 in
English
and held by 778 WorldCat member libraries worldwide
Themistius' paraphrase of Books 1-3 of Aristotle's Physics shows this fourth-century AD commentator offering a characteristically focused recreation of Aristotle's treatment of a variety of topics ranging from his fundamental account of the principles underlying natural change in Book 1 to a challenging general theory of change in the opening chapters of Book 3. In addressing Book 2 Themistius deals with the theory of nature and natural causation, an associated analysis of events that are indirectly caused by chance or coincidence, and the perennially engaging issue of teleology vs. necessitation in nature. Finally, he deals with the concept of the infinite that Aristotle pioneered in the second part of Book 3. While heavily influenced by the content of the commentary on the Physics by Alexander of Aphrodisias, Themistius offers a methodologically innovative reconstruction mostly expressed in Aristotle's voice, more expansive than the original but focused on essentials. He also offers a notable digression on the subsequently influential theory of prime matter. His paraphrase opens a window on the continuing role of Aristotle in philosophical education in late antiquity and is an instructive contrast to the more expansive commentaries of Simplicius and Philoponus who drew heavily on this predecessor. It can also still be profitably consulted by scholars on matters of detailed interpretation and by students as an introductory guide to a major treatise. Robert B. Todd has previously translated for this series Themistius on Aristotle On the Soul, and Themistius on Aristotle Physics 4 and Physics 5-8
On Aristotle's On the soul
by
Themistius
( Book )
26 editions published between
1995
and 2014 in
English
and held by 505 WorldCat member libraries worldwide
Themistius ran his own philosophical school in Constantinople in the middle of the fourth century A.D. His paraphrases of Aristotle's writings are unlike the elaborate commentaries produced by Alexander of Aphrodisias, or the later Neoplatonists Simplicius and Philoponus. His aim was to provide a clear and independent restatement of Aristotle's text which would be accessible as an elementary exegesis. But he also discusses important philosophical problems, reports and disagrees with other commentaries including the lost commentary of Porphyry, and offers interpretations of Plato. Themistius' paraphrase of Aristotle's On the Soul is his most important and influential work. It is also the first extant commentary on this work of Aristotle to survive from antiquity. A rival to that of Alexander of Aphrodisias, it represents one of the main interpretations of Aristotle's theory of the intellect, which was debated throughout the Middle Ages and the Renaissance. It continues to be an important text for the reconstruction of Aristotle's philosophical psychology today
On Aristotle's "Physics 4"
by
Themistius
( Book )
22 editions published between
2002
and 2014 in
English
and held by 449 WorldCat member libraries worldwide
"In his Physics 4, Aristotle defines place and time and denies the possibility of vacuum. Themistius, whose commentary is translated in this volume, wrote in the fourth century A.D. The fact that his commentaries are called paraphrases should not be allowed to conceal their importance. Some of his ideas are very original and he was taken seriously by later commentators and used as an authority by Aquinas." "Aristotle denies three-dimensional space and substitutes the idea of a thing's place as its immediate surroundings. Themistius supports Aristotle's denial. However, he reveals that the philosopher-doctor Galen, in the late second century A.D., had argued for the reality of space by imagining a bronze jar whose contents shrink, without any other matter coming in to fill the gap. Themistius complains that this thought experiment begs the question by assuming the very spatial extension, or gap, that Galen wants to prove." "Aristotle's conception of place as surroundings makes it problematic how his outermost sphere, which carries the stars, can have any place, given that it has no surroundings. Themistius suggests various solutions, including treating the inner spheres as surroundings." "Turning to time, Themistius again reveals Galen's objections to Aristotle and defends Aristotle from the charge of giving a circular definition of time. On the other hand, Themistius criticizes Aristotle for saying that there would be no time if there were no soul. Most of these points were debated by later commentators."--Jacket
On Aristotle Physics 5-8
by
Themistius
( )
12 editions published between
2007
and 2014 in
English
and held by 334 WorldCat member libraries worldwide
"Themistius' treatment of Books 5-8 of Aristotle's Physics shows this commentator's capacity to identify, isolate and discuss the core ideas in Aristotle's account of change, his theory of the continuum, and his doctrine of the unmoved mover. His paraphrase offered his ancient students, as it will now offer his modern readers, an opportunity to encounter central features of Aristotle's physical theory, synthesized and epitomized in a manner that has always marked Aristotelian exegesis but was raised to a new level by the innovative method of focused paraphrase pioneered by Themistius. By taking selective but telling account of the earlier Peripatetic tradition (notably Theophrastus and Alexander of Aphrodisias), this commentator creates a framework that can still be profitably used by Aristotelian scholars today."--Jacket
more
fewer
Audience Level
0

1
Kids
General
Special
Audience level: 0.36 (from 0.05 for The privat ... to 0.94 for Themistii ...)
Related Identities
Associated Subjects
Alexander,--of Aphrodisias
Aristotle
Astronomy, Greek
Byzantine Empire
Christianity
Cities and towns--Antiquities
Civilization
Civilization, Classical, in literature
Constantius--II,--Emperor of Rome,
De anima (Aristotle)
De caelo (Aristotle)
Education, Greek
Epistolae (Julian, Emperor of Rome)
Greek language
Interfaith relations
Kings and rulers
Learning and scholarship
Letters
Libanius
Mediterranean Region
Metaphysics
Metaphysics (Aristotle)
Middle East
Nicomachean ethics (Aristotle)
Norman, A. F.--(Albert Francis)
Oratory, Ancient
Paganism
Parva naturalia (Aristotle)
Philoponus, John,
Philosophy, Ancient
Physics
Physics (Aristotle)
Physics--Philosophy
Plato
Political science
Political science--Philosophy
Politics and government
Prior analytics (Aristotle)
Psychology
Religion
Romans--Religion
Rome (Empire)
Socrates
Soul
Space and time
Speeches, addresses, etc., Greek
Themistius
Thomas,--Aquinas, Saint,
Turkey--Istanbul
Virtue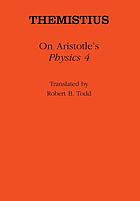 Covers
Alternative Names
Euphrada Themistius

Euphrada, Themistius 317-388

Euphrades Themistius

Euphrades, Themistius 317-388

Pseudo-Themistius

Pseudo-Themistius 317-388

Ṯāmisṭīyūs 317-388

Ṯāmisṭyūs 317-388

Temisti

Temistije

Temístio

Temistio 0317?-0388?

Temistio 317-388

Temistio 317-ca. 388

Temistio c. 317-c. 388

Temistio ca317-ca388

Temistio della Paflagonia 317-388

Temistio filosofo greco antico

Temistio Retore Greco 317-388

Temistio Sofista 317-388

Temistios

Temistiusz.

Temisṭiyus

Them.

Themiste 317-388

Themistias 317-388 Euphrades

Themistias Euphrades

Themistias Euphrades 317-388

Themistio

Themistio asi 317-asi 388

Themistio della Paflagonia

Themistio Retore Greco

Themistio Sofista

Thémistios

Thémistios 0317?-0388?

Themistios 317-388

Themistios 317-388 Euphrades

Themistios 317-388 Griechischer Sophist

Themistios 317-388 Philosophos

Themistios 317-388 Redner

Themistios 317-388 Sohn des Eugenios

Themistios 317-388 von Konstantinopel

Themistios 317-388 von Paphlagonien

Themistios 317-ca. 388

Themistios ca317-ca388

Themistios Euphrades

Themistios Euphrades 317-388

Themistios filosoof uit Romeinse Keizerrijk (317-388)

Themistios Griechischer Sophist

Themistios Griechischer Sophist 317-388

Themistios Philosophos

Themistios Philosophos 317-388

Themistios Redner

Themistios Redner 317-388

Themistios Rhetor und Philosoph der Spätantike

Themistios Sohn des Eugenios

Themistios Sohn des Eugenios 317-388

Themistios von Konstantinopel

Themistios von Konstantinopel 317-388

Themistios von Paphlagonien

Themistios von Paphlagonien 317-388

Themistius

Themistius 0317?-0388?

Themistius 317-ca. 388

Themistius asi 317-asi 388

Themistius c. 317-c. 388

Themistius ca 317-ca 388

Themistius Constantinopolitanus

Themistius Constantinopolitanus 317-388

Themistius Constantinopolitanus c. 317-c. 388

Themistius Euphrada

Themistius Euphrada 317-388

Themistius Euphrades

Themistius Euphrades 0317?-0388?

Themistius Euphrades 317-388

Themistius Euphrades ca317-ca388

Themistius Euphrades Paphlago

Themistius Euphrades Paphlago 0317?-0388?

Themistius Euphrades Paphlago 317-388

Themistius Orator

Themistius Orator 317-388

Themistius Peripateticus

Themistius Peripateticus 317-388

Themistius Peripateticus c. 317-c. 388

Themistius Philosophus

Themistius Rhetor

Themistius Rhetor 317-388

Themistius Roman era philosopher

Themistius Sophist

Themistius Sophist 317-388

Themistius Sophista

Themistius Sophista 317-388

Themiszthiosz

Θεμίστιος

Θεμίστιος 0317?-0388?

Темистий

Фемистий

Фемістій

תאמיסטיאוס

תאמסטאוס

תמסטיוס

תסמיסטיוס

تمیستیوس سیاست‌مدار و فیلسوف در یونان باستان

ثامسطيوس

ثامسطیوس 317-388

دامسطيوس.

テミスティオス

狄米斯提厄斯

Languages