Bates, Robert H.
Most widely held works about Robert H Bates
Most widely held works by Robert H Bates
When things fell apart : state failure in late-century Africa
by
Robert H Bates
( )
33 editions published between
2008
and 2015 in
English
and held by 1,704 WorldCat member libraries worldwide
From the Publisher: In the later decades of the 20th century, Africa plunged into political chaos. States failed, governments became predators, and citizens took up arms. In When Things Fell Apart, Robert H. Bates advances an explanation of state failure in Africa. In so doing, he not only plumbs the depths of the continent's late-century tragedy, but also the logic of political order and the foundations of the state. This book covers a wide range of territory by drawing on materials from Rwanda, Sudan, Liberia, and Congo. Written to be accessible to the general reader, it is nonetheless a must-read for scholars and policy makers concerned with political conflict and state failure
Markets and states in tropical Africa : the political basis of agricultural policies
by
Robert H Bates
( )
9 editions published between
1981
and 2014 in
English
and held by 1,315 WorldCat member libraries worldwide
Most Africans live in rural areas and derive their incomes from farming; but because African governments follow policies that are adverse to most farmers' interests, these countries fail to produce enough food to feed their populations. This book analyzes these and other paradoxical features of development in modern Africa and explores how governments have intervened and diverted resources from farmers to other sectors of society.--From the publisher
Open-economy politics : the political economy of the world coffee trade
by
Robert H Bates
( Book )
23 editions published between
1997
and 2020 in 3 languages and held by 850 WorldCat member libraries worldwide
The book will appeal to those interested in international political economy, comparative politics, and the political economy of development, especially in Latin America and Africa, and to readers wanting to learn more about the economic and political realities that underlie the coffee market. It is also must reading for those interested in "the new institutionalism" and modern political economy
Prosperity and violence : the political economy of development
by
Robert H Bates
( Book )
23 editions published between
2001
and 2010 in
English
and
Spanish
and held by 812 WorldCat member libraries worldwide
"In this work, Robert H. Bates investigates the origins and purpose of the modern state, an institution that has spread to every corner of the globe in a matter of centuries. Why has the modern state risen to such preeminence? How did something so vast, complex, and systematic evolve from tenuous agrarian societies riven with violence? Drawing from his extensive research among diverse cultures and his exceptional knowledge of European history, Bates traces a common thread that runs between the history of European development and the struggles of today's developing countries."--Jacket
Analytic narratives
by
Robert H Bates
( Book )
16 editions published between
1998
and 2020 in
English
and
Chinese
and held by 784 WorldCat member libraries worldwide
How can social scientists draw broad, applicable principles of political order from specific historical examples? In this volume, five senior scholars offer a methodological response to this question. The result is both a methodological manifesto and an applied handbook
Beyond the miracle of the market : the political economy of agrarian development in Kenya
by
Robert H Bates
( Book )
26 editions published between
1989
and 2005 in
English
and held by 717 WorldCat member libraries worldwide
This book examines the political economy of Kenya from the Mau Mau rebellion of the 1950s to the tragic droughts of the 1980s, with emphasis upon the political and economic origins of institutions and the role of these institutions in Kenya's economic development
Essays on the political economy of rural Africa
by
Robert H Bates
( Book )
18 editions published between
1983
and 2008 in
English
and
Undetermined
and held by 595 WorldCat member libraries worldwide
This book addresses several of the classic questions in African Studies. In the pre-colonial era what were the sources of order in societies without states? And what were the origins of 'traditional' states in Africa? In the colonial period, what caused the divergent patterns of agricultural development? And what were the issues that drove the peasantry into the rebellions which brought an end to colonial rule? Since independence what has been the fate of the African peasantry? What has been the content of the agricultural policies adopted by the governments of Africa? And how can these policies be accounted for? In answering these questions, the book explores various forms of explanation and advances a form of political economy based upon rational-choice analysis
Africa and the disciplines : the contributions of research in Africa to the social sciences and humanities
( Book )
13 editions published between
1993
and 1997 in
English
and held by 580 WorldCat member libraries worldwide
"African Studies, contrary to some accounts, is not a separate continent in the world of American higher education. Its intellectual borders touch those of economics, literature, history, philosophy, and art its history is the story of the world, both ancient and modern. This is the clear conclusion of Africa and the Disciplines, a book that addresses the question: Why should Africa be studied in the American university? This question was put to distinguished scholars in the social sciences and humanities, prominent Africanists who are also leaders in their various disciplines. Their responses make a strong and enlightening case for the importance of research on Africa to the academy. Paul Collier's essay, for example, shows how studies of African economies have clarified our understanding of the small open economies, and contributed to the theory of repressed inflation and to a number of areas in microeconomics as well. Art historian Suzanne Blier uses the terms and concepts that her discipline has applied to Africa to analyze the habits of mind and social practice of her own field. Christopher L. Miller describes the confounding and enriching impact of Africa on European and American literary theory. Political scientist Richard Sklar outlines Africa's contributions to the study of political modernization, pluralism, and rational choice. These essays, together with others from scholars in history, anthropology, philosophy, and comparative literature, attest to the influence of African research throughout the curriculum. For many, knowledge from Africa seems distant and exotic. These powerful essays suggest the contrary: that such knowledge has shaped the way in which scholars in various disciplines understand their worlds. Eloquent testimony to Africa's necessary place in the mainstream of American education, this book should alter the academy's understanding of the significance of African research, its definition of core and periphery in human knowledge." http://www.loc.gov/catdir/description/uchi052/93003770.html
The development dilemma : security, prosperity, and a return to history
by
Robert H Bates
( )
14 editions published between
2017
and 2020 in
English
and held by 573 WorldCat member libraries worldwide
Reassessing the developing world through the lens of Europe's pastToday's developing nations emerged from the rubble of the Second World War. Only a handful of these countries have subsequently attained a level of prosperity and security comparable to that of the advanced industrial world. The implication is clear: those who study the developing world in order to learn how development can be achieved lack the data to do so. In The Development Dilemma, Robert Bates responds to this challenge by turning to history, focusing on England and France. By the end of the eighteenth century, England stood poised to enter "the great transformation." France by contrast verged on state failure, and life and property were insecure. Probing the histories of these countries, Bates uncovers a powerful tension between prosperity and security: both may be necessary for development, he argues, but efforts to achieve the one threaten the achievement of the other. A fundamental tension pervades the political economy of development. Bates also argues that while the creation of a central hierarchy-a state-may be necessary to the achievement of development, it is not sufficient. What matters is how the power of the state is used. France and England teach us that in some settings the seizure and redistribution of wealth-not its safeguarding and fostering-is a winning political strategy. These countries also suggest the features that mark those settings-features that appear in nations throughout the developing world. Returning to the present, Bates applies these insights to the world today
more
fewer
Audience Level
0

1
Kids
General
Special
Audience level: 0.42 (from 0.12 for Robert Hic ... to 0.76 for Douglass C ...)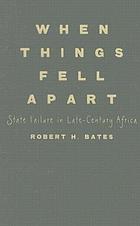 Covers
Alternative Names
Bates, Robert

Bates, Robert 1942-

Bates, Robert H., 1942-

Bates, Robert Hinrichs

Bates, Robert Hinrichs 1942-...

Hinrichs Bates, Robert H. 1942-

Robert Bates Amerikaans politicoloog

Robert Bates economista statunitense

Robert Bates politólogo estadounidense

Robert Bates Wirtschaftswissenschaftler/in (Harvard University)

Robert H. Bates

رابرت بیتس

روبيرت باتيس

Languages