Zeitlin, Irving M.
Most widely held works by Irving M Zeitlin
Rulers and ruled : an introduction to classical political theory from Plato to the Federalists
by
Irving M Zeitlin
( )
17 editions published between
1996
and 2009 in
English
and held by 1,544 WorldCat member libraries worldwide
This book illuminates several timeless principles of political philosophy that have come down to us through the ages in the writings of Plato, Aristotle, Machiavelli, Hobbes, Locke, Montesquieu, Rousseau, and the authors of the Federalist Papers, Madison, Hamilton, and Jay. Among these principles are the following: that a good society is based on law; that a good constitution balances social classes against each other; that a mixed constitution is best for this purpose; that popular sovereignty is the best foundation for a just and stable constitution; and that representative government is best for a large, complex society. In this valuable and accessibly written guide to the fundamentals of political thought, Irving Zeitlin shows that certain thinkers have given us insights that rise above historical context - 'trans-historical principles' that can provide the political scientist with an element of foresight, an ability not to predict events but to anticipate a certain range of possibilities. While the historian studies unique and unrepeatable circumstances such as those, for example, that gave rise to Julius Caesar, the political theorist, using these trans-historical principles, recognizes the conditions that can lead to Caesarism. Zeitlin draws on an unusual depth of knowledge, offering a lucid, interesting, and memorable summation of his chosen classic texts, in a work that will appeal strongly to his intended audience at the undergraduate level
Society, history, and the global human condition : essays in honor of Irving M. Zeitlin
by
Zaheer Baber
( )
9 editions published in
2010
in
English
and held by 805 WorldCat member libraries worldwide
This Festschrift for Irving M. Zeitlin honors a scholar whose work has influenced and continues to influence sociology, particularly classical sociological theory, sociology of religion, and historical sociology. Irving M. Zeitlin's scholarship andmentoring has also influenced and inspired a new generation of sociologists. The essays presented here address a wide range of topics that include classical sociological theory, globalization, bureaucracy, genocide, resistance, ethnic diversity, the intifada, anti-Semitism, democracy, geopolitical theory, war literature, science, and national culture
Ancient Judaism : biblical criticism from Max Weber to the present
by
Irving M Zeitlin
( Book )
23 editions published between
1984
and 2013 in
English
and
Undetermined
and held by 688 WorldCat member libraries worldwide
This book is a major contribution to the sociology of religion and to religious and biblical studies. Beginning from the classic work of Max Weber, the author analyses the origins of Judaism in the light of more recent scholarship. The result is a work that will become a standard point of reference in its field, and will be of great interest to the general reader as well as the specialist
Jesus and the Judaism of his time
by
Irving M Zeitlin
( Book )
16 editions published between
1988
and 2013 in
English
and held by 649 WorldCat member libraries worldwide
'The main aim of this work is to understand Jesus as he saw himself, and to compare that self-understanding with the ways in which others have grasped the nature of his mission. To achieve this aim, the key problems, questions and issues in dispute among scholars are reexamined, and resolved by means of a sociological method -- that is, carefully situating Jesus' biography in its social and historical context. The book includes a full analysis of the social structure of Palestine under Roman occupation, discussing the variety of sects and movements prevalent at the time, and the relation between the ruling Jewish circles and the Roman authorities. Materials relevant to our understanding of Jesus' life are analyzed, portraying his development from youth to his conflict with the Roman authorities
The historical Muhammad
by
Irving M Zeitlin
( Book )
12 editions published between
2007
and 2013 in
English
and held by 458 WorldCat member libraries worldwide
In his quest for the historical Muhammad, Zeitlin's chief aim is to catch glimpses of the birth of Islam and the role played by its extraordinary founder. Islam, as its Prophet came to conceive it, was a strict and absolute monotheism. How Muhammad had arrived at this view is not a problem for Muslims, who believe that the Prophet received a revelation from Allah or God, mediated by the Angel Gabriel. For scholars, however, interested in placing Muhammad in the historical context of the seventh-century Arabian Peninsula, the source of the Prophets inspiration is a significant question
Nietzsche : a re-examination
by
Irving M Zeitlin
( Book )
15 editions published between
1994
and 2013 in
English
and
Undetermined
and held by 392 WorldCat member libraries worldwide
No thinker in the history of modern philosophy has made such a radical attack on Western values as Friedrich Nietzsche. His importance as a philosopher lies precisely in the challenge he threw down to the religio-moral and intellectual foundations of Western society. Zeitlin's aim in this re-examination of Nietzsche's work is to consider how we should assess Nietzsche's philosophical claims today. He shows that although Nietzsche has given us a highly fruitful theory of the origin of moral values, his philosophy is beset by unresolved problems, ambiguities, and defects. Zeitlin's critical exposition contains several distinctive elements. He gives considerable attention to Nietzsche's theory of Ressentiment and the 'inversion of values' by elaborating the theory and applying it to the two classical cases with which Nietzsche was most concerned: the Jews and the Greeks. He analyses Socrates' encounter with the 'proto-Nietzcheans' of his time; Karl Marx's rejoinder to Max Stirner, the boldest of Nietzsche's precursors in the modern era; Nietzsche's one-sided and erroneous interpretation of Darwin's theory; and the dangerous implications of Nietzsche's 'beyond good and evil' aestheticism. Finally, Zeitlin confronts Nietzsche's protagonist, Zarathustra - that enthusiastic spokesman for the 'master morality'. This book will be essential reading for second-year students and above, plus professionals in the areas of philosophy, social theory, and political thought
Jews : the making of a diaspora people
by
Irving M Zeitlin
( Book )
9 editions published between
2012
and 2013 in
English
and held by 314 WorldCat member libraries worldwide
Traces the history of the Jewish diaspora from the ancient world to the present, beginning with expulsion from their ancestral homeland and concluding with the Holocaust and the Israeli-Palestinian conflict
more
fewer
Audience Level
0

1
Kids
General
Special
Audience level: 0.35 (from 0.04 for Rulers and ... to 0.97 for Shakaigaku ...)
Associated Subjects
Aesthetics
Bible.--Job
Bible.--Old Testament
Capitalism
Christian biography
Communism
Democracy
Equality
Ethics
Ethics, Modern
Gender identity in literature
Good and evil
Greece
Greek literature
Ideology
Imperialism
Islam
Jesus Christ
Jewish diaspora
Jewish interpretations of Jesus Christ
Jews
Jews--Social conditions
Judaism
Judaism--Historiography
Liberty
Literature and society
Marx, Karl,
Middle East--Palestine
Monotheism
Monotheism--History of doctrines
Muḥammad,--Prophet,
Nietzsche, Friedrich Wilhelm,
Philosophy, German
Plato
Political and social views
Political science
Political science--Philosophy
Polytheism
Religion--Philosophy
Revolutions
Socialism
Social sciences
Social sciences--Philosophy
Sociology
Theology
Tocqueville, Alexis de,
Women and literature
Women in literature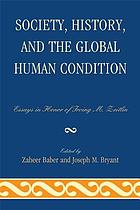 Covers
Alternative Names
Zeitlin, Irving

Zeitlin, Irving M.

Zeitlin, Irving Mordecai

Zeitlin, Irving Mordecai 1928-

짜이틀린, I. M

짜이틀린, 어빙 M

차이틀린, 어빙 M

ツァイトリン, I. M

Languages