National Bureau of Economic Research
Most widely held works about National Bureau of Economic Research
more
fewer
Most widely held works by National Bureau of Economic Research
Tax policy and the economy
by
James M Poterba
( )
21 editions published between
1987
and 2007 in
English
and held by 2,640 WorldCat member libraries worldwide
Annotation
Frontiers in health policy research
by
Universities--National Bureau Committee for Economic Research
( )
8 editions published between
1998
and 2002 in
English
and held by 2,455 WorldCat member libraries worldwide
Globalization in historical perspective
by
Michael D Bordo
( )
6 editions published between
2003
and 2005 in
English
and held by 2,073 WorldCat member libraries worldwide
The 11 papers in this text explore a variety of topics on globalization in the context of the history of international trade, including how the process of globalization can be measured by the long-term integration of markets, and what trends and questions develop as markets converge and diverge
Mexican immigration to the United States
( )
10 editions published in
2007
in
English
and held by 1,984 WorldCat member libraries worldwide
"This volume contains the studies presented at the fourth NBER conference, held in 2005"--Page 2
The Economics of aging
by
David A Wise
( )
14 editions published between
1988
and 2003 in
English
and held by 1,912 WorldCat member libraries worldwide
The Economics of Aging presents results from an ongoing National Bureau of Economic Research project. Contributors consider the housing mobility and living arrangements of the elderly, their labor force participation and retirement, the economics of their health care, and their financial status. The goal of the research is to further our understanding both of the factors that determine the well-being of the elderly and of the consequences that follow from an increasingly older population with longer individual life spans. Each paper is accompanied by critical commentary
The risks of financial institutions
by
Mark S Carey
( )
4 editions published between
2005
and 2006 in
English
and held by 1,873 WorldCat member libraries worldwide
"Until about twenty years ago, the consensus view on the cause of financial-system distress was fairly simple: a run on one bank could easily turn to a panic involving runs on all banks, destroying some and disrupting the financial system. Since then, however, a series of events - such as emerging-market debt crises, bond-market meltdowns, and the Long-Term Capital Management episode - has forced a rethinking of the risks facing financial institutions and the tools available to measure and manage these risks."
Social security programs and retirement around the world : fiscal implications of reform
by
Jonathan Gruber
( )
2 editions published in
2007
in
English
and held by 1,856 WorldCat member libraries worldwide
(Publisher-supplied data) The future of Social Security is troubled, both in the United States and in most other developed countries with aging populations. As improvements in health care and changes in life styles enable retirees to live longer than ever before, the stress on national budgets will increase substantially. In Social Security Programs and Retirement around the World, Jonathan Gruber, David A. Wise, and experts in many countries examine the consequences of reforming retirement benefits in a dozen nations. Drawing on the work of an international group of noted economists, the editors argue that social security programs provide strong incentives for workers to leave the labor force by retiring and taking the benefits to which they are entitled. By penalizing work, social security systems magnify the increased financial burden caused by aging populations, thus contributing to the insolvency of the system. This book is a model of comparative analysis that evaluates the effects of illustrative policies for countries facing the impending rapid growth of social security benefits. Its insights will help inform one of the most pressing debates
G7 current account imbalances : sustainability and adjustment
by
Richard H Clarida
( )
4 editions published between
2006
and 2007 in
English
and held by 1,827 WorldCat member libraries worldwide
"This volume collects the eleven original papers that were written for the NBER Project on G7 Current Account Imbalances. Four major themes emerged from the papers written for the project. First, there was broad agreement that the current account imbalances that prevailed among the G7 countries as of June 2005 would ultimately decline, although there was no consensus on when or how this would occur . Second, there was agreement that adjustments in global currency markets would likely be associated with the shifts in global saving and investment patterns that would be required to bring about the ultimate decline in G7 current account imbalances. Third, while the focus of the conference was on current account imbalances in the G7 countries, it was recognized that the aggregate excess of saving over investment that existed among the emerging market economies at the time of the conference, as well as the currency intervention policies of some of these countries, were contributing to the current imbalances in the G7 that prevailed as of June 2005. Fourth, there was a consensus that re-valuation of the evolving foreign asset and liability positions of the G7 countries would play a role during process by which current account imbalances narrowed, although there was range of opinion concerning how large a role such revaluation effects would play"--National Bureau of Economic Research web site
Fiscal policy and management in East Asia
by NBER-East Asia Seminar on Economics
( )
4 editions published between
2007
and 2008 in
English
and held by 1,802 WorldCat member libraries worldwide
Managing fiscal policy--the revenues and spending of an individual nation--is among the most challenging tasks facing governments. Wealthy countries are constrained by complex regulation and taxation policies, while developing nations often face high inflation and trade taxes. In this volume, esteemed economists Takatoshi Ito and Andrew K. Rose, along with other leading experts, examine the problems and challenges facing public finance in East Asian developing countries as well as the United States and Japan. Fiscal Policy and Management in East Asia explores the inefficient tax systems of many developing countries, the relationship between public and private sector economic behavior, and the pressing issue of future obligations that governments have undertaken to provide pensions and health care for their citizens. Featuring both overviews and analyses of the countries discussed, this book will be of value to economists and policymakers seeking to understand fiscal policy in a global context
The economics of art museums
by
Martin S Feldstein
( )
4 editions published between
1989
and 1991 in
English
and held by 1,792 WorldCat member libraries worldwide
The National Bureau of Economic Research organized a project to explore the economic issues facing the major art museums of the United States. For this purpose NBER defined economics broadly to include not only the financial situation of the museums but also the management and growth of museum collections, the museums' relationship with the public, and the role of the government in supporting art museums. This volume brings together nontechnical essays on these issues by economists associated with the NBER and personal statements by leaders of America's major national art muse
more
fewer
Audience Level
0

1
Kids
General
Special
Audience level: 0.12 (from 0.01 for Frontiers ... to 0.71 for Retrospect ...)
Related Identities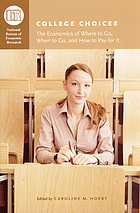 Alternative Names
N.B.E.R.

N.B.E.R. (National Bureau of Economic Research)

National Bureau of Economic Research

National Bureau of Economic Research (U.S.)

NBER.

NBER (Cambridge, Massachusetts)

NBER (National Bureau of Economic Research)

NBER (National Bureau of Economic Research : U.S.)

NBER (National Bureau of Economic Research, USA)

United States National Bureau of Economic Research

Y Swyddfa Genedlaethol Ymchwil Economaidd

Zenkoku Sogo Keizai Kenkyujo

Zenkoku Sogo Keizai Kenkyujo (Amerika Gasshukoku)

Zenkoku Sōgō Keizai Kenkyūjo (Cambridge, Mass.)

Национальное бюро экономических исследований

Національне бюро економічних досліджень

Տնտեսական հետազոտությունների ազգային բյուրո

المكتب القومي للأبحاث الاقتصادية

دفتر ملی پژوهش اقتصادی

전미경제연구소

ゼンコク ソウゴウ ケイザイ ケンキュウジョ

ゼンコク ソウゴウ ケイザイ ケンキュウジョ (アメリカ ガッシュウコク)

全国総合経済研究所

全米経済研究所

美國全國經濟研究所

Languages
Covers