Kronenfeld, Jennie J.
Most widely held works about Jennie J Kronenfeld
Most widely held works by Jennie J Kronenfeld
Healthcare reform in America : a reference handbook
by
Jennie J Kronenfeld
( Book )
10 editions published between
2004
and 2017 in
English
and held by 822 WorldCat member libraries worldwide
Examines the economic, social, and political issues involved in implementing a national healthcare system in the United States and offers insight to providing affordable, high-quality services available to everyone
Debates on U.S. health care
by
Mark A Zezza
( Book )
8 editions published between
2012
and 2013 in
English
and
Undetermined
and held by 434 WorldCat member libraries worldwide
This issues-based reference work shines a spotlight on health care policy and practice in the United States. Impassioned debates about the best solutions to health care in America have perennially erupted among politicians, scholars of public policy, medical professionals, and the general public. The fight over the Health Care Reform Act of 2010 brought to light a multitude of fears, challenges, obstacles, and passions that often had the effect of complicating rather than clarifying the debate. The discourse has never been more heated. The complex issues that animate the health care debate have forced the American public to grapple with the exigencies of the present system with regard to economic, fiscal, and monetary policy, especially as they relate to philosophical, often ideologically driven approaches to the problem. Americans have also had to examine their ideas about the relationship of the individual to and interaction with the state and the varied social and cultural beliefs about what an American solution to the problem of health care looks like. In light of the need to keep students, researchers, and other interested readers informed and up-to-date on the issues surrounding health care in the U.S., this volume uses introductory essays followed by point/counterpoint articles to explore prominent and perennially important debates, providing readers with views on multiple sides of this complex issue.--Publisher website
Controversial issues in health care policy
by
Jennie J Kronenfeld
( Book )
14 editions published between
1992
and 1994 in
English
and held by 406 WorldCat member libraries worldwide
In the last 35 years, health care in the US has grown into a multi-billion dollar industry. Americans view access to health care as important and take pride in their excellent medical care technology. However, there is growing consensus that the US health care system is in crisis - but there is far less agreement on what to do about it. This book examines the major controversies confronting American society, health care professionals and policy makers: access to health care, costs and financing health care and the quality of health care. Kronenfeld discusses whether the system can solve these
The changing federal role in U.S. health care policy
by
Jennie J Kronenfeld
( Book )
6 editions published in
1997
in
English
and
Undetermined
and held by 386 WorldCat member libraries worldwide
This te×t reviews the key features of the American health care system, its infrastructure, and federal legislative process and outcomes in the health care arena. It also e×amines how the federal role in funding and delivery of health care services may change in the future
Health care policy : issues and trends
by
Jennie J Kronenfeld
( Book )
12 editions published in
2002
in
English
and
Undetermined
and held by 377 WorldCat member libraries worldwide
This book offers a systematic review of major issues and trends in health care policy, including those related to physical health and disease trends, mental and behavioral health concerns, reorganizing the U.S. health system, and managed care and health care personnel. Kronenfeld addresses the problems, challenges, issues and trends in the policies that determine the role and future of health care in the United States
Medicare
by
Jennie J Kronenfeld
( Book )
4 editions published between
2010
and 2011 in
English
and held by 279 WorldCat member libraries worldwide
Overview: Medicare is an important source of health-care coverage for almost all Americans aged 65 and over. It can also be one of the most confusing subjects with which citizens must contend. Among the first books to examine the impact of the 2010 health-care reforms on the program, Medicare reviews Medicare's history, explores its current coverages and problems, and takes a look at its probable future. Readers will learn about attempts to pass Medicare legislation, as well as about many of the important changes that have occurred since 1965. They will read about continuing cost concerns over the years and about modifications in both hospital and physician payment approaches. Critically for today's readers, the book examines current issues, such as drug coverage, HMO/managed care options, long-term-care coverage, the demographic-based funding crisis, Medicaid, and the impact of recent health-care reforms. The goal throughout is to help consumers understand Medicare so we can insure that the program remains strong
Getting an academic job
by
Jennie J Kronenfeld
( Book )
7 editions published between
1996
and 1997 in
English
and held by 250 WorldCat member libraries worldwide
This guide offers practical advice on successfully finding an academic job. The first chapter outlines factors that affect the academic job search, including demographic trends, the general state of the economy and prevailing political climate, the need for cultural diversity on academic faculties, conditions within specific academic disciplines, politics and competition at the job applicant's Ph. D. institution, and the applicant's background and assets. Chapter 2 discusses the process of searching for a job. Sources of information about job opportunities, job application strategies, and the preparation of the curriculum vita and cover letter are discussed. Appendices give sample curriculum vitaes and letters. Chapter 3 covers the job interview and presentation. Chapter 4 gives strategies for landing the right job and tactics for negotiating with prospective employers. Chapter 5 offers advice to dual-career couples and senior academics and discusses nonacademic positions. The last chapter presents checklists of "do's" and "don'ts" of job searching. The "do's" of successful job searches include accurate evaluation of assets, making an effort to overcome weaknesses, working with advisers and senior colleagues to obtain interviews, and practicing the interview presentation. The "don'ts" include underestimating the competition, pretending to be someone one is not, and putting others down. (Contains 33 references.) (Prw)
Schools and the health of children : protecting our future
by
Jennie J Kronenfeld
( Book )
7 editions published between
1999
and 2000 in
English
and
Undetermined
and held by 147 WorldCat member libraries worldwide
This book defines key issues in the debate over the role of schools in the health of children, outlining the history of school health programs and discussing the contemporary issue of school health care delivery. Health needs are increasingly being met by the major social institution in U.S. society that deals with the needs of children--the public school system. The book suggests that the health needs of children cannot be completely separated from the welfare needs of children. The chapters are: (1) "Introduction"; (2) "History of Child Health and School Health Programs: Background and Current Roles of School Health Programs"; (3) "Health Status of Children: Past and Present"; (4) "Models of School Health Delivery: The Growth of School-Based Clinics and Centers"; (5)"Experiences in Arizona: The Development of New Clinics in a State with a Managed-Care Medicaid System"; and (6) "The Need To Protect the Future: The Impact of Changes in Welfare and Health Policies and Linkages with School Health Issues." (Contains approximately 220 references.) (Sm)
Gender perspectives on reproduction and sexuality
by
Marcia Texler Segal
( Book )
13 editions published in
2004
in
English
and held by 128 WorldCat member libraries worldwide
This volume offers feminist perspectives on the social, cultural and medical aspects of women as sexual beings and of their fertility, pregnancy and child bearing. It serves as a companion to "Advances in Gender Research volume 7, Gender perspectives on Health and Medicine: Key Themes". As in the previous volume, the authors critique and transcend conventional biomedical approaches to the subject matter. The seven essays raise questions about control and agency asking who decides if, when and how fertility should be controlled and the circumstances under which child birth takes place. They address decision-making on multiple levels from the individual to the national and transnational and grapple with such controversial matters as genital cutting, self-help menstrual extraction and direct-entry midwifery. They interrogate the policies and practices of states and transnational agencies that have a bearing on sexuality and reproductive health, the ways in which womens genitalia have been objectified and manipulated by practices that purport to be both traditional and modern, and the motivations of those who provide alternative forms of fertility control and birthing methods. The intended audience is the social science community, especially those who are interested in the study of gender, sexuality and reproductive health, medicine and alternative medicine, and the areas where these interface
more
fewer
Audience Level
0

1
Kids
General
Special
Audience level: 0.04 (from 0.01 for Medicare / ... to 0.99 for Kronenfeld ...)
Related Identities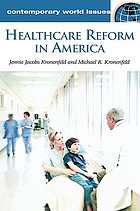 Alternative Names
Jacobs Kronenfeld, Jennie

Kronenfeld, Jennie

Kronenfeld, Jennie J.

Kronenfeld, Jennie Jacobs.

Languages
Covers