Heidenheimer, Arnold J.
Most widely held works by Arnold J Heidenheimer
The Governments of Germany
by
Arnold J Heidenheimer
( Book )
59 editions published between
1961
and 1975 in 3 languages and held by 1,658 WorldCat member libraries worldwide
Having achieved solid marks during an adolescent testing period, having proved capable of eclipsing the faulty patterns of earlier generations -- so the argument goes -- the West German political system should now be treated as a fully mature and democratic one. Thus, President Luebke has argued that the German "postwar period" be officially considered as having been concluded. This book should help the reader decide whether German institutions ought now to be accepted as much on face value as those of other democratic Western systems. As regards progress toward German unification, however, very little has occurred during the five-year period. Considered as both societies and political systems, West and East Germany are still very much the hostile twins they were in 1961, when the Berlin wall was built. - Preface
Comparative public policy : the politics of social choice in Europe and America
by
Arnold J Heidenheimer
( Book )
78 editions published between
1975
and 1996 in
English
and
Undetermined
and held by 1,450 WorldCat member libraries worldwide
The third edition of this established text adds coverage of Japan to the United States, Britain, France, West Germany, the Netherlands and Sweden. It provides a comparative introduction to the formulation, substance and implementation of public policy to its range of coverage
The Development of welfare states in Europe and America
by
Peter Flora
( Book )
41 editions published between
1980
and 2005 in
English
and held by 772 WorldCat member libraries worldwide
"This volume seeks to contribute to an interdisci-plinary, comparative, and historical study of Western welfare states. It attempts to link their historical dynamics and contemporary problems in an international perspective.Building on collaboration between European-and American-based research groups, the editors have coordinated contributions by economists, political scientists, sociologists, and historians. The developments they analyze cover a time span from the initiation of modern national social policies at the end of the nineteenth century to the present.The experiences of all the presently existing Western European systems except Spain and Por-tugal are systematically encompassed, with com-parisons developed selectively with the experi-ences of the United States and Canada. The devel-opment of the social security systems, of public expenditures!and taxation, of public education and educational opportunities, and of income inequal-ity are described, compared, and analyzed for varying groupings of the Western European and North American nations.This volume addresses itself mainly to two audi-ences. The first includes all students of policyproblems of the welfare states who seek to gain a comparative perspective and historical under-standing. A second group may be more interested in the theory and empirical analysis of long-term societal developments. In this context, the growth of the welfare states ranges as a major departure, along with the development of national states and capitalist economies.The welfare state is interpreted as a general phenomenon of modernization, as a product of the increasing differentiation and the growing size of societies on the one hand, and of processes of social and political mobilization on the other. It is an important element of the structural convergence of modern societies ? by its mere weight in all countries ? and at the same time a source of divergence by the variations within its institutional structure."--Provided by publisher
Adenauer and the CDU; the rise of the leader and the integration of the party
by
Arnold J Heidenheimer
( Book )
22 editions published between
1960
and 1977 in 3 languages and held by 484 WorldCat member libraries worldwide
This is a study in the reestablishment of de mocratic party politics in divided and occupied Germany after the downfall of the National Socialist tyranny. Its subject is the growth of the Christian Democratic Union and the rise to power of its leader, Konrad Adenauer. Closely associated with the success of the German Federal Republic in achieving prosperity, political and military power and the status of an ally of the Western powers, the CDU has yet been the subject of widely varying evaluations. Like the regime with which it is associated, it suffers from the fact that for many observers admiration for some German post-war achievements is mixed with residual distrust and skepticism. In addition, understanding of the CDU has been handicapped by confused images of the forces it represents, lack of knowledge about its internal organization, and the overwhelming position which its leader has achieved in recent years. To observers both in Germany and abroad the dominant Chancellor and party leader appears to overshadow both party and government with the result that the 1950'S, the vital period of German reconstruction, has already been labelled the Adenauer Decade
Political corruption : concepts & contexts
by
Michael Johnston
( Book )
28 editions published between
2001
and 2017 in
English
and
Undetermined
and held by 453 WorldCat member libraries worldwide
"Corruption is once again high on the international policy agenda as a result of globalization, the spread of democracy, and major scandals and reform initiatives. But the concept itself has been a focus for social scientists for many years, and new findings and data take on richer meanings when viewed in the context of long-term developments and enduring conceptual debates. This compendium, a much-enriched version of a work that has been a standard reference in the field since 1970, offers concepts, cases, and fresh evidence for comparative analysis. Building on a nucleus of classic studies laying out the nature and development of the concept of corruption, the book also incorporates recent work on economic, cultural, and linguistic dimensions of the problem, as well as critical analyses of several approaches to reform. While many authors are political scientists, work by historians, economists, and sociologists are strongly represented. Two-thirds of the nearly fifty articles are based either on studies especially written or translated for this volume, or on selected journal literature published in the 1990s. The tendency to treat corruption as merely a synonym for bribery is illuminated by analyses of the diverse terminology and linguistic techniques that help distinguish corruption problems in the major languages. Recent attempts to measure corruption, and to analyze its causes and effects quantitatively are also critically examined. New contributions emphasize especially: corruption phenomena in Asia and Africa; contrasts among region and regime types; comparing U.S. state corruption incidence; European Party finance and corruption; assessments of international corruption rating project; analyses of international corruption control treaties; unintended consequences of anti-corruption efforts. Cumulatively, the book combines description richness, analytical thrust, conceptual awareness, and contextual articulation."--Provided by publisher
Political corruption : a handbook
by
Michael Johnston
( Book )
34 editions published between
1987
and 2002 in
English
and
Undetermined
and held by 414 WorldCat member libraries worldwide
The editors of this volume approached their work with a number of explicit goals: first, to compile a definitive selection of the most important literature in this rapidly developing field; second, to demonstrate important developments and continuities in the past 20 years; and third, to provide a resource for future comparative or cross-national research. Most of their selections have been published in the last 15 years; some were written especially for this volume. Scholars from all social science disciplines are represented, including law, history, sociology and communications, as well as political science. Cumulatively, the book combines descriptive richness, analytical thrust, conceptual awareness, and contextual articulation
Business associations and the financing of political parties. A comparative study of the evolution of practices in Germany, Norway and Japan
by
Arnold J Heidenheimer
( Book )
21 editions published between
1968
and 1976 in 4 languages and held by 354 WorldCat member libraries worldwide
Students of government and social power recognize that wherever governmental systems embrace popular elections, the functions and mechanisms of political finance constitute inevitable links of influence between economic structures and political processes. The transmu tation of economic power into political power has been of historic concern from ancient philosophers to modern political scientists. Efforts to discern and interpret the political roles of those engaged in funding candidates and political parties have intensified in recent years. Attention given the subject has deepened substantially in the United States since World War II and, while there have been differ ences in range and quality, serious analytical interests have also developed in numerous other nations around the world. These trends have been accompanied by increasingly more energetic and sophisti cated attempts at comparative analysis. Problems in transnational studies of political processes have always been formidable. The comparative study of political finance has been retarded by difficulties in defining units of analysis that make it possible to identify in some measurable way the effects of political fmance in precise phases of the governing process, e. g., in the per suasion of voters, in party nominating processes, in executive decision making. Cash transactions, even when known with confidence, consti tute only a partial aspect of political finance. Other shades of economic power may be equally relevant, involving services or goods directly provided, credits and other economic benefits extended or withheld, and the exercise of less tangible but equally potent influence
Disparate ladders : why school and university policies differ in Germany, Japan, and Switzerland
by
Arnold J Heidenheimer
( Book )
13 editions published between
1996
and 2018 in
English
and held by 330 WorldCat member libraries worldwide
This study breaks new ground in examining how political factors helped lead three countries with highly regarded education systems to evolve quite different structures and processes in their secondary and higher education sectors. Their educational "ladders" are disparate because the techniques and timing for selecting students for further educational opportunities vary both among the three nations, and within the German and Swiss federal systems. The comparative analysis seeks to place the Japanese trajectory with reference to European developments, and to account for some of its unique aspects. Building on an extensive record of publication on comparative education policies and welfare state development, Heidenheimer places special emphasis on exploring the network of relationships between the various levels of the educational system and tiers of government
more
fewer
Audience Level
0

1
Kids
General
Special
Audience level: 0.52 (from 0.40 for The Govern ... to 0.96 for Lo svilupp ...)
Related Identities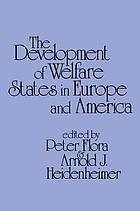 Covers
Alternative Names
Arnold J. Heidenheimer Prof. of Political Science

Heidenheimer, A. J. 1929-

Heidenheimer, A. J. 1929-2001

Heidenheimer, Arnold

Heidenheimer, Arnold J.

Heidenheimer, Arnold Joseph 1929-

Heidenheimer, Arnold Joseph 1929-2001

Languages