Chorafas, Dimitris N.
Most widely held works by Dimitris N Chorafas
Systems and simulation
by
Dimitris N Chorafas
( Book )
31 editions published between
1965
and 1967 in 3 languages and held by 582 WorldCat member libraries worldwide
In this book, we study theoretical and practical aspects of computing methods for mathematical modelling of nonlinear systems. A number of computing techniques are considered, such as methods of operator approximation with any given accuracy; operator interpolation techniques including a non-Lagrange interpolation; methods of system representation subject to constraints associated with concepts of causality, memory and stationarity; methods of system representation with an accuracy that is the best within a given class of models; methods of covariance matrix estimation;methods for low-rank
Applying expert systems in business
by
Dimitris N Chorafas
( Book )
15 editions published between
1987
and 1988 in
English
and held by 492 WorldCat member libraries worldwide
Management perspectives; Decision support and the information center; What is meant by atificial intelligence? Expert systems and the industrialization of knowledge; Knowledge engineering, Knowledge management; The human window; The reference machine;
Control systems functions and programming approaches
by
Dimitris N Chorafas
( Book )
25 editions published in
1966
in
English
and held by 378 WorldCat member libraries worldwide
V.1 - The dynamics of digital automation. Evaluating data control opportunities. The functions of a data system. Studying the general structure. Principles of systems analysis. Data collection and teletransmission; Data collection problems; Conversion methods; Dta carriers. Structural aspects of teletransmission. Numerical, logical, and stochastic processes. The use of numerical systems. Fundamentals of Boolean algebra. Classifications in information retrieval. Stochastic searching. Mathematics for systems control. Analysis, speculation, and evolution. The mathematical simulator. Evaluating mathematical programming. Establishing systems reliability. Programming for real-time duty. Considering programming approaches; In-memory operations; Real-time executive routines. Programming aids for process control. v.2 - Process - type cases and data control. Computer usage in the process industry. Applications with technical problems. The rationalization of management data. Applications in the field of accounting. Controlling a power production plant. Applications in the metal industry. Computer usage in the steel industry. Evaluating the data load. Production and inventory control at the forge metal works. Quality assurance as a real-time application. Guidance for discrete particles. Airline reservations systems. Guidance approaches to air traffic. Aircraft detection and in-flight tracking. Railroad, subway, and car traffic problems. Digital automation in banking
Financial boom and gloom : the credit and banking crisis of 2007-2009 and beyond
by
Dimitris N Chorafas
( Book )
20 editions published in
2009
in
English
and held by 367 WorldCat member libraries worldwide
"This is the biggest financial crisis of the post-World War II years. A superbubble has been created by high leverage, novel products and the assumption of more and more risk. This has swelled for a quarter of a century and now burst. Institutions are better placed to face this crisis when properly regulated. However, American, British, German and French big banks have fought for the last two decades to reduce the regulators' reach - bringing themselves and the economy the risk of a Second Great Depression. Mortgages were pooled with other mortgages; the pools were sliced into tranches and marketed worldwide as bonds to banks, pension funds, insurance companies, hedge funds and other investors. No one knew, or cared to know, how much risk was embedded in them and how this exposure could be managed if worst came to worst. Supervisory authorities did not react. They looked the other way when the same shaky mortgages were repackaged 20 to 30 times over and sold on. Federal Reserve, Securities and Exchange Commission (SEC) and other regulators watched this happening in the false belief that markets correct their own excesses - they do not. This book offers comprehensive coverage of how and why credit risk escaped management control and supervisory watch. It gives a down to earth explanation of Collateralized Debt Obligations (CDOs), Credit Defaults Swaps (CDSs), their business opportunities and their risks, plus a clear explanation of the difference between solvency and liquidity. It also includes practical examples on asset-backed commercial papers, structured investment vehicles, the carry trade, auction-rate securities and a case study on Northern Rock."--Publisher's website
Management risk : the bottleneck is at the top of the bottle
by
Dimitris N Chorafas
( Book )
17 editions published between
2003
and 2004 in
English
and held by 298 WorldCat member libraries worldwide
The author outlines the reasons why management risk must be examined within the perspective of each company's business challenges. He suggests there is a synergy between shareholder value and business ethics. He also underlines the importance of honesty, the risks associated with short-sighted management and over centralization, the benefits of innovative strategies and senior management's accountability for reliable financial reporting. The text is based on an extensive research project done by the author between 2000 and 2002 in the US, the UK, France, Italy and Switzerland
Globalization's limits : conflicting national interests in trade and finance
by
Dimitris N Chorafas
( Book )
15 editions published between
2009
and 2016 in
English
and held by 204 WorldCat member libraries worldwide
So far there has been only praise for globalization. However, the export wave of China's manufacturing machine and, more recently, the Global financial crisis show that Globalization has limits. Globalization, the internationalization of trade, and financial integration are having enormous implications for businesses as well as for the whole economies of countries or blocks of countries. In this book Dr. Chorafas argues that research is now producing evidence that there are limits to such globalization and amalgamation and that these need to be better defined and understood if some of the problems now being identified are to be prevented from applying the brakes, or worse, putting the process into reverse gear. The author examines the impact on countries such as the United States and European Union of occurrences like China's emergence as a massive manufacturing platform and the distortions of trade that result, affecting countries' GDP and creating problems such as uncontrollable current account deficits. He also considers the effect of Sovereign Wealth Funds as new entrants on the scene. These, he argues, are seen by some as 'the Trojan horses of state capitalism', particularly in what he defines as the 'absence of a global sheriff'. "Globalization's Limits" looks at the EU and the Euroland as a test of globalization. The conclusions Chorafas draws about the effect on member states of pan-European banking, and the Euro as common currency, have implications for Britain and for the rest of the world. Issues relating to missed opportunities and leadership beg questions such as 'Who, if anybody, is or should be in charge of global monetary policy?'
Liabilities, liquidity, and cash management : balancing financial risks
by
Dimitris N Chorafas
( Book )
9 editions published in
2002
in
English
and held by 187 WorldCat member libraries worldwide
In today's highly leveraged economy, good liabilities management has become vitally important. Entire sectors of the economy, and some of the biggest financial and industrial companies, face dramatic overexposure problems. But adequate internal liability controls can greatly reduce risk. Featuring case studies in a number of industries and examples of both proper and improper liabilities management in major organizations, Liabilities, Liquidity, and Cash Management shows managers, accountants, investment advisors, and other professionals who deal with liabilities and overexposure how they can
more
fewer
Audience Level
0

1
Kids
General
Special
Audience level: 0.35 (from 0.00 for The busine ... to 0.58 for Control sy ...)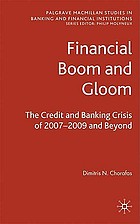 Alternative Names
Chorafas, D.N.

Chorafas, D. N. 1926-

Chorafas, Dimitres N. 1926-

Chorafas, Dimitris.

Chorafas, Dimitris 1926-

Chorafas, Dimitris N. 1926-

Chorafas, Dmitris N.

Chorafas, Dmitris N. 1926-

Chōraphãs, Dēmētrios N. 1926-

Chorofas, Dimitris N.

Horafas, D. N.

Khorafas Dimitris N. 1926-....

Sissini

Sissini 1926-

Хорафас, Д., 1926-

コラファス, D. N

Languages
Covers