Chorafas, Dimitris N.
Most widely held works by Dimitris N Chorafas
Operational risk control with Basel II : basic principles and capital requirements
by
Dimitris N Chorafas
( )
19 editions published between
2003
and 2005 in
English
and held by 1,918 WorldCat member libraries worldwide
"This book addresses itself to these and many other issues and will be especially valuable to commercial bankers, investment bankers, loans officers, traders, treasurers, backoffice managers, internal and external auditors, consultants, regulators and risk managers." "It provides factual and documented evidence of how financial institutions define operational risk, how and why they go beyond the more classical operational risk reasons, like fraud, and which measures they take for their management." "Another major issue the book covers in detail is technical risk and operational risk in the insurance industry. Risk factors are identified and the use of insurance policies to mitigate operational risk are analyzed in a factual and document manner."--Jacket
Risk management technology in financial services : risk control, stress testing, models, and IT systems and structures
by
Dimitris N Chorafas
( )
18 editions published between
2003
and 2007 in
English
and held by 1,765 WorldCat member libraries worldwide
Written for professionals in financial services with responsibility for IT and risk management, this work surveys the methodology required and IT systems and structures to support it according to Basel II. It also discusses types of risk, stress analysis and the use of scenarios, mathematical models, and IT systems and infrastructure requirements
Wealth management : private banking, investment decisions and structured financial products
by
Dimitris N Chorafas
( )
24 editions published between
2005
and 2011 in
English
and held by 1,765 WorldCat member libraries worldwide
"This book addresses Private Banking and investment decisions, particularly investments in Structured Financial Products. Dr Dimitris Chorafas examines in a rigorous manner whether structured financial products are advisable for retail and institutional investors and, if yes, which risks they entail."--Jacket
Stress testing for risk control under Basel II
by
Dimitris N Chorafas
( )
19 editions published between
2006
and 2011 in
English
and held by 1,685 WorldCat member libraries worldwide
The only book to explain the new advanced testing methodology required by Basel II regulations for banks
IFRS, fair value and corporate governance : the impact on budgets, balance sheets and management accounts
by
Dimitris N Chorafas
( )
20 editions published in
2006
in
English
and held by 1,635 WorldCat member libraries worldwide
"The research conducted by Dr. Chorafas for this book documents that the process of meeting IFRS requirements presents opportunities and challenges to all enterprises. As many companies have found out, abandoning the classical accruals accounting for marking-to-market their transactions and portfolio positions, has not been easy. The conversion process has affected several functions within the organization including balance sheets, P & L statements, auditing, risk control, information systems, and management accounting." "The book has many case studies based on actual experiences. These range from the implementation of IFRS directives such as hedge accounting, to developing practices of real-time balance sheets; the help provided by sophisticated accounting solutions; help in stress testing; and a comprehensive definition of the role of the audit committee."--Jacket
Energy, environment, natural resources and business competitiveness : the fragility of interdependence
by
Dimitris N Chorafas
( )
16 editions published between
2010
and 2016 in
English
and held by 1,475 WorldCat member libraries worldwide
Every generation leaves both assets and liabilities to the next. Alert people can see we are going to leave our children and grandchildren with a nearly unsolvable test of energy supplies; waste polluting the air and water; and, the appalling problem of a huge and uncontrollable explosion in world population. "Energy, Environment, Natural Resources and Business Competitiveness" addresses itself to those having a professional, academic or general interest in these issues: energy sources, their nature and contribution, environmental problems associated to power production and usage, financing and control of energy-related projects and processes, future direction of agriculture produce now used as energy, complex social and technical issues resulting from lack of family planning - and, therefore, of demands for energy, impact of energy and an exploding population on pollution, and truth and hype about the most talked about environmental subjects. In this fourth book for Gower, Dimitris Chorafas reviews Europe, America and Asia's energy needs in the coming decade, pointing out that current policies are inadequate at best, and more likely disastrous for the economy. Governments persist in having their own agenda and priorities as well as plenty of constraints and taboos, yet when he critically examines the challenges Dr Chorafas concludes that no government can solve all current energy problems by acting alone. The book confronts current thinking, and its after-effect on policies and practices. Readers accustomed to mainstream books and articles which blame fossil fuels for a deteriorating world environment will find this a contrary opinion
Economic capital allocation with Basel II : cost, benefit and implementation procedures
by
Dimitris N Chorafas
( )
19 editions published between
2004
and 2007 in
English
and held by 1,287 WorldCat member libraries worldwide
This book is a complimentary follow-on book to Operational Risk Control with Basel II. While the previous book focuses on operational risk, Economic Capital Allocation provides an overview of credit risk within the context of the Basel II accords. The book provides: * comprehensive coverage of the evolution of the banking industry with Basel II in mind * extensive information on the capital requirements for bank liquidity and solvency * coverage of the new rules as laid down by the supervisory authorities of the Group of Ten industrialized nations * key information on the technical requirements for credit institutions such as: new credit rating scales, modeling of credit risk, control of operational risks, and, novel ways and means for the management of exposure to Credit Risk * Basel II accords must be implemented by 2006 and require 2 years preparation for proper implementation * Author at the forefront in the development of the Basel II Capital Adequacy Accord * Based on intensive research in the US, UK and continental Europe
Education and employment in the European Union : the social cost of business
by
Dimitris N Chorafas
( )
19 editions published between
2010
and 2016 in
English
and
Undetermined
and held by 1,123 WorldCat member libraries worldwide
Education, employment policy, and pensions are inextricably linked and critical to any sort of business or economic revival, let alone success. This book addresses all three. It argues that European educational standards, from primary schools through to universities, leave much to be desired. It then turns to employment
Liabilities, liquidity, and cash management : balancing financial risks
by
Dimitris N Chorafas
( )
9 editions published in
2002
in
English
and held by 1,024 WorldCat member libraries worldwide
In today's highly leveraged economy, good liabilities management has become vitally important. Entire sectors of the economy, and some of the biggest financial and industrial companies, face dramatic overexposure problems. But adequate internal liability controls can greatly reduce risk. Featuring case studies in a number of industries and examples of both proper and improper liabilities management in major organizations, Liabilities, Liquidity, and Cash Management shows managers, accountants, investment advisors, and other professionals who deal with liabilities and overexposure how they can
Globalization's limits : conflicting national interests in trade and finance
by
Dimitris N Chorafas
( )
16 editions published between
2009
and 2016 in
English
and held by 950 WorldCat member libraries worldwide
So far there has been only praise for globalization. However, the export wave of China's manufacturing machine and, more recently, the Global financial crisis show that Globalization has limits. Globalization, the internationalization of trade, and financial integration are having enormous implications for businesses as well as for the whole economies of countries or blocks of countries. In this book Dr. Chorafas argues that research is now producing evidence that there are limits to such globalization and amalgamation and that these need to be better defined and understood if some of the problems now being identified are to be prevented from applying the brakes, or worse, putting the process into reverse gear. The author examines the impact on countries such as the United States and European Union of occurrences like China's emergence as a massive manufacturing platform and the distortions of trade that result, affecting countries' GDP and creating problems such as uncontrollable current account deficits. He also considers the effect of Sovereign Wealth Funds as new entrants on the scene. These, he argues, are seen by some as 'the Trojan horses of state capitalism', particularly in what he defines as the 'absence of a global sheriff'. "Globalization's Limits" looks at the EU and the Euroland as a test of globalization. The conclusions Chorafas draws about the effect on member states of pan-European banking, and the Euro as common currency, have implications for Britain and for the rest of the world. Issues relating to missed opportunities and leadership beg questions such as 'Who, if anybody, is or should be in charge of global monetary policy?'
more
fewer
Audience Level
0

1
Kids
General
Special
Audience level: 0.15 (from 0.01 for The busine ... to 0.60 for Control sy ...)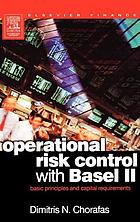 Alternative Names
Chorafas, D.N.

Chorafas, D. N. 1926-

Chorafas, Dimitres N. 1926-

Chorafas, Dimitris.

Chorafas, Dimitris 1926-

Chorafas, Dimitris N. 1926-

Chorafas, Dmitris N.

Chorafas, Dmitris N. 1926-

Chōraphãs, Dēmētrios N. 1926-

Chorofas, Dimitris N.

Horafas, D. N.

Khorafas Dimitris N. 1926-....

Sissini

Sissini 1926-

Хорафас, Д., 1926-

コラファス, D. N

Languages
Covers