Inglehart, Ronald
Most widely held works about Ronald Inglehart
more
fewer
Most widely held works by Ronald Inglehart
Sacred and secular : religion and politics worldwide
by
Pippa Norris
( Book )
45 editions published between
2004
and 2011 in
English
and
Undetermined
and held by 1,240 WorldCat member libraries worldwide
The belief that religion was dying became the conventional wisdom in the social sciences during most of the 20th century. However, religion has not disappeared and is unlikely to do so, and the secularization thesis needs updating. This text develops a theory of secularization and existential security
Culture shift in advanced industrial society
by
Ronald Inglehart
( Book )
26 editions published between
1990
and 2012 in 7 languages and held by 1,021 WorldCat member libraries worldwide
Om de forandringer i værdinormer, der har fundet sted inden for det politiske, det økonomiske og det sociale liv i højtudviklede samfund
The silent revolution : changing values and political styles among Western publics
by
Ronald Inglehart
( Book )
28 editions published between
1977
and 2016 in 4 languages and held by 918 WorldCat member libraries worldwide
This book contends that beneath the frenzied activism of the sixties and the seeming quiescence of the seventies, a ""silent revolution"" has been occurring that is gradually but fundamentally changing political life throughout the Western world. Ronald Inglehart focuses on two aspects of this revolution: a shift from an overwhelming emphasis on material values and physical security toward greater concern with the quality of life; and an increase in the political skills of Western publics that enables them to play a greater role in making important political decisions. Originally published i
Rising tide : gender equality and cultural change around the world
by
Ronald Inglehart
( Book )
24 editions published between
2003
and 2011 in
English
and held by 804 WorldCat member libraries worldwide
This title sets out to understand how modernization has changed cultural attitudes towards gender equality as well as to analyze the political consequences of this process, and will be of interest to those seeking an understanding of issues of comparative politics and political sociology
Modernization and postmodernization : cultural, economic, and political change in 43 societies
by
Ronald Inglehart
( Book )
21 editions published between
1996
and 2015 in 3 languages and held by 744 WorldCat member libraries worldwide
But industrialization is not the end of history. Advanced industrial society embraces yet another set of values, de-emphasizing the instrumental rationality that characterized industrial society. Postmodern values then bring new societal changes, including democratic politic institutions and the decline of state socialist regimes. To demonstrate the powerful links between belief systems and political and socioeconomic variables, this book draws on the World Values Surveys, a unique database that looks at the impact of mass publics on political and social life. It provides information from societies representing 70 percent of the world's population - from societies with per capita income as low as $300 per year to those with per capita incomes one hundred times greater and from long-established democracies with market economics to authoritarian states
Human values and beliefs : a cross-cultural sourcebook : political, religious, sexual, and economic norms in 43 societies ; findings from the 1990-1993 world value survey
by
Ronald Inglehart
( Book )
29 editions published between
1997
and 2008 in
English
and
Undetermined
and held by 736 WorldCat member libraries worldwide
"This book publishes for the first time the findings of the World Values Survey - conducted in over 40 countries during 1990-93. The countries surveyed range from poor to rich, and include countries in Europe, North America, Africa, Asia, and Latin America as well as countries from the former Soviet Union and China. The questions cover issues from politics, economics, religion, family life, and gender roles, and distinguishes responses by age, gender, economic standing, and education." "Human Values and Beliefs: A Cross Cultural Sourcebook provides a wealth of data that will be of interest to social scientists, journalists, and policy-makers interested in economic, social, and political development. It will also assist people in international sales and investment to understand the countries in which they are involved."--Jacket
Modernization, cultural change, and democracy : the human development sequence
by
Ronald Inglehart
( Book )
32 editions published between
2005
and 2010 in
English
and held by 583 WorldCat member libraries worldwide
"This book demonstrates that people's basic values and beliefs are changing, in ways that affect their political, sexual, economic, and religious behavior. These changes are roughly predictable: to a large extent, they can be explained by the revised version of modernization theory presented here. Drawing on a massive body of evidence from societies containing 85 percent of the world's population, the authors demonstrate that modernization is a process of human development, in which economic development gives rise to cultural changes that make individual autonomy, gender equality, and democracy increasingly likely. The authors present a model of social change that predicts how value systems are likely to evolve in coming decades. They demonstrate that mass values play a crucial role in the emergence and flourishing of democratic institutions."--Jacket
The North American trajectory : cultural, economic, and political ties among the United States, Canada, and Mexico
by
Ronald Inglehart
( Book )
11 editions published between
1996
and 2017 in
English
and held by 475 WorldCat member libraries worldwide
"North America is steering a new course, with the United States, Canada, and Mexico moving toward continental economic, integration. This book examines basic value changes that are' transforming economic, social, and political life in these three countries, demonstrating that they are gradually adopting an increasingly compatible cultural perspective. A narrow nationalism, dominant since the 19th century, has slowly been giving way to a more cosmopolitan sense of identity. As old economic boundaries become outmoded, a North American perspective makes greater sense. To what extent, then, do the three North American publics - I each with its own heterogeneities and tensions - share a common culture' That question can only be answered if we have some yardstick by which to measure their cultural similarity. These societies are far from identical. But data from the 1990- 1991 World Values survey, drawn from 43 societies around the world, show that on crucial topics, the core values of the American public are significantly closer to those of the Canadians and (to a somewhat lesser extent) to those of the Mexicans, than they are to those of most other peoples in the world. Furthermore, time series evidence indicates that the values of the three North American publics have been converging. This book draws on a unique body of directly comparable cross-national and cross-temporal survey evidence to show that what Americans, Canadians, and Mexicans want out of life is changing in analogous ways. These changes, coupled with sociostructural transformations, are reshaping peoples' feelings about national identity, about trusting each other, and about the balance between economic and non-economic goals. North American economic integration is being reinforced by the gradual emergence of increasingly similar cultural values."--Provided by publisher
Value change in global perspective
by
Paul R Abramson
( Book )
22 editions published between
1995
and 2009 in
English
and
Undetermined
and held by 437 WorldCat member libraries worldwide
In this pioneering work, Paul R. Abramson and Ronald Inglehart show that the gradual shift from Materialist values (such as the desire for economic and physical security) to Post-materialist values (such as the desire for freedom, self-expression, and the quality of life) is in all likelihood a global phenomenon. Value Change in Global Perspective analyzes over thirty years worth of national surveys in European countries and presents the most comprehensive and nuanced discussion of this shift to date. By paying special attention to the way generational replacement transforms values among mass publics, the authors are able to present a comprehensive analysis of the processes through which values change. In addition, Value Change in Global Perspective analyzes the 1990-91 World Values Survey, conducted in forty societies representing over seventy percent of the world's population. These surveys cover an unprecedentedly broad range of the economic and political spectrum, with data from low-income countries (such as China, India, Mexico, and Nigeria), newly industrialized countries (such as South Korea) and former state-socialist countries in Eastern Europe and the former Soviet Union. This data adds significant new meaning to our understanding of attitude shifts throughout the world. Value Change in Global Perspective has been written to meet the needs of scholars and students alike. The use of percentage, percentage differences, and algebraic standardization procedures will make the results easy to understand and useful in courses in comparative politics and in public opinion. Paul R. Abramson is Professor of Political Science, Michigan State University. Ronald Inglehart is Professor of Political Science and Program Director, Institute for Social Research, University of Michigan
Cosmopolitan communications : cultural diversity in a globalized world
by
Pippa Norris
( Book )
18 editions published in
2009
in
English
and held by 420 WorldCat member libraries worldwide
Publisher description: "Societies around the world have experienced a flood of information from diverse channels originating beyond local communities and even national borders, transmitted through the rapid expansion of cosmopolitan communications. For more than half a century conventional interpretations, [the authors] argue, have commonly exaggerated the potential threats arising from this process. A series of firewalls protects national cultures. This book develops a new theoretical framework for understanding cosmopolitan communications and uses it to identify the conditions under which global communications are most likely to endanger cultural diversity. The authors examine empirical evidence at both the societal level and the individual level, examining the outlook and beliefs of people in a wide range of societies. The study draw on evidence from the World Values Survey, which covers 90 societies in all major regions worldwide from 1981 to 2007. The conclusion considers the implications of the authors' findings for cultural politics."
more
fewer
Audience Level
0

1
Kids
General
Special
Audience level: 0.41 (from 0.03 for Human beli ... to 0.94 for Ronalda In ...)
Related Identities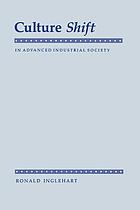 Alternative Names
Inglehart, R. 1934-

Inglehart, Ronald F.

Inglehart, Ronald F. 1934-

Inglkhart, Ronalʹd

Ronald Inglehart Amerikaans politicoloog

Ronald Inglehart politologo e sociologo statunitense

Ronald Inglehart US-amerikanischer Politologe, Professor an der University of Michigan

Инглхарт, Рональд

Рональд Інґлегарт

잉글하트, 로날드

잉글하트, 로널드

イングルハート, R.

ロナルド・イングルハート

羅納德·英格爾哈特

Languages
Covers