Orsi, Robert A.
Most widely held works by Robert A Orsi
Thank you, St. Jude : women's devotion to the patron saint of hopeless causes
by
Robert A Orsi
( )
12 editions published between
1996
and 2014 in
English
and held by 2,371 WorldCat member libraries worldwide
Robert A. Orsi tells us that the women who were drawn to St. Jude - daughters and granddaughters of immigrants from southern and eastern Europe and Ireland - were the first generations of Catholic women to make lives for themselves outside of their ethnic enclaves. Orsi explores the ambitions and dilemmas of these women as they dealt with the pressures of the Depression and the Second World War, made modern marriages for themselves, entered the workplace, took care of relatives in their old neighborhoods, and raised children in circumstances very different from those of their mothers and grandmothers. Drawing on testimonies written in the periodicals devoted to St. Jude and on interviews with women who felt their lives were changed by St. Jude's intervention, Orsi shows how devotion to St. Jude enabled these women to negotiate their way amid the conflicting expectations of their two cultures - American and Catholic
Between heaven and earth : the religious worlds people make and the scholars who study them
by
Robert A Orsi
( Book )
17 editions published between
2004
and 2013 in
English
and held by 763 WorldCat member libraries worldwide
Publisher description: Explores the relationships men, women, and children have formed with the Virgin Mary and the saints in twentieth-century American Catholic history, and reflects, more broadly, on how people live in the company of sacred figures and how these relationships shape the ties between people on earth. Author Robert Orsi also considers how scholars of religion occupy the ground in between belief and analysis, faith and scholarship
Divine mirrors : the Virgin Mary in the visual arts
by
Melissa R Katz
( Book )
8 editions published in
2001
in
English
and held by 730 WorldCat member libraries worldwide
"Divine Mirrors examines the complex relationship between sacred imagery and secular identity in the art of the Madonna." "This work features the work of such renowned artists as Il Pintoricchio, Mantegna, Munch, and Leger, alongside fresh, undiscovered masters and little-known works of art. The book's fifty catalogue entries range from a rare thirteenth-century panel painting to a specially commissioned artwork exploring the intersection of religion and modern life."--Jacket
The Cambridge companion to religious studies
by
Robert A Orsi
( Book )
18 editions published between
2011
and 2012 in
English
and held by 527 WorldCat member libraries worldwide
"The Cambridge Companion to Religious Studies is both informative and provocative, introducing readers to key debates in the contemporary study of religion and suggesting future research possibilities. A group of distinguished scholars takes up some of the most pressing theoretical questions in the field. What is a "religious tradition"? How are religious texts read? What takes place when a religious practitioner stands before a representation of gods or goddesses, ghosts, ancestors, saints, and other special beings? What roles is religion playing in contemporary global society? The volume emphasizes religion as a lived practice, stressing that people have used and continue to use religious media to engage the circumstances of their lives. This underlying conviction provides a realistic perspective on religion, and the volume, ♯s̥ essays engage with real-world religious practices. The volume, ♯s̥ essays should prove valuable and interesting to a broad audience, including scholars in the humanities and social sciences and a general readership, as well as students of religious studies"--[Résumé de l'éditeur]
History and presence
by
Robert A Orsi
( Book )
6 editions published between
2016
and 2018 in
English
and held by 386 WorldCat member libraries worldwide
"One of the greatest sources of violence in modern history has been the question of what Jesus meant when he told his disciples at the Last Supper to eat the bread of his body and drink the wine of his blood and to do so always in remembrance of him. It erupted in Europe in the sixteenth century and was carried around the globe by colonizers, missionaries, explorers, and scholars. In its opening chapters, History and Presence examines the power of this question in modernity, arguing that it shaped how religion itself as the object of critical scholarly inquiry came to be understood. The experience of the gods really present was consigned to the premodern, first in the figure of the Catholic, then elaborated as the heuristic for the religions of "primitives," dark-skinned people, women, children, the poor, both in the metropolitan centers of an ever-changing Europe and in its colonies. The distinction between those who live with the gods really present and others who do not retains broad normative force even today, evident, for example, in hierarchical models of psychological health and human maturity. Orsi goes on to ask what if the gods were restored to 'religion'? Using case studies drawn from Catholic devotional practices Orsi examines the relationships men and women form with supernatural beings and the consequences of these bonds for everyday life."--Provided by publisher
Catholics in the Vatican II era : local histories of a global event
by
Kathleen Sprows Cummings
( Book )
7 editions published between
2017
and 2018 in
English
and held by 110 WorldCat member libraries worldwide
Debates about the meaning of Vatican II and its role in modern Catholic and global history have largely focused on close theological study of its authoritative documents. This volume of newly commissioned essays contends that the historical significance of the council is best examined where these messages encountered the particular circumstances of the modern world: in local dioceses around the world. Each author examines the social, political, and domestic circumstances of a diocese, asking how they produced a distinctive lived experience of the Council and its aftermath. How did the Council change relationships and institutions? What was it like for laymen and women, for clergy, for nuns, for powerful first-world dioceses and for those in what we now know as the global south? A comparative reading of these chapters affords insights into these dimensions of Vatican II, and will spark a new generation of research into the history of twentieth-century Catholicism as both international and local
Italian Americans N010
( )
1 edition published in
2001
in
English
and held by 20 WorldCat member libraries worldwide
This selection of literature on Italian immigrants describes their adjustments to new economic and social circumstances and the life and culture of later generations of Italian Americans
more
fewer
Audience Level
0

1
Kids
General
Special
Audience level: 0.16 (from 0.06 for Gods of th ... to 0.97 for Gods of th ...)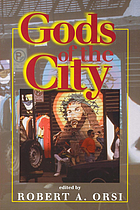 Alternative Names
Orsi, Robert 1953-

Orsi, Robert A.

Orsi, Robert A. 1953-

Orsi, Robert Anthony.

Orsi, Robert Anthony 1953-

Robert Anthony Orsi

Robert Anthony Orsi Amerikaans historicus

Languages
Covers