Swinburne, Richard
Most widely held works about Richard Swinburne
more
fewer
Most widely held works by Richard Swinburne
The coherence of theism
by
Richard Swinburne
( )
57 editions published between
1977
and 2016 in
English
and
Undetermined
and held by 2,878 WorldCat member libraries worldwide
This book investigates what it means, and whether it is coherent, to say that there is a God. The author concludes that, despite philosophical objections, the claims which religious believers make about God are generally coherent; and that although some important claimes are coherent only if the words by which they are expressed are being used in stretched or analogical senses, this is in fact the way in which theologians have usually claimed they are being used. This revised edition includes various minor corrections and clarifications. -- Back cover
Faith and reason
by
Richard Swinburne
( )
74 editions published between
1981
and 2012 in 5 languages and held by 2,853 WorldCat member libraries worldwide
Publisher Description (unedited publisher data) Richard Swinburne presents a new edition of one of his classic works on philosophical theology. Faith and Reason is a self-standing examination of the implications for religious faith of Swinburne's famous arguments about the coherence of theism and the existence of God. Swinburne analyzes the purposes of practicing a religion, and argues that religious faith requires belief that a particular creed provides the rationale for supposing that these purposes will be achieved. While maintaining the same structure and conclusions as the original, this second edition has been substantially rewritten, both in order to relate its ideas more closely to those of classical theologians and philosophers and to respond to more recent views
The existence of God
by
Richard Swinburne
( Book )
81 editions published between
1979
and 2015 in 3 languages and held by 2,181 WorldCat member libraries worldwide
Substantially re-written and updated, this edition of 'The Existence of God' presents arguments such as the existence of the laws of nature, 'fine-tuning' of the universe, moral awareness and evidence of miracles, to prove the case that there is a God
The Christian God
by
Richard Swinburne
( )
34 editions published between
1994
and 2007 in
English
and
Undetermined
and held by 1,911 WorldCat member libraries worldwide
"What is it for there to be a God, and what reason is there for supposing him to be the Traditional Christian God? In this pivotal volume of his tetralogy, Richard Swinburne builds a rigorous metaphysical system for describing the world, and applies this to assessing the worth of the Christian tenets of the Trinity and the Incarnation." "Part I is dedicated to analysing the categories needed to address accounts of the divine nature - these are substance, cause, time, and necessity. Part II begins by setting out, in terms of these categories, the fundamental doctrine of Western religions - that there is a God. After pointing out some of the different ways in which this doctrine can be developed, Swinburne spells out the simplest possible account of divine nature." "He then goes on to clarify the implications of this account for the specifically Christian doctrines of the Trinity (that God is 'three persons in one substance') and of the Incarnation (that God became incarnate in Jesus Christ). Swinburne finds that there are good reasons to believe the Christian additions to the core Western idea of God." "The Christian God builds upon Swinburne's acclaimed previous work to form a self-contained text which will no doubt become a classic in the philosophy of religion."--Jacket
Was Jesus God?
by
Richard Swinburne
( )
19 editions published between
2008
and 2014 in 3 languages and held by 1,788 WorldCat member libraries worldwide
Richard Swinburne argues compellingly that if there is a God, then the main doctrines which the Christian Church teaches about God are very probably true. In particular, he shows that there is strong philosophical support for the belief that Jesus, while remaining God, acquired a human nature and lived on earth for 30 years as a human being
Providence and the problem of evil
by
Richard Swinburne
( )
24 editions published between
1975
and 2011 in
English
and
Arabic
and held by 1,716 WorldCat member libraries worldwide
Why does a loving God allow humans to suffer so much? This is one of the most difficult problems of religious belief. The author of this text, the third in a tetralogy, examines this problem, and offers his interpretation of the problem
Is there a God?
by
Richard Swinburne
( Book )
75 editions published between
1995
and 2014 in 11 languages and held by 1,708 WorldCat member libraries worldwide
Is There a God? offers a powerful response to modern doubts about the existence of God. It may seem today that the answers to all fundamental questions lie in the province of science, and that the scientific advances of the twentieth century leave little room for God. Cosmologists have rolled back their theories to the moment of the Big Bang, the discovery of DNA reveals the key to life, the theory of evolution explains the development of life ... and with each new discovery or development, it seems that we are closer to a complete understanding of how things are. For many people, this gives strength to the belief that God is not needed to explain the universe; that religious belief is not based on reason; and that the existence of God is, intellectually, a lost cause. Richard Swinburne, one of the most distinguished philosophers of religion of our day, argues that on the contrary, science provides good grounds for belief in God. Why is there a universe at all? Why is there any life on Earth? How is it that discoverable scientific laws operate in the universe? Professor Swinburne uses the methods of scientific reasoning to argue that the best answers to these questions are given by the existence of God. The picture of the universe that science gives us is completed by God
The resurrection of God incarnate
by
Richard Swinburne
( )
23 editions published between
2003
and 2010 in
English
and
Undetermined
and held by 1,675 WorldCat member libraries worldwide
Whether or not Jesus rose bodily from the dead is perhaps the most critical and contentious issue in the study of Christianity. Rather than depend on statements in the New Testament, Swinburne argues for a wider approach
Epistemic justification
by
Richard Swinburne
( )
20 editions published between
2001
and 2004 in
English
and
Undetermined
and held by 1,633 WorldCat member libraries worldwide
"Richard Swinburne offers an original treatment of a question at the heart of epistemology: what makes a belief rational, or justified in holding? He maps the rival accounts of philosophers on epistemic justification ("internalist" and "externalist"), arguing that they are really accounts of different concepts. He distinguishes between synchronic justification (justification at a time) and diachronic justification (synchronic justification resulting from adequate investigation) - both internalist and externalist. He also argues that most kinds of justification are worth having because they are indicative of truth; however, it is only justification of internalist kinds that can guide a believer's actions. Swinburne goes on to show the usefulness of the probability calculus in elucidating how empirical evidence makes beliefs probably true."--Jacket
Revelation : from metaphor to analogy
by
Richard Swinburne
( )
47 editions published between
1991
and 2007 in
English
and held by 1,546 WorldCat member libraries worldwide
"This is a fuller and entirely rewritten second edition of Revelation, the most notable new feature of which is a long chapter examining whether traditional Christian claims about personal morality (divorce, homosexuality, abortion etc.) can be regarded as revealed truths. A formal appendix shows how the structure of evidence supporting the Christian revelation can be articulated in terms of the probability calculus (and shows that Plantinga's well known argument from 'dwindling probabilities' against probabilistic arguments of this kind is not cogent)."--Jacket
more
fewer
Audience Level
0

1
Kids
General
Special
Audience level: 0.27 (from 0.05 for The proble ... to 0.88 for Die ration ...)
Related Identities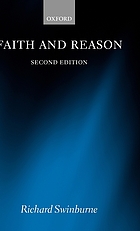 Alternative Names
Granville Swinburne, Richard 1934-

Richard Swinburne britischer Religionsphilosoph

Richard Swinburne Brits filosoof

Richard Swinburne filosofo, teologo e educatore britannico

Richard Swinburne philosophe britannique

Swinburne, Richard G.

Swinburne, Richard G. 1934-

Swinburne, Richard Granville.

Swinburne, Richard Granville 1934-

Суинберн, Ричард 1934-

Суинбёрн, Ричард британский философ и теолог

ריצ'רד סווינברן

ריצ'רד סווינברן סופר בריטי

ریچارد سوئین‌برن نویسنده و فیلسوف بریتانیایی

スウィンバーン, R.

理察·斯溫伯恩

Languages
Covers