Kotter, John P. 1947-
Overview
| | |
| --- | --- |
| Works: | 414 works in 1,270 publications in 14 languages and 30,416 library holdings |
| Genres: | Case studies Fiction History Biography Encyclopedias Miscellanea Abstracts |
| Roles: | Author, Narrator, Editor, Commentator, Creator, Author of introduction, Interviewee, Conceptor, Contributor |
| Classifications: | HD58.8, 658.406 |
Most widely held works about John P Kotter
Most widely held works by John P Kotter
Leading change
by
John P Kotter
( Book )
66 editions published between
1996
and 2015 in 8 languages and held by 3,591 WorldCat member libraries worldwide
"What will it take to bring your organization successfully into the twenty-first century? The world's foremost expert on business leadership distills twenty-five years of experience and wisdom based on lessons he has learned from scores of organizations and businesses to write this visionary guide. The result is a very personal book that is at once inspiring, clear-headed, and filled with important implications for the future." "The pressures on organizations to change will only increase over the next decades. Yet the methods managers have used in the attempt to transform their companies into stronger competitors - total quality management, reengineering, right sizing, restructuring, cultural change, and turnarounds - routinely fall short, says Kotter, because they fail to alter behavior." "Emphasizing again and again the critical need for leadership to make change happen, Leading Change provides the vicarious experience and positive role models for leaders to emulate. The book identifies an eight-step process that every company must go through to achieve its goal, and shows where and how people - good people - often derail."--Jacket
The heart of change : real-life stories of how people change their organizations
by
John P Kotter
( Book )
53 editions published between
2002
and 2014 in 6 languages and held by 2,169 WorldCat member libraries worldwide
John Kotter and co-author Dan Cohen delve deeper into the subject of change to get to the heart of how change actually happens. Through real-life stories from people in the trenches, in all kinds of organizations, the authors attack the fundamental problem that underlies every major transformation: How do you go beyond simply getting your message across to truly changing people's behavior?
Our iceberg is melting : changing and succeeding under any conditions
by
John P Kotter
( Book )
49 editions published between
2005
and 2016 in 3 languages and held by 1,969 WorldCat member libraries worldwide
In this business management fable, one penguin notices something problem that could become a big problem for the whole colony, but the other penguins don't want to listen, so he must convince and enlist the help of others to get something done
The leadership factor
by
John P Kotter
( Book )
24 editions published between
1988
and 1997 in 4 languages and held by 1,643 WorldCat member libraries worldwide
Explains what effective corporate leadership is. Demonstrates through case studies how poor management and superior management affected different firms. Describes executive development programs and practices that increase the quality and quantity of leadership
A force for change : how leadership differs from management
by
John P Kotter
( Book )
15 editions published between
1990
and 1998 in
English
and
Swedish
and held by 1,567 WorldCat member libraries worldwide
Kotter presents detailed accounts of how senior and middle managers in 11 major corporations, in close concert with colleagues and subordinates, were able to create a leadership process that put into action hundreds of commonsense ideas and procedures that, in combination with competent management, produced extraordinary results
A sense of urgency
by
John P Kotter
( Book )
27 editions published between
2008
and 2012 in 5 languages and held by 1,469 WorldCat member libraries worldwide
Uitwerking van een 8 stappenplan voor organisatieveranderingen, waarbij het creëren van een gevoel van urgentie bij managers en medewerkers centraal staat. Er worden een viertal tactieken beschreven waarmee gewerkt kan worden:- breng de buitenwereld naar binnen, - gebruik een crisis, - handel elke dag vanuit urgentie en -communiceer met mensen die veranderingen actief tegenhouden
The general managers
by
John P Kotter
( Book )
39 editions published between
1966
and 2014 in 3 languages and held by 1,438 WorldCat member libraries worldwide
In this unprecedented study of America's leading executives, John Kotter shatters the popular management notion of the effective "generalist" manager who can step into any business or division and run it. Based on his first-hand observations of fifteen top GMs from nine major companies, Kotter persuasively shows that the best manager is actually a specialist who has spent most of his or her career in one industry, learning its intricacies and establishing cooperative working relationships. Acquiring the painstaking knowledge and large, informal networks vital to being a successful manager takes years; outsiders, no matter how talented or well-trained seldom can do as well, this in-depth profile reveals. Much more than a fascinating collective portrait of the day-to-day activities of today's top executives, The General Managers provides stimulating new insights into the nature of modern management and the tactics of its most accomplished practitioners
Corporate culture and performance
by
John P Kotter
( Book )
24 editions published between
1992
and 2014 in 3 languages and held by 1,360 WorldCat member libraries worldwide
"Going far beyond previous empirical work, John Kotter and James Heskett provide the first comprehensive critical analysis of how the "culture" of a corporation powerfully influences its economic performance, for better or for worse. Through painstaking research at such firms as Hewlett-Packard, Xerox, ICI, Nissan, and First Chicago, as well as a quantitative study of the relationship between culture and performance in more than 200 companies, the authors describe how shared values and unwritten rules can profoundly enhance economic success or, conversely, lead to failure to adapt to changing markets and environments." "With penetrating insight, Kotter and Heskett trace the roots of both healthy and unhealthy cultures, demonstrating how easily the latter emerge, especially in firms which have experienced much past success. Challenging the widely held belief that "strong" corporate cultures create excellent business performance, Kotter and Heskett show that while many shared values and institutionalized practices can promote good performances in some instances, those cultures can also be characterized by arrogance, inward focus, and bureaucracy--features that undermine an organization's ability to adapt to change. They also show that even "contextually or strategically appropriate" cultures--ones that fit a firm's strategy and business context--will not promote excellent performance over long periods of time unless they facilitate the adoption of strategies and practices that continuously respond to changing markets and new competitive environments."
John P. Kotter on what leaders really do
by
John P Kotter
( Book )
17 editions published between
1999
and 2010 in
English
and
Undetermined
and held by 1,214 WorldCat member libraries worldwide
"With the relentless change and escalating uncertainty that define our times, the need for strong leadership in business, government, and society has never been greater. Careers, customers, and communities all suffer in a poorly run enterprise. Sure to be eagerly embraced by Kotter's huge global following, John P. Kotter on What Leaders Really Do provides an invaluable opportunity to consider the core issues that lie at the heart of leadership and to rethink our own relationship to the work of leaders."--Jacket
Power and influence
by
John P Kotter
( Book )
37 editions published between
1985
and 2014 in
Chinese
and
English
and held by 1,163 WorldCat member libraries worldwide
In today's complex work world, things no longer get done simply because someone issues an order and someone else follows it. Most of us work in socially intricate organizations where we need the help not only of subordinates but of colleagues, superiors, and outsiders to accomplish our goals. This often leaves us in a "power gap" because we must depend on people over whom we have little or no explicit control. This is a book about how to bridge that gap: how to exercise the power and influence you need to get things done through others when your responsibilities exceed your formal authority. Full of original ideas and expert insights about how organizations'and the people in them'function, Power and Influence goes further, demonstrating that lower-level personnel also need strong leadership skills and interpersonal know-how to perform well. Kotter shows how you can develop sufficient resources of "unofficial" power and influence to achieve goals, steer clear of conflicts, foster creative team behavior, and gain the cooperation and support you need from subordinates, coworkers, superiors'even people outside your department or organization. He also shows how you can avoid the twin traps of naivete and cynicism when dealing with power relationships, and how to use your power without abusing it. Power and Influence is essential for top managers who need to overcome the infighting, foot-dragging, and politicking that can destroy both morale and profits; for middle managers who don't want their careers sidetracked by unproductive power struggles; for professionals hindered by bureaucratic obstacles and deadline delays; and for staff workers who have to "manage the boss." This is not a book for those who want to "grab" power for their own ends. But if you'd like to create smooth, responsive working relationships and increase your personal effectiveness on the job, Kotter can show you how'and make the dynamics of power work for you instead of against you
more
fewer
Audience Level
0

1
Kids
General
Special
Audience level: 0.32 (from 0.07 for Financial ... to 0.80 for John P. Ko ...)
Related Identities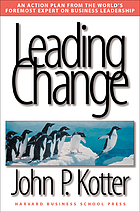 Alternative Names
J.P.コッター

John Kotter Amerikaans econoom

John Kotter amerikansk ekonom

John Kotter amerikansk økonom

John P. Kotter US-amerikanischer Wirtschaftswissenschaftler

Ke, Te.

Ke, Te 1947-

Kete.

Kete 1947-

Koters, Džons 1947-

Kotter, J. P. 1947-

Kotter , John

Kotter, John 1947-

Kotter, John Betriebswissenschaftler, USA 1947-

Kotter, John Industrial engineer, United States 1947-

Kotter, John Ingénieur en organisation, Etats-Unis 1947-

Kotter John P.

Kotter, John Paul Betriebswissenschaftler, USA 1947-

Kotter, John Paul Industrial engineer, United States 1947-

Kotter, John Paul Ingénieur en organisation, Etats-Unis 1947-

Коттер, Джон П 1947-

קוטר, ג'ון

קוטר, ג'ון 1947-

과특, 요한 P. 1947-

코터, 존 1947-

코터, 존 P. 1947-

コッター, J.P.

コッタ-, J. P. 1947-

コッター, ジョン

コッター, ジョン・P

コッタ-, ジョン P. 1947-

Languages
Covers