Stern, Fritz 1926-2016
Most widely held works about Fritz Stern
more
fewer
Most widely held works by Fritz Stern
Gold and iron : Bismarck, Bleichröder, and the building of the German empire
by
Fritz Stern
( Book )
80 editions published between
1977
and 2013 in 5 languages and held by 2,162 WorldCat member libraries worldwide
This is a book about Germans and Jews, about power and money. It is a book focused on Bismarck and Bleichröder, Junker and Jew, statesman and banker, collaborators for over thirty years. The setting is that of a Germany where two worlds clashed: the new world of capitalism and an earlier world with its ancient feudal ethos; gradually a new and broadened elite emerged, and Bismarck's tie with Bleichröder epitomized that regrouping. It is the story of the founding of the new German Empire, in whose midst a Jewish minority rose to embattled prominence
The varieties of history, from Voltaire to the present
by
Fritz Stern
( Book )
97 editions published between
1956
and 1973 in
English
and
Undetermined
and held by 1,909 WorldCat member libraries worldwide
This book contains not only an excellent selection of passages which characterize the ideas and the work of leading historians from the eighteenth to the twentieth centuries, but the book in its entirety provides a stimulating survey of the entire development of modern historiography
The politics of cultural despair; a study in the rise of the Germanic ideology
by
Fritz Stern
( Book )
44 editions published between
1961
and 1997 in
English
and held by 1,377 WorldCat member libraries worldwide
"An enlightening and solidly documented book of great value to those who would like to trace the ideolgoical roots behind the most erratic and dramatic politics phases of modern Germany."--"American Political Science Review" "If only because it presents the intellectual and emotional background to National Socialism with rare clarity and penetrating analysis of its several and often sharply contrasting components, the ably written and profoundly interesting book ... would be of importance ... With its useful footnotes, selective bibliography and good index Professor Stern's study is American scholarship at its best."-"International Affairs"
Dreams and delusions : the drama of German history
by
Fritz Stern
( Book )
32 editions published between
1987
and 1999 in
English
and held by 1,313 WorldCat member libraries worldwide
"In this collection of ten essays, Fritz Stern - widely regarded as America's foremost authority on modern Germany - illustrates the 'German drama, ' the story of a country whose history has comprised the promise of twentieth-century Europe and its nemesis, the greatness and the squandering of achievement, the dreams of peace and the delusions of power. Germany remains a country of immense and central complexity, where even today the past remains bitterly controversial and its interpretation uniquely important for the shaping of a national future."--Jacket
Einstein's German world
by
Fritz Stern
( Book )
45 editions published between
1999
and 2016 in 5 languages and held by 1,223 WorldCat member libraries worldwide
"In Einstein's German World, the eminent historian Fritz Stern explores the ambiguous promise of Germany before Hitler, as well as its horrifying decline into moral nihilism under Nazi rule, and aspects of its remarkable recovery since World War II. He does so by blending history and biography in a sequence of finely drawn studies of Germany's great scientists and of German-Jewish relations before and during Hitler's regime." "Stern's central chapter traces the complex friendship of Albert Einstein and the Nobel Prize - winning chemist Fritz Haber, contrasting their responses to German life and to their Jewish heritage. Other chapters, also based on new archival sources, consider the turbulent and interrelated careers of the physicist Max Planck, an austere and powerful figure who helped to make Berlin a happy, productive place for Einstein and other legendary scientists; of Paul Ehrlich, the founder of chemotherapy; of Walther Rathenau, the German-Jewish industrialist and statesman tragically assassinated in 1922; and of Chaim Weizmann, chemist, Zionist, and first president of Israel, whose close relations with his German colleagues is here for the first time recounted."--Jacket
The responsibility of power; historical essays in honor of Hajo Holborn
by
Leonard Krieger
( Book )
30 editions published between
1967
and 1996 in
English
and held by 817 WorldCat member libraries worldwide
Bibliographical footnotes. Power and responsibility: the historical assumptions / L. Krieger -- Machiavelli: the art of politics and the paradox of power / H.H. Gray -- The responsibilities of power according to Erasmus of Rotterdam / R.H. Bainton -- Sebastian Castellio on the power of the Christian prince / H.R. Guggisberg -- Richelleu / D. Gerhard -- The nature of political power according to Louis XIV / A. Lossky -- Friedrich Schiller and the problems of power / G.A. Craig -- 1848 / T.S. Hamerow -- Juridical and political responsibility in nineteenth-century Germany / O. Pilanze -- Burckhardt's Renaissance: between responsibility and power / P. Cay -- Power and responsibility: Otto Hintze's place in German historiography / W.M. Simon -- Freedom and power in history / W. Kaegi -- Politics in a new key: Schönerer / C.E. Schorske -- Bethmann Hollweg and the war: the limits of responsibility / F. Stern -- Domestic causes of the First World War / A.J. Mayer -- Naumann and Rathenau: their paths to the Weimar Republic / H.C. Meyer -- Friedrich Ebert and the German Revolution of 1918 / R.N. Hunt -- Lenin and power / H.L. Roberts -- Neville Chamberlain and Munich: two aspects of power / W.E. Scott -- Reinhold Niebuhr: prophet in politics / J.H. Nichols -- Limits of American internationalism, 1941-1945 / J.M. Blum -- Political power and academic responsibility: reflections on Friedrich Melnecke's Drei Generationen deutscher Gelehrtenpolitik / F. Gilbert -- The conditions of revolutionary power / O. Kirch
No ordinary men : Dietrich Bonhoeffer and Hans von Dohnanyi, resisters against Hitler in church and state
by
Elisabeth Sifton
( Book )
10 editions published between
2013
and 2014 in
English
and held by 677 WorldCat member libraries worldwide
During the twelve years of Hitler's Third Reich, very few Germans took the risk of actively opposing his tyranny and terror, and fewer still did so to protect the sanctity of law and faith. In No Ordinary Men, Elisabeth Sifton and Fritz Stern focus on two remarkable, courageous men who did - the pastor and theologian Dietrich Bonhoeffer and his close friend and brother-in-law Hans von Dohnanyi - and offer new insights into the fearsome difficulties that resistance entailed. (Not forgotten is Christine Bonhoeffer Dohnanyi, Hans's wife and Dietrich's sister, who was indispensable to them both.) From the start Bonhoeffer opposed the Nazi efforts to bend Germany's Protestant churches to Hitler's will, while Dohnanyi, a lawyer in the Justice Ministry and then in the Wehrmacht's counterintelligence section, helped victims, kept records of Nazi crimes to be used as evidence once the regime fell, and was an important figure in the various conspiracies to assassinate Hitler. The strength of their shared commitment to these undertakings - and to the people they were helping - endured even after their arrest in April 1943 and until, after great suffering, they were executed on Hitler's express orders in April 1945, just weeks before the Third Reich collapsed. Bonhoeffer's posthumously published Letters and Papers from Prison and other writings found a wide international audience, but Dohnanyi's work is scarcely known, though it was crucial to the resistance and he was the one who drew Bonhoeffer into the anti-Hitler plots. Sifton and Stern offer dramatic new details and interpretations in their account of the extraordinary efforts in which the two jointly engaged. No Ordinary Men honors both Bonhoeffer's human decency and his theological legacy, as well as Dohnanyi's preservation of the highest standard of civic virtue in an utterly corrupted state
Unser Jahrhundert : ein Gespräch
by
Helmut Schmidt
( Book )
24 editions published between
2010
and 2011 in
German
and held by 369 WorldCat member libraries worldwide
"'Fangen Sie an, Fritz' - mit diesem Satz beginnt ein Gespräch unter Freunden. Helmut Schmidt und Fritz Stern kennen sich seit vielen Jahren und haben sich im Sommer 2009 zusammengesetzt, um über Themen miteinander zu reden, die ihnen am Herzen liegen: Erfahrungen und Lehren aus der Geschichte, das gemeinsam erlebte Jahrhundert, Menschen, die ihnen begegnet sind. Das Ergebnis ist ein ebenso anregendes wie kurzweiliges, freimütiges und nicht selten witziges Buch, in dem sich der Politiker und der Historiker die Bälle zuspielen, mal im Konsens, mal im Widerspruch, stets auf eine pointierte Darlegung ihrer eigenen Positionen bedacht. Das Spektrum der behandelten Fragen reicht von Bismarck bis Israel, vom Zweiten Weltkrieg bis zum Aufstieg Chinas, vom Rückblick auf die Ära Bush bis zu den überhöhten Boni für Banker - und auch die Anekdoten kommen nicht zu kurz. Zwei kluge alte Männer streifen durch das 20. Jahrhundert und die Welt von heute, und der Leser genehmigt sich eine Prise Weisheit."--Jacket, front inside flap
more
fewer
Audience Level
0

1
Kids
General
Special
Audience level: 0.43 (from 0.28 for Five Germa ... to 1.00 for Verleihung ...)
Related Identities
Associated Subjects
Anti-Nazi movement
Antisemitism
Bankers
Bethmann Hollweg, Theobald von,
Bismarck, Otto,--Fürst von,
Bleichröder, Gerson von,
Bonhoeffer, Dietrich,
Brain drain
Church and state
Civilization
Civilization, Modern
Civilization, Western
Dohnanyi, Hans von,
Einstein, Albert,
German Americans
Germany
Government, Resistance to
Historians
Historiography
History
History, Modern
History--Methodology
History--Philosophy
History--Study and teaching
Intellectual life
Israel
Jewish scientists
Lagarde, Paul de,
Langbehn, Julius,
Lawyers
Liberalism
Literature
Moeller van den Bruck, Arthur,
Nationalism
National socialism
Philosophy
Political culture
Political persecution
Politics and government
Power (Philosophy)
Schmidt, Helmut,
Social conditions
Statesmen
Stern, Fritz,
Technology transfer
Theologians
United States
War--Causes
World politics
World War (1914-1918)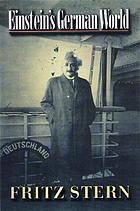 Covers
Alternative Names
Fridericus Stern

Fritz Stern

Fritz Stern americký historik moderních evropských dějin

Fritz Stern amerikai történész

Fritz Stern amerykański historyk

Fritz Stern Duits auteur

Fritz Stern historiador estadounidense

Fritz Stern historiador estatunidenc

Fritz Stern historien américain d'origine allemande

Fritz Stern istoric american

Fritz Stern US-amerikanischer Historiker

Fu li ci Si te en 1926-

Fu li ci Si te en 1926-2016

Fulici-Siteen 1926-

Fulici-Siteen 1926-2016

Siteen, Fulici 1926-

Siteen, Fulici 1926-2016

Stern, F.

Štern, Frìc.

Štern, Fric 1926-

Štern, Fric 1926-2016

Stern, Fritz.

Stern, Fritz 1926-

Stern, Fritz, 1926-2016

Stern, Fritz R.

Stern, Fritz R. 1926-

Stern, Fritz R. 1926-2016

Stern, Fritz Richard

Stern, Fritz Richard, 1926-

Stern, Fritz Richard 1926-2016

Štirn, Frīts 1926-2016

Φριτς Στερν

Штерн, Фриц

Ֆրից Շտերն ամերիկացի պատմաբան

فريتز ستيرن مؤرخ أمريكي

スターン

フリッツ・スターン

弗里茨·施特恩

Languages