Reich, Wilhelm 1897-1957
Most widely held works about Wilhelm Reich
more
fewer
Most widely held works by Wilhelm Reich
Character analysis
by
Wilhelm Reich
( Book )
90 editions published between
1858
and 2013 in 3 languages and held by 1,800 WorldCat member libraries worldwide
Reich's classic work on the development and treatment of human character disorders, first published in 1933. As a young clinician in the 1920s, Wihelm Reich expanded psychoanalytic resistance into the more inclusive technique of character analysis, in which the sum total of typical character attitudes developed by an individual as a blocking against emotional excitations became the object of treatment. These encrusted attitudes functioned as an "armor," which Reich later found to exist simultaneously in chronic muscular spasms. Thus mind and body came together and character analysis opened the way to a biophysical approach to disease and the prevention of it
The mass psychology of fascism
by
Wilhelm Reich
( Book )
71 editions published between
1946
and 2009 in 7 languages and held by 1,662 WorldCat member libraries worldwide
A member of the Vienna Psychoanalytic Society under Sigmund Freud, Wilhelm Reich was forced to emigrate to America when the Nazis came to power. This is his classic study, written in the period 1930-33, of the psychology of the rise of fascism
The function of the orgasm; sex-economic problems of biological energy
by
Wilhelm Reich
( Book )
60 editions published between
1942
and 2013 in 3 languages and held by 843 WorldCat member libraries worldwide
This book describes Reich's first medical and scientific work on the living organism from his first efforts at the Medical School of the University of Vienna in 1919 to the laboratory experiments in Oslo in 1939 which revealed the existence of a radiating biological energy, orgone energy. The subject of "sexuality" is basic to this work, and Reich shows clearly its importance for human life and its relevance in understanding the social problems of our time. "In the central phenomenon, the sexual orgasm, we meet with questions deriving from the field of psychology as well as from that of physiology, from the field of biology no less than from that of sociology. Natural science offers hardly another field of research that is so well equipped to exhibit the fundamental unity of everything that lives and to guard against narrow, fragmentizing specialization." --Wilhelm Reich
Selected writings; an introduction to orgonomy
by
Wilhelm Reich
( Book )
37 editions published between
1951
and 2013 in
English
and held by 811 WorldCat member libraries worldwide
This anthology is not intended to replace any of the works of Wilhelm Reich, but rather to serve as an introduction to them. The chapters include material from The Function of the Orgasm; The Cancer Biopathy; Character Analysis; Ether, God and Devil; Cosmic Superimposition and The Murder of Christ. In addition the volume reprints many important later articles from various journals
Sex-pol; essays, 1929-1934
by
Wilhelm Reich
( Book )
14 editions published between
1972
and 2014 in
English
and held by 771 WorldCat member libraries worldwide
This volume contains the first complete translations of Wilhelm Reich's writings from his Marxist period. Reich, who died in 1957, had a career with a single goal: to find ways of relieving human suffering. And the same curiosity and courage that led him from medical school to join the early pioneers of Freudian psychoanalysis, and then to some of the most controversial work of this century--his development of the theory of the orgone--led him also, at one period of his life, to become a radical socialist. The renewed interest in Reich's Marxist writings, and particularly in his notions about sexual and political liberation, follows the radical critiques of Herbert Marcuse, Frantz Fanon and Paul Goodman, the political protest movements toward personal liberation in the present decade
Listen, little man!
by
Wilhelm Reich
( Book )
92 editions published between
1948
and 2013 in 11 languages and held by 725 WorldCat member libraries worldwide
Listen, Little Man! is a great physician's quiet talk to each one of us, the average human being, the Little Man. Written in 1946 in answer to the gossip and defamation that plagued his remarkable career, it tells how Reich watched, at first naively, then with amazement, and finally with horror, at what the Little Man does to himself; how he suffers and rebels; how he esteems his enemies and murders his friends; how, wherever he gains power as a "representative of the people," he misuses this power and makes it crueler than the power it has supplanted. Reich asks us to look honestly at ourselves and to assume responsibility for our lives and for the great untapped potential that lies in the depth of human nature
Reich speaks of Freud; Wilhelm Reich discusses his work and his relationship with Sigmund Freud
by
Wilhelm Reich
( Book )
55 editions published between
1967
and 2013 in 4 languages and held by 707 WorldCat member libraries worldwide
The core of this book is a tape-recorded interview of Wilhelm Reich, conducted by a representative of the Sigmund Freud Archives, Inc. Published here for the first time, it is a profoundly human and an unusually candid document that supplies a long-awaited clarification of the relationship between Reich and Freud. Reich discusses the personally tragic but scientifically vital implications of his relationship with Sigmund Freud in a manner both simple and concise, placing the reader in a position to determine for himself what was at issue. The book has an extensive documentary supplement containing pertinent extracts from Reich's writings as well as previously unpublished material from his archives, including letters to Freud, Adler, Ferenczi, and others involved in the early struggles within psychoanalysis. It also includes documents revealing the unrelenting hostility of the psychoanalysts toward Reich
The invasion of compulsory sex-morality
by
Wilhelm Reich
( Book )
61 editions published between
1931
and 2013 in 8 languages and held by 666 WorldCat member libraries worldwide
This study of the invasion of compulsory sexual morality into human society was written in 1931 and now appears for the first time in the English language. It preceded "The Mass Psyhchology of Fascism" and "The Sexual Revolution" and was Reich's first step in approaching the answer to the problem of human mass neuroses. Growing out of his involvement with the crucial question of the origin of sexual suppression, this attempt to explain historically the problem of sexual disturbances and neuroses draws upon the ethnological works of Morgan, Engels and, in particular, Malinowski, whose remarkable studies of the sexual life and customs of the primitive people of the Trobriand Islands confirmed Reich's clinical discoveries
The sexual revolution; toward a self-regulating character structure
by
Wilhelm Reich
( Book )
15 editions published between
1974
and 2013 in
English
and held by 591 WorldCat member libraries worldwide
In this book, Wilhelm Reich summarizes the criticism of the prevailing sexual conditions and conflicts as it resulted from his sex-economic medical experiences over a period of years. He demonstrates, by way of individual examples, the general basic traits of the conflicts in present-day sexual living, dealing particularly with the institution of marriage and the revolution in family life as well as with the problems of infantile and adolescent sexuality. He also presents a detailed and revealing study of the sexual revolution that occurred briefly in Soviet Russia in the first few years of their economic revolution. "What we are living through," Reich states, "is a genuine, deep-reaching revolution of cultural living [which] goes to the roots of our emotional, social, and economic existence...The senses of the animal, man, for his natural life functions are awakening from a sleep of thousands of years."
more
fewer
Audience Level
0

1
Kids
General
Special
Audience level: 0.51 (from 0.26 for Adventures ... to 0.85 for The discov ...)
Related Identities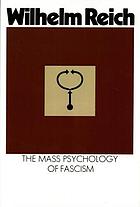 Alternative Names
Parell, Ernst 1897-1957

Rach, Bilchelm 1897-1957

Raĭkh, Vilʹgelʹm 1897-1957

Rajch, Vilchelm 1897-1957

Rajch, Vil'gel'm 1897-1957

Rajh, Vil'gel'm.

Rajh, Vilhelm

Rajh, Vilhelm 1897-1957

Rāyš, Fīlhilm 1897-1957

Rāysh, Vīlhilm 1897-1957

Reich, ..., 1897-1957

Reich, W. 1897-1957

Reich, W. (Wilhelm), 1897-1957.

Reich, Wilhelm

Wilhelm Reich

Райх, В. (Вильгельм), 1897-1957

Райх, Вильгельм, 1897-1957

エゴ

ライヒ, W

ライヒ, ヴィルヘルム

Languages
Covers