Reich, Wilhelm 1897-1957
Overview
| | |
| --- | --- |
| Works: | 1,174 works in 4,069 publications in 13 languages and 37,269 library holdings |
| Genres: | Biographies Documentary films Drama Autobiographies Personal correspondence Essays Experimental films Documentary-style films History Trivia and miscellanea |
| Roles: | Author, Contributor, Other, Dedicatee, Creator, wpr, Bibliographic antecedent, Editor, 070 |
| Classifications: | BF109.R38, B |
Most widely held works about Wilhelm Reich
more
fewer
Most widely held works by Wilhelm Reich
Character analysis
by
Wilhelm Reich
( Book )
193 editions published between
1858
and 2013 in 8 languages and held by 2,103 WorldCat member libraries worldwide
Reich's classic work on the development and treatment of human character disorders, first published in 1933. As a young clinician in the 1920s, Wihelm Reich expanded psychoanalytic resistance into the more inclusive technique of character analysis, in which the sum total of typical character attitudes developed by an individual as a blocking against emotional excitations became the object of treatment. These encrusted attitudes functioned as an "armor," which Reich later found to exist simultaneously in chronic muscular spasms. Thus mind and body came together and character analysis opened the way to a biophysical approach to disease and the prevention of it
The mass psychology of fascism
by
Wilhelm Reich
( Book )
71 editions published between
1946
and 2018 in 3 languages and held by 1,494 WorldCat member libraries worldwide
I. Ideology as a material force -- The cleavage -- Economic and ideological structure of the German society, 1928-1933 -- How mass psychology sees the problem -- The social function of sexual repression -- II. The authoritarian ideology of the family in the mass psychology of fascism -- Führer and mass structure -- Hitler's background -- On the mass psychology of the lower middle class -- Family ties and nationalistic feelings -- Nationalistic self-confidence -- The "domestication" of the industrial workers -- III. The race theory -- Its contents -- The objective and subjective functions of ideology -- Racial purity, blood poisoning, and mysticism -- IV. The symbolism of the swastika -- V. The sex-economic presuppositions of the authoritarian family -- VI. Organized mysticism as an international anti-sexual organization -- The interest in the church -- The fight against "cultural Bolshevism" -- The appeal to mystical feelings -- The goal of the cultural revolution in the light of fascist reaction -- VII. Sex-economy in the fight against mysticism -- The three basic elements of religious feeling -- Anchoring of religion by means of sexual anxiety -- Healthy and neurotic self-confidence -- VIII. Some questions of sex-political practice -- Theory and practice -- The struggle against mysticism until now -- Sexual happiness contra mysticism -- The individual uprootment of the religious feeling -- The practice of sex-economy and objections to it -- The nonpolitical man -- IX. The masses and the state -- 1936: Speak the truth -- but how & when? -- "What takes place in the masses of people?" -- The "socialist yearning" -- The "withering away of the state" -- The program of the Communist Party of the Soviet Union (Eighth Party Congress, 1919) -- The "introduction of Soviet democracy" -- The development of the apparatus of the authoritarian state from rational social relationships -- The social function of state capitalism -- X. Biosocial function of work -- The problem of "voluntary work discipline" -- XI. Give responsibility to vitally necessary work! -- What is "work-democracy"? -- What is new in work-democracy? -- XII. The biologic miscalculation in the human struggle for freedom -- Our interest in the development of freedom -- Biologic rigidity, incapacity for freedom, and mechanical authoritarian view of life -- The arsenal of human freedom -- XIII. On natural work-democracy -- Investigation of the natural social forces for the purpose of overcoming the emotional plague -- Work in contrast to politics -- Notes on objective criticism and irrational caviling -- Work is inherently rational -- Vitally necessary and other work. 650 0
Sex-pol; essays, 1929-1934
by
Wilhelm Reich
( Book )
19 editions published between
1966
and 2014 in
English
and
Undetermined
and held by 768 WorldCat member libraries worldwide
This volume contains the first complete translations of Wilhelm Reich's writings from his Marxist period. Reich, who died in 1957, had a career with a single goal: to find ways of relieving human suffering. And the same curiosity and courage that led him from medical school to join the early pioneers of Freudian psychoanalysis, and then to some of the most controversial work of this century--his development of the theory of the orgone--led him also, at one period of his life, to become a radical socialist. The renewed interest in Reich's Marxist writings, and particularly in his notions about sexual and political liberation, follows the radical critiques of Herbert Marcuse, Frantz Fanon and Paul Goodman, the political protest movements toward personal liberation in the present decade
Selected writings; an introduction to orgonomy
by
Wilhelm Reich
( Book )
46 editions published between
1951
and 2013 in 3 languages and held by 750 WorldCat member libraries worldwide
"Wilhelm Reich (March 24, 1897 - November 3, 1957) was an Austrian-American psychiatrist and psychoanalyst, known as one of the most radical figures in the history of psychiatry. ... Reich worked with Sigmund Freud in the 1920s and was a respected analyst for much of his life, focusing on character structure rather than on individual neurotic symptoms. He tried to reconcile Marxism and psychoanalysis, arguing that neurosis is rooted in the physical, sexual, economic, and social conditions of the patient, and promoted adolescent sexuality, the availability of contraceptives, abortion, and divorce, and the importance for women of economic independence. His work influenced a generation of intellectuals, including Saul Bellow, William S. Burroughs, Paul Edwards, Norman Mailer, A.S. Neill, and Robert Anton Wilson, and shaped innovations such as Fritz Perls's Gestalt therapy, Alexander Lowen's bioenergetic analysis, and Arthur Janov's primal therapy. Later in life he became a controversial figure who was both adored and condemned. He began to violate some of the key taboos of psychoanalysis, e.g. developing body psychotherapy, thus using touch during sessions. After some years of microbiological research ("bions") he said he had discovered a primordial cosmic energy, which he called "orgone". He built orgone energy accumulators that his patients sat inside to harness the reputed health benefits, leading to newspaper stories about sex boxes that cured cancer."--Wikipedia, Nov. 2011
Listen, little man!
by
Wilhelm Reich
( Book )
87 editions published between
1946
and 2020 in 6 languages and held by 659 WorldCat member libraries worldwide
"Listen, Little Man! is a great physician's quiet talk to each one of us, the average human being, the Little Man. Written in 1946 in answer to the gossip and defamation that plagued his remarkable career, it tells how Reich watched, at first naively, then with amazement, and finally with horror, at what the Little Man does to himself; how he suffers and rebels; how he esteems his enemies and murders his friends; how, wherever he gains power as a "representative of the people," he misuses this power and makes it crueler than the power it has supplanted. Reich has us to look honestly at ourselves and to assume responsibility for our lives and for the great untapped potential that lies in the depth of human nature
The sexual revolution : toward a self-regulating character structure
by
Wilhelm Reich
( Book )
15 editions published between
1974
and 2013 in
English
and held by 567 WorldCat member libraries worldwide
In this book, Wilhelm Reich summarizes the criticism of the prevailing sexual conditions and conflicts as it resulted from his sex-economic medical experiences over a period of years. He demonstrates, by way of individual examples, the general basic traits of the conflicts in present-day sexual living, dealing particularly with the institution of marriage and the revolution in family life as well as with the problems of infantile and adolescent sexuality. He also presents a detailed and revealing study of the sexual revolution that occurred briefly in Soviet Russia in the first few years of their economic revolution. "What we are living through," Reich states, "is a genuine, deep-reaching revolution of cultural living [which] goes to the roots of our emotional, social, and economic existence ... The senses of the animal, man, for his natural life functions are awakening from a sleep of thousands of years."
Reich speaks of Freud : Wilhelm Reich discusses his work and his relationship with Sigmund Freud
by
Wilhelm Reich
( Book )
40 editions published between
1967
and 1975 in
English
and
German
and held by 561 WorldCat member libraries worldwide
The core of this book is a tape-recorded interview of Wilhelm Reich, conducted by a representative of the Sigmund Freud Archives, Inc. Published here for the first time, it is a profoundly human and an unusually candid document that supplies a long-awaited clarification of the relationship between Reich and Freud. Reich discusses the personally tragic but scientifically vital implications of his relationship with Sigmund Freud in a manner both simple and concise, placing the reader in a position to determine for himself what was at issue. The book has an extensive documentary supplement containing pertinent extracts from Reich's writings as well as previously unpublished material from his archives, including letters to Freud, Adler, Ferenczi, and others involved in the early struggles within psychoanalysis. It also includes documents revealing the unrelenting hostility of the psychoanalysts toward Reich
The invasion of compulsory sex-morality
by
Wilhelm Reich
( Book )
24 editions published between
1971
and 2013 in
English
and
German
and held by 560 WorldCat member libraries worldwide
This study of the invasion of compulsory sexual morality into human society was written in 1931 and now appears for the first time in the English language. It preceded "The Mass Psyhchology of Fascism" and "The Sexual Revolution" and was Reich's first step in approaching the answer to the problem of human mass neuroses. Growing out of his involvement with the crucial question of the origin of sexual suppression, this attempt to explain historically the problem of sexual disturbances and neuroses draws upon the ethnological works of Morgan, Engels and, in particular, Malinowski, whose remarkable studies of the sexual life and customs of the primitive people of the Trobriand Islands confirmed Reich's clinical discoveries
Die Massenpsychologie des Faschismus
by
Wilhelm Reich
( Book )
81 editions published between
1933
and 2011 in 6 languages and held by 436 WorldCat member libraries worldwide
Eine Kritik des Faschismus lässt sich ohne Wilhelm Reichs Massenpsychologie des Faschismus nicht mehr denken. Als erster durchschaute Reich mit seinem klinisch und soziologisch geschulten Blick den fundamentalen Zusammenhang zwischen autoritärer Triebunterdrückung und faschistischer Ideologie. Er analysiert in der Massenpsychologie die Gestik, Phraseologie, die moralischen Schemata und Aktionen der "Hitlerei" und weist in ihnen die Verschiebung von Sexualangst zu einem Mystizismus nach, der zu einem irrationalen Mechanismus chronischer Abhängigkeit führt. In der vorliegenden Ausgabe sieht Reich den Faschismus nicht mehr auf einzelne Staaten beschränkt, sondern erkennt ihn als Gefahr der modernen Massengesellschaft überhaupt
more
fewer
Audience Level
0

1
Kids
General
Special
Audience level: 0.45 (from 0.10 for Adventures ... to 0.88 for The discov ...)
Related Identities
Associated Subjects
Adolescent psychology
Alienation (Social psychology)
Anxiety
Austria
Biology--Research
Cancer
Child psychology
Communism and society
Diseases--Causes and theories of causation
Electrophysiology
Fascism
Freud, Sigmund,
Germany
Ideology
Jesus Christ
Life (Biology)
Marcuse, Herbert,
Marx, Karl,
Neill, Alexander Sutherland,
Neuroses
Orgasm
Orgonomy
Paraphilias
Passion of Jesus Christ
Personality and politics
Psychiatry
Psychoanalysis
Psychoanalysts
Rationalistic interpretations of Jesus Christ
Reich, Peter,
Reich, Wilhelm,
Repression (Psychology)
Róheim, Géza,
Scotland
Sex
Sex (Psychology)
Sex customs
Sexual ethics
Sexual freedom
Social classes
Socialism
Social psychology
Subconsciousness
Teachers
Therapeutics
United States
United States.--Food and Drug Administration
Vital force
Women--Sexual behavior
Yugoslavia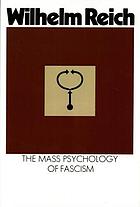 Covers
Alternative Names
Gulielmus Reich

Parell Ernst

Parell Ernst (1897-1957)

Raïch, Bilchelm 1897-1957

Raĭkh, Vilʹgelʹm 1897-1957

Rajch, Vilchelm 1897-1957

Rajch, Vil'gel'm 1897-1957

Rajh, Vil'gel'm.

Rajh, Vilhelm

Rajh, Vilhelm 1897-1957

Rāyš, Fīlhilm 1897-1957

Rāysh, Vīlhilm 1897-1957

Rāysh, Wīlhēlm, 1897-1957

Reich, ..., 1897-1957

Reich W. 1897-1957

Reich, W. (Wilhelm), 1897-1957

Reich, Wilhelm

Vïlʹgelʹm Raýx

Vilhelm Rajh

Vilhelm Reyx

Vilhelmas Reichas

Vilhelms Reihs

Wilhelm Reich

Wilhelm Reich aŭstra-usona psikanalizisto

Wilhelm Reich Austro-Hungarian-born Austrian-American psychoanalyst

Wilhelm Reich Avusturyalı-Amerikalı psikiyatrist ve psikanalist

Wilhelm Reich medico, psichiatra e psicoanalista statunitense (1897-1957)

Wilhelm Reich österreichisch-US-amerikanischer Psychiater, Psychoanalytiker, Sexualforscher und Soziologe

Wilhelm Reich psychiatre et psychanalyste américain d'origine ukrainienne et autrichienne

Wilhelm Reich psycholog austriacki

Wilhelm Reich psychotherapeut uit Oostenrijk-Hongarije (1897-1957)

Wilhelm Reich rakousko-americký psychiatr a psychoanalytik židovského původu

Wilhelm Reich Wilhelm Reich fue uno de los más grandes humanistas y libertarios del siglo XX. Dos grandes biografías dan cuenta de la trascendencia de su pensamiento y acción: Furia en la Tierra, de Myron Sharaf; Biografía de una idea, Luigi di Marchi.

Βίλχελμ Ράιχ

Ράιχ Βίλχελμ (1897-1957)

Вилхелм Райх

Вилхелм Рајх

Вильгельм Райх австрийский и американский психолог

Вільгельм Райх

Райх В.

Райх В. 1897-1957

Райх, В. (Вильгельм), 1897-1957

Райх Вильгельм

Райх, Вильгельм, 1897-1957

Райх Вільгельм Американський психолог, родом з України

Վիլհելմ Ռայխ

וילהלם רייך

راىش, وىلهـێلم.

رایش, ویلهـێلم, 1897-1957

فيلهلم رايش

ولهەلم رەجه

ویلهلم رایش جامعه‌شناس و روان‌شناس آلمانی

ۆىيلگەلم رايح

라이히, 빌헤름 1897-1957

라이히, 빌헬름 1897-1957

빌헬름 라이히

ヴィルヘルム・ライヒ

エゴ

ライヒ, W

ライヒ, ヴィルヘルム

威廉·赖希

Languages