Carroll, Stephen J. 1940-
Overview
| | |
| --- | --- |
| Works: | 90 works in 319 publications in 1 language and 14,971 library holdings |
| Roles: | Author, Editor |
| Classifications: | HG9970.3, 346.7303 |
Most widely held works by Stephen J Carroll
The search for equity in school finance
by
Stephen J Carroll
( Book )
17 editions published between
1976
and 1983 in
English
and held by 612 WorldCat member libraries worldwide
Part of a three-volume report on the effects of school finance reform, this volume examines the effects of reform on Michigan school districts' budgets from 1971 to 1976. Econometric models were used. Researchers found a very small "price" effect--an elasticity of -.02. The data provide no evidence that state matching grants stimulate school district expenditures enough to be a useful policy tool. It was also found that state block grants exert a very small influence on school district expenditures. Results imply, however, that expenditures are increased by 32 to 38 percent of the amount of state or federal categorical aid. Researchers found significantly higher expenditures in school districts serving populations that are wealthier, higher income, employed in higher-level positions, more minority, and more urban. Expenditures are significantly lower in school districts serving populations tending to live in owner occupied housing and tending to be in poverty. (Author/JM)
Asbestos litigation
by
Stephen J Carroll
( Book )
18 editions published between
2002
and 2005 in
English
and held by 478 WorldCat member libraries worldwide
Asbestos litigation is the longest-running mass tort litigation in U.S. history. Through 2002, approximately 730,000 individuals have brought claims against some 8,400 business entities, and defendants and insurers have spent a total of $70 billion on litigation. Building on previous RAND briefings, the authors report on what happened to those who have claimed injury from asbestos, what happened to the defendants in those cases, and how lawyers and judges have managed the cases
Punitive damages in financial injury jury verdicts
by
Erik Moller
( Book )
10 editions published in
1997
in
English
and
Undetermined
and held by 424 WorldCat member libraries worldwide
This report provides the technical details of an Institute for Civil Justice analysis of trends and patterns in punitive damage awards in financial injury cases in selected jurisdictions during the period 1985 through 1994. The jurisdictions include all state trial courts of general jurisdiction in the states of California and New York; Cook County, Illinois (Chicago); the St. Louis, Missouri, metropolitan area; and Harris County, Texas (Houston). These data are supplemented by information obtained from the Administrative Office of the Alabama Courts for verdicts reached in that state's trial courts of general jurisdiction during the period 1992 to 1997. The study also estimates what percentage of the financial injury punitive awards in the database would have been affected by caps of various sizes and how the caps would have affected the total amount of punitive damages awarded in such cases
The effects of a choice automobile insurance plan on insurance costs and compensation : an updated analysis
by
Stephen J Carroll
( Book )
6 editions published between
1998
and 1999 in
English
and held by 370 WorldCat member libraries worldwide
This report updates an earlier study in which the authors estimated the effects of a choice automobile insurance plan on the costs of compensating auto accident victims in which the no-fault option was absolute no-fault (ANF). The authors assumed that 50 percent of the consumers who would have purchased auto insurance under their state's current system would switch to ANF under the choice plan. That study, requested by the Joint Economic Committee of the U.S. Senate and using data from 1987, estimated how a variant of that plan would affect the cost of private passenger auto insurance if all currently insured drivers elected the no-fault option. The present report uses recently obtained data for a representative sample of people who were compensated for auto accident injuries in 1992. With these data, the authors have replicated their analyses for 46 states. They find that the choice plan could substantially reduce the costs of compensating people injured in auto accidents
Assessing the effects of tort reforms
by
Stephen J Carroll
( Book )
4 editions published in
1987
in
English
and held by 213 WorldCat member libraries worldwide
This report offers a framework for assessing the effects of tort reforms. It attempts to provide a coherent structure for systematically thinking about how research can contribute to the policy debate over tort reform. It identifies four basic policy issues critical to assessing the effects of tort reforms on the tort system: (1) how soon we can expect to see effects of reforms; (2) whether reforms have affected the outcomes of disputes; (3) who won, who lost, and how much; and (4) whether reforms have affected economic behavior. The author points out that the kinds of data needed to assess the effects of reform are generally not available, and suggests that three types of new data collection systems need to be considered: (1) systematic efforts to obtain data from insurers and self-insured defendants on the aggregate outcomes of liability claims; (2) special surveys of claimants, the bar, and insurers to obtain the detailed individual claim information needed to identify the winners and losers in the reformed system; and (3) systems for collecting information both on the other factors that affect the behavior of participants in the tort system, and on economic outcomes and injuries
No-fault approaches to compensating people injured in automobile accidents
( Book )
3 editions published in
1991
in
English
and held by 213 WorldCat member libraries worldwide
Widespread dissatisfaction with the traditional approach to compensating people for auto accident injuries has revived interest in no-fault approaches. This report estimates the effects of a broad range of no-fault plans, compared with the traditional system. The study is primarily based on data from two sources--closed-claim surveys and a household survey--which were combined to construct a representative sample of people injured in auto accidents. The authors use data on what actually happened to people injured in auto accidents in states that have adopted no-fault systems, to develop statistical models. These models relate injuries, losses, and other factors to whether or not the victims received any compensation from auto insurance and, if so, how much, how quickly, and at what transaction costs. The authors then apply these models to samples of people injured in auto accidents in states that retain the traditional compensation system to estimate what would have been their outcomes under a specified no-fault alternative. Finally, they compare the actual outcomes people experienced under the traditional system with their estimated outcomes under various no-fault alternatives. The findings indicate that no-fault can yield substantial savings over the traditional system, or may increase costs substantially, depending on the no-fault plan's provisions. Regardless of plan provisions, all no-fault plans reduce transaction costs, match compensation more closely with economic loss, reduce the amounts paid in compensation for noneconomic loss to less seriously injured people, and speed up compensation
The effects of third-party, bad faith doctrine on automobile insurance costs and compensation
by
Angela Hawken
( Book )
4 editions published in
2001
in
English
and held by 211 WorldCat member libraries worldwide
"The question of whether an automobile accident victim should be allowed to bring a claim for punitive damages for unfair settlement practices against another person's liability insurer -- a so-called third-party, bad faith suit -- has become an important policy concern. This book examines the compensation that automobile insurers paid to accident victims in California during a period, 1979 to 1988, when such punitive damages claims were permitted. This book looks at the effects of the adoption and subsequent rejection of the Royal Globe doctrine, which allowed third-party bad-faith suits, on compensation and costs of bodily injury claims. The authors find that the adoption of Royal Globe triggered sharp increases in both the average bodily compensation payment and the relative frequency of bodily injury claims in California relative to the other tort states. In contrast, the elimination of Royal Globe dramatically reversed these trends."--Rand abstracts
Distribution of losses from large terrorist attacks under the Terrorism Risk Insurance Act
( Book )
8 editions published in
2005
in
English
and held by 202 WorldCat member libraries worldwide
The pending expiration of the Terrorism Risk Insurance Act (TRIA) of 2002 is the impetus for this assessment of how TRIA redistributes terrorism losses. The authors find that the role of taxpayers is expected to be minimal in all but very rare cases and that, even with TRIA in place, a high fraction of losses would go uninsured in each of the attack scenarios examined
California's K-12 public schools : how are they doing?
( Book )
6 editions published in
2005
in
English
and held by 193 WorldCat member libraries worldwide
California's public schools, once considered to be among the nation's best, are now being questioned as to their condition, performance, and ability to meet the needs of the state's diverse student population. This report describes the condition and performance of California's K-12 public schools. It describes the schools' student population, the resources provided to the schools (finances, teachers, and facilities), and the schools' outcomes. In looking at the outcomes, it first focuses on student academic achievement, as measured by standardized tests, and then turns to outcomes that schools may influence and that are inadequately captured in test scores. These include both educational attainment measures (high school graduation and continuation on to college) and nonacademic measures (teenage pregnancy, substance abuse, and delinquency). The report analyzes trends within the state and compares California to other states and to the nation as a whole
more
fewer
Audience Level
0

1
Kids
General
Special
Audience level: 0.47 (from 0.05 for The benefi ... to 0.64 for The costs ...)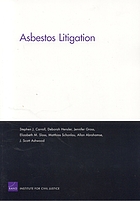 Alternative Names
Carroll, S. J. 1940-

Carroll, S. J. (Stephen J.), 1940-

Carroll, S. J. (Steven J.), 1940-

Carroll, Stephen

Carroll, Stephen 1940-

Carroll, Stephen J.

Carroll, Steven J. 1940-

Languages
Covers