National Institute of Education (U.S.)
Most widely held works about National Institute of Education (U.S.)
more
fewer
Most widely held works by National Institute of Education (U.S.)
Literacy in historical perspective
( Book )
4 editions published in
1983
in
English
and held by 686 WorldCat member libraries worldwide
Eight papers commissioned for a conference held at the Library of Congress in July 1980, which was sponsored by the Center for the Book and the National Institute of Education
Neural mechanisms of learning and memory
by
Mark R Rosenzweig
( Book )
9 editions published in
1976
in
English
and
Italian
and held by 636 WorldCat member libraries worldwide
This volume presents papers given during a five-day conference dealing with current research approaches being used to find out how learning and memory occur in terms of neural processes -- Preface
Resources in education
( )
in
English
and held by 619 WorldCat member libraries worldwide
"A monthly abstract journal announcing recent report literature related to the field of education."
Gender influences in classroom interaction
by
Louise Cherry Wilkinson
( Book )
6 editions published in
1985
in
English
and
Undetermined
and held by 596 WorldCat member libraries worldwide
The 11 chapters comprising this work focus on the interactional influences that may be related to differential classroom experiences for males and females. The effects of contextual factors, teacher characteristics, and student characteristics are investigated. Addressed primarily to researchers, this information should prove useful to teachers, educational policymakers, and others who want to insure that every child is offered educational opportunities regardless of gender. Chapters are the following: (1) "Overview" (J. Lindow, C.B. Marrett, and L.C. Wilkinson) which introduces the topics of gender and teacher-student interaction, gender and peer interaction, and research on gender in the classrooms; (2) "Autonomous Learning Behavior: a Possible Explanation of Gender-Related Differences in Mathematics" (E. Fennema and P. Peterson); (3) "Listening to Adolescents: Gender Differences in Science Classroom Interaction" (L.W. Morse and H.M. Handley); (4) "Race-Gender Status, Classroom Interaction, and Children's Socialization in Elementary School" (L. Grant); (5) "Classroom Experiences and Student Gender: Are There Differences and Do They Matter?" (J.S. Eccles and P. Blumenfeld); (6) "Interactions of Male and Female Students with Male and Female Teachers" (J. Brophy); (7) "Gender Differences in Preschool Classrooms: The Effects of Sex-Typed Activity Choices" (A.C. Huston and C.J. Carpenter); (8) "Some Determinants and Consequences of Sex Segregation in the Classroom" (M.E. Lockheed); (9) "Sex Differences and Sex Segregation in Students' Small-Group Communication" (L.C. Wilkinson, J. Lindow, and C. Chiang); (10) "Gender Differences in Small-Group Interaction and Achievement in High- and Low-Achieving Classes" (N.M. Webb and C.M. Kenderski); and (11) "Gender, Classroom Organization, and Grade Level as Factors in Pupil Perceptions of Peer Interaction" (G. Morine-Dershimer). Each chapter includes statistical material on tables and graphs, and a list of references. Author and subject indexes are appended. (Fmw)
What legally constitutes an adequate public education? : a review of constitutional, legislative, and judicial mandates
by
Martha M McCarthy
( Book )
6 editions published in
1982
in
English
and held by 591 WorldCat member libraries worldwide
While the law governing the definition of educational adequacy is still evolving, partial definitions can be gleaned from various state and federal laws and regulations prescribing standards for schools and from judicial interpretations of constitutional and statutory provisions. This document presents the results of such an analysis. After delineating the research questions and procedures guiding the study, and the definitional distinctions between the closely related concepts involved, the report examines relevant litigation. The cases reviewed affect state school finance schemes, the rights of students with special needs, and parental control over educational choices. State legislative and regulatory activity defining adequacy and establishing adequacy standards is described next. The nature of school funding laws, eight states' statutory definitions of adequacy, and the application of program requirements, accountability mandates, and minimum competency standards are covered. The federal role in defining and establishing adequacy standards is addressed last, with special attention paid to regulations regarding handicapped students, bilingual, compensatory, and vocational education, and research, development, and dissemination activities. A final chapter summarizes the findings, discusses obstacles to defining adequacy conclusively, and comments on prospects for the 1980s. Appendices list relevant court cases and pinpoint pertinent provisions of state constitutions. (Author/PGD)
Tax wealth in fifty states
by
D. Kent Halstead
( Book )
1 edition published in
1978
in
English
and held by 495 WorldCat member libraries worldwide
Kept up to date by biennial supplements."1977 supplement" by D.K. Halstead and H.K. Weldon. Bibliography: p. 253-255
Work, youth, and schooling : historical perspectives on vocationalism in American education
by Harvey, Ed Kanter
( Book )
2 editions published in
1982
in
English
and held by 478 WorldCat member libraries worldwide
This book is the product of a conference on the historiography of education and work that was held at Boys Town Center, Stanford University, on August 17-18, 1979. The central purpose of the conference and this report was to evaluate existing research and to develop and assess new interpretations of the historical development of linkages between education and work. Included in this report are the following seven papers, which were presented, critiqued, and discussed during the conference: "Enduring Resiliency: Enacting and Implementing Federal Vocational Education Legislation"; "The Adolescence of Vocational Education"; "Education and the Labor Market: Recycling the Youth Problem"; "Making It in America: Work, Education, and Social Structure"; "Marry, Stitch, Die, or Do Worse: Educating Women for Work in the American Republic"; "The Historical Development of Black Vocational Education"; and "Observations on Selected Trends in American Working-Class Historiography." An introduction summarizing vocationalism in American education is also included. These papers focus primarily on the social, economic, and political context of vocationalism in American secondary education rather than on the details of particular programs and on the broader strategies of linking school to work rather than on tactics. Certain questions are presented in the preface which emerged from the conference as a common agenda for research. (Author/BM)
more
fewer
Audience Level
0

1
Kids
General
Special
Audience level: 0.42 (from 0.31 for Essays on ... to 0.65 for Nomination ...)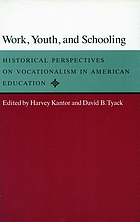 Covers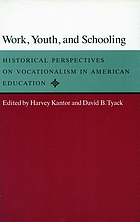 Alternative Names
United States. Department of Health, Education, and Welfare
Amerika Gasshukoku Kokuritsu Kyoiku Kenkyujo

États-Unis. Department of health, education and welfare. National institute of education

N.I.E.

National Institute of Education

National Institute of Education US.

National institute of education (Washington, D.C)

NIE

Nie (National Institute of Education, USA)

Spojené státy americké. Dept. of Health, Education, and Welfare. National Institute of Education

Spojené státy americké. National Institute of Education

U. S. National Institute of Education

United States. Department of Education. National Institute of Education

United States. Department of Health, Education, and Welfare. National Institute of Education

United States. Dept. of Health, Education, and Welfare. National Institute of Education

United States National Institute of Education

アメリカ ガッシュウコク コクリツ キョウイク ケンキュウジョ

Languages